Ice cream company Ben & Jerry's is starting off 2022 with the launch of not one, but two new vegan flavors—bringing its non-dairy flavor count in the United States up to 20 pints. The newest flavor is Bananas Foster, which is a rich combination of creamy sunflower butter-based ice cream in a cinnamon and banana-forward flavor that is dotted with crunchy almond toffee, all around a gooey, salted caramel core. While Ben & Jerry's often releases both dairy and non-dairy versions of new flavors, the Bananas Foster flavor is exclusive to the brand's non-dairy line, joining Non-Dairy Chunky Monkey as the brand's second banana-based flavor.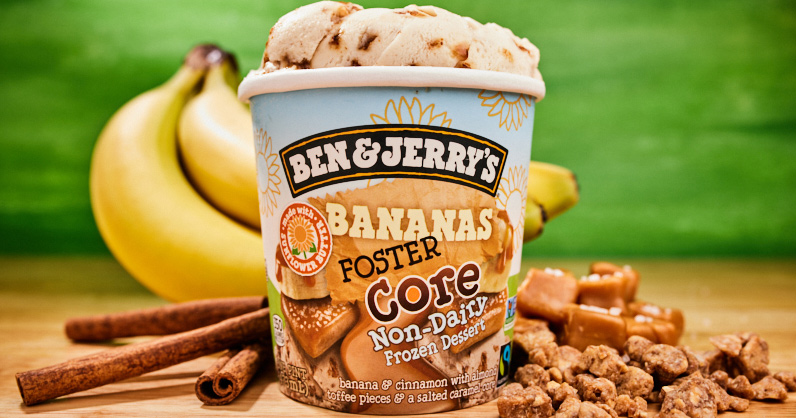 Ben & Jerry's
In conjunction with Bananas Foster, Ben & Jerry's is expanding its non-dairy portfolio further with the launch of Non-Dairy Boom Chocolatta. Another addition to its "Core" lineup, the new non-dairy flavor is a recreation of Ben & Jerry's popular dairy flavor of the same name and features an almond milk-based ice cream in mocha and caramel flavors dotted with fudge flakes and gluten-free cookies all built around a unique gluten-free chocolate cookie core.
Both new vegan flavors are hitting store shelves now and will retail between $4.49 and $5.79 per pint.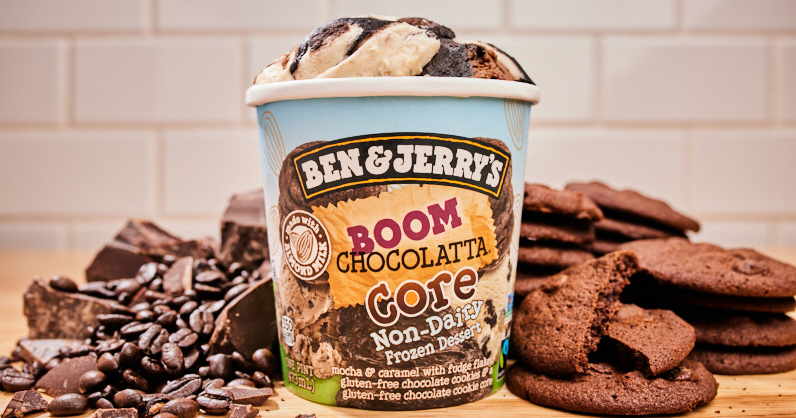 Ben & Jerry's
Ben & Jerry's road to 20 dairy-free ice cream flavors
Ben & Jerry's has been in the ice cream business for more than 40 years and the Vermont-based company is now looking to make a good portion of its portfolio completely dairy-free to improve its sustainability metrics and offer its customers more choices. In 2016, Ben & Jerry's began its transition with the launch of its first four almond milk-based flavors: PB & Cookies, Coffee Caramel Fudge, Chocolate Fudge Brownie, and Chunky Monkey. Shortly thereafter, Ben & Jerry's began tackling other fan favorites such as Chocolate Chip Cookie Dough, Cherry Garcia, and Cinnamon Buns, recreating vegan versions with the help of almond milk.
On a mission to become the largest provider of premium vegan ice cream, in 2020, Ben & Jerry's turned its innovation toward non-dairy bases and launched an allergen-friendly sunflower butter base, introducing it with three flavors: "Milk" & Cookies, Crème Brûlée Cookie, and Mint Chocolate Cookie. The new base is also featured in Change the Whirled—a vegan flavor it released amid the resurgence of the BLM movement in 2020—made in partnership with professional football player, racial justice advocate, and vegan Colin Kaepernick.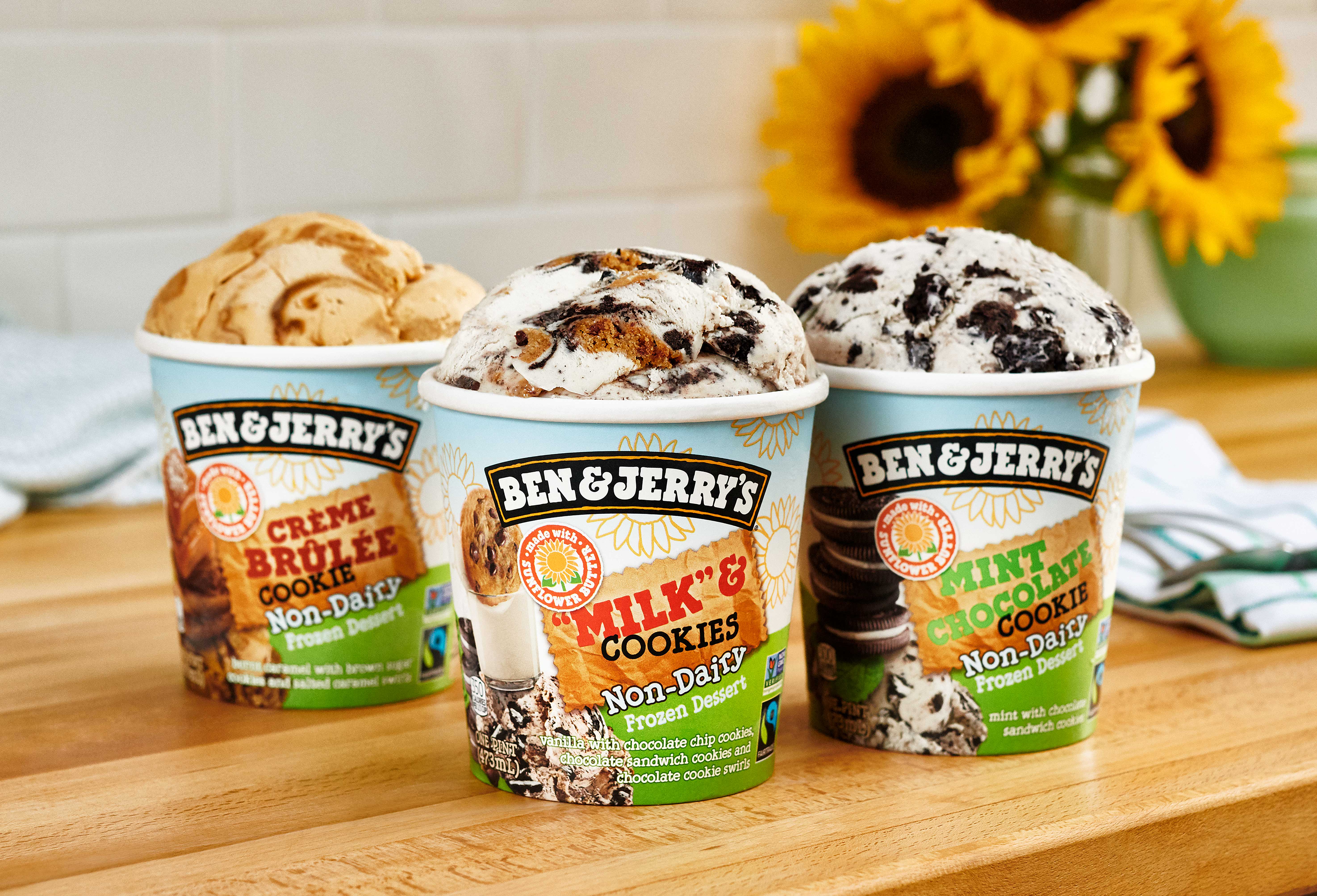 Ben & Jerry's
Next-level vegan ice cream
The two new vegan flavors, Bananas Foster and Boom Chocolatta, join Non-Dairy Karamel Sutra, which Ben & Jerry's launched as its first vegan remake of a Core flavor last year. In 2021, the brand also recreated vegan versions of popular celebrity partner flavors, including Stephen Colbert's AmeriCone Dream and The Tonight Dough Starring Jimmy Fallon. Perhaps the most iconic remake of them all is vegan Phish Food—which Ben & Jerry's also launched last year. This legendary flavor was originally created in tribute to the band Phish and the vegan version is loaded with a housemade gelatin-free marshmallow swirl and fudge fish.
Over the years, Ben & Jerry's has launched several completely new flavors in both dairy and non-dairy varieties, including Netflix & Chill'd (a favorite of musical artist Lizzo) and its recent addition Mint Chocolate Chance—a flavor it launched last month made in partnership with Chance the Rapper.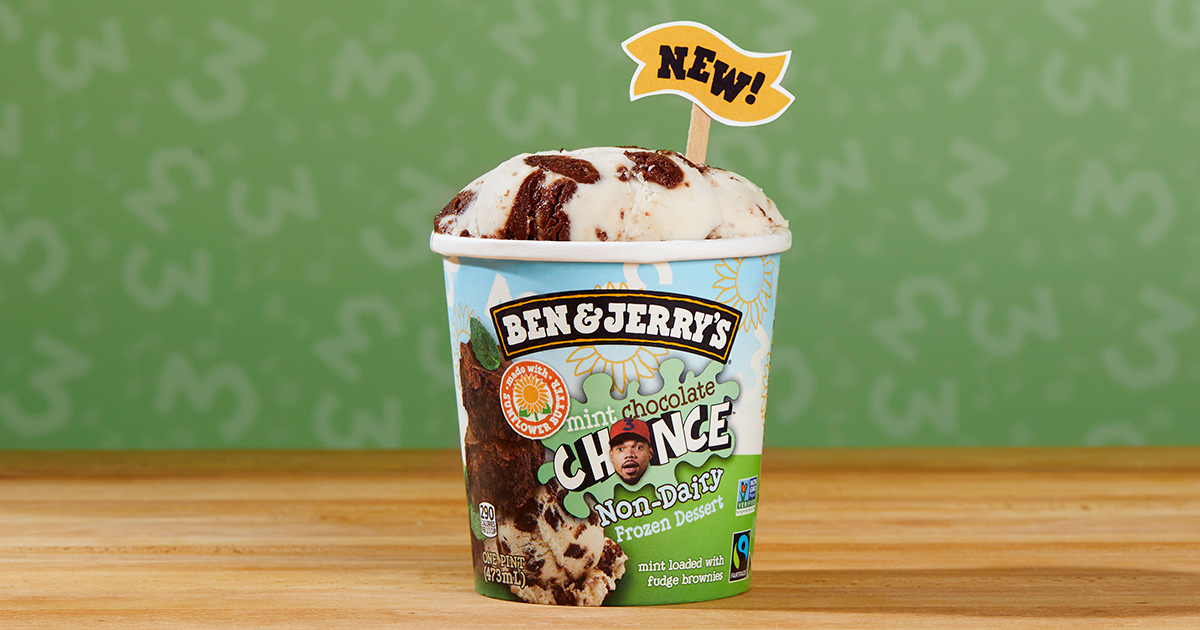 Ben & Jerry's
"We have come a long way in our non-dairy offerings, now being the number one producer of super-premium non-dairy desserts," Ben & Jerry's Flavor Guru Craig Koskiniemi told VegNews in December. "Increasingly, we're hearing from our fans that they want more non-dairy options, and we want to provide both the flavors our fans love the most in the non-dairy format, as well as unique flavors you can only find in non-dairy."
In addition to ice cream, Ben & Jerry's also offers vegan cookie dough bites—the same ones found in some of its flavors—in snack packs at retailers nationwide. Outside of the United States, Ben & Jerry's offers even more vegan flavors, including climate-themed flavors Un-fudge Our Future (an Australia exclusive) and Save Our Swirled Now (an exclusive in the United Kingdom).
For more about Ben & Jerry's vegan flavors, read:How Ben & Jerry's Brought Vegan Marshmallows Mainstream
Ben & Jerry's: The Inside Scoop on the Business of Vegan Ice Cream
Ben & Jerry's New Flavor Inspired by Chance the Rapper