Today, Ben & Jerry's announced the launch of its newest flavor: Mint Chocolate Chance, which is available in both dairy and non-dairy varieties. The vegan version of the flavor is made with a mint-flavored sunflower butter base that is loaded with soft, fudgy vegan brownies supplied by Greyston Bakery.
Craig Koskiniemi, a Ben & Jerry's flavor guru, crafted Mint Chocolate Chance in partnership with musical artist Chance the Rapper. "We love working with our partners to create their flavor, and it's so exciting when someone like Chance the Rapper comes to the table with a clear vision on what they want their flavor to be," Koskiniemi told VegNews.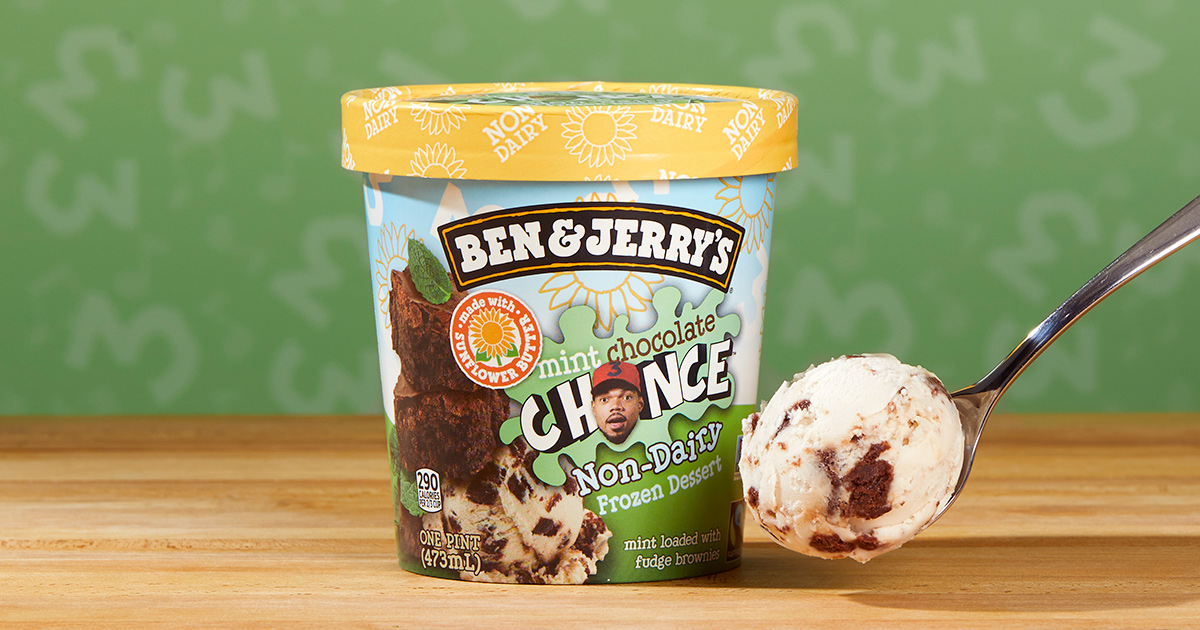 The flavor was inspired by Chance's childhood memory of eating his mother's gooey fudge brownies together with mint ice cream and Koskiniemi captured this memory by loading the flavor with the maximum amount of brownies. "One thing we love at Ben & Jerry's is loading up our flavors with as many chunks as possible, and that is no different with Mint Chocolate Chance. We were on the same page as Chance the Rapper on this flavor—the more brownies the better," Koskiniemi said. "We stuffed as many of the delicious fudgy brownies from our friends at Greyston Bakery as we could in this one to create a mint chocolate experience like no other … We just hope he loves Mint Chocolate Chance almost as much as he loved his mother's homemade brownies as a kid."
The fully-loaded Mint Chocolate Chance flavor will be available in pints (for a suggested retail price of $4.99 to $5.99). Both the vegan and dairy version of the flavor will also be available at Ben & Jerry's scoop shops. A portion of the proceeds from Mint Chocolate Chance will go to benefit the rapper's non-profit organization SocialWorks, which works to empower youth through the arts, education, and civic engagement.
"I'm so excited to have my own flavor of ice cream with Ben & Jerry's. I grew up with their ice cream as a kid so getting to create a new flavor brought back a lot of great memories," Chance said in a statement. "It amazes me that no one thought to combine brownies and mint chocolate chip and I can't wait to share it with everyone."
Ben & Jerry's vegan ice cream innovation
Ben & Jerry's has been making dairy ice cream for more than 40 years and in 2016, the Vermont-based company created its first four almond milk-based flavors: PB & Cookies, Coffee Caramel Fudge, Chocolate Fudge Brownie, and Chunky Monkey. Since then, the brand has developed a variety of vegan offerings, including remakes of iconic flavors such as Cherry Garcia, Chocolate Chip Cookie Dough, Cinnamon Buns, and Phish Food (which it made with gelatin-free marshmallow swirls).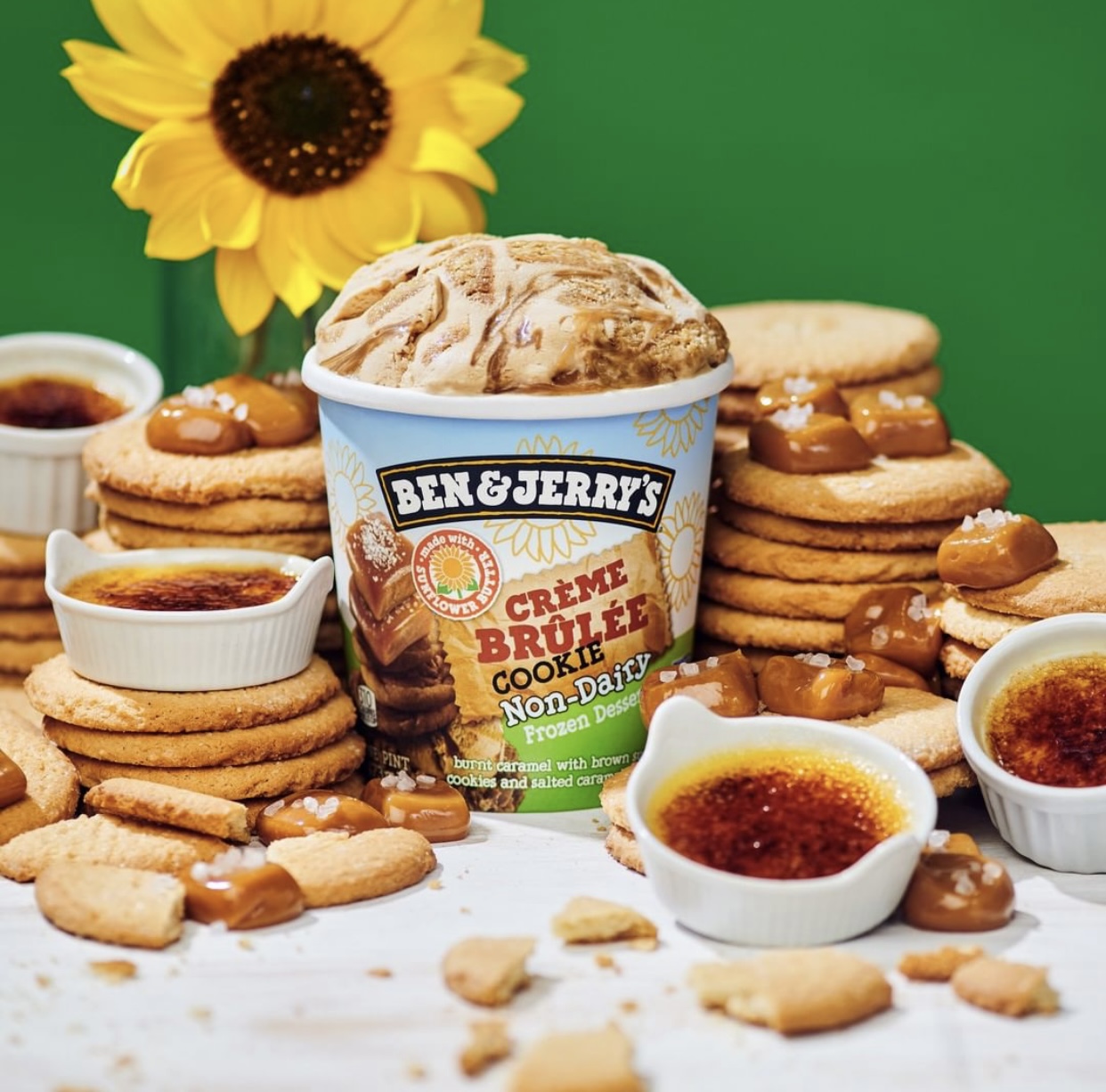 In addition to almond milk, the company developed an innovative sunflower butter base for the launch of "Milk" & Cookies, Crème Brûlée Cookie, and Mint Chocolate Cookie vegan flavors in January 2020. "We have come a long way in our non-dairy offerings, now being the number one producer of super-premium non-dairy desserts," Koskiniemi said. "Increasingly, we're hearing from our fans that they want more non-dairy options, and we want to provide both the flavors our fans love the most in the non-dairy format, as well as unique flavors you can only find in non-dairy."
The new Mint Chocolate Chance flavor joins Ben & Jerry's growing vegan portfolio, a direction the ice cream company is continuing to pursue to both capitalize on the booming demand for dairy-free but also as a sustainability move—as dairy's impact is much greater on the environment than plant-based milk bases. "We also believe more non-dairy and plant-based foods are better for the planet, so innovating in this space is very important for us," Koskiniemi said. "It's exciting to be able to deliver our newest partner flavor to both our dairy and non-dairy audiences—no Chance the Rapper fan should miss out on his mint brownie vision."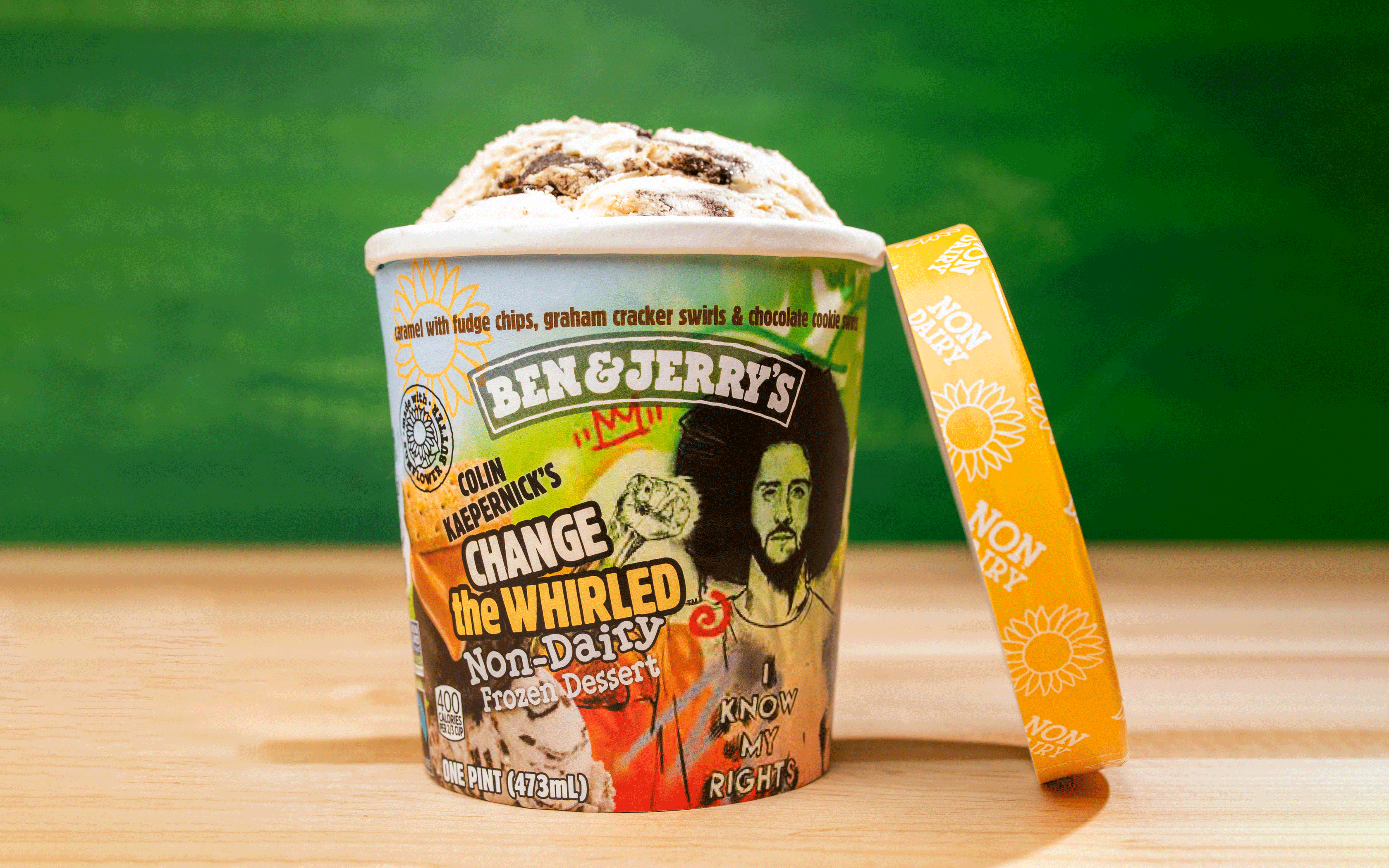 Ben & Jerry's makes new vegan flavors
Koskiniemi says that the brand creates flavors based on consumer feedback and demand, which sometimes results in the release of both dairy and non-dairy flavors, remakes of classic flavors in non-dairy versions, and new flavors that are exclusively available vegan. In addition to the Mint Chocolate Chance flavor, Ben & Jerry's released other new flavors in both dairy and non-dairy varieties, including Netflix & Chill'd. In early 2021, Ben & Jerry's remade vegan versions of existing dairy options, including Stephen Colbert's AmeriCone Dream, Karamel Sutra (its first non-dairy Core flavor) and The Tonight Dough Starring Jimmy Fallon.
Ben & Jerry's has also created flavors that are exclusively available vegan such as Change the Whirled. Released last year, the sunflower butter-based flavor was developed in close partnership with social justice activist Colin Kaepernick and features fudge chips, graham cracker swirls, and chocolate cookie swirls. Ben & Jerry's chose to only create a non-dairy version of this flavor to match Kaepernick's vegan lifestyle and donates a portion of its proceeds to Know Your Rights Camp—a racial justice organization Kaepernick founded in 2016 in Oakland, CA to advance the liberation and well-being of Black and Brown communities.
For more about vegan at Ben & Jerry's, read:How Ben & Jerry's Brought Vegan Marshmallows MainstreamBen & Jerry's Debuts Vegan Cinnamon Bun Cookie Dough Bites20 Ben & Jerry's Non-dairy Flavors: Ranked