This month, vegan brand So Delicious Dairy-Free is launching new vegan ice cream pints and sundae-style cones at retailers across the United States. The products are part of the brand's new Wondermilk line that utilizes new technology designed to improve current dairy-free products and help close the gap between traditional dairy drinkers and plant-based beverage consumers.
The new formula aims to mimic the look, taste, and texture of dairy milk by blending oats, coconut, and soy with coconut oil to create a more neutral-tasting, creamy base. This differs from other plant-based dairy products that rely on just one plant such as coconut, soy, oat, or almond.
The So Delicious Dairy-Free Wondermilk frozen desserts include ice cream pints ($5.49) in five flavors: Vanilla, Chocolate Cocoa Chip, Cookies & Crème, Buttery Pecan, and Strawberry. The line also includes sundae-style frozen dessert cones ($6.49/box) in Vanilla Peanut Sundae and Salted Caramel Sundae flavors. The Wondermilk line also features dairy-free milk ($4.99) in whole fat and 2-percent reduced fat varieties which will hit stores nationwide in February.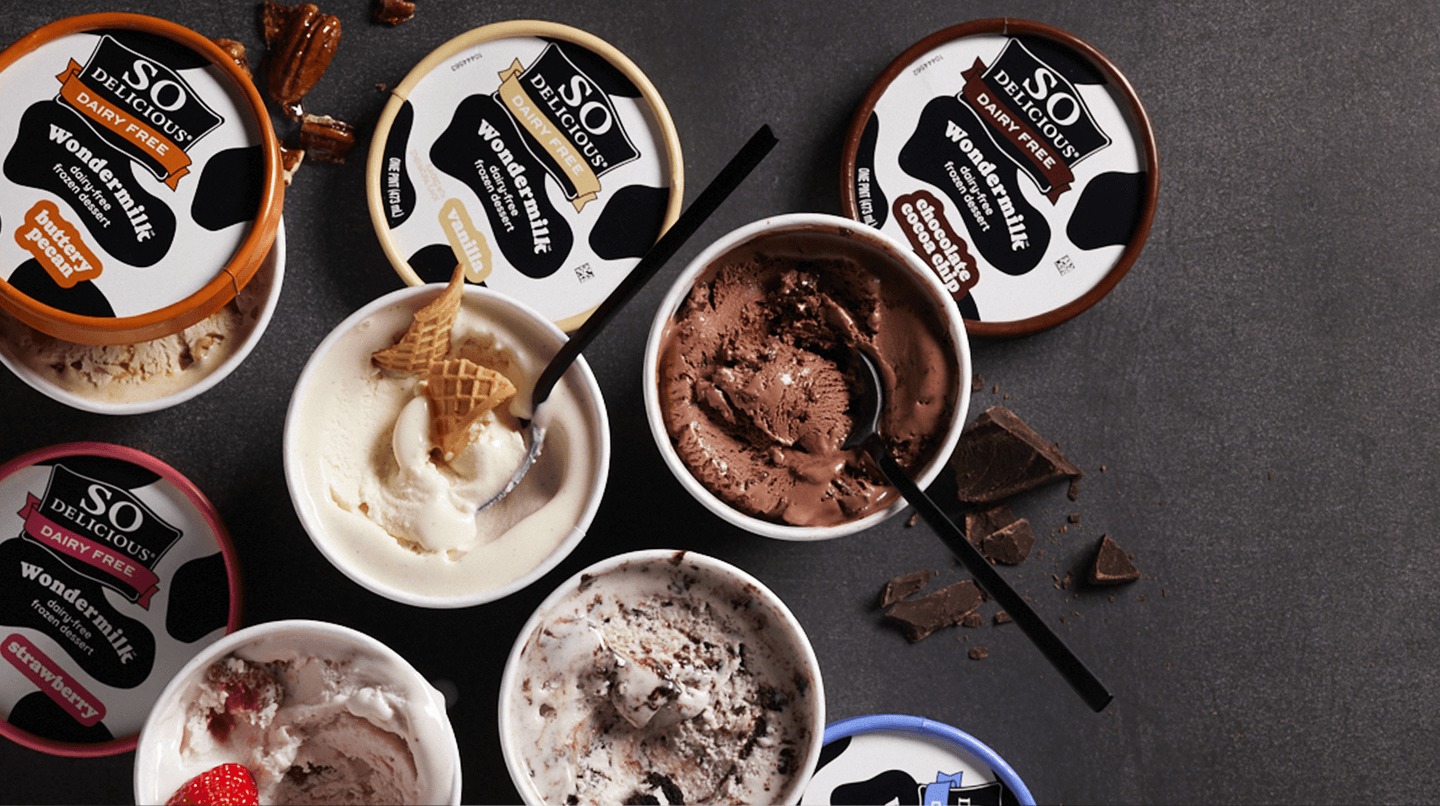 So Delicious
Dairy-free evolves to "dairy-like" to mimic the real thing
With this new "dairy-like" category, So Delicious parent company Danone aims to do for plant-based milk what Beyond Meat and Impossible Foods have done for plant-based meats—that is, create products that mimic the real thing in an effort to win over reluctant dairy drinkers. Danone, a previously dairy-heavy company that acquired vegan brands So Delicious, Silk, Vega, and Alpro in 2016 when it purchased White Wave Foods, used its knowledge of dairy to target those consumers with its "plant-based 2.0" platform.
"There's been a group of consumers who remain skeptical about plant-based offerings, largely because of their taste and texture," John Starkey, president of plant-based food and beverages for Danone North America, told Fast Company. "From our research, we saw that there were about 53 percent of people who say they wouldn't purchase plant-based beverages because of their taste."
Danone worked for more than a year to develop a formulation that mimics the whole spectrum of attributes of cow's milk, including the sweet, sour, and salty flavors and creamy mouthfeel. According to the company, the resulting blend of ingredients doesn't taste like any specific plant-based ingredient such as almond or oat and is creamy and rich, just like dairy.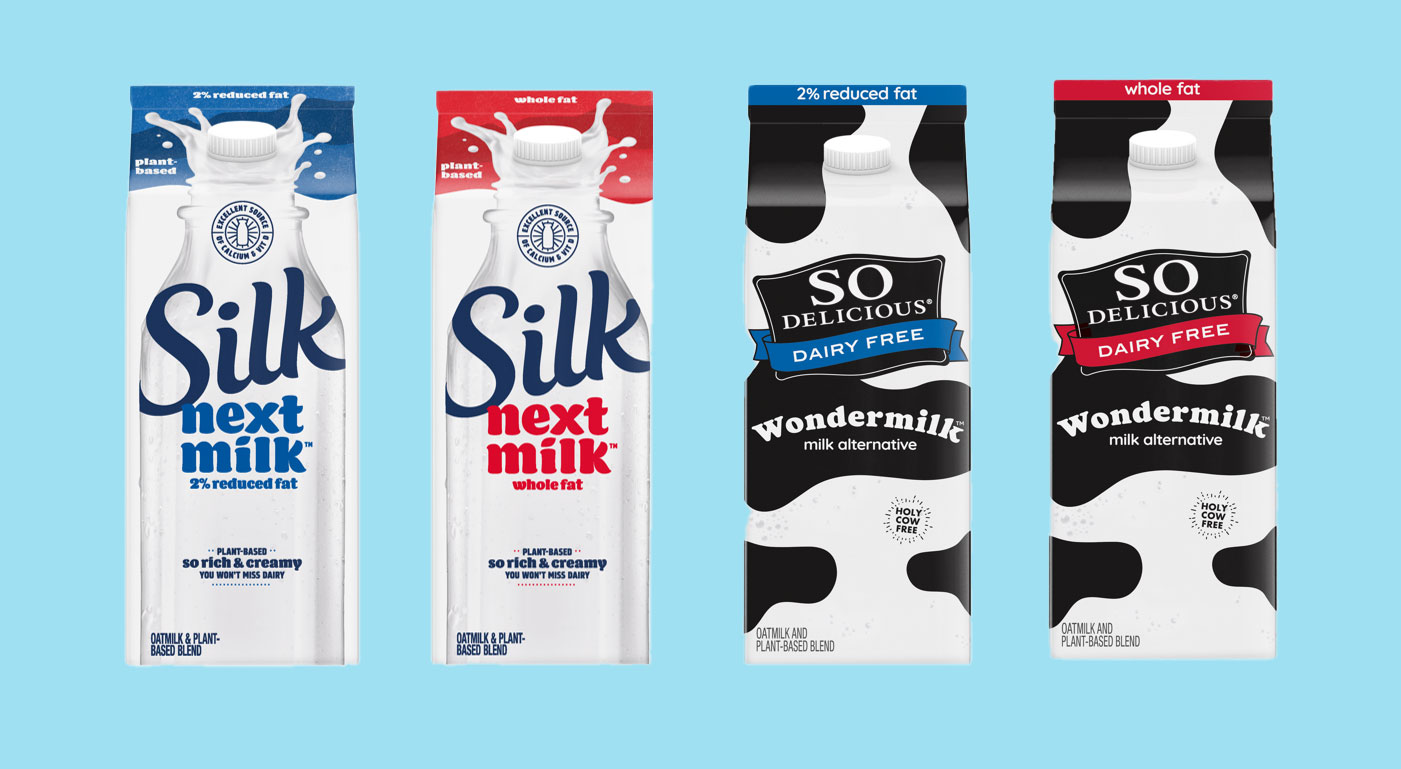 Silk
With this new technology, Danone is also planning to debut a similar "dairy-like" line under its Silk brand called Nextmilk. While both Wondermilk and Nextmilk rely on most of the same ingredients, they serve different purposes. Silk's Nextmilk is designed to be consumed on its own, while So Delicious Wondermilk is designed for cooking and baking.
The store locator for the new So Delicious Wondermilk line can be found here.
Plant-based milk brands that are just like dairy
The dairy-free category is ever-evolving, and there are already milk alternatives on the market that aim to taste more like the real thing. Chilean vegan startup NotCo created NotMilk in whole and 2-percent varieties created to look, taste, and function exactly like its animal-derived counterpart. The product made its debut in the United States last fall at Whole Foods Market after successfully closing a $85 million Series C funding round.
Impossible Foods is also getting in on the vegan dairy category with the development of its own dairy-identical "functional" milk made from plants that looks, tastes, and functions like cow's milk. As of last fall when the company shared prototypes during a press conference, Impossible Foods was in the development stage of its plant-based milk and has yet to announce how the new product will be commercialized.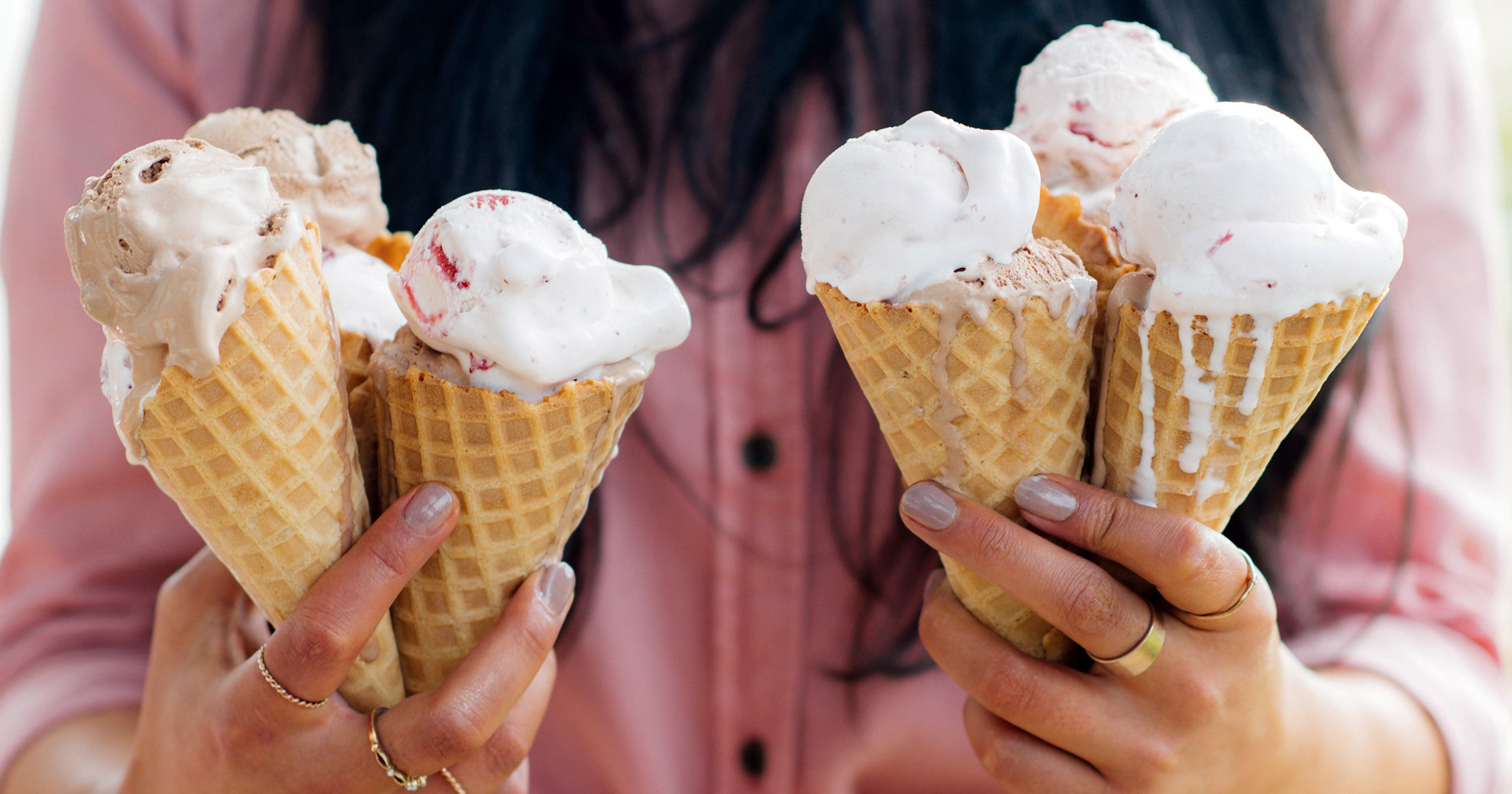 Perfect Day
Other companies are using new methods, including food technology company Perfect Day which uses precision fermentation to create a dairy-identical whey protein that doesn't require exploiting cows. In 2019, the startup released a 1,000-pint, limited-batch of ice cream which, despite a price tag of $20 per pint, sold out within 24 hours. To create the biggest impact, the company is now partnering with existing companies that can use its innovative vegan whey proteins to develop dairy-free versions of their traditional dairy product lines.
For more on vegan dairy, read:
Vegan "Dairy-Identical" Cheese Will Launch in 2023
Rock Legend Bryan Adams Helped Launch New Vegan Dairy Company
Former Dairy Farmers Now Produce Vegan Oat Milk