The iconic seven-layer dip is one of those dishes that can look stunning when first presented, but always gets destroyed by the end of the night. The eye-catching layers of taco toppings simply don't stand up to the constant dipping and scooping of party guests, but even in its ugly-delicious phase, people will still come back for more. With football season in full swing and fall get-togethers on the rise, it's essential to have a solid seven-layer dip recipe in your entertaining arsenal. Here are the basics plus a few unique twists to make it your own.
What is seven-layer dip?
The name of this crowd-pleasing appetizer isn't cute or playful—it's quite literal. A classic seven-layer dip contains seven layers of ingredients, most traditionally inspired by what you'd accompany a taco. The standard dip consists of perfectly defined layers of refried beans flavored with taco seasoning, guacamole, sour cream, salsa or diced tomatoes, shredded cheddar cheese, black olives, and fresh cilantro. The hefty dish is most commonly served with tortilla chips. In theory, it's the perfect combination. In practice, it's a bit of a mess, but still a hit at parties. Like nachos, a seven-layer dip is a gamble—you'll inevitably get more of one ingredient and possibly none of another (you have to dig deep for those beans!), but that's part of the fun. And while two of the seven are dairy-based, you can easily swap in dairy-free cheese and sour cream for a plant-based version. Keep reading to learn how to master the seven-layer dip and please all your party guests with tasty new variations.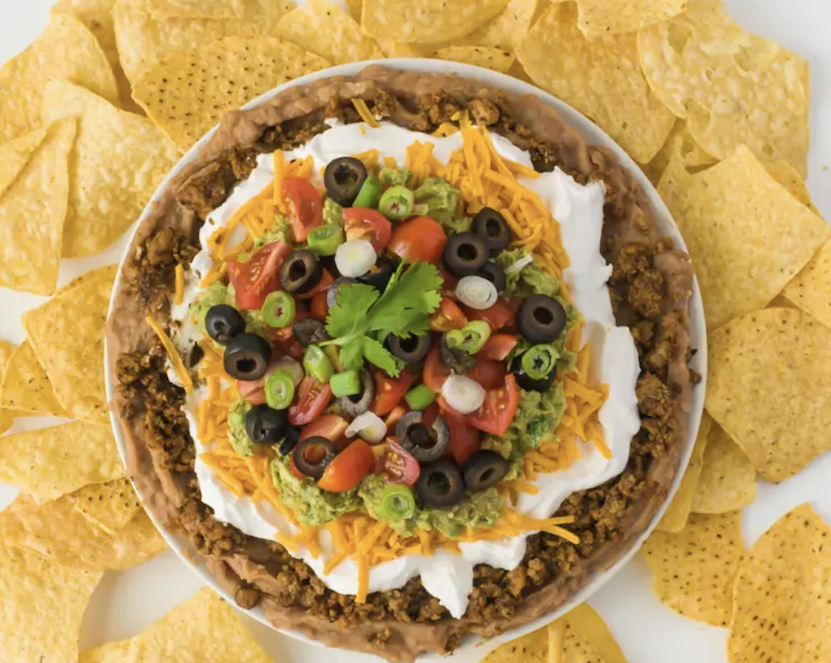 Namely Marly
1 Mexican 7-Layer Dip
If you've never made a seven-layer dip before, start here. This is a classic recipe that is exceptionally straightforward and virtually foolproof. Choose to assemble your dip with all store-bought items or get a little more culinary by making the refried beans called for in the recipe. You can also add a topping of plant-based chorizo or taco-seasoned beef crumbles for an even heartier appetizer.
Dipper suggestions: lime-flavored tortilla chips, carrot sticks
Find out more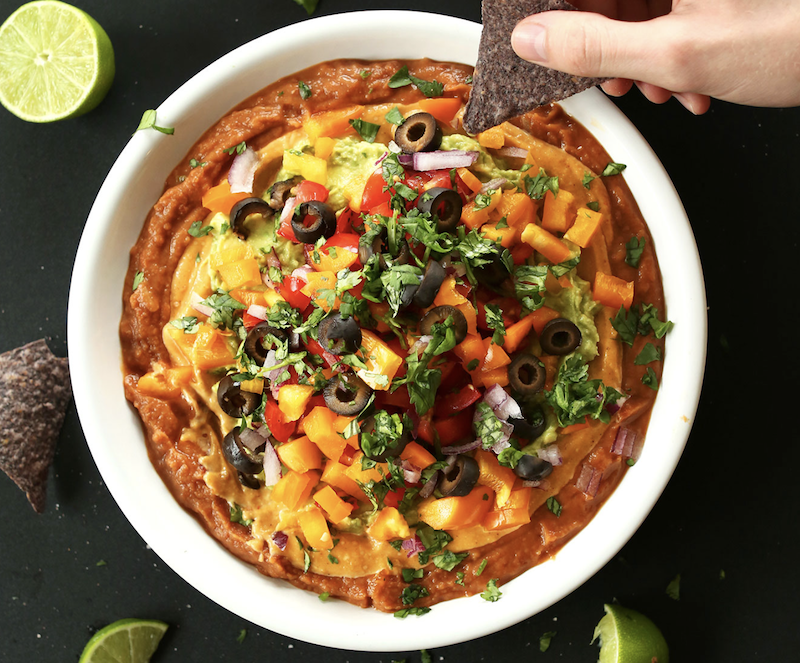 Minimalist Baker
2 Vegan 7-Layer Dip
Not a sour cream fan? We know, it's an acquired taste. This recipe nixes this somewhat controversial condiment and replaces it with molten vegan queso or homemade cashew cheese sauce. We highly recommend serving this hot.
Dipper suggestions: hot flour tortillas, jicama sticks
Find out more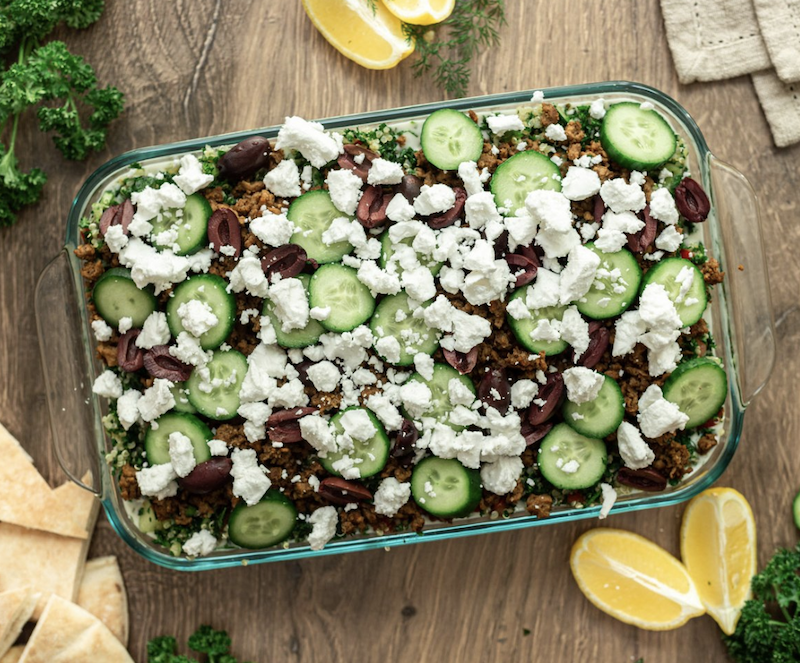 Abbot's Butcher
3 Seven-Layer Mediterranean Dip
Who doesn't love a smorgasbord of Mediterranean dips served with fluffy, hot pita bread or lavash? This recipe saves you a few dishes by combining all your favorite flavors in one giant casserole dish. It starts with a thick foundation of hummus followed by dairy-free tzatziki, herby tabbouleh, plant-based ground beef, crisp cucumbers, vegan feta, and briny kalamata olives. Truly, it's a meal in itself.
Dipper suggestions: hot pita pockets, toasted pita chips, lavash
Find out more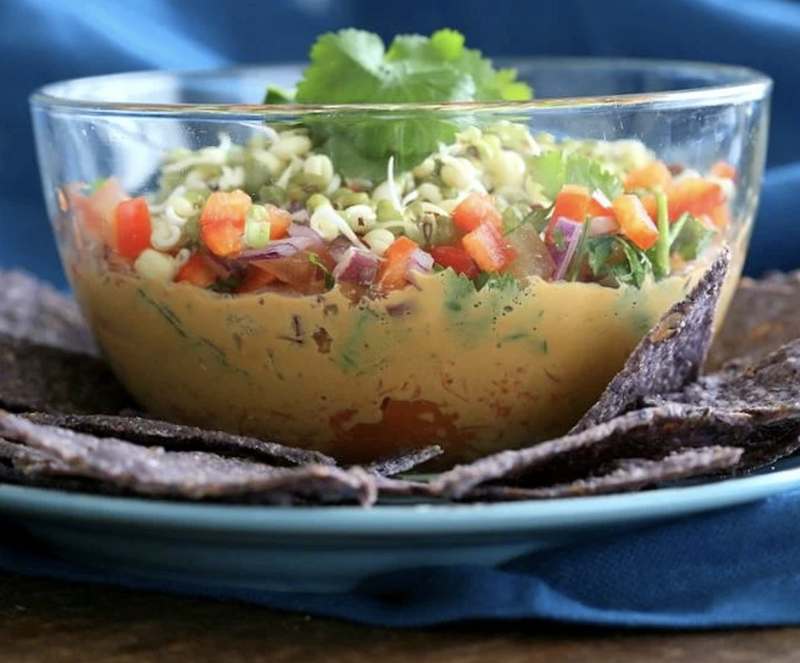 Vegan Richa
4 Thai Layered Dip
When you thought peanut sauce couldn't get any better, it does. This sweet, nutty, and spicy appetizer starts with a foundation of crunchy shredded carrots buried by a thick layer of sriracha-laced peanut sauce, sambal oelek-infused salsa, fresh cilantro and mint, crisp mung bean sprouts, chopped peanuts, fried noodles, and a dash of lime juice. While it takes a bit more time, this version is best when making peanut sauce and salsa from scratch.
Dipper suggestions: cucumbers, carrot sticks, toasted pita chips
Find out more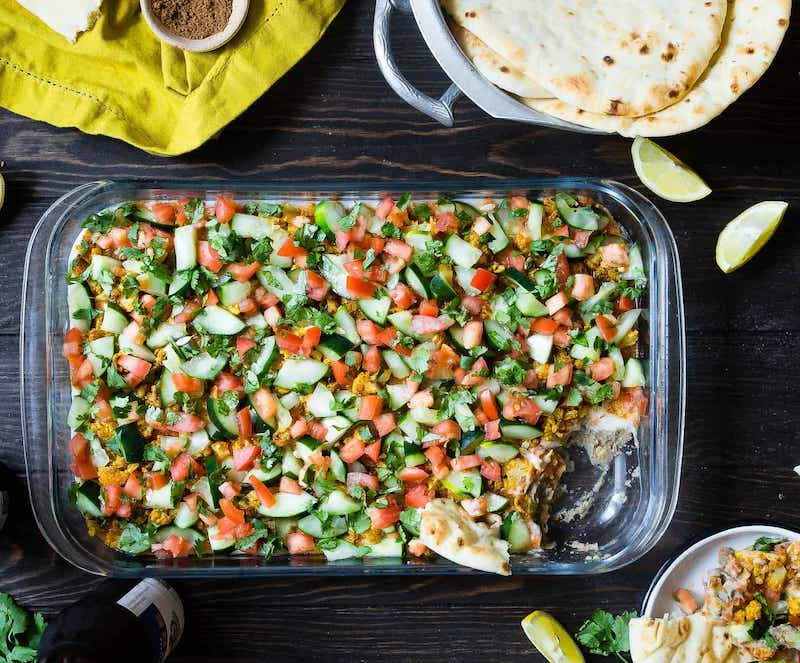 Food Fait Fitness
5 Indian Seven-Layer Dip
This is a dip of our own invention, inspired by a non-vegan recipe we came across online. It starts with a creamy, cool cucumber raita topped with tamarind chutney, baingan bharta (roasted eggplant dip), roasted chickpeas, Brooklyn Delhi Roasted Garlic Achaar, pickled onions, and fresh cilantro or fried curry leaves if you want to be extra. It's a labor of love, as this isn't an assembly only recipe, but try it once and you'll crave it always.
Dipper suggestions: hot roti, pita chips, lentil chips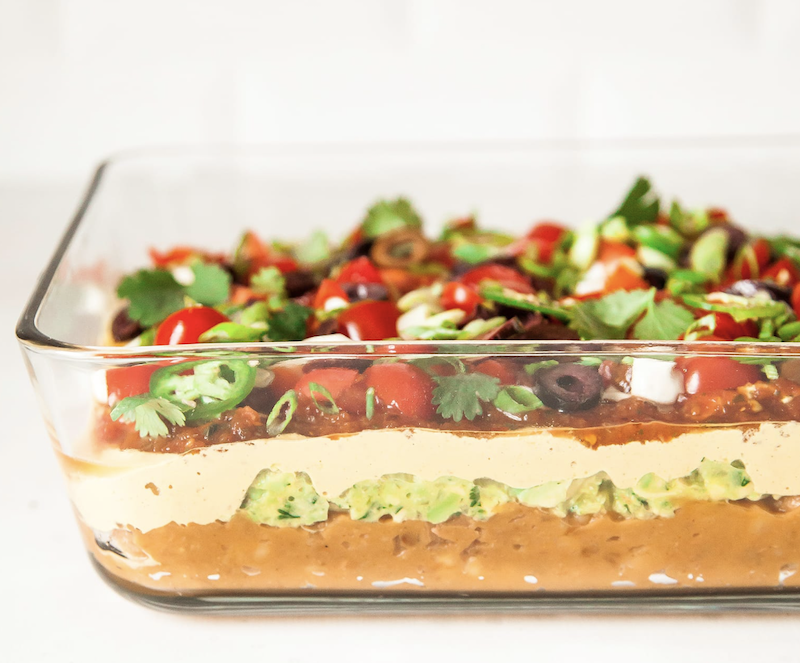 The First Mess
6 Vegan Seven-Layer Dip with Buffalo Refried Beans
This recipe isn't so much of a departure from the classic dip—the secret is in the beans. A few glugs of vegan Buffalo-style hot sauce impart a spicy kick and unexpected flavor to this otherwise tame dish. Your guests won't be able to put their finger on it, but everyone will ask for the recipe. To make this an eight- or nine-layer dip, top the delicious monstrosity with browned vegan chicken and a heavy drizzle of Frank's red hot and/or vegan ranch dressing.
Dipper suggestions: celery sticks, tortilla chips, vegan chicken tenders
Find out more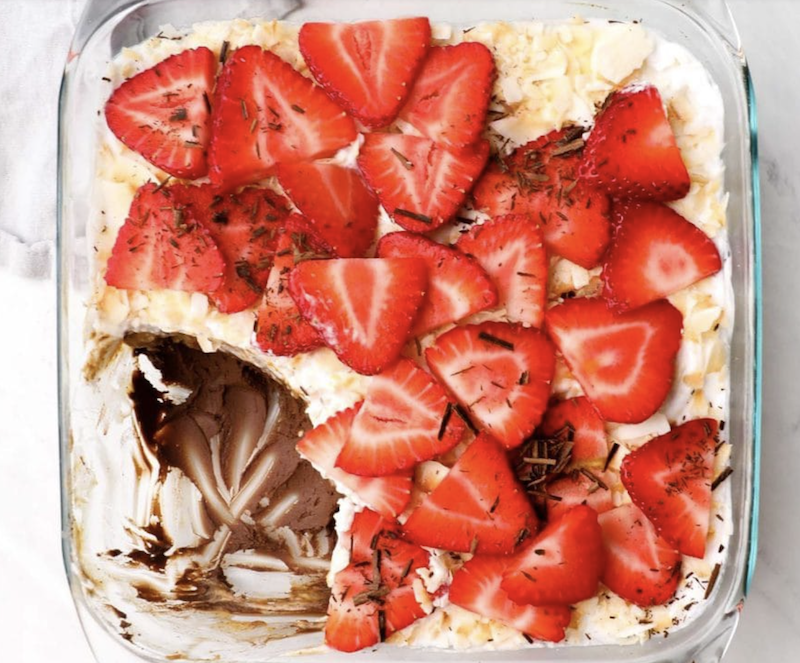 Darn Good Veggies
7 Dessert Seven-Layer Dip
While seven-layer dips lean savory, the concept lends itself very well to the sweet side of party food. A seven-layer dessert dip is the ultimate trifle. The trick is to not let your sweet tooth run wild and try to keep things in balance because these treats can easily become too sweet. This recipe maintains ingredient harmony by layering a date-sweetened, dark chocolate mousse, toasted chopped almonds, chopped dates, salted caramel, lightly-sweetened coconut cream, toasted coconut, and sliced strawberries (bananas and raspberries work well, too). The texture variation between rich and decadent mousse, light and silky whip, sticky salted caramel, chewy dates, and crunchy almonds will keep everyone coming back for more.
Dipper suggestions: vegan graham crackers, vegan shortbread cookies
Find out more
For more on vegan party food, read: