In the case of vegan products, the chicken certainly came before the (vegan) egg. It took the plant-based industry a while to debut a product (other than tofu) that cooked and baked up like a bird-based egg, but today, we not only have one stellar egg alternative but an ever-growing handful of them.
The innovation began with powdered products that could be scrambled and baked when reconstituted with water. In 2018, JUST Egg entered the space with its pourable, mung bean-based egg and continued on to dominate the category. While JUST Egg may still be the frontrunner, there's plenty of room for other brands to try their hand at a plant-based egg alternative.
We've discovered a bounty of new vegan products throughout the year, and plenty of things have delighted our taste buds—including plant-based eggs.
5 new vegan eggs making the chicken egg obsolete
From pourable options with clean ingredient labels to an old-school, tofu-based innovation, here are five vegan eggs to keep an eye out for. Note: because they're newer to the market, not all of these products are available in stores just yet.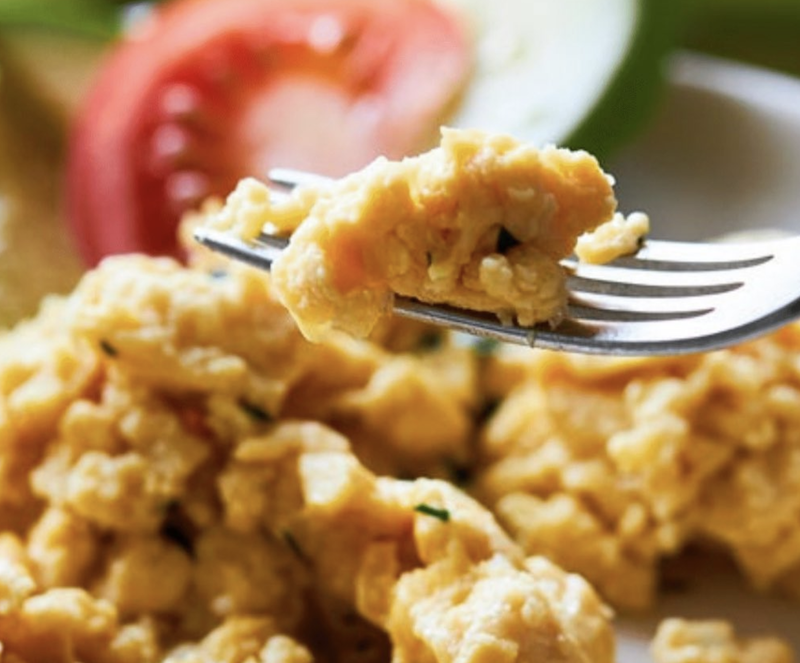 Acremade
1 Acremade
We could not believe this incredibly fluffy, eggy scramble was originally a reconstituted powder. Sure, it certainly helped that the plant-based eggs were cooked with a generous pat of dairy-free butter, but the pronounced flavor and spot-on texture really made us swoon.
The emerging brand makes two products—Egg Scrambler and Egg Replacer—both of which rely on pea protein for the base. The latter is used for replacing chicken eggs in baked goods while the former—the item we tried—is ideal for omelets, quiches, and scrambling, of course. They're also free from the top nine allergens, including gluten, soy, and nuts.
It's not available in stores at the moment, but it is available online via the company's website and will soon be available for purchase via Amazon. Follow the company on Instagram to find out when you can get your hands on a bag from your local supermarket.
Find out more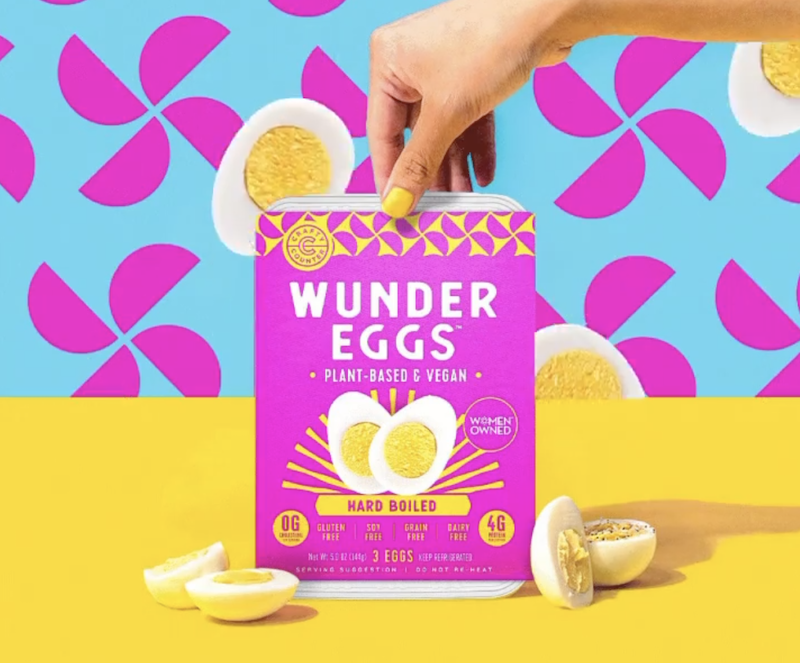 Crafty Counter
2 Crafty Counter
While less versatile than powdered or liquid eggs, the new WunderEgg does something we've never seen on the mass market before: replicate a hard-boiled egg.
No peeling required, this product aims to look, taste, and feel just like a hard-boiled egg. Unlike many vegan alternatives, the ingredient list is shockingly wholesome. The main components include water, cashews, almonds, and coconut milk; the additional trace ingredients include black salt, agar, turmeric extract, and nutritional yeast.
It also contains no natural flavors, gums, starches, or weird eggy smell. We're as impressed by this label as we are by the eggy product. Available at Whole Foods Market locations nationwide, WunderEgg is sure to be your new vegan staple.
Find out more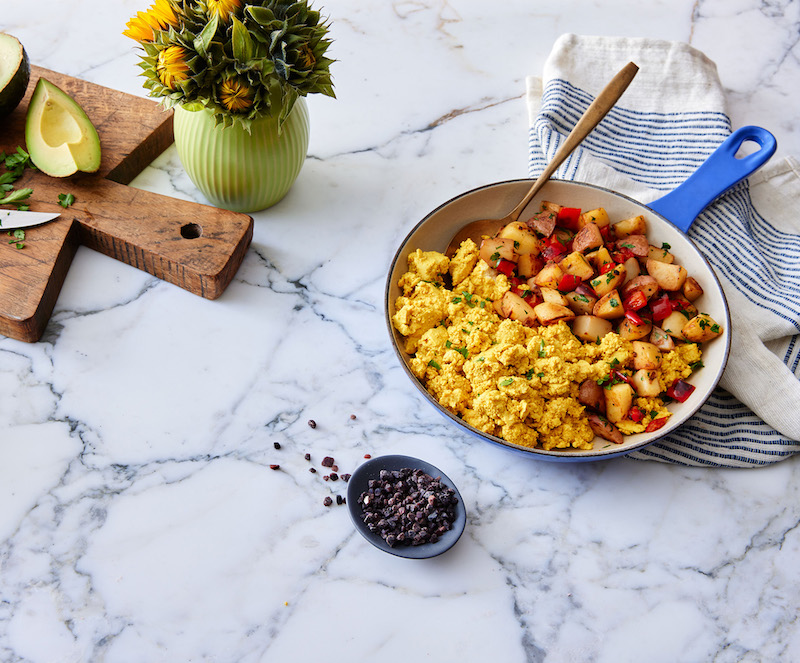 Hodo Foods
3 Hodo Foods
Tofu has always been the original vegan egg replacer.
Firm tofu can be sautéed into an acceptable scramble and silken tofu blends up into an impressive alternative for baked goods, quiches, and omelets. However, Hodo isn't using this as a cop-out. The longstanding, tofu-driven brand debuted a product specifically designed to replicate chicken eggs.
The turmeric- and black salt-seasoned soy Tofu Egg can be served hot or cold. We tried it in a chilled egg salad and went back for seconds. It's currently available in some major supermarkets, including Whole Foods Market, Albertsons Texas, Tom Thumb, Randalls, and more. According to the brand, it will launch soon in Sprouts and Natural Grocers.
4 Spero
This soft vegan cheese company is switching from sunflower seeds to pepitas to produce its own version of a pourable, versatile vegan egg.
The upcoming allergen-friendly product differentiates itself from others on the market with its minimalist and clean ingredient label. Spero's Pepita Egg contains just seven ingredients: water, pepita seeds, salt, garlic powder, mushroom extract, beta carotene, and nisin (a preservative). The brand claims this egg can transform into suitable scrambles, fluffy omelets, and tender pancakes and waffles.
We found the texture to be not quite like a chicken-based omelet, but still satisfying. If you're looking for a cleaner vegan egg option, head to your local Sprouts and get scrambling.
Find out more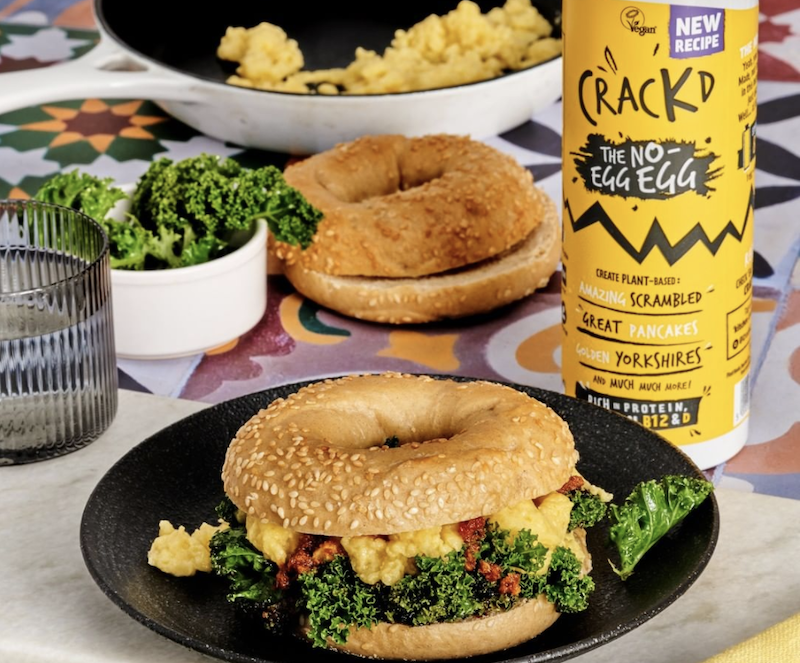 Crackd
5 Crackd
It may take some time for this pourable vegan egg to wash up on America's shores, but we're hoping retailers pick this up soon.
The pea protein-based product is already available in select stores in the UK. We sampled this vegan egg in both savory and sweet iterations—a coin-sized omelet, a bite-sized brownie, and a tiny pancake.
Even though it's not available stateside just yet, we're excited to see if this plant-based egg truly can be swapped one-for-one for chicken eggs in the mouth-watering recipes we come across all across the internet. Until then, we'll stick to our tried-and-true vegan recipes.
Find out more
For more on vegan eggs, read: