The start of September marks the final days of summer. But before we go all-in on sweater weather and pumpkin spice, it's time to bid farewell to the season with one last summer cookout. While classic barbecue fare is undoubtedly meat-centric, there's a plant-based counterpart (or two, or three …) for just about anything you could want at an outdoor grill sesh that's good enough to tempt even the most veg-avoidant of barbecue guests. With so many options on the market, you might not know where to start, so we're here to help you out. So, let's talk about one that's very near-and-dear to our hearts: hot dogs.
Originating from Germany, food historians have traced the hot dog's arrival in the United States to immigrants in the late 1800s. Affordable and convenient to eat on the way home, or during a day out on the town, they were quickly adopted as a food of the working class, sold by vendors from street carts on the sidewalk and at baseball games.
Traditionally, hot dogs are made from the trimmings of chicken, pork, or beef. But these days, there are several vegan versions on the market—even IKEA makes one, which you can pick up at the food court. We picked the best of them, plus we threw in our favorite plant-based sausages, too, because we're all about options.
Are hot dog buns vegan?
What would hot dogs be without the bun? Thankfully, you can find a lot of different kinds of vegan bread at the grocery store, but there are also several brands that use animal-derived ingredients in their hot dog buns.
In general, milk and butter are the most common non-vegan ingredients you'll find in store-bought hot dog buns. But, some options, the gluten-free ones, in particular, may contain eggs.
It's also not uncommon to find honey in commercial bread, so be sure to read the ingredients list before purchasing anything. Some vegan hot dog bun options include Food For Life's Ezekiel 4:9 Sprouted Grain Hot Dog Buns, Arnold Country Potato Hot Dog Rolls, Stroehmann Dutch Country Burger Potato Rolls, Sara Lee Soft & Smooth Hot Dog Buns, and 365 Whole Wheat Hot Dog Buns.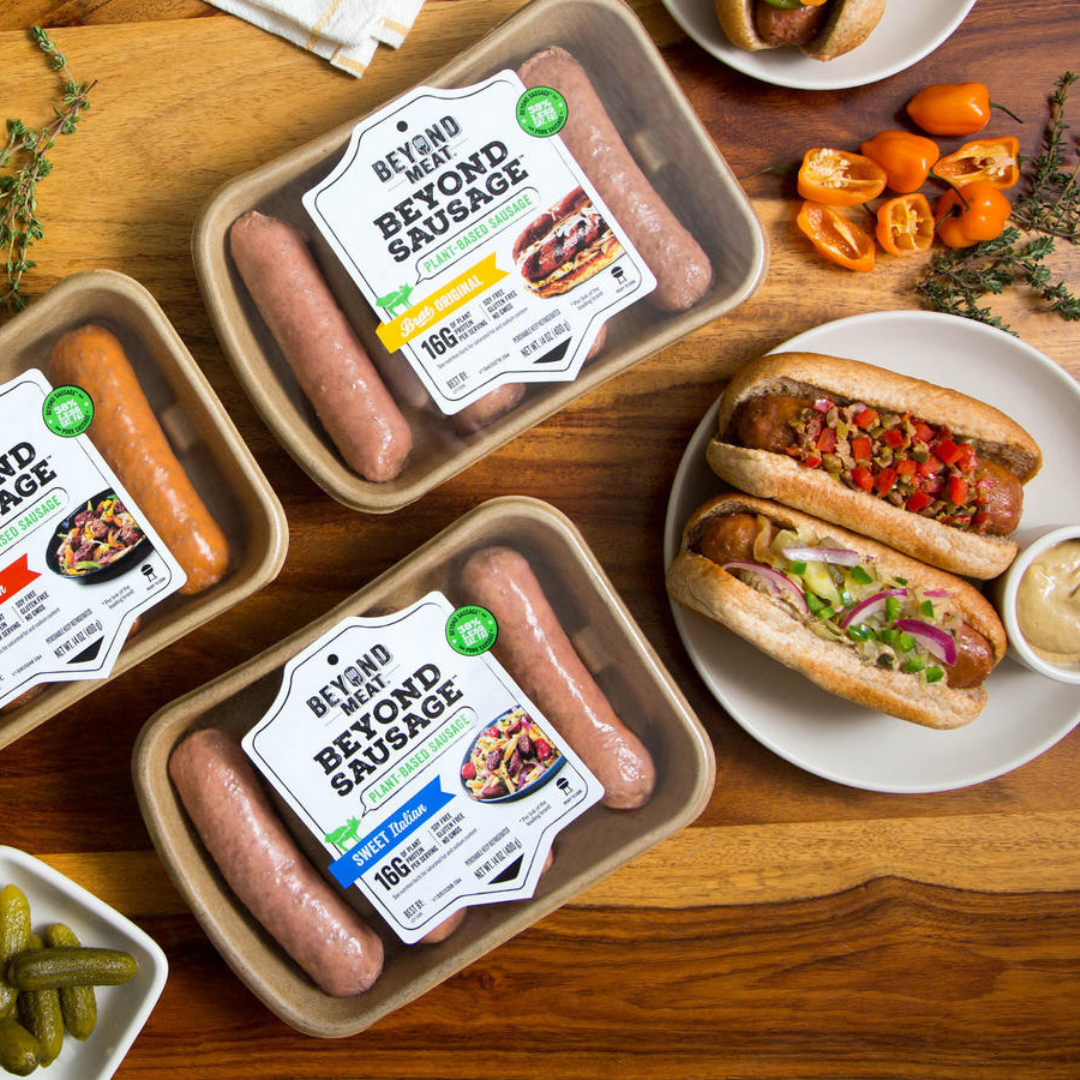 1 Beyond Sausage
When Beyond Meat dropped its line of Beyond Sausages back in December 2017, we were ready. Made to taste like conventional pork sausage, these meaty links are crafted from a blend of pea, fava bean, and rice protein, plus coconut oil to deliver on juiciness. Plus, they're wrapped in an algae-derived casing so you get that satisfying snap when you bite into one. The Beyond Sausage comes in three flavors: Brats, Hot Italian, and Sweet Italian all of which would be a welcome addition to your grill.
FIND OUT MORE
2 Field Roast
The artisan vegan meat-makers at Field Roast have nailed the experience of eating a conventional hot dog, without the pork or questionable ingredients. The brand makes two kinds of hot dogs: the Signature Stadium Dog and the Classic Smoked Frankfurters. The former is made from a blend of pea protein, vital wheat gluten, brown rice protein, and faba bean protein and infused with hardwood smoked sugar, plus garlic, pepper, and paprika for that classic ballpark flavor. Meanwhile, the latter is made from vital wheat gluten for that extra-meaty taste, and it sizzles beautifully on the grill. Pass the mustard, please!
FIND OUT MORE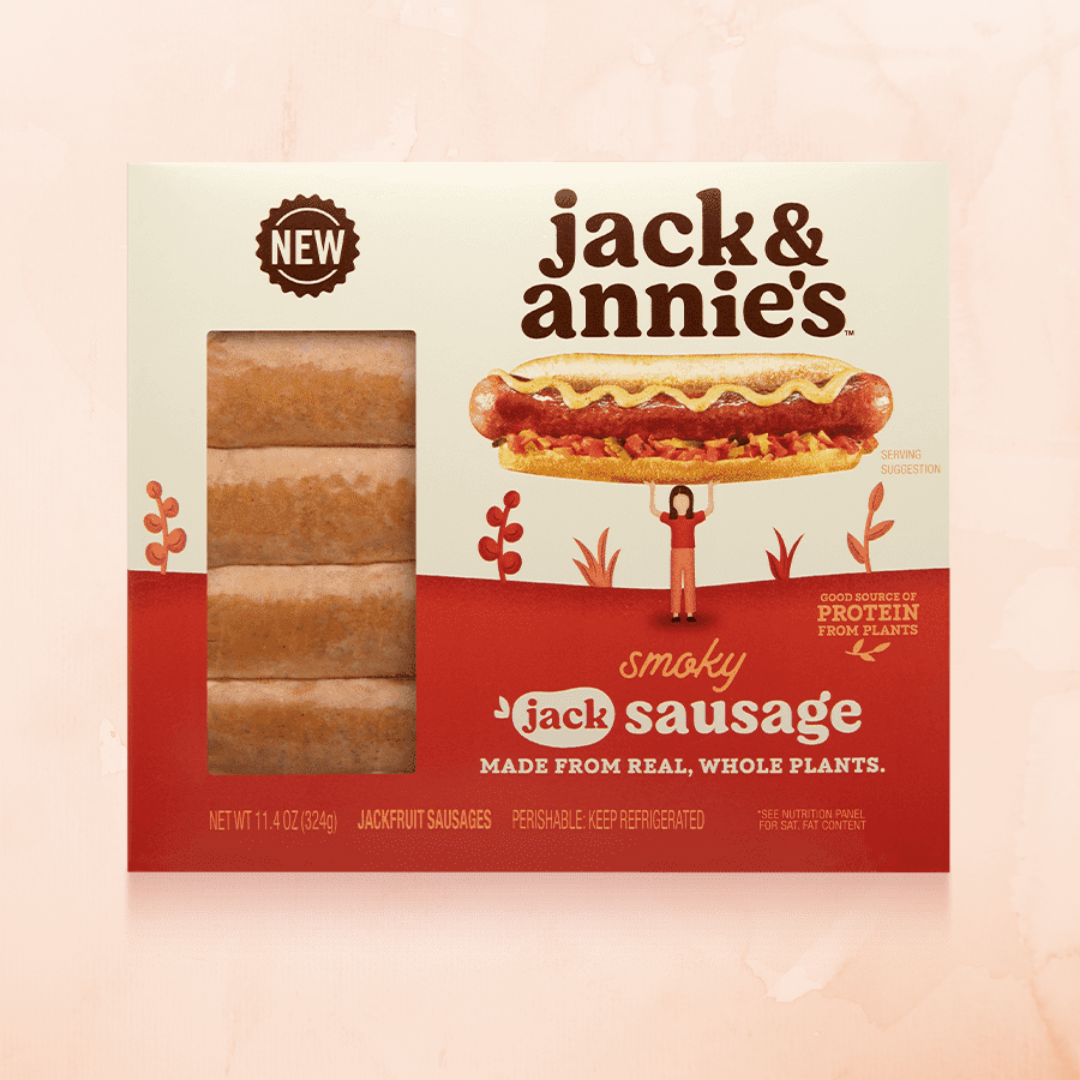 3 Jack & Annie's
We're grateful to be living in the present day, where hot dogs can be made from soy, pea protein, seitan, and even jackfruit. Here in the states, jackfruit has gained some mainstream fame as a substitute for pulled pork, but the clever folks at Jack & Annies have learned how to take this fruit's meaty texture and make it over into a classic all-American hot dog. This gluten-free sausage has a lightly smoky flavor that makes it perfect for any style of dog, from New York to Chicago.
FIND OUT MORE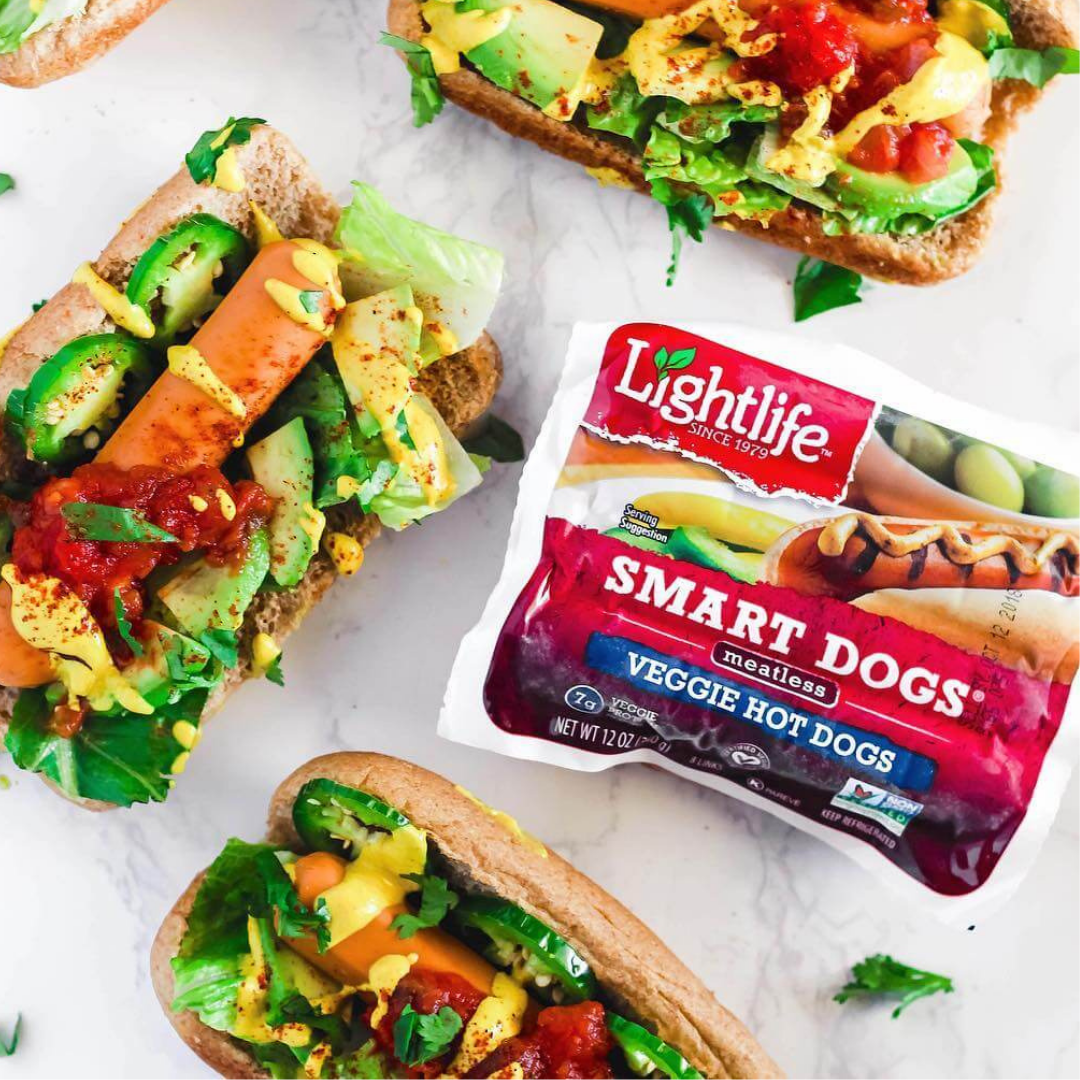 4 Lightlife
For a vegan hot dog that's tried-and-true, look no further than Lightlife's Jumbo Smart Dogs. Lightlife launched its iconic Smart Dogs back in 1993, the year of the original Jurassic Park and Free Willy. So, in terms of plant-based meat, they've stood the test of time. These vegan hot dogs are made from soy protein and deliver on that classic hot dog flavor that channels childhood backyard barbecues. Plus, Lightlife is a carbon-neutral company. Delicious and sustainable? That's a win-win.
FIND OUT MORE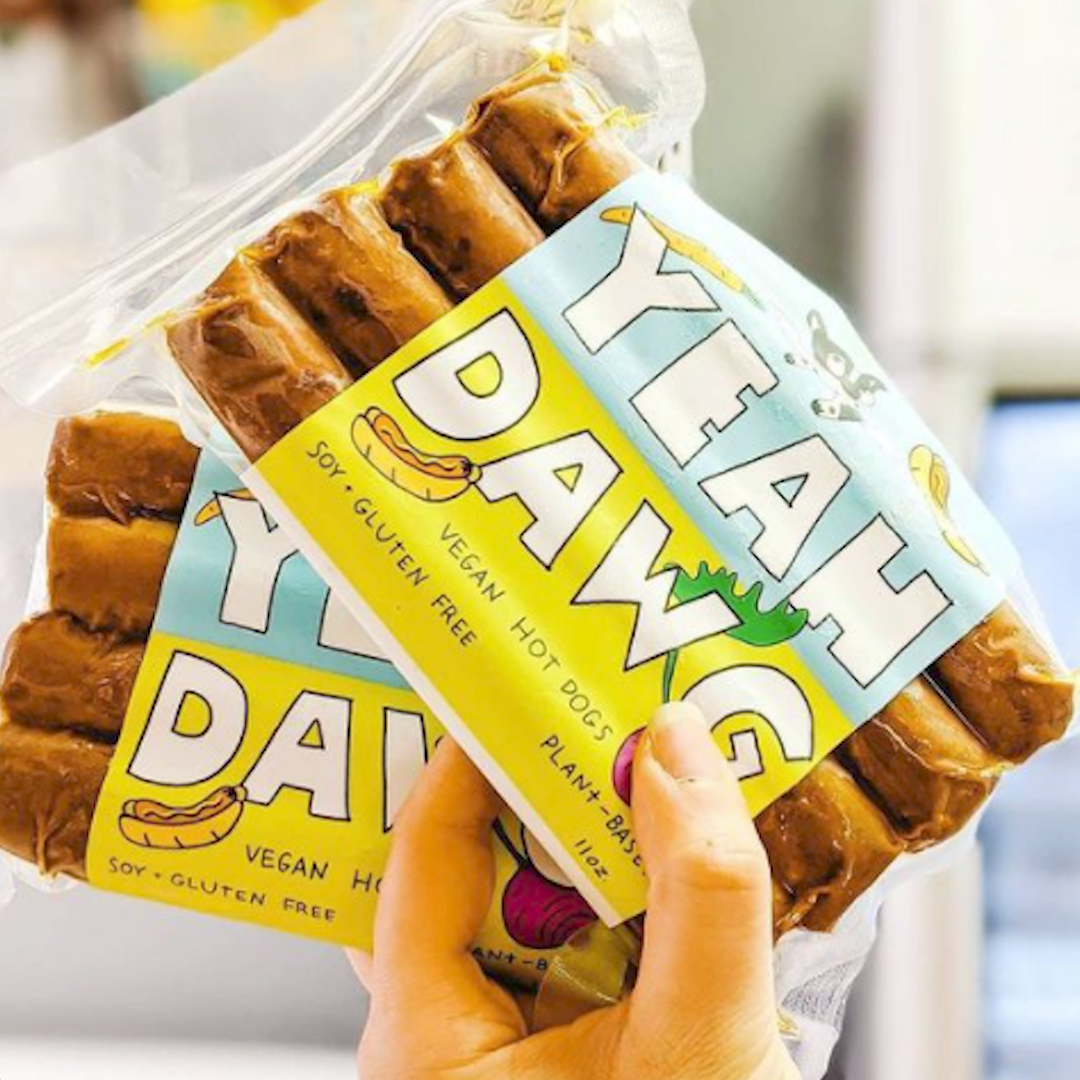 5 Yeah Dawg
This bundle from New York City-based brand Yeah Dawg includes four of its signature vegan hot dogs and bratwurst. Its soy- and gluten-free flours are made from beets, sweet potatoes, potatoes, carrots, and sunflower seeds, plus a blend of flours. Meanwhile, its brats feature chickpeas, plus shiitake and oyster mushrooms that deliver a woody, umami flavor that channels the flavor of roast chicken.
FIND OUT MORE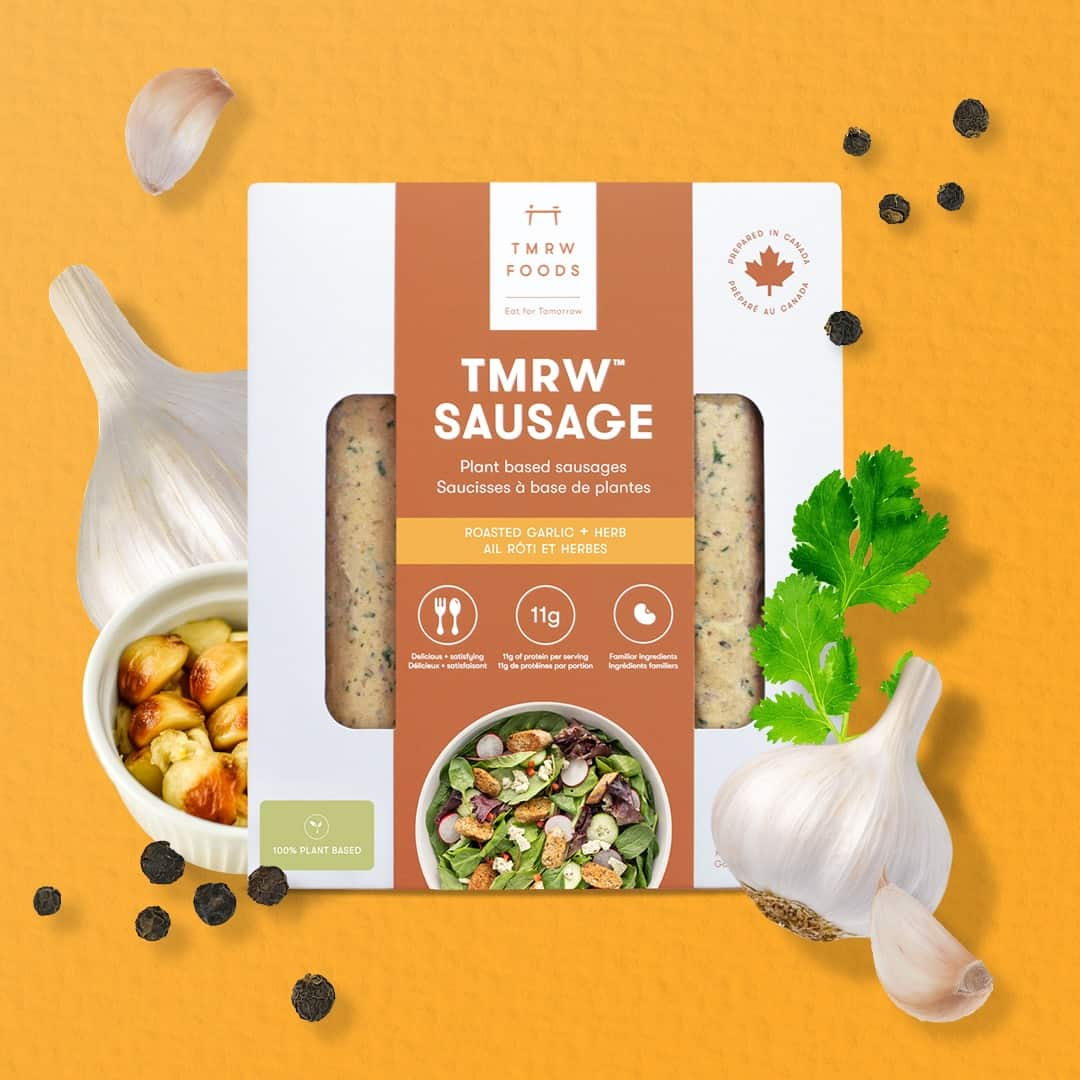 6 TMRW
With a meaty bite, thanks to textured wheat protein, TMRW's Garlic and Herb Sausage is 100-percent ready for the grill. In addition to that, it contains kidney beans, yellow split peas, and sunflower seeds, plus garlic and parsley. Serve it up with sauteed bell peppers and onion for a sausage-and-peppers-style barbecue meal.
FIND OUT MORE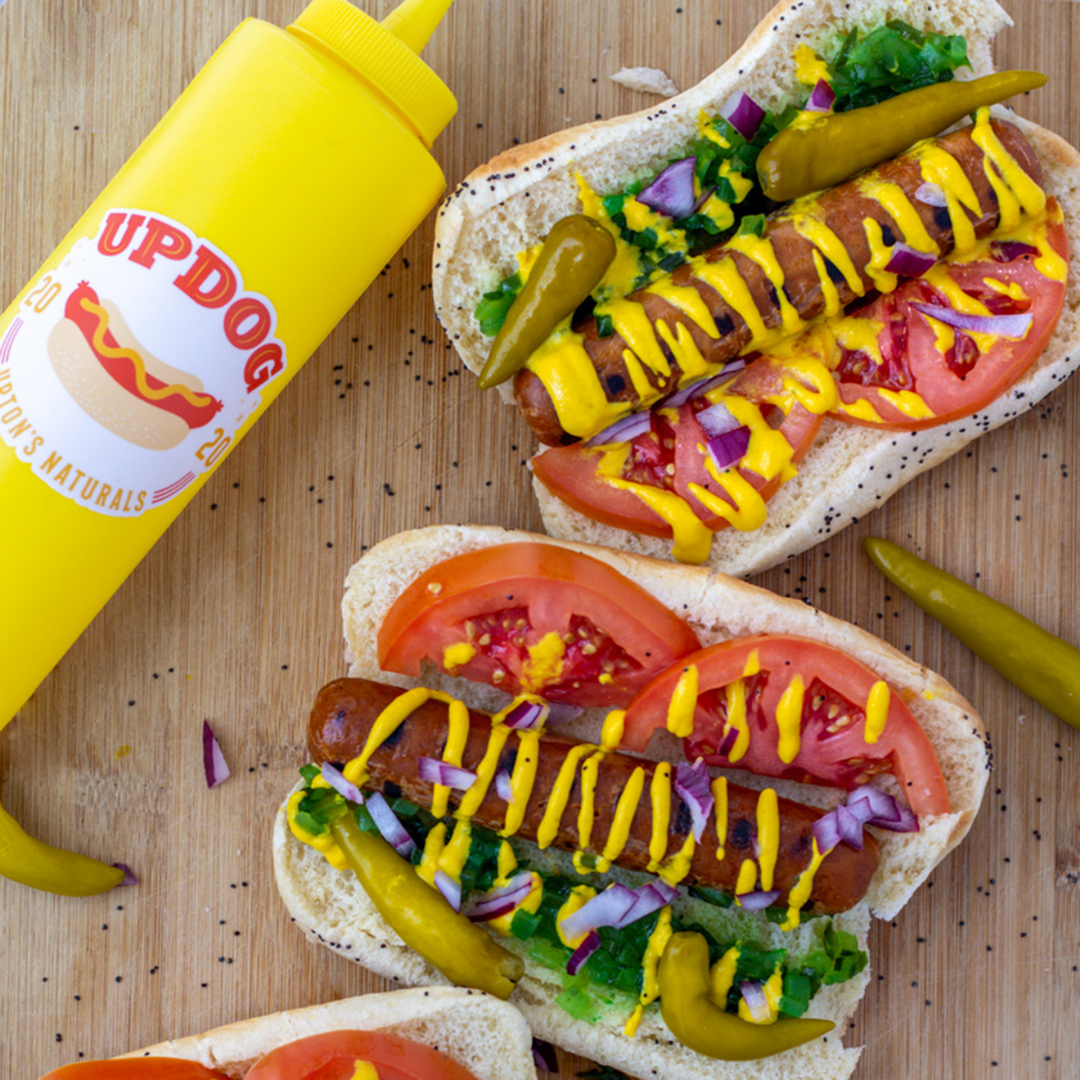 7 Upton's Naturals
Chicago-based brand Upton's Naturals makes its vegan hot dogs from two of the Windy City's favorite seasonings: mustard and celery seeds. Plus, they're cured for that authentic hot dog flavor, infused with natural hickory smoke flavor, and they have that "real hot dog" bite, thanks to an algae-based coating. Any topping is good, but these dogs really shine when you serve them Chicago-style—that's in a poppy seed bun, topped with yellow mustard, relish, chopped onion, tomato wedges, kosher pickle spears, sport peppers, and a pinch of celery salt.
FIND OUT MORE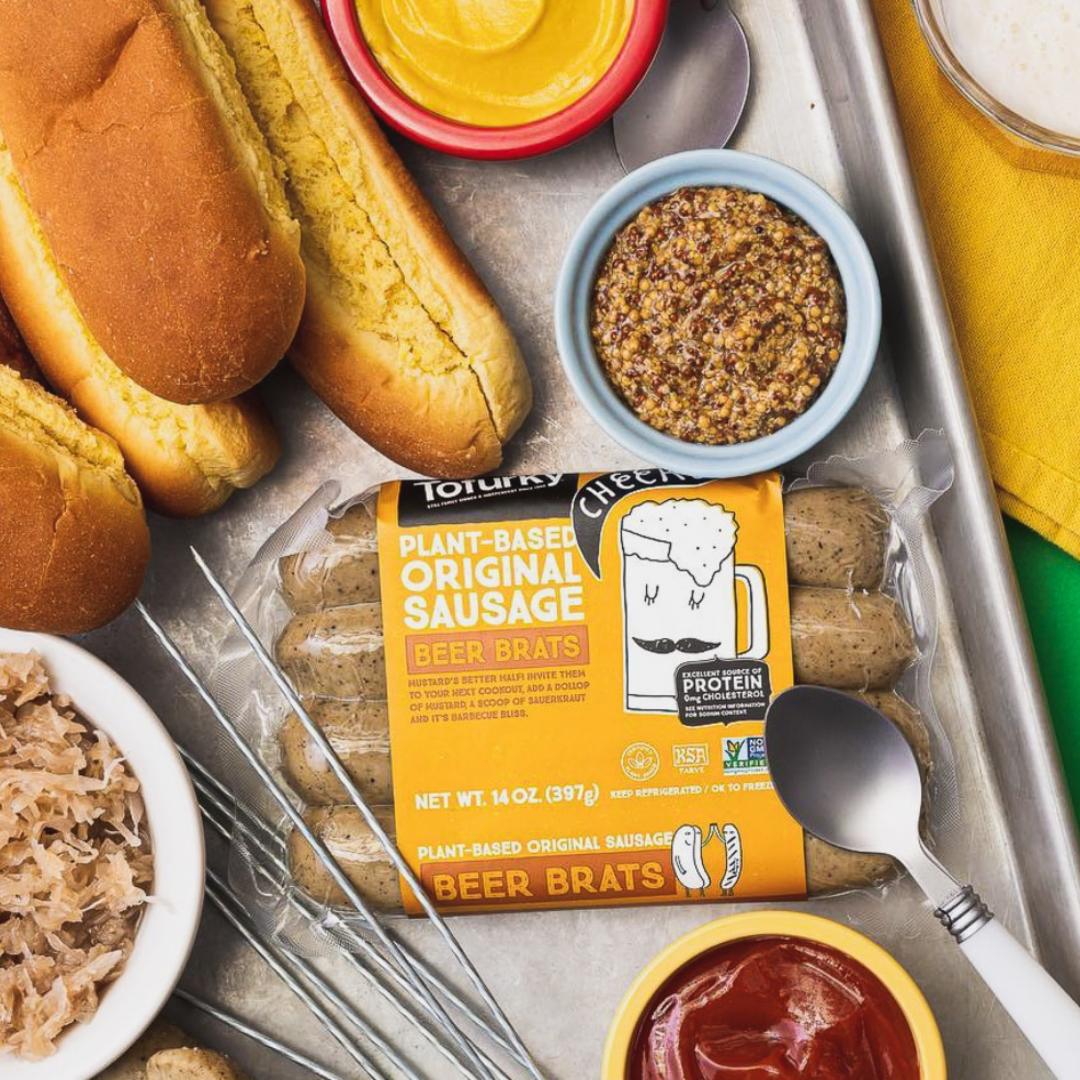 8 Tofurky
Variety is the spice of life, so they say. Old school vegan brand Tofurky makes three flavors of plant-based sausage that'll be right at home with all of the barbecue fixings. Serve their Beer Brats with sauerkraut and mustard, the Kielbasa with sauerkraut and quick-pickled red cabbage, and the Italian with grilled peppers and onions to make everyone at the barbecue very, very happy.
FIND OUT MORE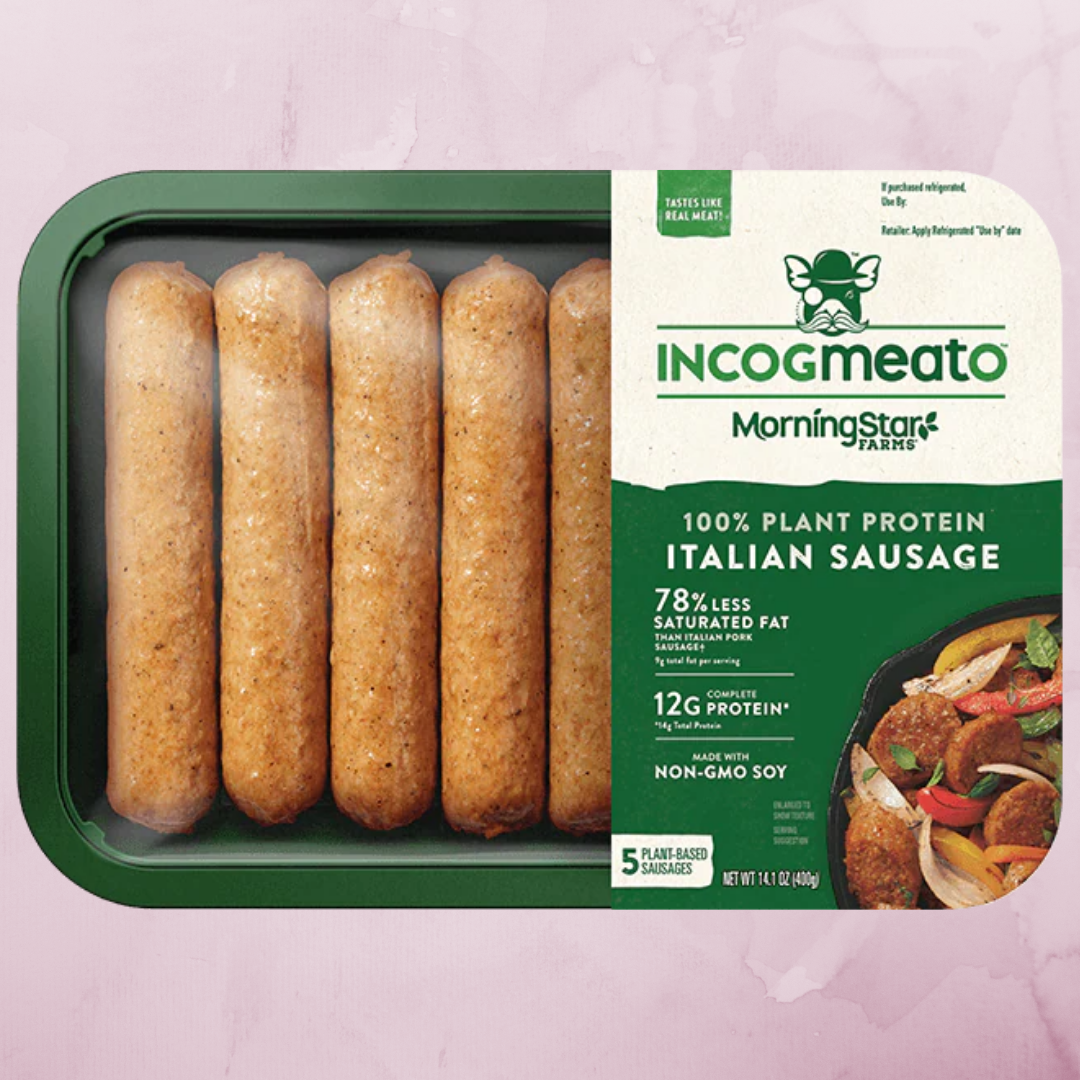 9 MorningStar Farms
MorningStar Farms' Veggie Dogs are a total nostalgia-fest for a lot of longtime vegans and vegetarians. Made from wheat gluten, they taste just like a classic American hot dog, with a savory flavor and underlying sweetness, courtesy of a dash of brown sugar. Serve them alongside classic barbecue sides like corn-on-the-cob, vegan potato salad, baked beans, and collard greens.
FIND OUT MORE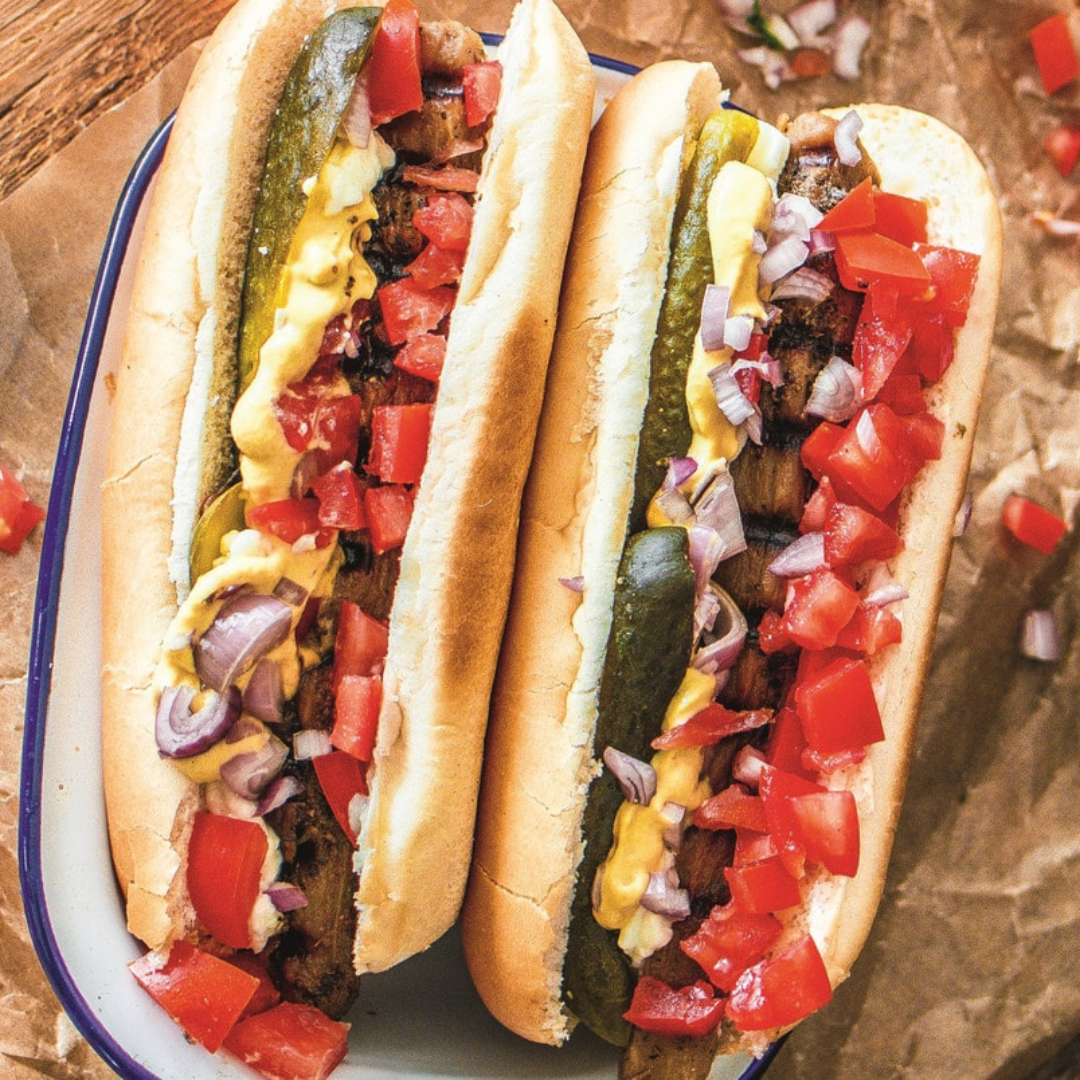 10 Eggplant Ballpark Hot Dogs
We know all about veggies, but we're always on the hunt for a recipe that showcases the truly awesome versatility of vegetables. For example, who would have thought that you could make hot dogs out of carrots or even eggplant? This eggplant hot dog, which is straight out of the VBQ: The Ultimate Vegan Barbecue Cookbook by recipe developers Nadine Horn and Jörg Mayer, makes use of long, slender Japanese eggplants, and seasons them with salt, fennel seed, oregano, garlic powder, paprika, and marjoram for a veggie-centric frank that's big on flavor without an ounce of meat.
GET THE RECIPE
For more vegan barbecue food, read:
These 10 Burgers Are Barbecue-Approved
The Essential Vegan Guide to Grilling
The Ultimate Guide to the Best Memorial Day BBQ