You can't go wrong with a sandwich. That's what most Americans think, anyway. In fact, according to the USDA, on any given day in the US, nearly 50 percent of adults eat at least one for lunch or dinner. There are, of course, many different types of sandwiches. But among the most popular has to be the sub—or the po'boy, if you're in Louisiana, or the hoagie if you're in Philadelphia, or the spuckie if you're in Boston. The nation's favorite foot-long sandwich goes by many names, but everywhere you go, it's essentially a variation on the same thing: layers upon layers of cold cuts, sauces, cheeses, and salad vegetables all squashed together in a delicious roll, which is shaped like a submarine (hence the nickname "sub").
And one of the most popular places to grab a sub is undeniably Jersey Mike's Subs. In 2018, it won an award for being America's fastest-growing restaurant chain for four years in a row. But what about if you're vegan? Can you still join in all the sandwich fun at this New Jersey-headquartered chain? It turns out, while the menu is pretty meat- and cheese-heavy, there are some plant-based options. Here, we've gathered everything vegan at Jersey Mike's. But first, what's so special about this particular sandwich chain?
What is Jersey Mike's Subs?
It might be a sandwich giant now, with more than 2,440 stores across the country, but once upon a time (well, the 1950s), Jersey Mike's was a small mom-and-pop business in Point Pleasant, NJ. Back then, it was called Mike's Subs, and it was run by a local businessman, called (you guessed it) Mike.
According to Jersey Mike's, Mike's Subs built up a reputation in the area for its exceptional service and quality. "People would line up throughout the summer to buy the sub sandwiches that Mike was selling, and to enjoy the experience of coming into his shop," the chain's website reads. "For over half a decade, he built the business into a thriving landmark, and was a pioneer of the authentic subs sandwich."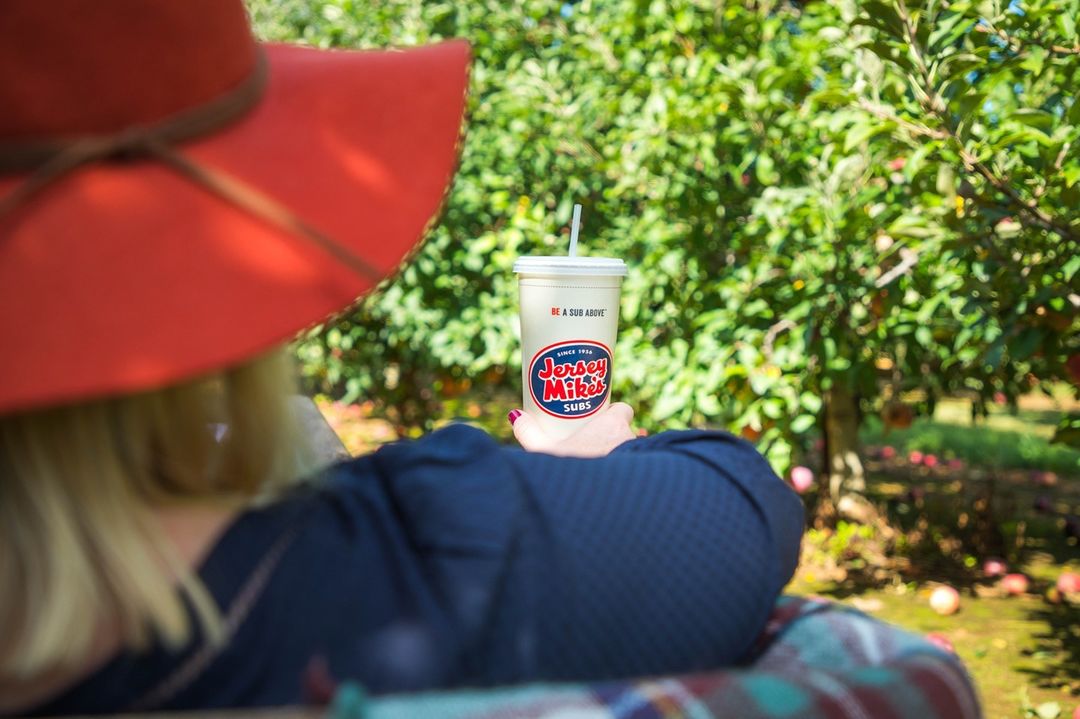 Jersey Mikes/Instagram
In the 1970s, Mike ended up selling the store to his 17-year-old employee, and major sub sandwich fan, Peter Cancro. Together with his wife Linda, the teenager built the business to what it is today: a nationwide billion-dollar sandwich chain that has even appeared in a Jennifer Lopez music video (we're not kidding). Cancro is still at the helm today and has ambitions to take the brand global.
"[I want to take Jersey Mike's] all over the planet," he told QSR in 2015. "I look at it globally. I love Paris and Rome, personally, but our first international locations will probably be in Canada and the Caribbean Islands." Eight years on from that interview, it has three international spots (two in Ontario, Canada, and one in Mexico).
How to order vegan at Jersey Mike's Subs
Jersey Mike's might have big ambitions, an interesting backstory, and a popular menu, but does it cater to vegans as well as meat- and cheese sandwich lovers? The answer is: sure, kind of. There isn't a vegan sub option on the menu (yet), but with a bit of customizing, vegans can enjoy a bite of Jersey Mike's, too. Here's how.
1 Bread
The most important part of building a sandwich is the bread, of course. And Jersey Mike's has a few options suitable for vegans: White Bread and Seeded Italian Bread. The Gluten Free Bread is unfortunately not vegan because it contains egg, and the Wheat Bread contains honey.
2 Hot toppings
While a number of the hot toppings on offer at Jersey Mike's are not vegan (we're talking steak, American cheese, chicken, smoked bacon, you know the drill), there are some options that are totally animal-free. For example, there are fresh portabello mushrooms, peppers, onions, and jalapeños.
Jersey Mikes
3 Grilled portabello mushroom (no cheese)
It's not totally impossible to order off the menu at Jersey Mike's, but you will need to request some alterations. The new #64 Grilled Portabella Mushroom & Swiss hot sub, for example, is totally meatless, but you'll need to ask your server to make it without the cheese. And remember to ask for either White Bread or Seeded Italian Bread.
4 Cold toppings
When it comes to cold toppings, avoid the cold cuts and Swiss cheese, and opt for salad vegetables like lettuce, onions, and tomatoes. There are also toppings like guacamole, pickles, peppers, and herbs, like oregano, to choose from.
5 Sauces
When you're building a great-tasting sandwich, the filling is important, of course. But if you're working with only vegetables, then choosing the right sauce is also crucial. At Jersey Mike's, you can choose from mustard, tomato sauce, olive oil blend, and red wine vinegar.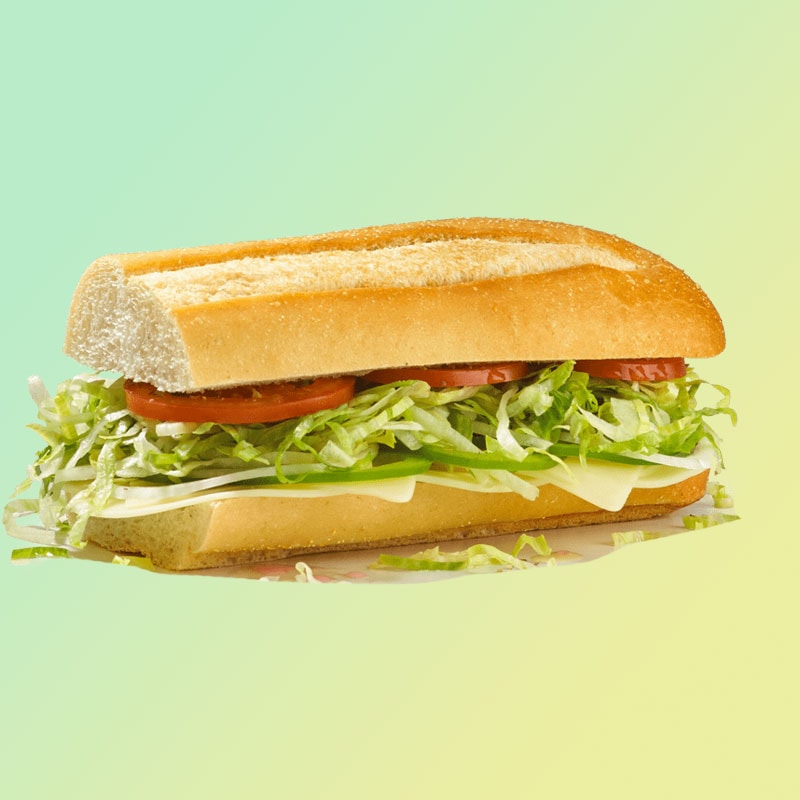 Jersey Mikes
6 The Veggie (no cheese)
If you're after a cold sub, there is one meatless option on the menu, called The Veggie. Again, you'll need to request it without the cheese (it comes with layers of provolone and Swiss) and ensure you ask for a vegan bread option.
7 Sides
And finally, a sandwich order isn't complete without the right side. Jersey Mike's offers a selection of potato chips to choose from, many of which are vegan (like Lay's Classic and Lay's Salt & Vinegar, for example). But if you prefer something hot, you can also grab a portion of French fries.

For more on vegan options at popular chains, read: