While we often prefer to pick a vegan restaurant over a non-vegan chain, sometimes, the latter is the most convenient choice—especially if you're dining with several other people who may have different dietary requirements and preferences. Luckily, plenty of chains have vegan options now, and Panera is no exception. The next time you're at Panera—either by choice or by circumstance—look for these vegan items.
How to order vegan at Panera
Vegans can find a great meal at this fast-casual bistro, but there are a few things to look out for when trying to avoid hidden animal ingredients.
Firstly, the chain offers a "Plant Based" menu, but these items are vegetarian, not necessarily vegan. While the items listed below are vegan, Panera cautions that ingredients may vary by location. When in doubt, ask your cashier to read the ingredient list for you (all locations are equipped with a massive binder that includes every single item on their menu). This is particularly helpful when the café offers limited-time specials that the staff may not yet be familiar with.
What's vegan at Panera?
Whether you customize your own bowl or opt for a simple salad modification, there is one rule: always accept a side of bread. It's vegan, and it's what this chain excels at.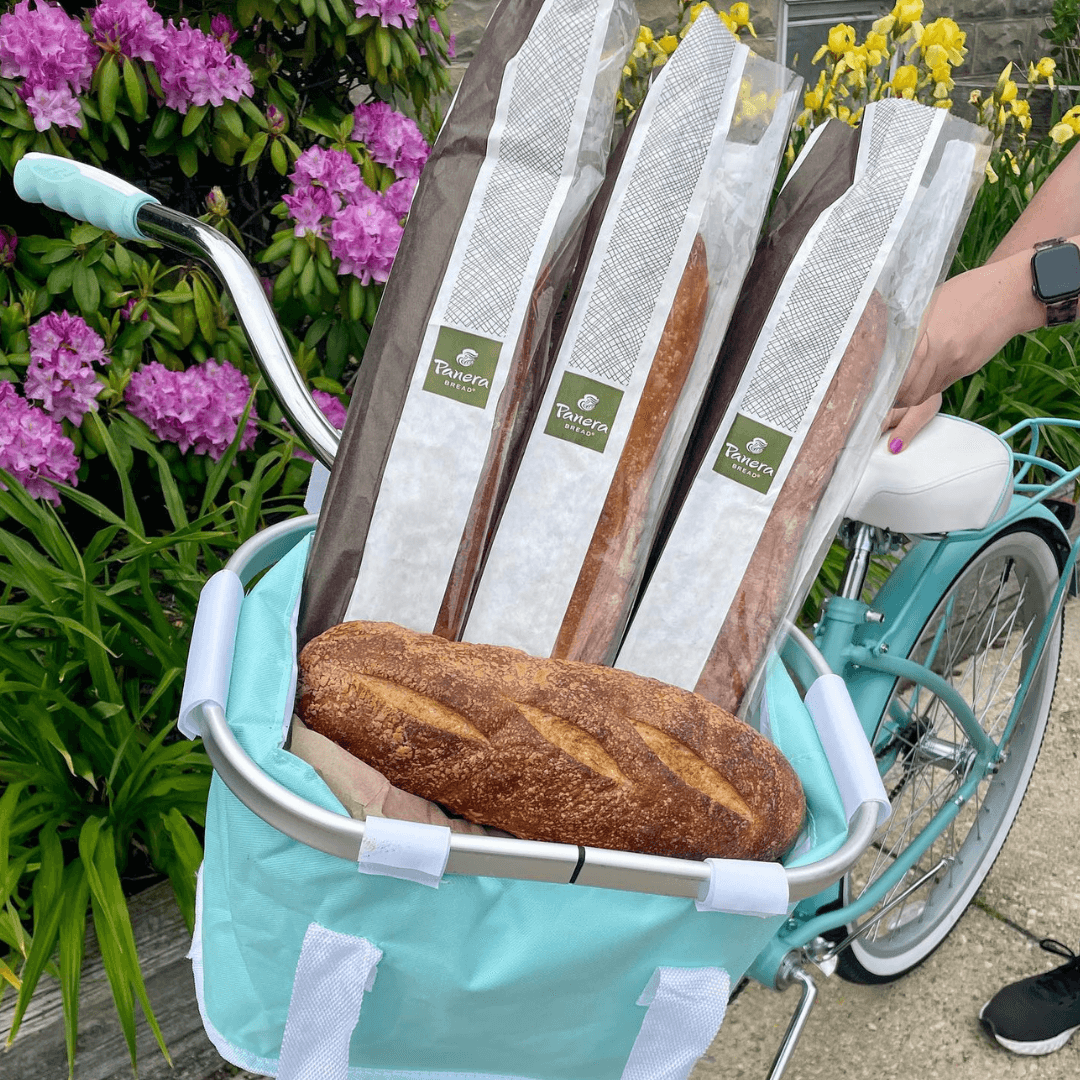 Panera
1 Vegan breads and baked goods
Panera is a self-proclaimed bakery at heart, so it would be unthinkable to not order the bread. Many of the bagels (plain, everything, blueberry, sesame, whole grain, and sprouted grain flat) are vegan, along with several of the freshly baked breads. Steer clear of the white and honey wheat (they contain dairy), but feel free to fill your bread basket with the country, whole grain, rye, sourdough, french baguette, black pepper focaccia, sprouted grain roll, and ciabatta options.
In case you were wondering, the iconic Panera bread bowl is sourdough, so you can still enjoy your edible serving ware. Unfortunately, none of the sweet treats are vegan; however, the Steel Cut Oatmeal with Strawberries and Pecans and the fruit cup are technically part of the bakery menu, offering a naturally sweet option for those in search of breakfast before 10:30 a.m.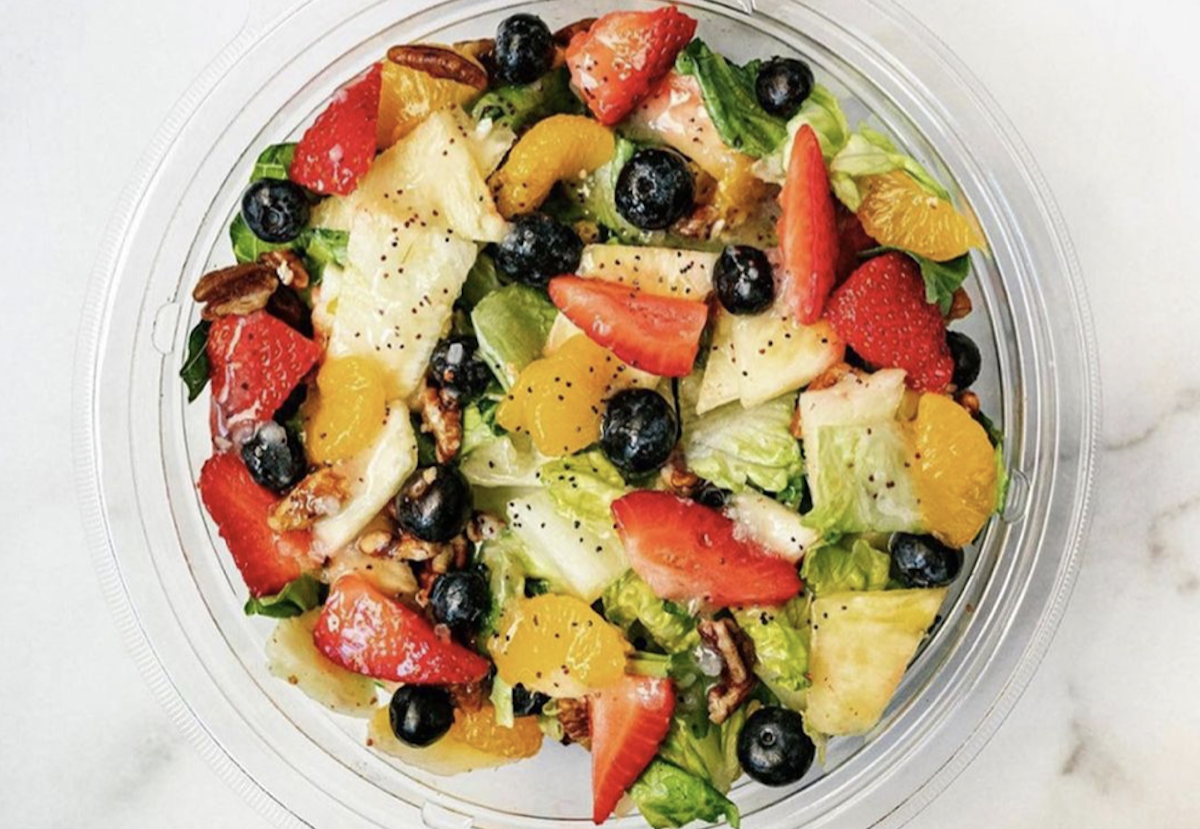 @stuffbeneats/Instagram
2 Vegan salads
Panera's salads don't come vegan as a standard, though you can certainly customize them. Here's how to hack it: ask for no meat, cheese, or egg, and substitute these items with avocado (they'll do it for free). You can also bulk up your salad by selecting the customize button online and adding a medley of crispy, fresh, or crunchy toppings like pickled red onions, bean corn salsa, crispy carrots, apple chips, pecans, and more.
Finally, be wary of the dressings. The balsamic, poppyseed, fuji apple, Asian, and Greek dressings are all safe. Actually, we buy the poppyseed dressing by the bottle at Target—it's that good. Pro tip: if you want a smaller-sized salad, ask for a kid's version with the modifications mentioned above. Alternatively, if you ask nicely, you can get a full-sized salad served in a bread bowl. We don't know why other restaurants haven't caught on to this concept!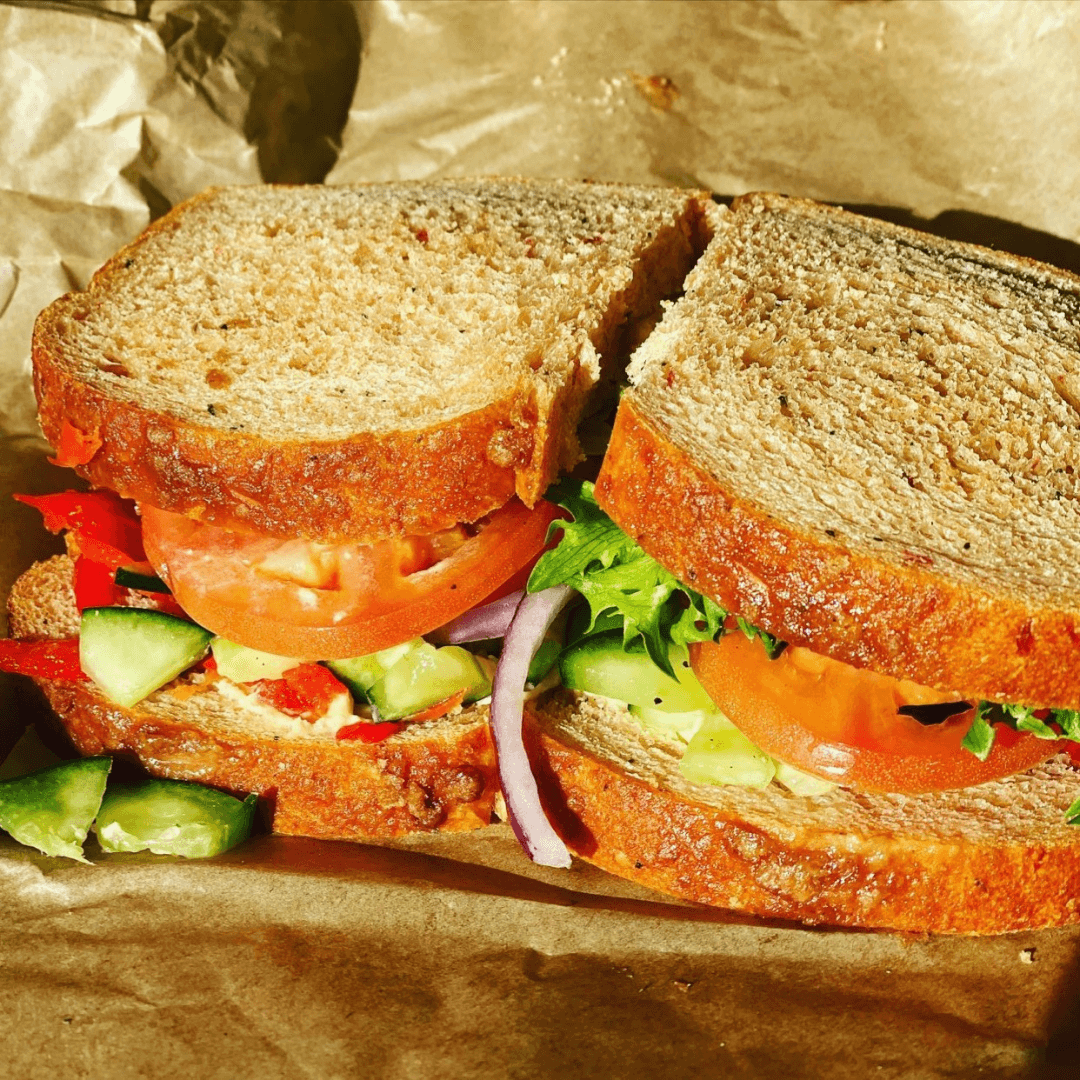 @moving_vegan/Instagram
3 Vegan sandwiches
There is one vegan sandwich option at Panera—with a modification. Order the Mediterranean Veggie without feta and ask for it on vegan-friendly bread (listed above). We particularly enjoy this handhold on ciabatta or black pepper focaccia. Even without the cheese, it's a delicious sandwich packed with peppadew peppers, lettuce, tomato, cumbers, hummus, and red onions. Order a kid-sized salad or a cup of fresh fruit to pair with your sandwich.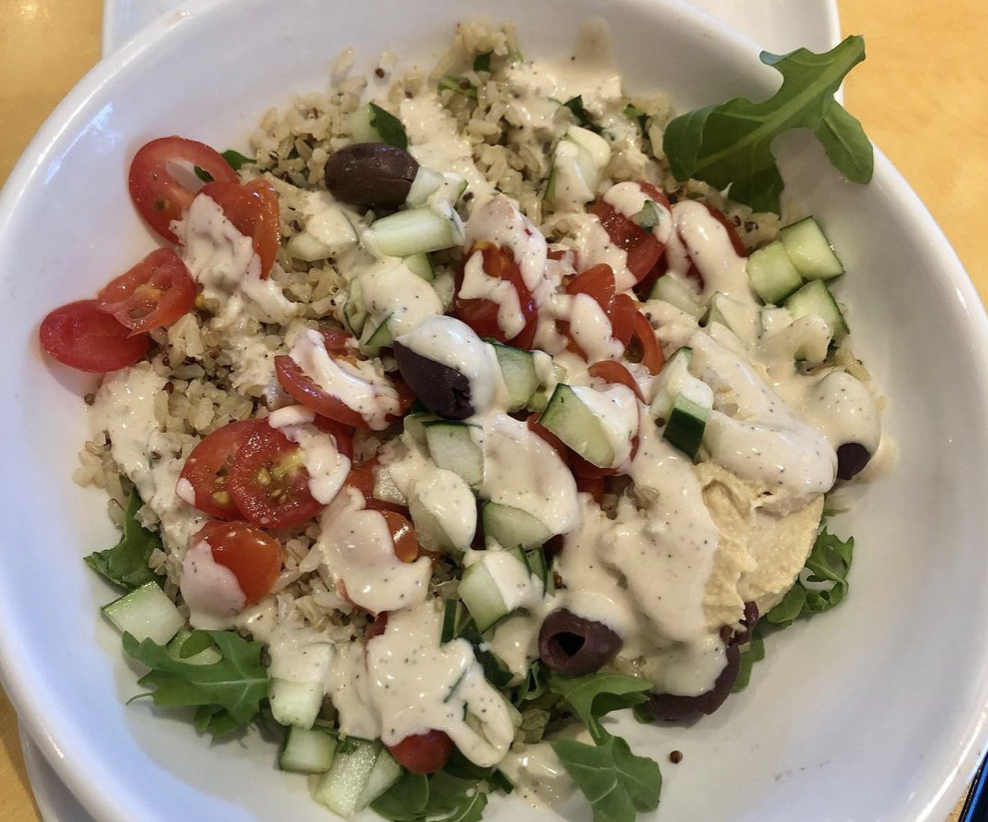 @madcityvegan/Instagram
4 Vegan bowls
Think of a vegan-friendly Panera bowl as a bean and grain-heavy salad. All can be ordered plant-based with a few modifications. For the Mediterranean Bowl, remove the feta and Greek yogurt and request avocado instead. The South-of-the-border Baja Bowl also contains feta and Greek yogurt, but minus these two ingredients, it's a stellar plant-based option made with cilantro lime brown rice, quinoa, avocado, black bean and corn salsa, salsa verde, grape tomatoes, and mixed greens. You'll have to keep an eye on these, however, as according to one recent viral TikTok from an employee the Baja and Mediterranean bowls could be cut from the menu very soon. That said, they're still showing on the menu at the time of writing.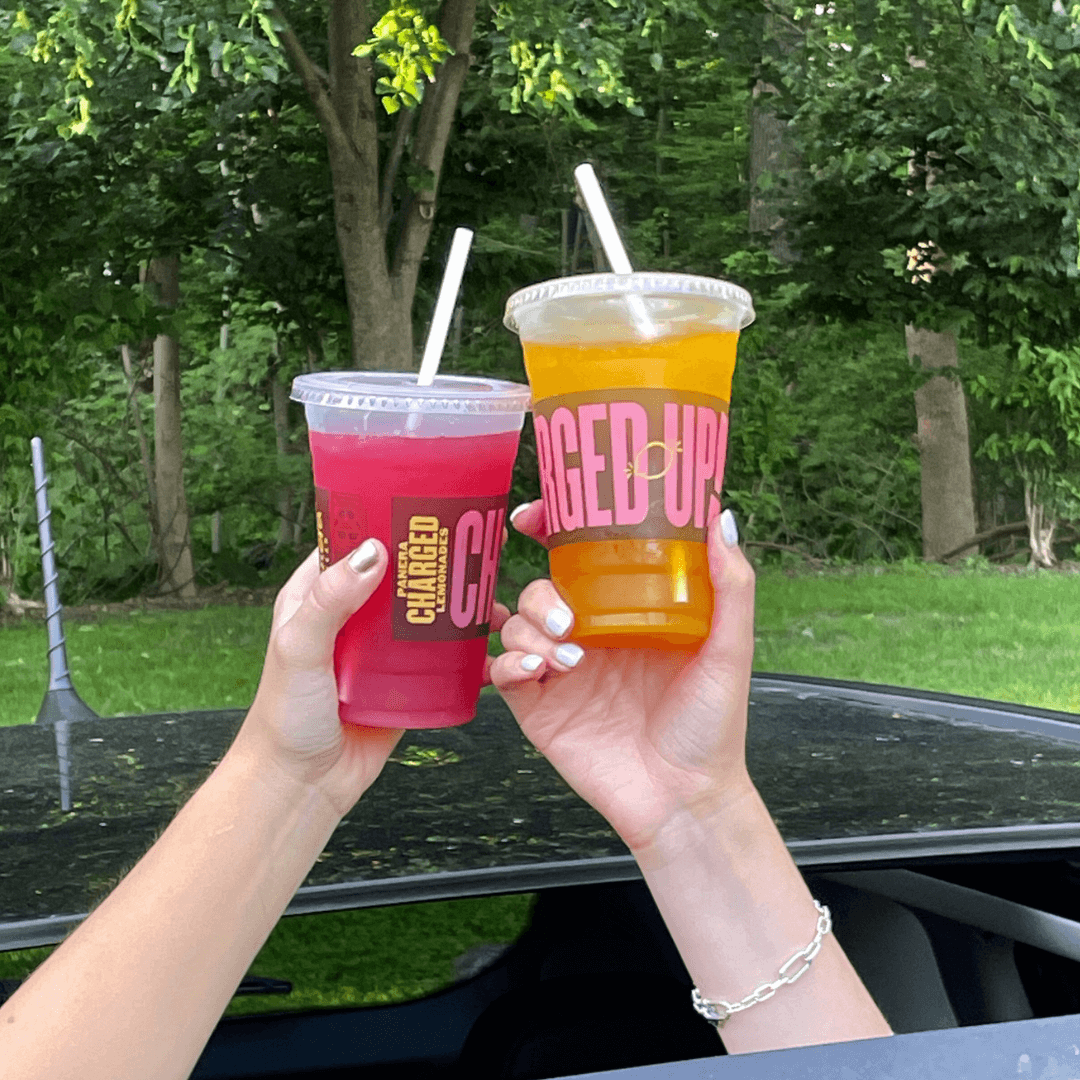 Panera
5 Vegan drinks
Looking for a nutritious drink? Good thing Panera offers a few vegan smoothies. The Peach & Blueberry with Almondmilk and the Green Passion Smoothie are both vegan. Each is made with a blend of fruit purées, juice concentrates, and ice. Avoid the other fruity smoothie options, as they contain Greek yogurt. For a pick-me-up, pair any of the black coffees (dark roast, hazelnut, light roast) with almond milk or give the Madagascar Vanilla Almond Cold Brew a try (but note that all cold brews may also be cut soon, as per the TikTok leak).
Avoid the lattes—even with almond milk they contain hidden dairy that can't be swapped out. For a sweet and refreshing accompaniment to your meal, choose one of the many flavored lemonades or fruity iced teas. Strawberry Lemon Mint Lemonade, Mango Yuzu Citrus Lemonade, and Passion Papaya Iced Green Tea are all particularly intriguing.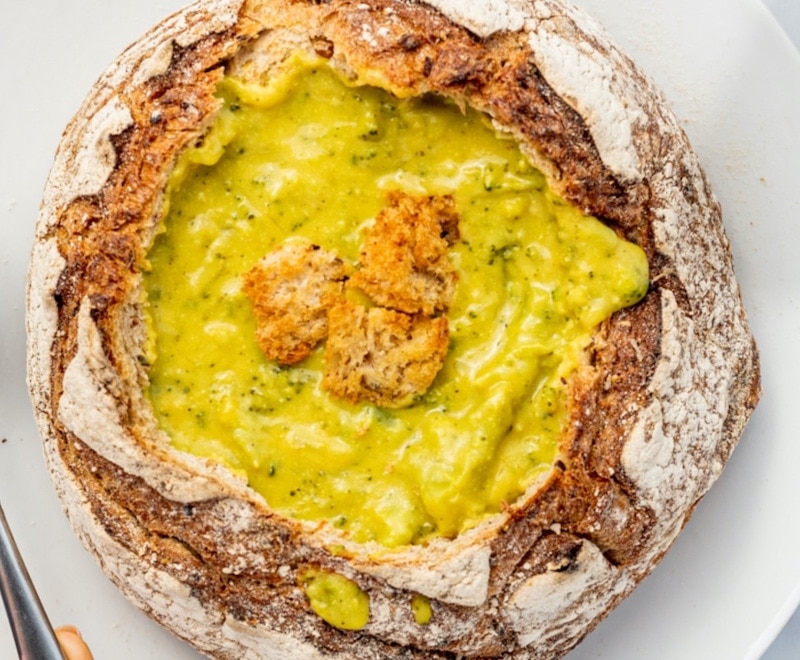 Danielle Keith
6 Vegan soups
Every now and then the chain will offer a vegan-friendly special, but since the Ten Vegetable soup was removed from the permanent menu, don't rely on this section for a vegan option (or even a meat-free option, as according to the TikTok, the French Onion Soup is getting the chop, too). For now, all of Panera's regular soup offerings contain either meat or dairy. Instead, try this recipe for Vegan Copycat Panera Broccoli Cheddar Soup the next time your cravings hit.
Looking for more restaurant guides? Read: