As one of the most popular fast-food chains in the US, Chick-fil-A serves millions of people every year. In fact, in 2022, its customers exceeded 2 billion. That's a heck of a lot of chicken sandwiches (527 million, to be exact). But for those who don't want to eat meat from factory-farmed hens, does the chain have any vegan options? The answer is yes, but not many. If you're in a bind and the only option you have is Chick-fil-A, here's everything vegan you can order from the menu.
What kind of food does Chick-fil-A have?
Founded back in Atlanta, GA in the 1940s, Chick-fil-A is an American fast-food chain best known for its chicken sandwiches. But its signature menu item didn't come around until the 1960s. According to Business Insider, back then, founder Truett Cathy used a pressure cooker to quickly cook a boneless chicken sandwich, and the rest was history.
Now, the chain offers multiple different chicken sandwiches, but it also offers options like nuggets, wraps, salads, and breakfast items, like muffins and hash browns. Historically, the chain has not offered many plant-based or vegetarian options, but in 2023, that changed when it started offering the Chick-fil-A Cauliflower Sandwich in select locations for a limited time.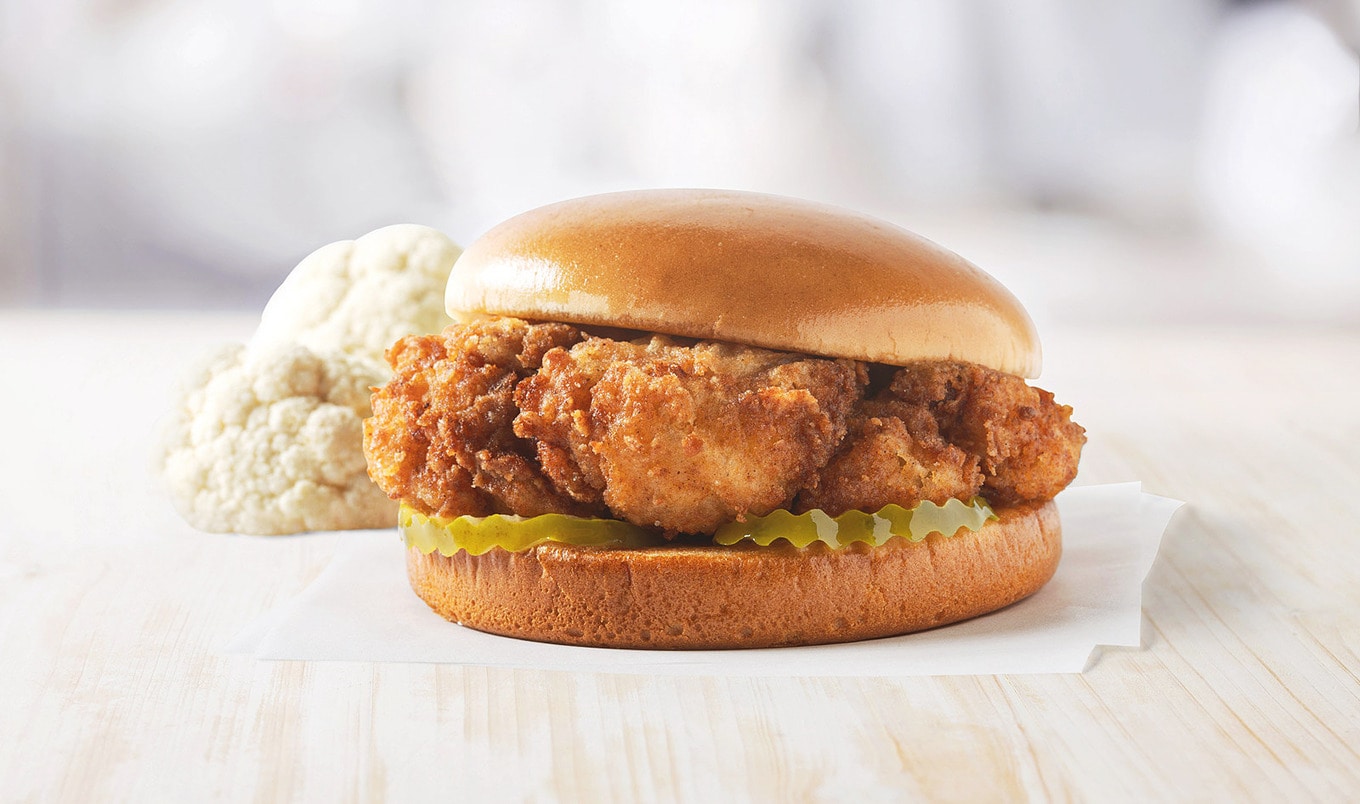 Chick-fil-A
Does Chick-fil-A offer vegan chicken?
While some of Chick-fil-A's competitors now offer vegan meat options (looking at you, Burger King), the fast-food chain has not added any plant-based chicken to its menu, yet.
Its trial of the Cauliflower Sandwich has come to an end now, but even if the option is made permanent, it's not suitable for vegans as the cauliflower is breaded with Chick-fil-A's signature seasoning, which contains dairy.
Is Chick-fil-A controversial?
Over the past few decades, Chick-fil-A has been associated with a number of controversies. The most famous is its repeated donations to Christian charities that oppose same-sex marriage. However, in 2019 it announced that it had stopped funding the charities and would instead focus on giving to organizations that focus on education, homelessness, and hunger. That said, it did not make any mention of any new policies against the future funding of charities that oppose same-sex marriage.
Chick-fil-A has also come under fire for links with animal cruelty. In 2014, a Mercy For Animals investigation found workers kicking and throwing chickens at one of its suppliers. And in 2021, World Animal Protection once again called out the chain, alongside competitors like Subway and Dunkin', for failing to make animal welfare improvements.
The chain claims it takes the treatment of animals "very seriously" and notes that its chickens come from cage-free farms, but even if this is the case, it's important to remember that most of the US' animal products come from industrialized factory farming conditions. According to The Humane League, "the majority of cage-free production still happens on factory farms."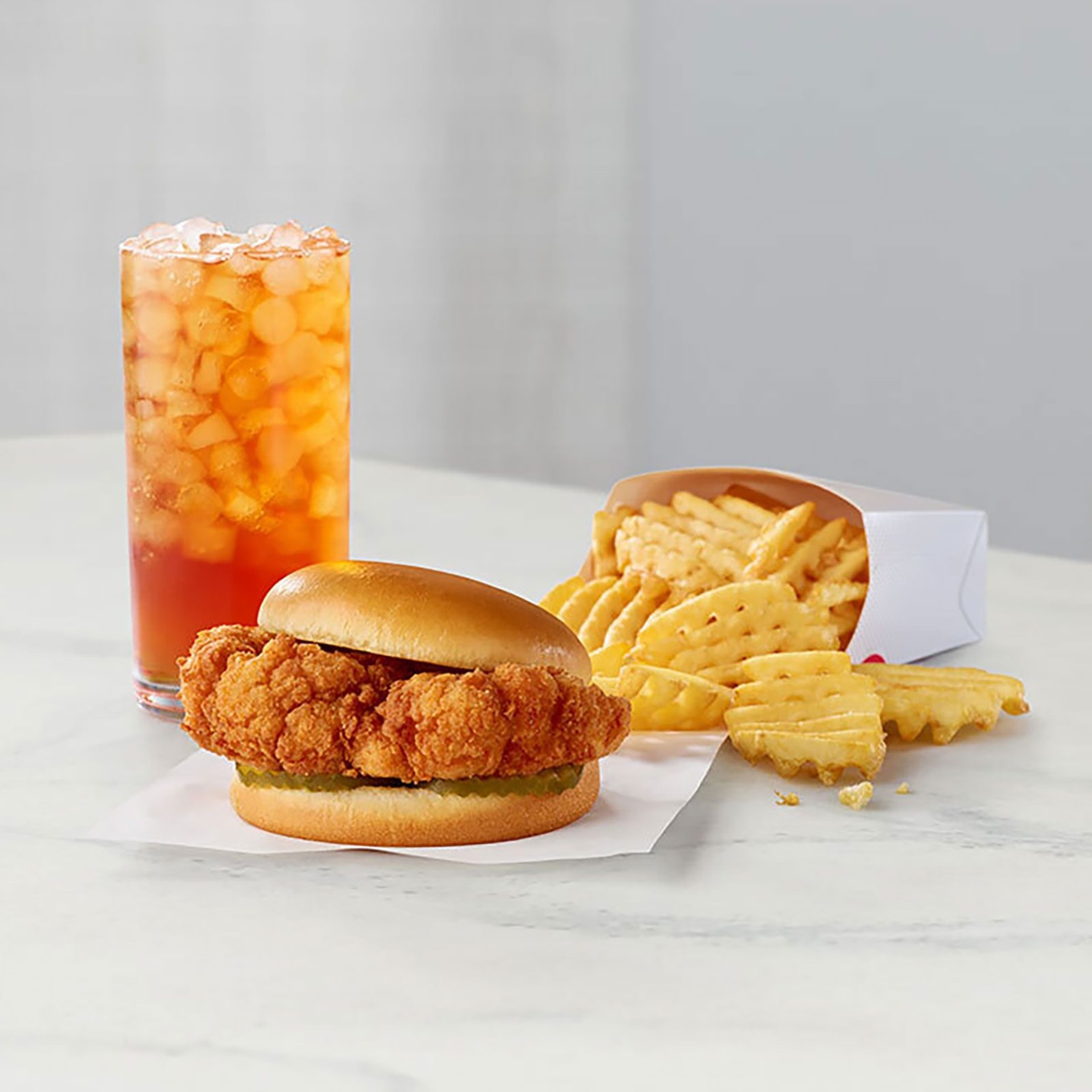 Chick-fil-A
Vegan options at Chick-fil-A
The truth is, just like many major fast-fast food chains (ahem, McDonald's), Chick-fil-A has been slow to respond to demand for more vegan and meatless options. That said, if you do find yourself in one of the chain's more than 2,600 locations across the US, Canada, and Puerto Rico, there are a handful of vegan options on the menu. See below for more details!
1 Hash Browns
Chick-fil-A's hash browns feature in a lot of its breakfast dishes, all of which are not vegan. But on their own, these mini crispy potato medallions are totally animal-free. This is because, while many fast-food chains cook their potato-based sides in animal fat, Chick-fil-A cooks its hash browns in canola oil.
2 Grilled Market Salad
All of Chick-fil-A's salads are topped with chicken, but it is possible to ask for this to be removed. If you request the Market Salad without any chicken or cheese, it's totally plant-based. It's also possible to ask for the salad with a cauliflower filet, but bear in mind that while this is vegetarian, it's not vegan.
3 Fruit Cups
Fruit Cups are a pretty safe vegan option in most places, and Chick-fil-A is no exception. Available on the chain's breakfast menu, you can ask for a medium or large cup, which is filled with freshly prepared chopped and sliced fruits like apples, mandarin oranges, strawberries, and blueberries.
4 Sauces
When it comes to adding a bit of extra flavor to your veganized menu item, a little sauce or dressing goes a long way. Chick-fil-A has quite a few animal-free options to choose from, including the standard ketchup, mustard, and BBQ, but also chili lime vinaigrette dressing and sweet and spicy sriracha.
5 Waffle Fries
Arguably the best vegan option at Chick-fil-A has to be the Waffle Potato Fries. Just like the hash browns, these crispy, salty fries aren't cooked in animal fat, but canola oil. We say go for the Large.
For more on ordering vegan at fast-food chains, read: