To-go pizza is frequently our dinnertime savior. Delivery and takeout come to our rescue with their time-saving powers when it comes time to kick off the weekend with an easy dinner, a crisp beer, or vegan wine. Part of that convenience comes from not having to make the food ourselves. If you're vegan, vegetarian, or trying to cut back on meat and dairy, it might seem obvious that pizza chains don't have any options for you. But, fortunately, that's not the case at every pizzeria. Here's how to order vegan at Domino's, plus the latest on whether or not the chain plans to launch plant-based cheese and meat.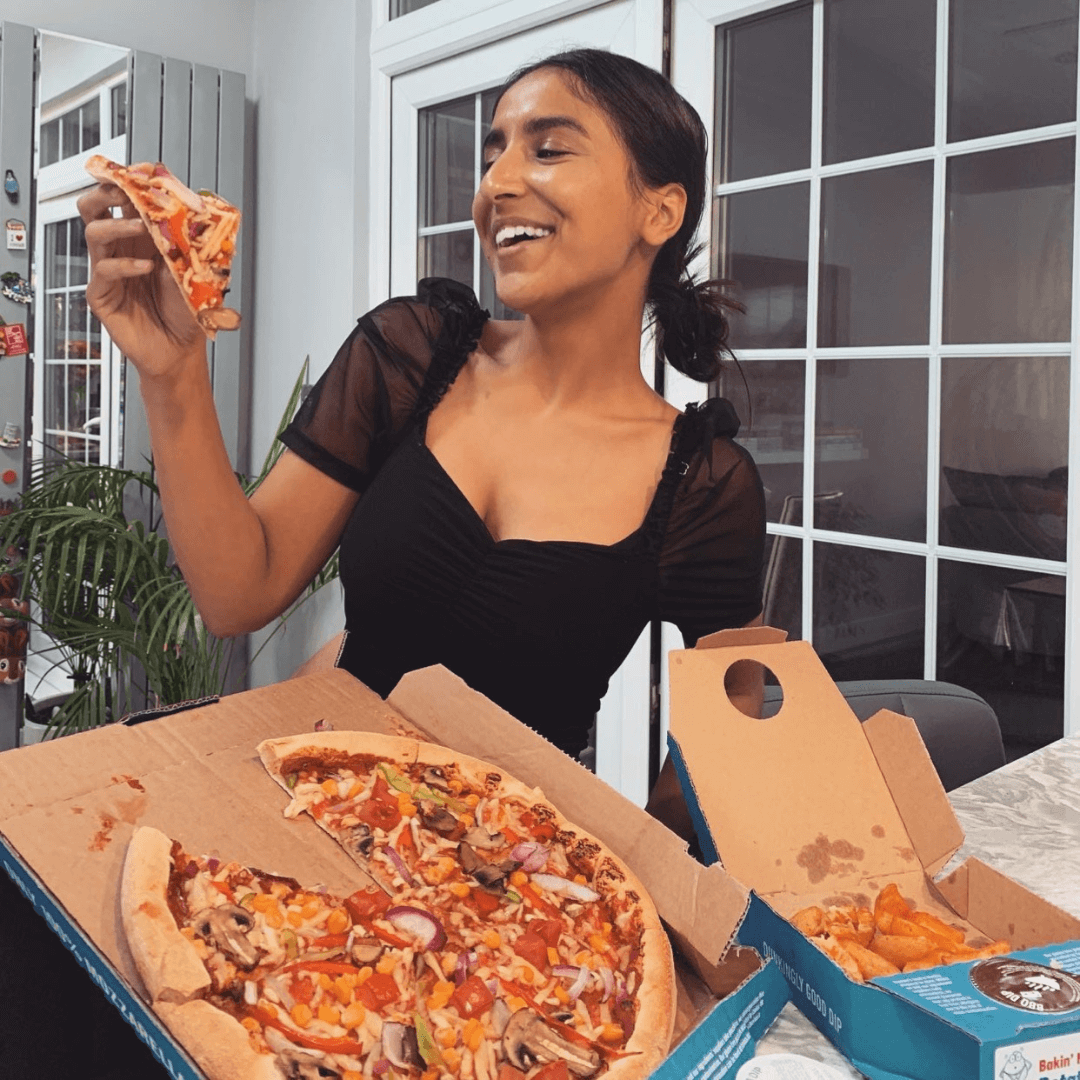 Domino's UK / @beetsandbobs
Does Domino's have vegan pizza?
Imagine for a moment that Domino's was a pizza chain that has dairy-free cheese, plus meatless pepperoni as a topping. Well, that Domino's exists—in the UK. Just like with so many other American chains, the UK branches have it good when it comes to vegan options that don't require customization.
Here in the US, there are no vegan-by-default pizza options at Domino's. You can, however, build your own vegan pizza, from the crust to the toppings—just no dairy-free cheese. There is a sliver of hope, though. In 2020, Domino's CEO divulged that an internal team was testing out plant-based sausage crumbles.
So, does Domino's plan to trial plant-based toppings in a small market, as other big chains have done? There have been no consumer-facing trials as of writing, but based on Allison's statement from two years ago, it doesn't feel like it's outside the realm of possibility. Domino's has not returned VegNews' request for comment on future vegan menu items.
Other US pizza chains have dabbled with plant-based options. Pizza Hut launched a pie topped with Beyond Meat Italian sausage, but only for a limited time. This was after the chain trialed a vegan meat topping in Arizona back in 2019. Little Caesars put plant-based pepperoni on its menu in the summer of 2021, but that option has also been discontinued. At both pizzerias, neither limited-time offers included dairy-free cheese, but both could be made vegan by ordering them without mozzarella.
Vegan options at Domino's
While Domino's does have vegan pizza, not all of its pizza ingredients are plant-based. Apart from the most obvious culprits, meat and dairy, some of the crusts and toppings contain animal products. Regardless, a few of the chain's dishes are easily made plant-based with one or two adjustments or by starting a custom order. Keep reading for Domino's vegan menu options.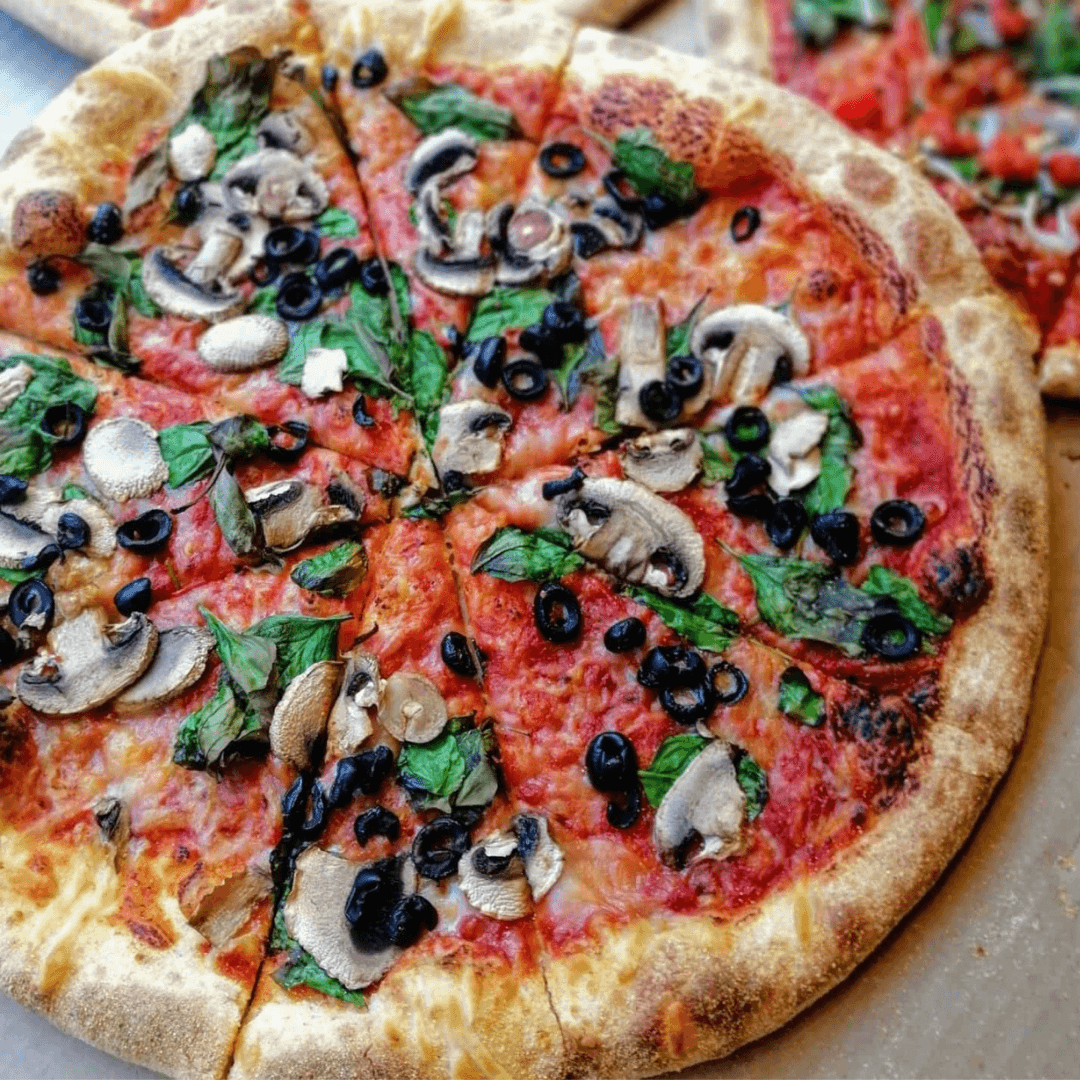 @vegansofzuri
1 Vegan pizza crust at Domino's
Domino's has three kinds of crusts on the menu, but only one option is vegan: the Crunchy Thin Crust. You can't fold this crisp crust like you can with doughier-crusted slices, but on the plus side, it can withstand the weight of a lot of toppings, which we encourage you to load up on. It can also withstand vegan cheese, in case you order in and you want to use your own dairy-free shreds. We say go for it.
2 Vegan sauces at Domino's
Picking your sauce is step #2 and even though sometimes red sauces contain cheese, there are a handful of options to choose from at Domino's. Try mix-and-matching these with different toppings, depending on what kind of flavors you're in the mood for. So you can breathe a sigh of relief. After all, what is dining without sauce? We never want to find out.
Barbecue Sauce
Garlic Dipping Sauce
Hot Buffalo Sauce
Italian Dipping Sauce
Robust Inspired Tomato Sauce
3 Vegan toppings at Domino's
All of the vegetable toppings are vegan and thankfully, Domino's has a lot of them. We love adding mushrooms to add some meaty texture and umami flavor in the absence of a plant-based meat topping, like sausage or pepperoni. And rarely can we resist adding jalapeños.
As far as vegan toppings go, you can choose from:
Banana peppers
Black olives
Diced tomatoes
Green peppers
Jalapeños
Mushrooms
Onions
Pineapple
Roasted red peppers
Spinach
A vegan pizza from Domino's gets the job done when you're hungry. By mixing and matching the components above, there are a lot of ways that you can order a vegan pizza at Domino's.
For example, you could make a classic-style pizza topped with tomato sauce, mushrooms, black olives, and onions. Or, you could try tomato and barbecue sauce with pineapple, roasted red peppers, and jalapeños. If neither of these sounds appealing to you, then just pick whatever sounds the best for you.
4 Vegan sandwiches at Domino's
You may not be able to get a classic Italian-American pizza parlor-style meatball marinara sub, but you can get something fairly substantial. Order the Mediterranean Veggie Sandwich without the cheese and enjoy the medley of banana peppers, onions, spinach, and tomatoes warmed between two slices of artisan bread.
Add Robust Inspired Tomato Sauce, Garlic Dipping Sauce, and Italian Dipping Sauce on the side for more flavor, and don't be afraid to ask for different vegetables, depending on what strikes your fancy.
5 Vegan pasta at Domino's
If you're not in the mood for pizza or sandwiches, you can build your own pasta bowl. To do this, select the Build Your Own Pasta option, then choose the hearty marinara sauce and three vegetable options. It's also fantastic with the garlic dipping sauce, so throw that on as an extra.
Unfortunately, that covers what you can get when you order a vegan meal from this chain pizza joint. But, knowing these customizations could save the day if you ever find yourself hungry and near a Domino's. If you're ordering in, we recommend sprinkling your pizza with nutritional yeast, or better yet, top it with vegan cheese shreds and broil it on high for a couple of minutes, or until it melts. Keep a close eye on it to prevent burning.
For more vegan fast-food guides, read: