This week, international pizza chain Domino's launched its vegan pepperoni pizzas at its 1,200 locations across the United Kingdom. Created to coincide with the popular Veganuary campaign—when people commit to adopting a plant-based diet for the month of January and beyond—the chain's new Vegan PepperoNAY pizza is made with plant-based pepperoni developed by Dutch brand The Vegetarian Butcher.
"After much experimenting in the Domino's kitchens, with taste tests a plenty, we can't wait to bring Vegan PepperoNAY to the masses," Melanie Howe, Domino's UK Communications Manager, said in a statement. "These smoky PepperoNAY slices are going to go down a treat. With deals to suit every budget, there is no excuse to not try something new this January."
The launch of its new vegan pepperoni pizza comes after Domino's reported a 73-percent spike in vegan orders. Domino's is one of several fast-food chains that have updated their UK menus this week to take advantage of Veganuary-driven interest in plant-based options. Others include McDonald's (which expanded its McPlant to all UK locations this week); Wagamama (which added a vegan fish and chips option); Subway (where a vegan Tikka Masala Chicken sub is now on the menu); and Burger King (where vegan chicken nuggets, also made by The Vegetarian Butcher, just hit the menu UK-wide).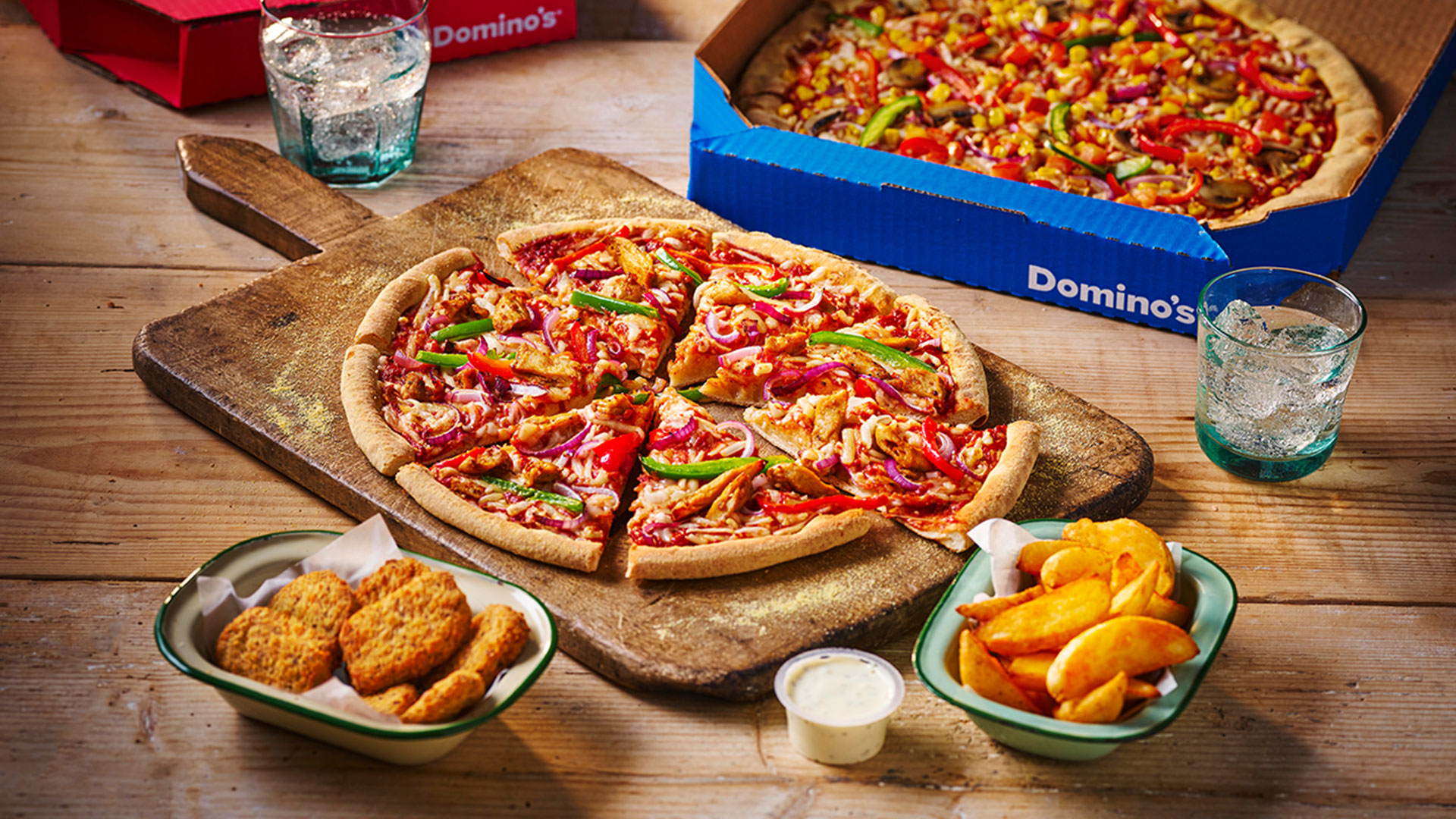 Vegan at Domino's
The new Vegan PepperoNAY pizza joins an impressive list of vegan options at Domino's UK. In September 2020, Domino's added two vegan pizzas at its locations across the UK and Ireland: The Vegan Vegi Supreme (topped with mushroom, corn, onions, red peppers, and tomatoes); and the Vegan Margherita (topped with a vegan cheese developed in-house by Domino's). In addition to the pizzas, Domino's created a vegan version of its popular Garlic & Herb dip which it formulated with pea protein instead of dairy milk and eggs.
For Veganuary last year, Domino's UK added vegan meat to its menu for the first time when it launched the vegan chicken-topped This Chick-Ain't Pizza along with Southern-fried vegan chicken nuggets.
The chain has added plant-based options at its locations in Australia—where it offered vegan pepperoni in 2019—along with New Zealand, and India. Stateside, Domino's vegan options are pretty scarce. However, in 2020, Domino's US CEO Richard Allison revealed that the chain is internally testing plant-based toppings which could result in a menu update.
While Domino's works things out, its biggest competitor, Pizza Hut, is already way ahead in its exploration of the growing plant-based space thanks to its parent company Yum! Brand's partnership with vegan brand Beyond Meat. Thus far, this collaboration has resulted in the launch of Beyond Meat's Italian sausage-topped pan pizzas nationwide and a 70-location test of Beyond Pepperoni (a vegan meat unique to the Pizza Hut test).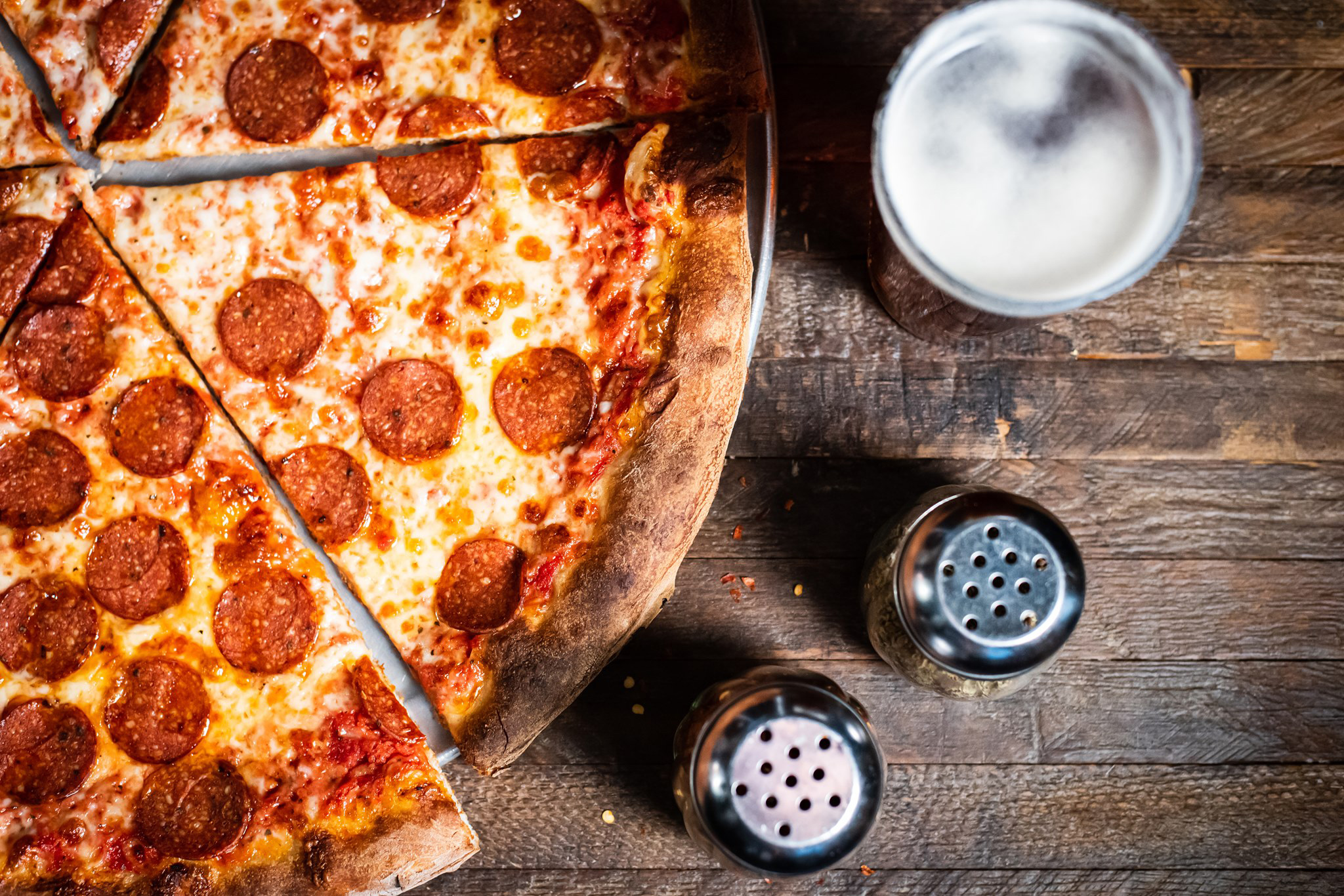 Plant-based pepperoni is winning
While US consumers might have to wait a while for vegan pepperoni to hit Domino's, other chains are already delivering the plant-based goods. Last January, vegan brand Field Roast unveiled its vegan pepperoni which is also made with pea protein, features fat marbling to mimic its pork-derived counterpart, and is spiced with pieces of fennel, cracked black pepper, garlic, and paprika. Canadian chain Pizza Nova was the first to offer Field Roast's Plant-Based Pepperoni on its menu at more than 140 locations across Southern Ontario
In July, Little Caesars—which is the third largest pizza chain in the US, next to Domino's and Pizza Hut—added vegan pepperoni at hundreds of its US restaurants as part of a Planteroni pizza. To kick off 2022, Field Roast's pepperoni made it onto the menu at 170 locations of Donatos Pizza.
And vegan brands aren't the only ones making plant-based pepperoni. Meat giant Hormel—maker of popular processed meat SPAM—makes its own vegan pepperoni under its Happy Little Plants brand. In September 2020, Hormel's vegan pepperoni landed on the menu at select locations of fast-food chain Papa Murphy's before launching at hundreds of additional foodservice providers in 2021, including Fresh Brothers Pizza in Los Angeles; Busboys and Poets in Washington, DC; Pizza Rock in San Francisco and Las Vegas; Caliente in Pittsburgh, PA; PizzaONE in New York; and Pizzeria Magaddino in Fort Lauderdale, FL.
Hormel's soy-based vegan meats, including its pepperoni, are also rumored to be the toppings used on Trader Joe's vegan Meatless Meat Eater's Pizza.
For more about vegan pepperoni, read:
Field Roast Launches Vegan Pepperoni
Vegan Pepperoni Is Now Available to 400 Pizza Providers
Domino's Adds Vegan Beef, Ham, and Pepperoni Across Australia