Today, Pizza Hut is adding vegan pepperoni to the menu of nearly 70 locations in five cities across the United States for a limited time. Developed collaboratively by vegan brand Beyond Meat and Pizza Hut's culinary teams, the new soy-free plant-based pepperoni is made from rice and peas and features a hint of spice. The Beyond Pepperoni crisps in the same way as Pizza Hut's traditional pepperoni but comes with zero cholesterol or animal products.
"Pizza Hut's new Beyond Pepperoni Pizza delivers the same iconic taste as our original pepperoni that fans know and love," said Georgeanne Erickson, Chief Brand Officer, Pizza Hut. "With this new plant-based option, we're giving customers more choices and more reasons to love Pizza Hut."
Pizza Hut
The Beyond Pepperoni is available on any of Pizza Hut's crusts at locations in Albany, NY; Columbus and Macon, GA; Houston, TX; and Jacksonville, FL for a limited time. Pizza Hut does not currently offer vegan cheese.
"We know there is strong consumer demand for pepperoni, and we're thrilled to unveil a game-changing plant-based pepperoni topping as the next chapter in our innovation-focused partnership with Pizza Hut," Dariush Ajami, Chief Innovation Officer at Beyond Meat, said. "We're confident fans will love Beyond Pepperoni as it delivers the crisped edges and savory flavor profile of Pizza Hut's classic pepperoni with the added benefits of plant-based meat."
Beyond Meat at Pizza Hut
The limited launch of Beyond Pepperoni is an extension of Beyond Meat's partnership with Yum! Brands, parent company of fast-food giants Pizza Hut, KFC, and Taco Bell. Last year, Pizza Hut launched two Beyond Pan Pizzas at all traditional locations and participating Pizza Hut Express locations nationwide. The Beyond Italian Sausage Pizza is a classic (dairy) cheese pizza topped with Beyond Meat Italian sausage crumbles, while the speciality The Great Beyond Pizza features dairy cheese, fresh veggie toppings that include tomatoes, sliced red onions, and tangy banana peppers, the plant-based Italian sausage, and is served on Pizza Hut's classic Original Pan crust. Pizza Hut also added Beyond Meat's plant-based sausage to its menus across Puerto Rico, Canada, Belgium, and the United Kingdom.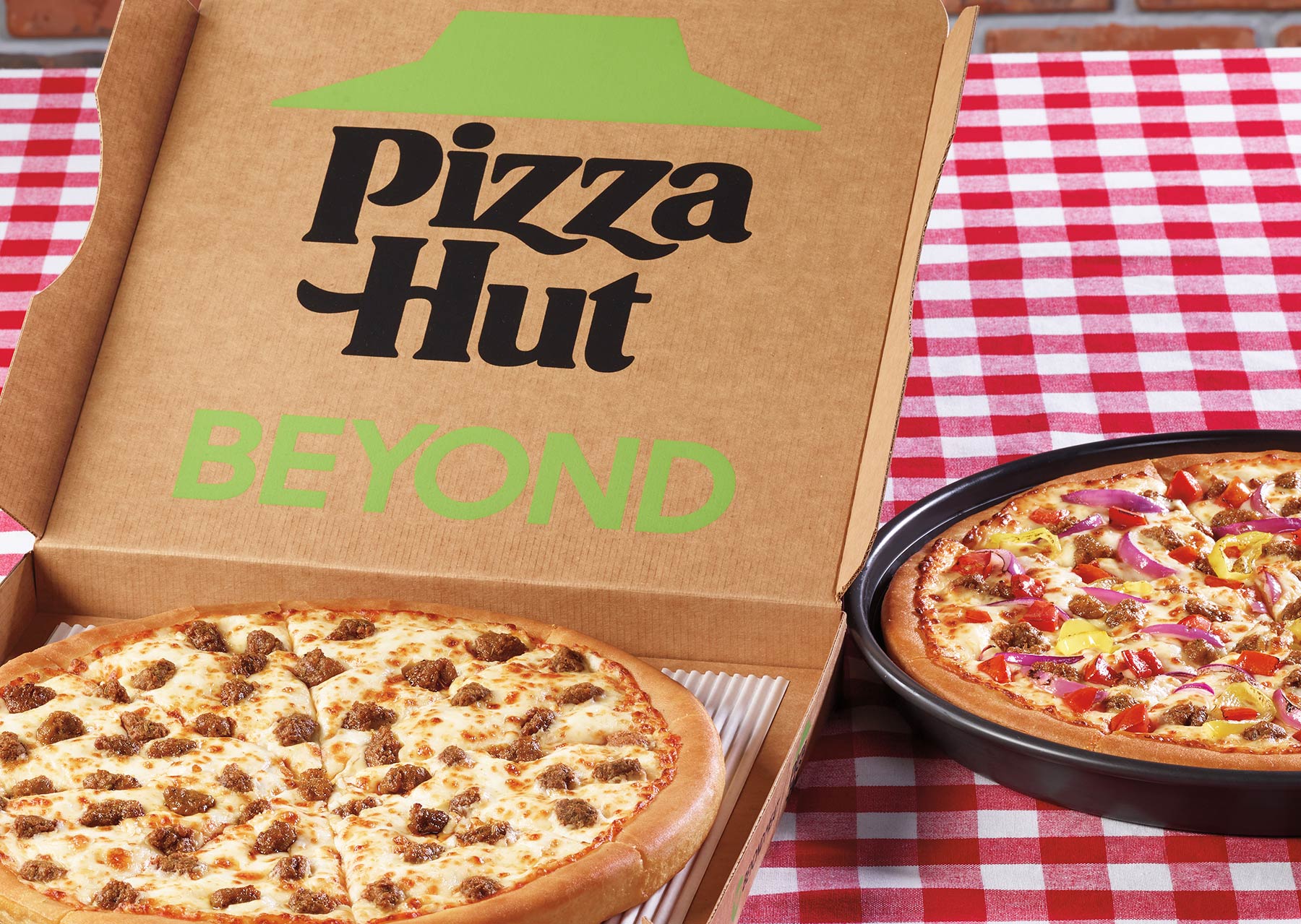 Pizza Hut
At KFC, the brand created Beyond Fried Chicken that the chain tested at one Atlanta location in 2019 to much fanfare. While KFC expanded the test locations of the vegan chicken to additional locations in 2020, the chain has yet to announce a national launch of Beyond Fried Chicken.
Beyond Meat has also been working closely with Taco Bell on a never-before-seen vegan meat option that is set to launch this year. In the meantime, Taco Bell has teased vegans with limited launches of The Cravetarian Taco (a meatless version of its Crunchy Taco Supreme stuffed with a "boldly seasoned plant-based protein") and The Naked Chalupa with a Crispy Plant-Based Shell (a meat-free version of its chalupa wrapped in a vegan chicken shell).
Vegan pepperoni pops into pizza shops
While Pizza Hut is the first to offer Beyond Pepperoni, competing chains have also gotten into the plant-based pepperoni business. In July, Little Caesars—the third largest pizza chain in the world—added vegan pepperoni to the menu of hundreds of its restaurants nationwide. Its new plant-based pepperoni is made by vegan brand Field Roast and is available as a topping on any custom pizza and as part of a Planteroni pizza, made with the vegan pepperoni and dairy-based cheese.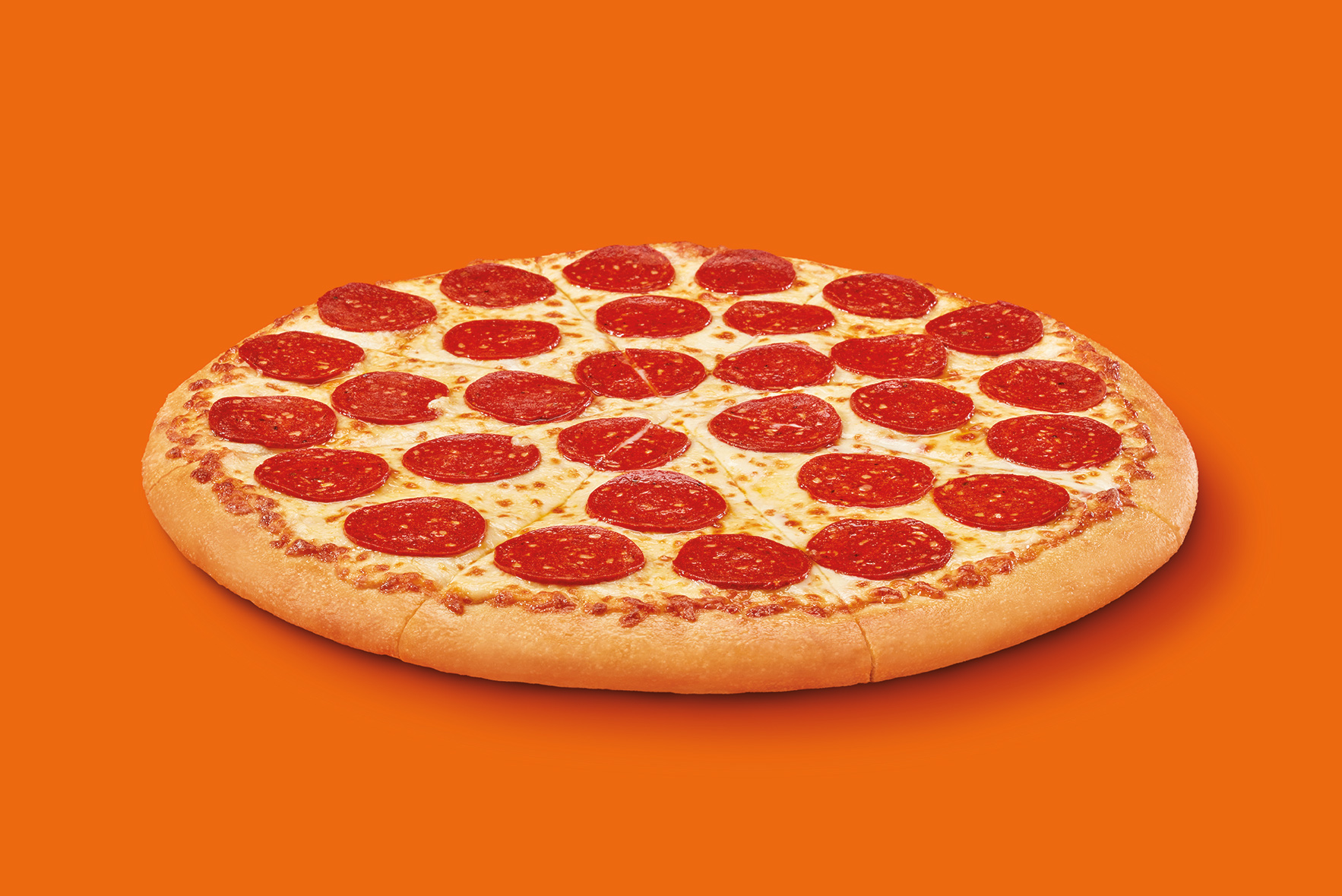 Little Caesars
And while more vegan pepperoni is always a good thing, vegan cheese has yet to launch at a national chain—but that may soon change. Earlier this month, vegan brand Miyoko's Creamery secured a $52 million investment and is looking to penetrate the foodservice industry with its innovative liquid vegan mozzarella cheese made especially for pizza chains.
For more about vegan pizza, read:
How to Order Vegan at Pizza Hut: The Ultimate Guide
15 Ways To Use Miyoko's New Vegan Pourable Mozzarella
Domino's UK Launches Its First Vegan Pepperoni Pizza at All 1,200 Locations