More than 80 years ago, the first-ever McDonald's opened up shop in San Bernardino, CA. The point was to wow its customers with two things: speed and low prices. Customers could have a hamburger in their hand in just a few minutes, and it would only cost them around 15 cents (less than half a gallon of milk at the time). We know now that this was the dawn of a booming fast-food industry.
Today, McDonald's has locations in more than 100 countries, and it also has stiff competition from chains like Burger King and KFC. But is the former pioneer of the fast-food industry keeping up with changing attitudes around diet today?
The words "flexitarian," "plant-based," or "vegan" weren't widely in use when McDonald's flung open its doors in the 1940s. But now, more people than ever are cutting down on animal products. In fact, one study last year estimated that over half of young Americans now consume more plant-based meals than meat-based ones.
From fries that contain milk to zero veggie burger options, it's safe to say there is work to be done at McDonald's. But it's not totally impossible to avoid animal products at the world's biggest fast-food chain. Here's how to eat vegan at McDonald's in the US, as well as an overview of some of the chain's popular plant-based options overseas.
Are McDonald's fries vegan?
Fries are a go-to when eating fast food for most people. If there is nothing else on the menu, you can be pretty safe with an order off fries and perhaps a side salad. But not at McDonald's. The chain's World Famous Fries are seasoned with beef flavoring, which doesn't contain any actual meat, but it does contain milk (go figure).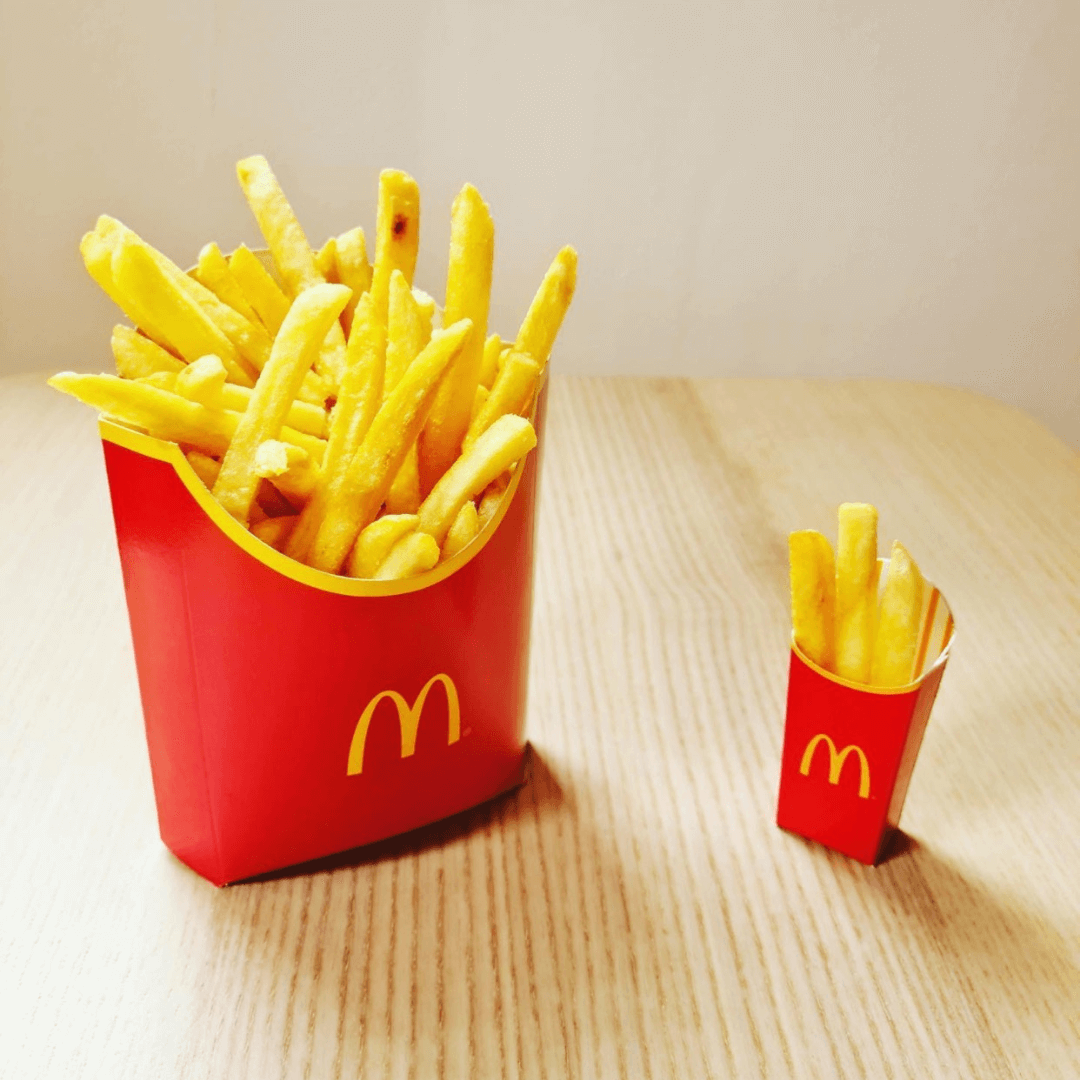 @mcdonaldsuk/Instagram
In many other countries, McDonald's fries are vegan, so it's worth double-checking if you're traveling abroad. In the UK, for example, the menu item is certified by the Vegan Society. Several petitions have been set up urging the chain to follow suit in the US, but as of yet, there is no indication that the recipe will be changed.
The McPlant burger
The McDonald's McPlant burger, which features a Beyond Meat plant-based patty, is available in a number of markets around the world. It's currently being tested in Australia, it was just made a permanent fixture on the Netherlands menu after a successful trial, and it's on more than 1,200 UK and Ireland menus.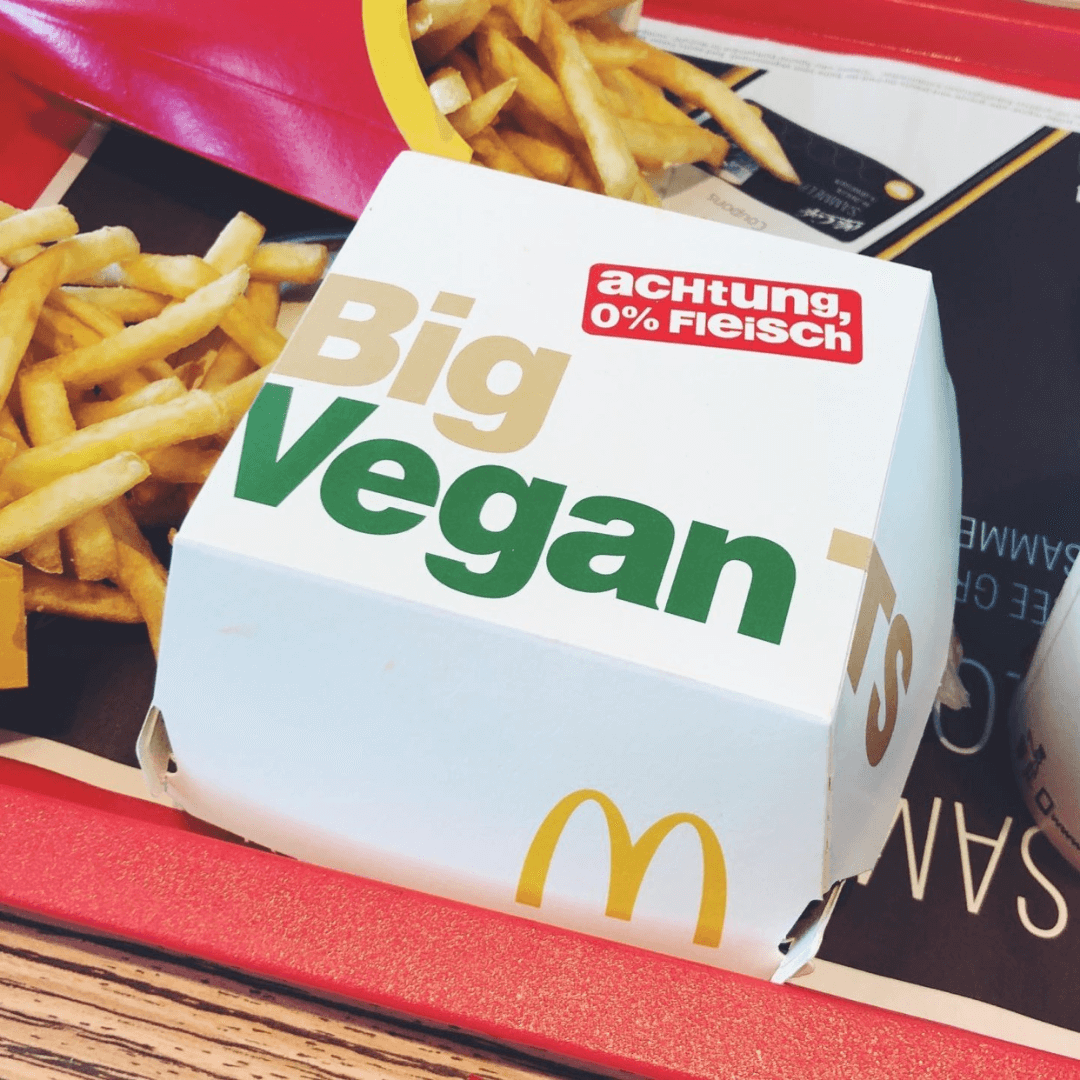 @ervegan/Instagram
In some markets, the burger is certified vegan, but in others, it is served with dairy cheese and mayonnaise (but it can be ordered without). In the US, a trial of the non-vegan version of the McPlant commenced in November last year, and then a wider trial began in February earlier this year.
The US McPlant trial doesn't seem to have experienced the same success as other countries, with some media outlets reporting "lackluster demand." This is the opposite to rival Burger King, which announced the successful nationwide launch of its plant-based Impossible Whopper in 2019.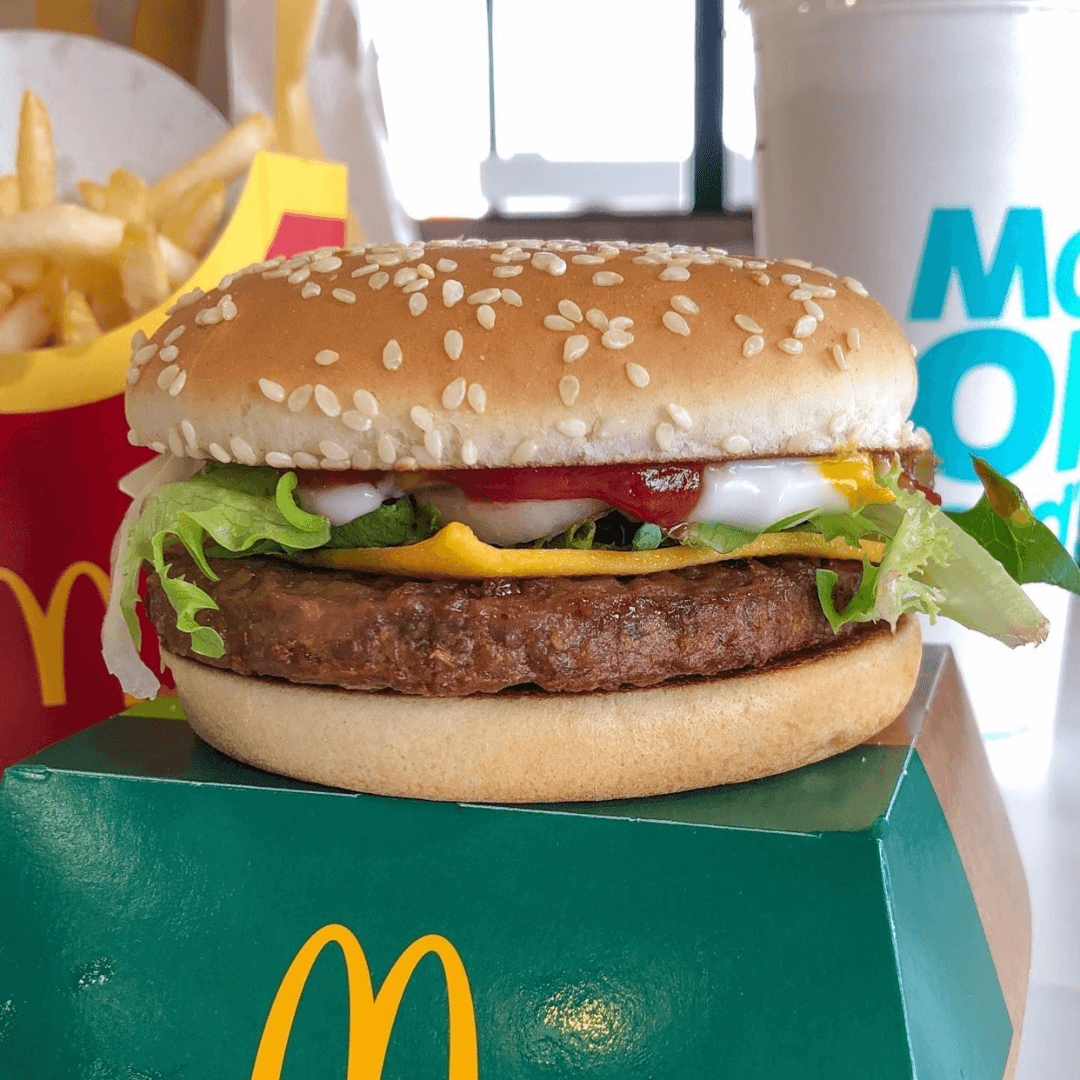 @the_vegan_buddhist/Instagram
Some have speculated that the McDonald's McPlant trial was hindered by the fact that many of the chain's US locations are in rural areas, where plant-based options aren't as popular. However, the fast-food giant itself hasn't commented on the trial results. It also hasn't announced any plans for further trials or a nationwide launch.
McDonald's vegan breakfast
There may be no burger and no fries, but is there at least a McDonald's vegan breakfast? Again, the options are limited. If you're happy with a plain English muffin, you're in luck. But there isn't much else. The hash browns are cooked with the same beef flavoring as the fries (which contains milk), and the oatmeal is made with dairy cream.
If you're in the market for black coffee or orange juice, these drink options are vegan. But note, there are no plant-based milk options.
In the UK, McDonald's hash browns and its new Mini Potato Waffles are vegan. In Hong Kong, customers can order vegan "SPAM" (made with OmniPork Luncheon plant-based meat) on the breakfast menu, although all of the options are served with eggs. The chain does offer dairy-free lattes made with Oatly, however. And Australian customers can also order oat milk with their coffee in McCafé locations.
McDonald's vegan options
Though they are limited, McDonald's has a handful of other vegan options on its menu in the US. Here are a few of the menu items available to you.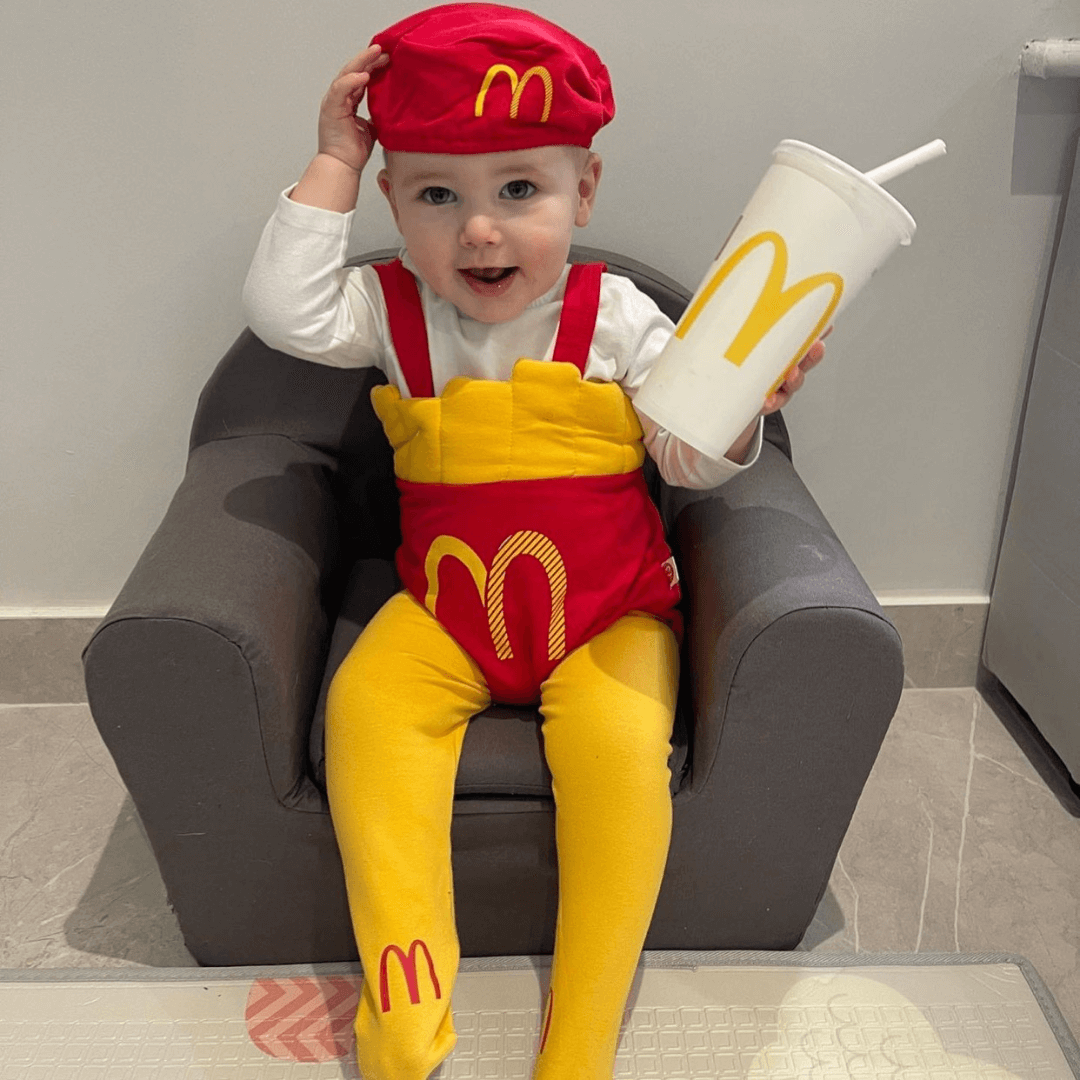 @carleyjones100/Instagram
Soft drinks
If you're just grabbing a quick beverage at McDonald's, you'll have a fair amount of choice, as most of its soft drink options, like Coca-Cola, Sprite, Dr Pepper, and sweet tea, are, of course, vegan. You could also try a Hi-C Orange Lavaburst. The fruity soda used to be a staple on the McDonald's menu before it was discontinued a few years ago. Now, the chain has brought it back. Orange juice and apple juice cartons are also available.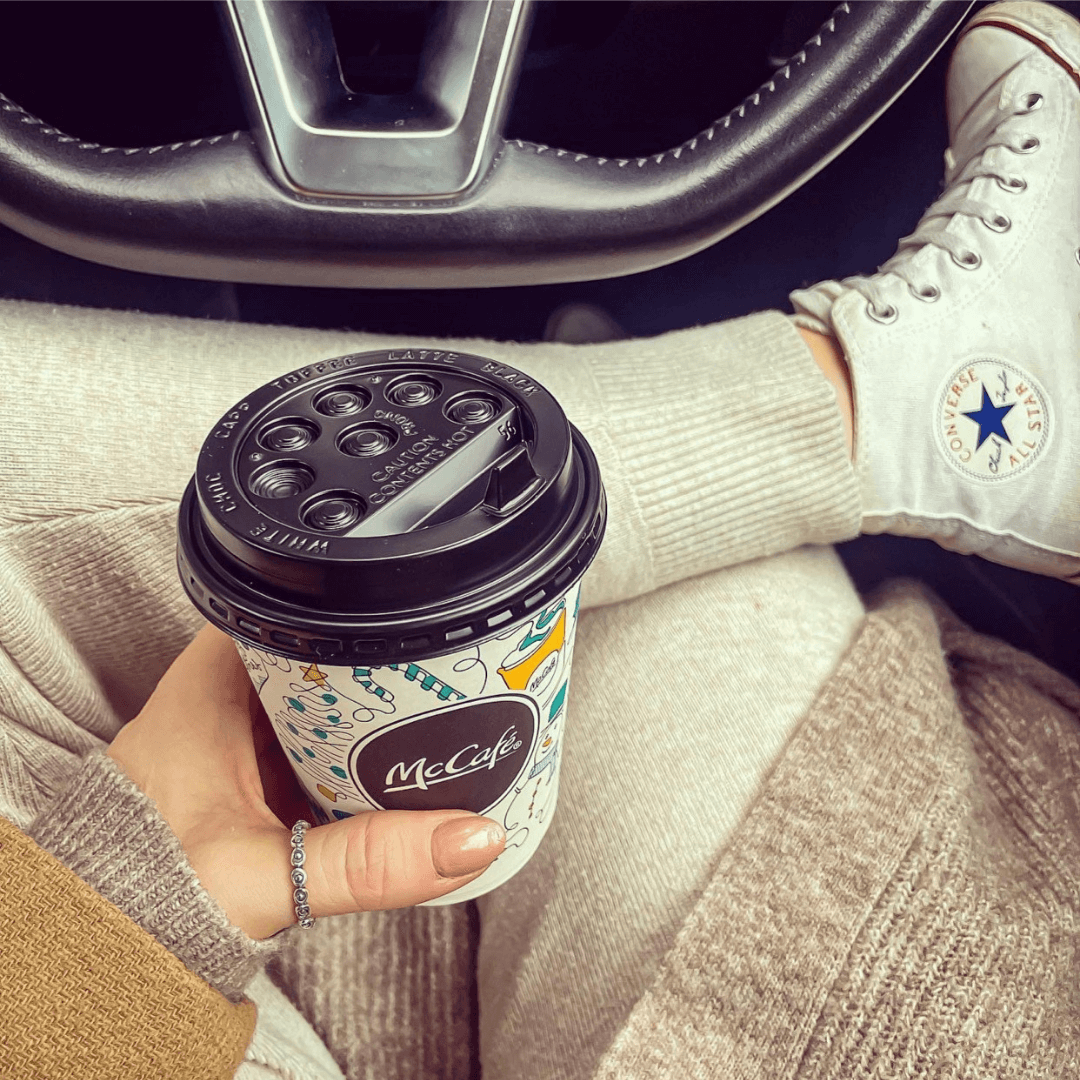 @stacey_thebalifamily/Instagram
Coffee
As there is no plant-based milk on offer, coffee options are limited. However, if you're just stopping by for a quick caffeine hit, you can grab an Americano (black, of course), or a cup of its Premium Roast Coffee.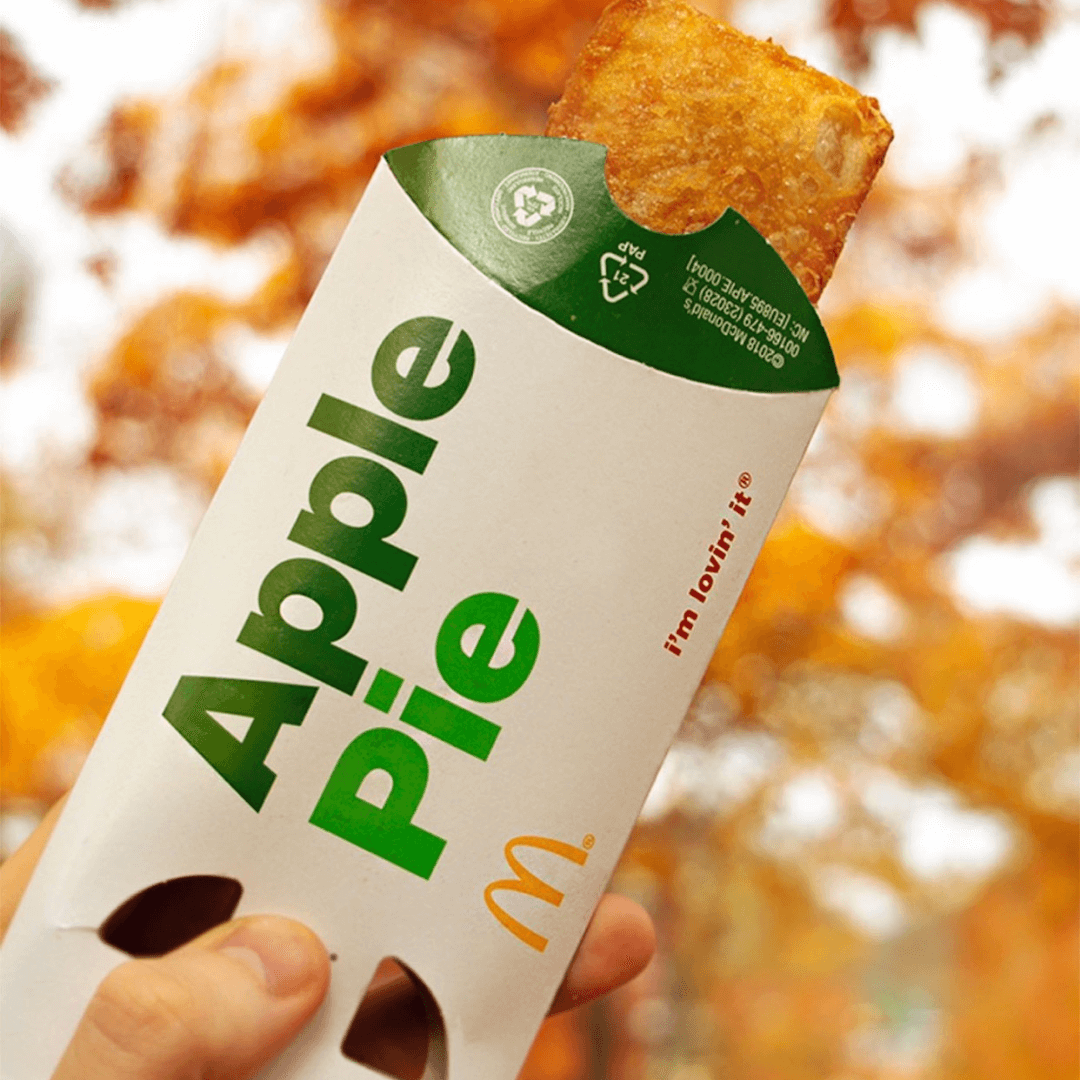 @mcdonaldsuk/Instagram
Desserts
Customers in Germany were treated to a vegan KitKat McFlurry option earlier this year, but in the US, no such menu item has appeared yet. But while most of the dessert menu is dominated by dairy, there is one option vegans can enjoy: the Baked Apple Pie, which features a hot apple filling, lattice crust, and sprinkling of sugar.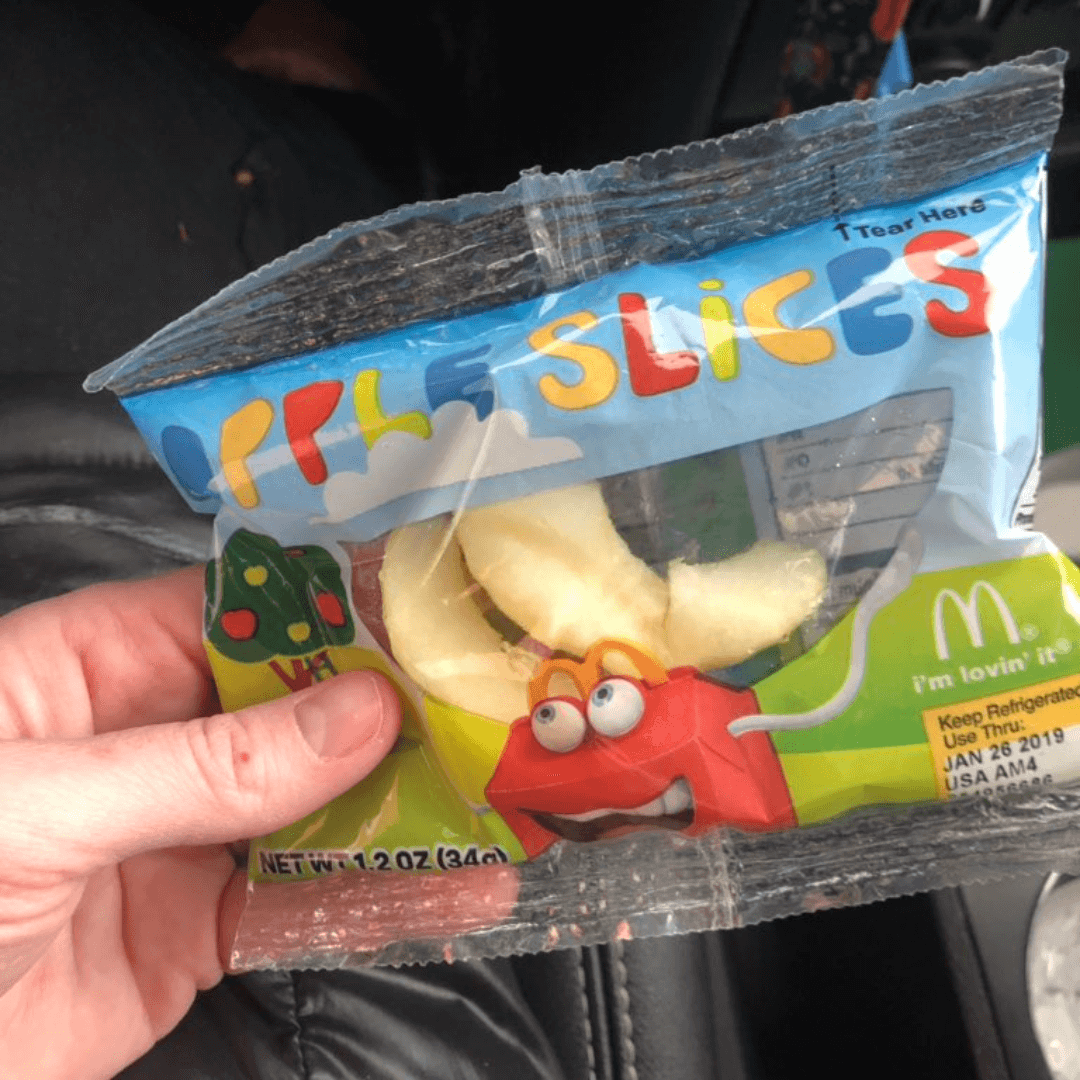 @leighakayleen/Instagram
Sides
Fries are a no-go, but if you've got kids in the back of the car, you could grab a pack of Apple Slices for them to snack on. (Or just munch on them yourself!)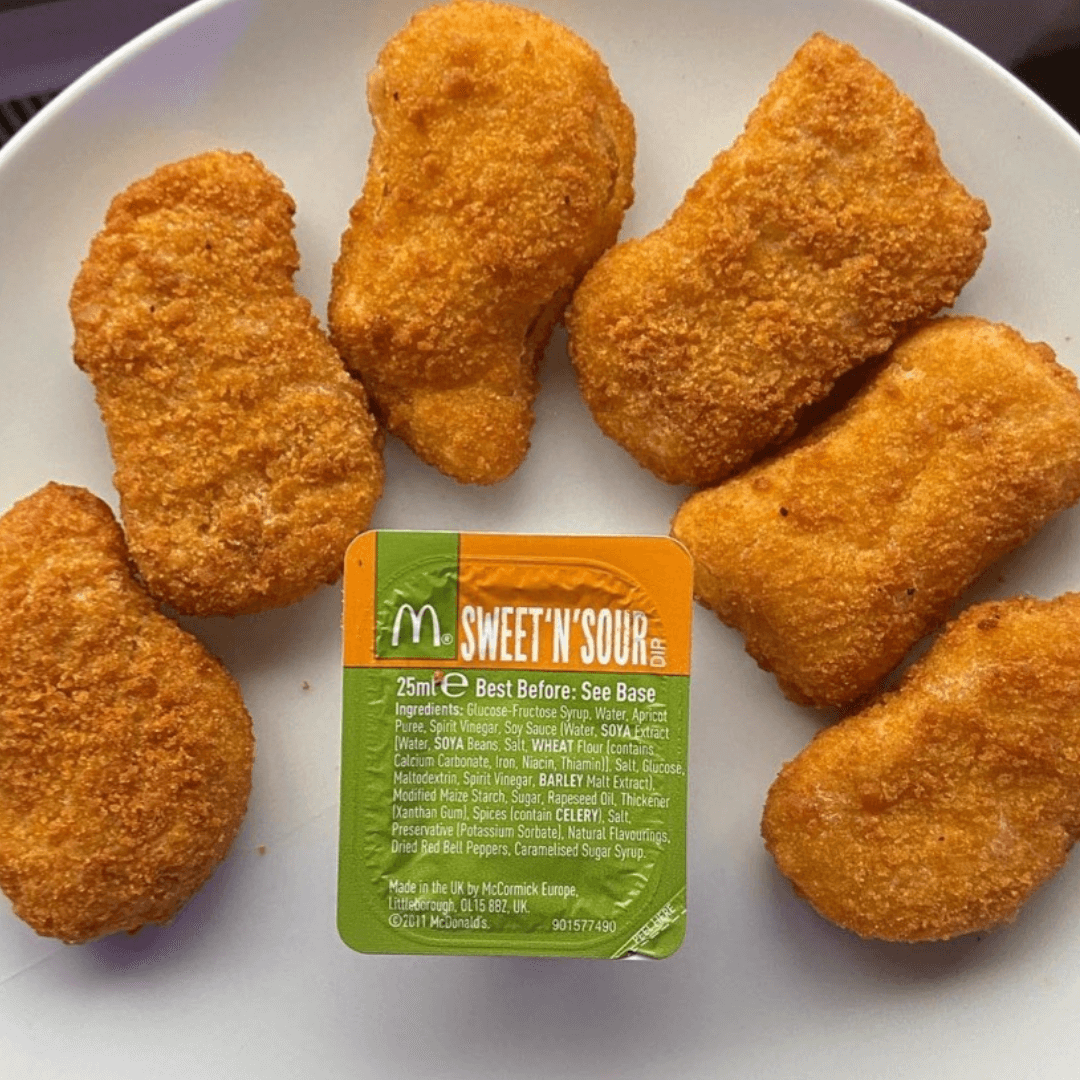 @veganamyeats/Instagram
Condiments
A few condiments, like ketchup, mustard, Tangy Barbeque, and Sweet 'N Sour, are vegan at McDonald's. Without fries, there isn't much for you to enjoy them with, however, you could take them home and have them with your own vegan fries or nuggets.
Burgers
As established, there is currently no vegan or even veggie burger option at McDonald's in the US. But if you are really desperate, you could create something relatively substantial by making a few alterations. The burger buns are vegan, so one option is to order a regular Big Mac, request to remove the beef patty, cheese, and Big Mac sauce, add in one of the vegan condiments from above, and double up on the lettuce, onion, and pickles.
Mr. Charlie's and other vegan burger restaurants
There's no getting away from it, the vegan options on McDonald's US menu are pretty poor. But thankfully, the fast-food giant is not the only chain to sell burgers.
In Los Angeles, a restaurant called Mr. Charlie's even offers a copycat McDonald's menu, but the twist is, everything is vegan. Find out more about the plant-based fast-food concept below, as well as the many other restaurants that can also give you a vegan burger fix.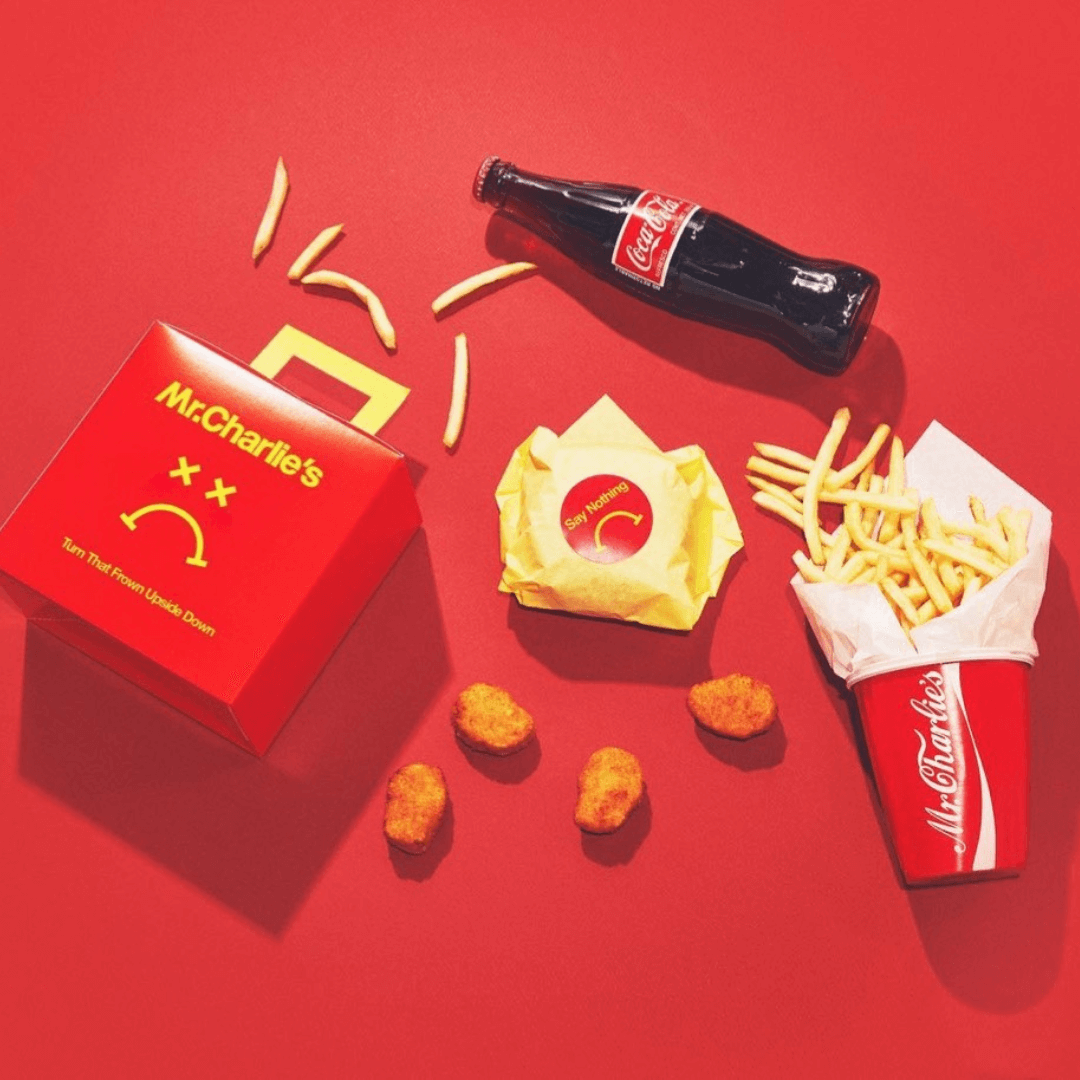 Mr. Charlie's
1 Mr. Charlie's
Mr. Charlie's is out to make the world of fast food a better place. Not only does it offer a wealth of plant-based variety, it also supports unhoused and formerly incarcerated people with employment in its Los Angeles restaurant. Its menu includes options like the Not a Cheeseburger, which features an Impossible Burger and vegan cheese, as well as British Chips and Not Chicken Nuggets.
Check it out here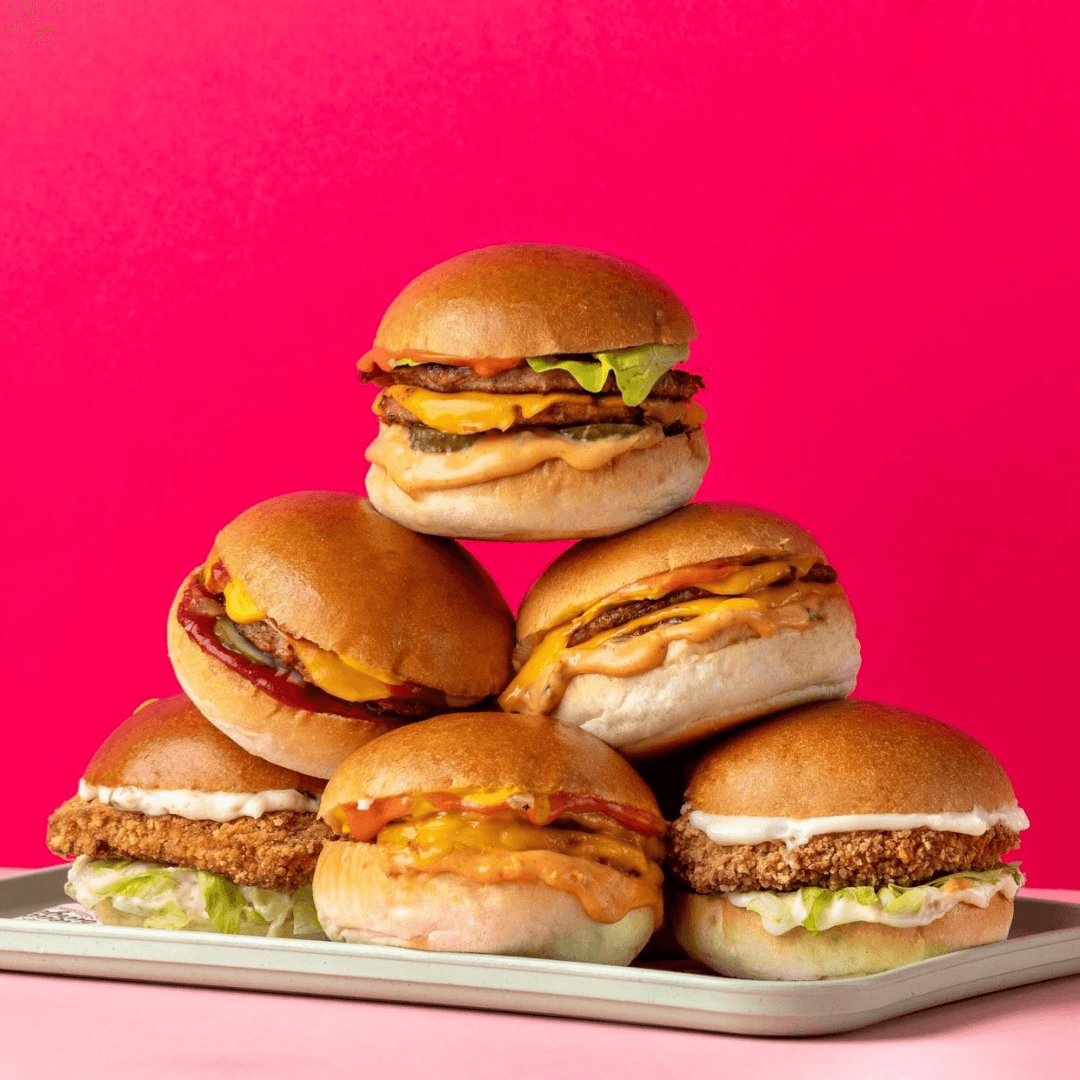 Neat Burger
2 Neat Burger
Plant-based burger chain Neat Burger, which is backed by the likes of Lewis Hamilton and Leonardo DiCaprio, recently made the jump across the pond from the UK to the US. Right now it has one US location in New York City, but it plans to open many more in the coming years. Its menu includes the McDonald's copycat Filet-No-Fish burger, as well as Chick' Burgers, Neat Dogs, classic Cheese Burgers, and even a range of vegan shakes.
Check it out here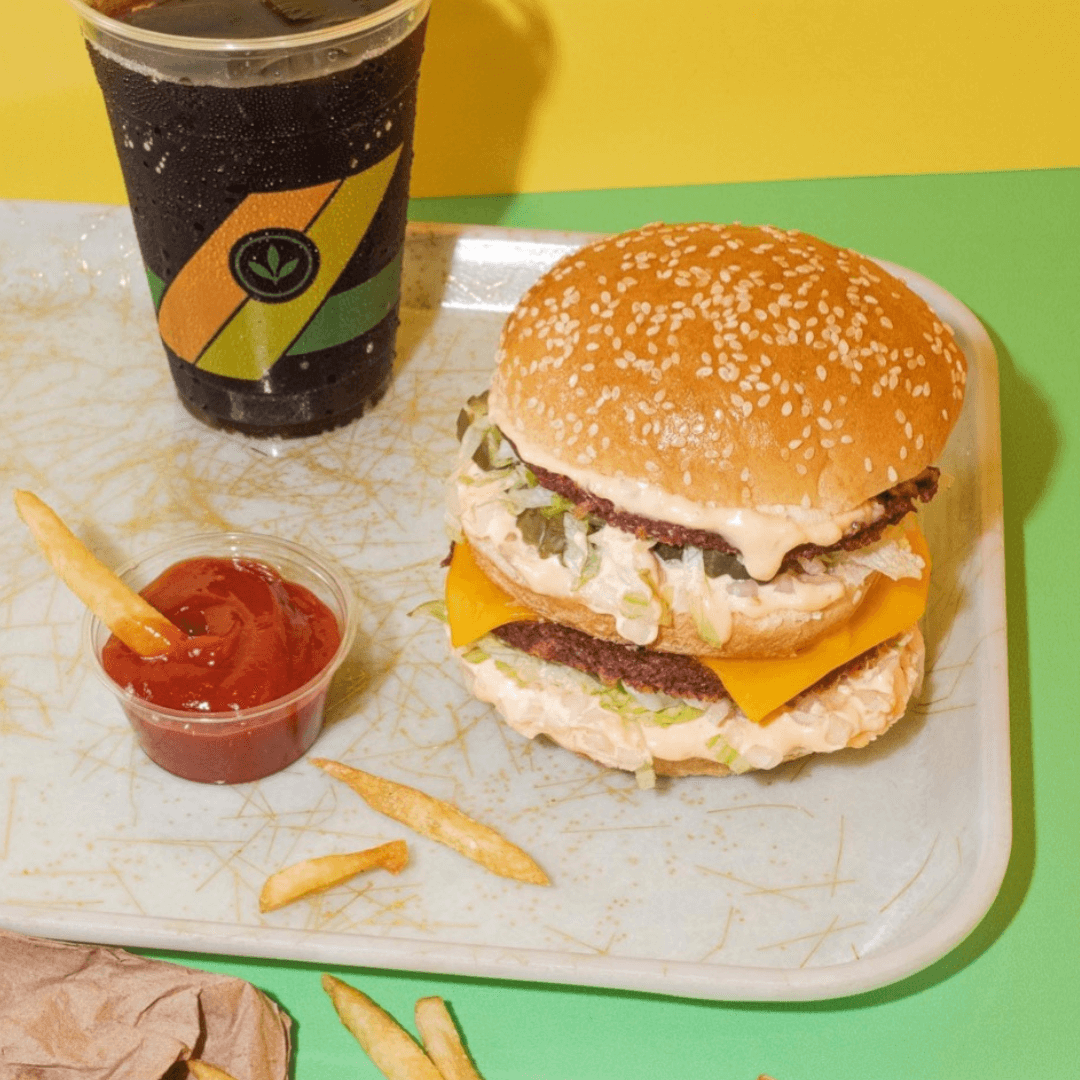 Plant Power Fast Food
3 Plant Power Fast Food
California vegan chain Plant Power Fast Food has soared in popularity since its launch back in 2016. Its success comes down to the amount of choice on offer, like its vegan takes on McDonald's most iconic options. There's the Big Zac (a plant-based version of the Big Mac), for example, as well as vegan egg-and-cheese muffins and vegan sausage-and-cheese croissants.
Check it out here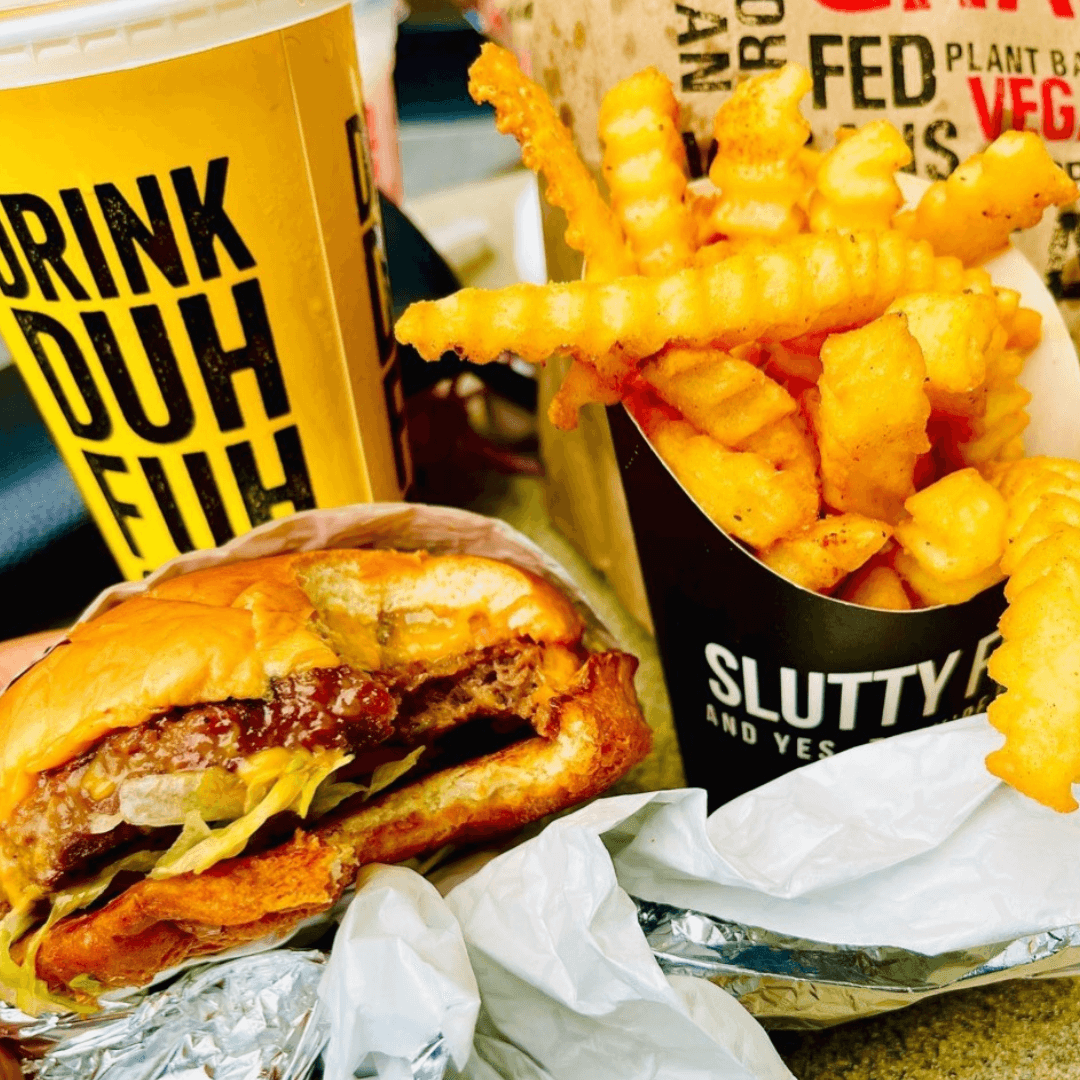 @blackberry_foodies/Instagram
4 Slutty Vegan
Celebrity favorite Slutty Vegan started with a food truck in 2018, but very quickly, its popularity soared. In 2019, founder Pinky Cole opened an Atlanta brick-and-mortar spot to queues around the block. Now, with a valuation of $100 million, the plant-based chain is still growing consistently. Its popular menu includes burgers like the One Night Stand, which is loaded with vegan bacon, cheese, and the chain's own Slut Sauce, as well as the Ménage à Trois, which features a vegan shrimp topping.
Check it out here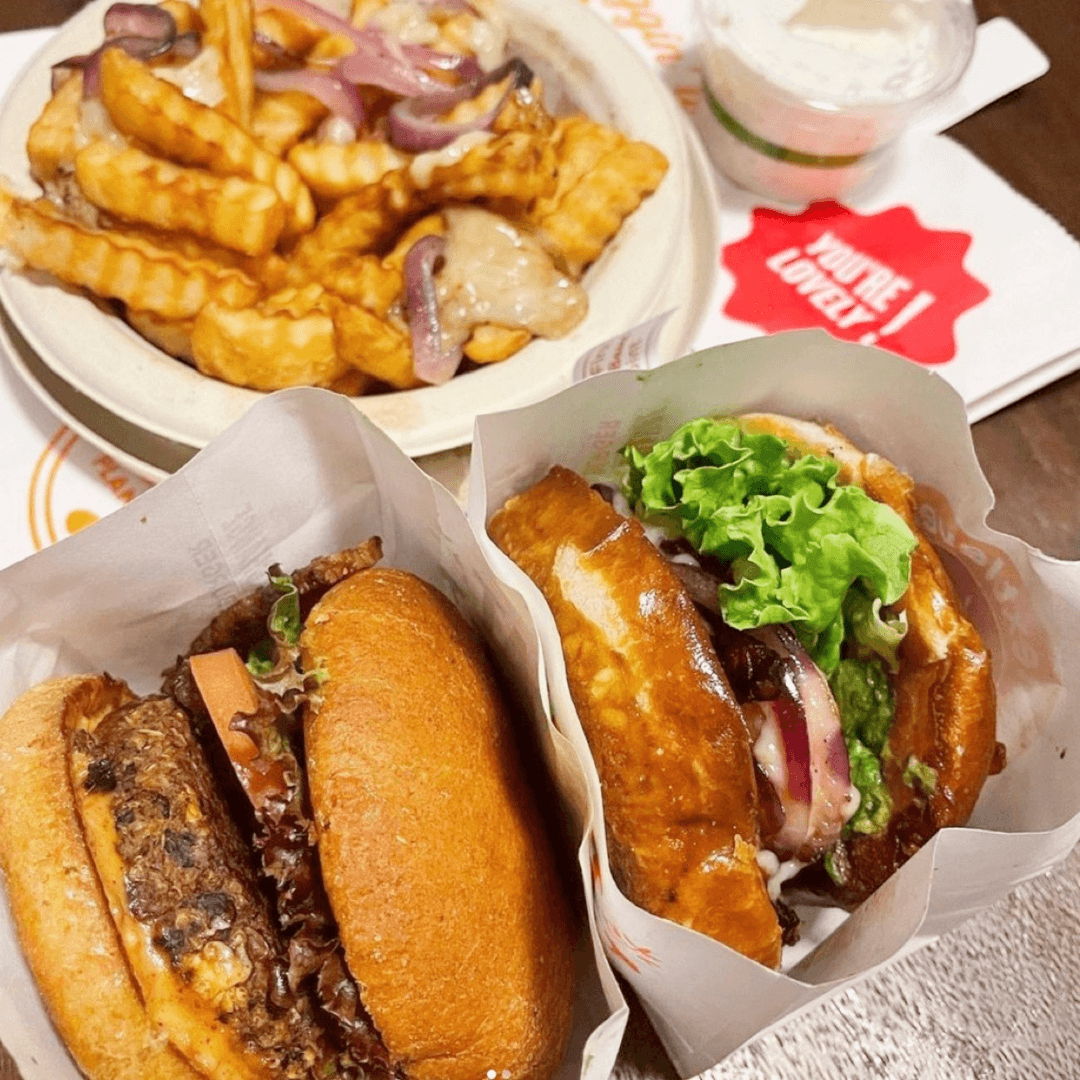 Next Level Burger
5 Next Level Burger
In 2014, Cierra and Matt de Gruyter decided to fill the gaping plant-based hole in the fast-food market and created what they claim was America's first-ever vegan burger joint. With nine locations now and a recent $20 million investment under its belt, the chain is still going from strength to strength. As well as vegan shakes, fries, salads, and hot dogs, the menu includes the Classic Chzburger, the Good Catch Crispy Fish Burger, and the Fire Chik'n Burger.
Check it out here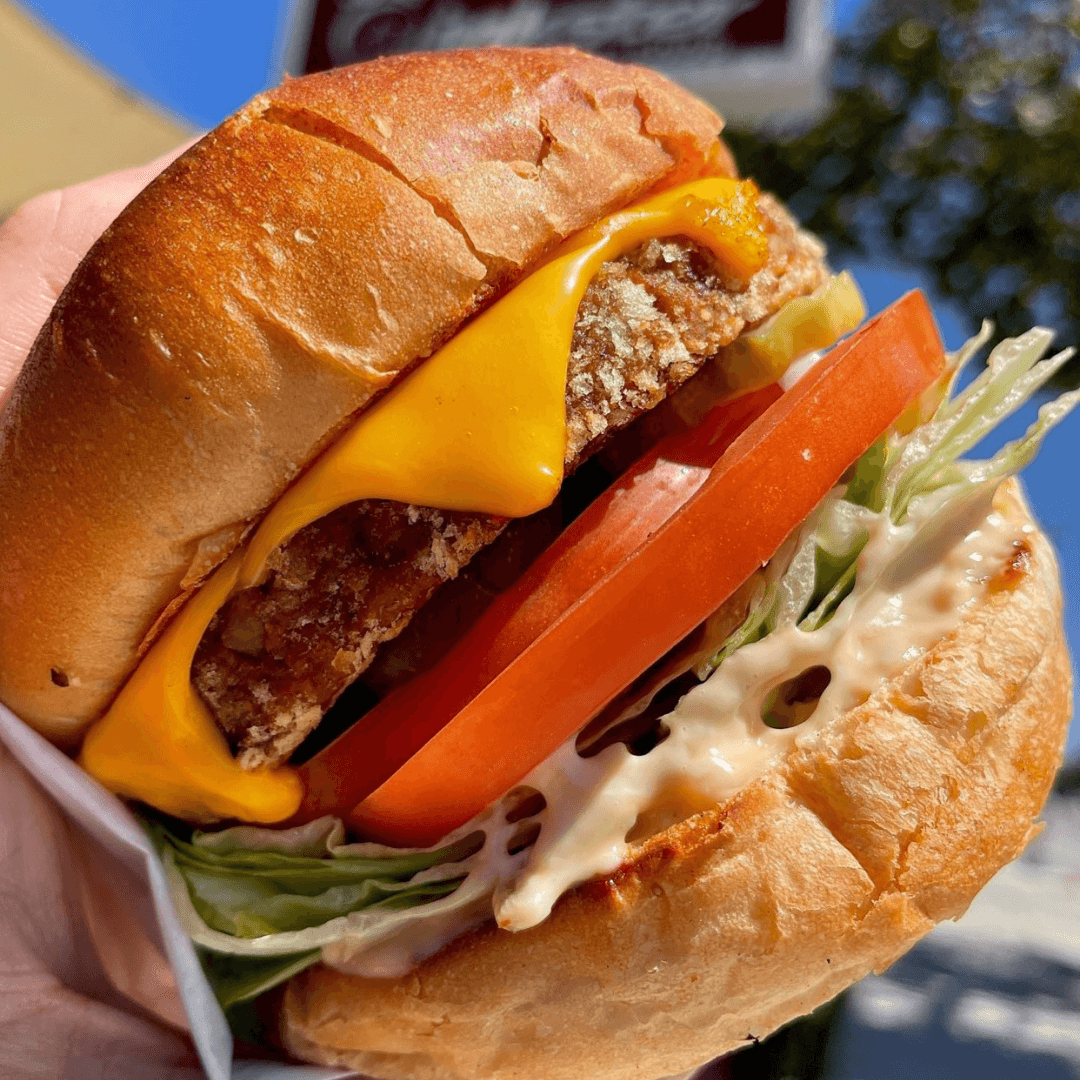 Burgerlords
6 Burgerlords
Since 2015, Burgerlords has been treating customers to its classic California-style burgers, only without the meat. It has two Los Angeles locations, in Chinatown and Highland Park, and the menu includes its own original vegan burger recipes, made in-house. You can choose from a garden-style patty or a "beefy" patty, as well as its own breaded tofu-based "chicken" sandwich.
Check it out here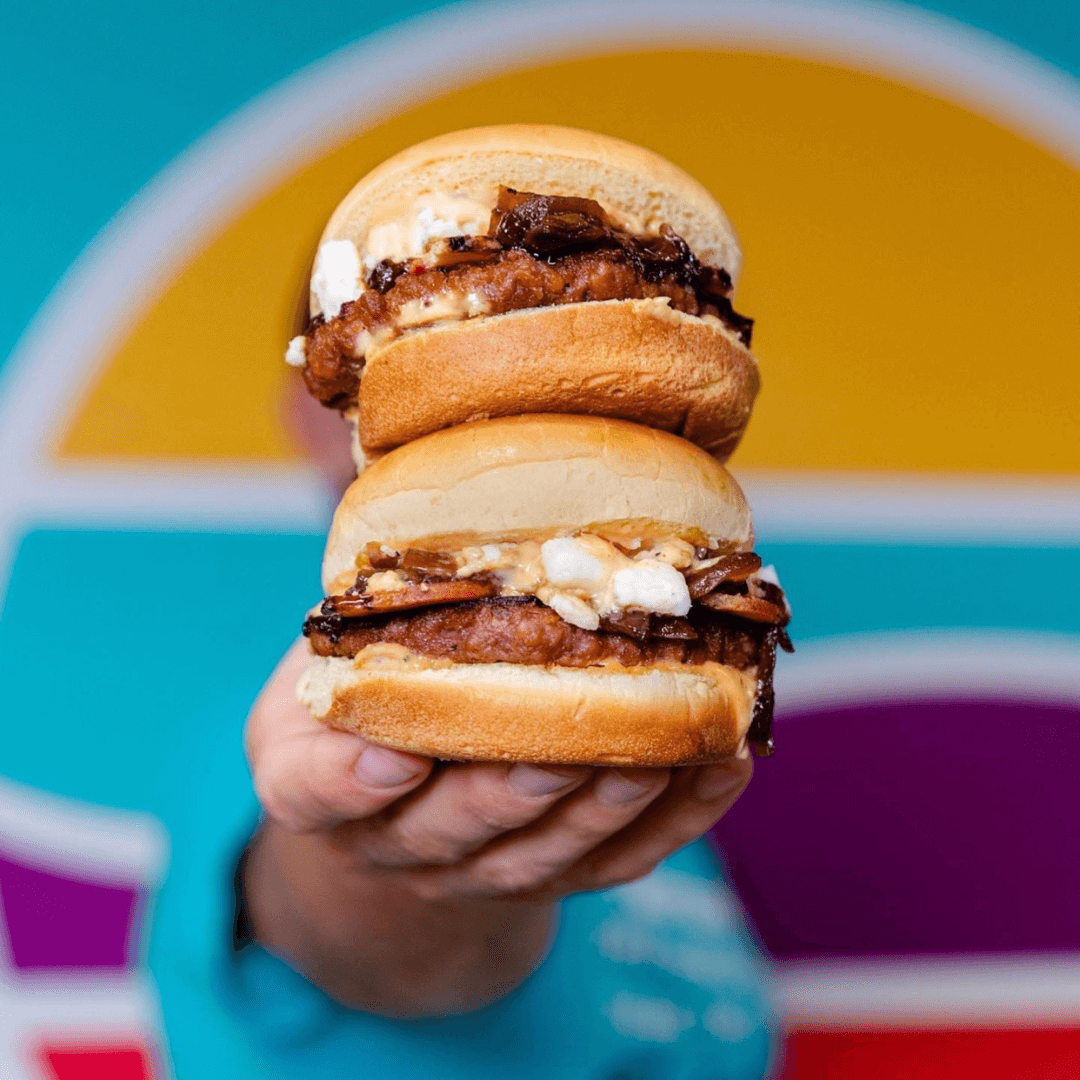 PLNT Burger
7 PLNT Burger
Founded by Top Chef contestant Spike Mendelsohn, PLNT Burger has 16 locations across the Mid-Atlantic and Northeast, many of which are located inside Whole Foods Market stores. The chain prides itself on creating "chef-crafted American classics for our future," and the menu includes its signature PLNT Burger, as well as a Mushroom BBQ Bacon Burger, a Steakhouse Burger, and a fish-style Save The Bay Fillet.
Check it out here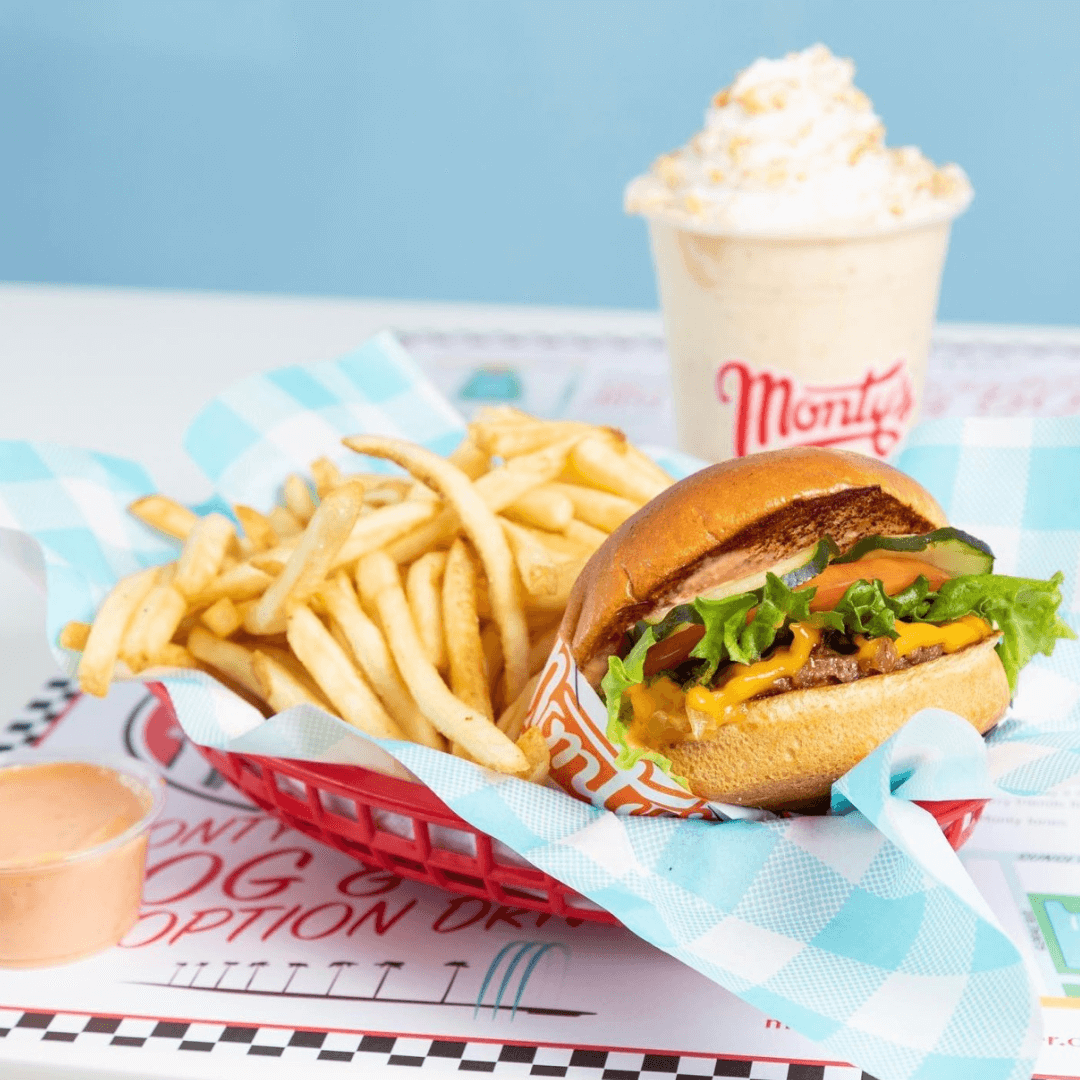 Monty's Good Burger
8 Monty's Good Burger
Social media-favorite Monty's Good Burger has been going since 2018. It has risen in popularity partly because of its large social following and celebrity fans (Joaquin Phoenix celebrated his 2020 Oscar win with a trip to the plant-based food joint, for example), but it would arguably be nothing without good food, which it has in spades. There's the signature Monty's Good Burger, of course, which comes with an Impossible Foods patty and Follow Your Heart vegan cheese, but there are also vegan chicken tenders, Charlie's Chicken Sandwich (with hand-breaded plant-based chicken), and a wide variety of shakes and floats.
Check it out here
For more on vegan fast food, read: