Open kitchen concepts are a rising trend, but Benihana restaurants have been bringing the fire to the table (literally) since 1964. The American-born, Japanese-inspired chain gained fame for its teppanyaki style of cooking, putting chefs center stage as they prepare your meal over a searing hot grill inches from your plate. This dinner-and-a-show experience is a go-to for birthdays, pre-prom parties, blind dates, work dinners, and other celebrations. While it may not be the vegan's first choice after glancing at the meat- and seafood-dominant menu, there are plenty of satisfying and equally entertaining options for plant-based eaters who accompany these group parties. Here is your vegan guide to Benihana.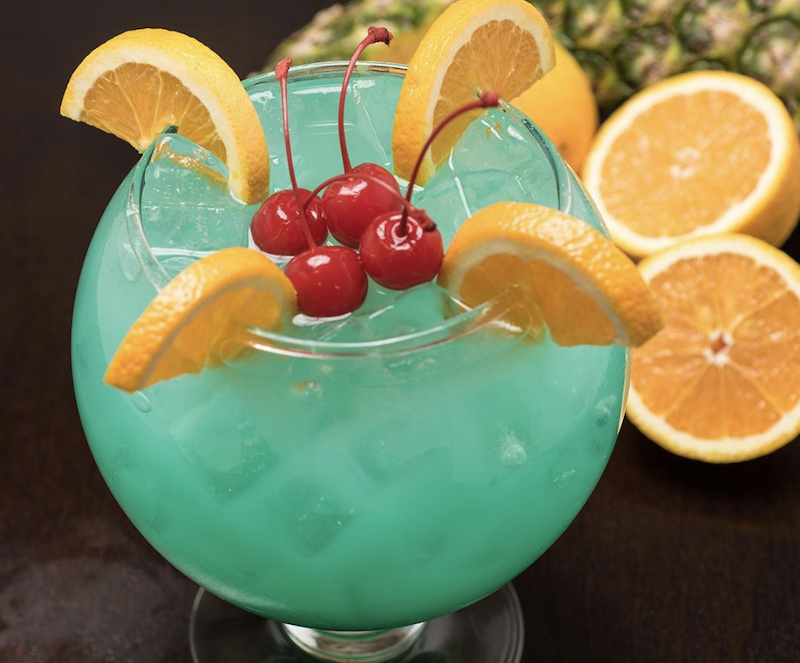 Benihana
Beverages
Even if you're one to only order water at a restaurant, dining at Benihanas is often a special occasion. It's only fitting you order a special drink. On the adult beverage side, reach for the specialty/signature drink menu. You'll find an assortment of colorful and boozy creations including Long Island Ice Teas, a Prickly Pear Margarita, Haiku Colada, a classic Mai Thai, and other fun drinks with tropical or Japanese-inspired flavors. Those who abstain from alcohol that night can still liven up with a beverage from the alcohol-free drink menu. Instead of the tired selection of American sodas, choose a Benihana Lemonade in raspberry, mango, strawberry, or passion fruit. For a bit of fizz, the lemon-lime, grape, or strawberry Ramune—or Japanese pop— will hit the spot.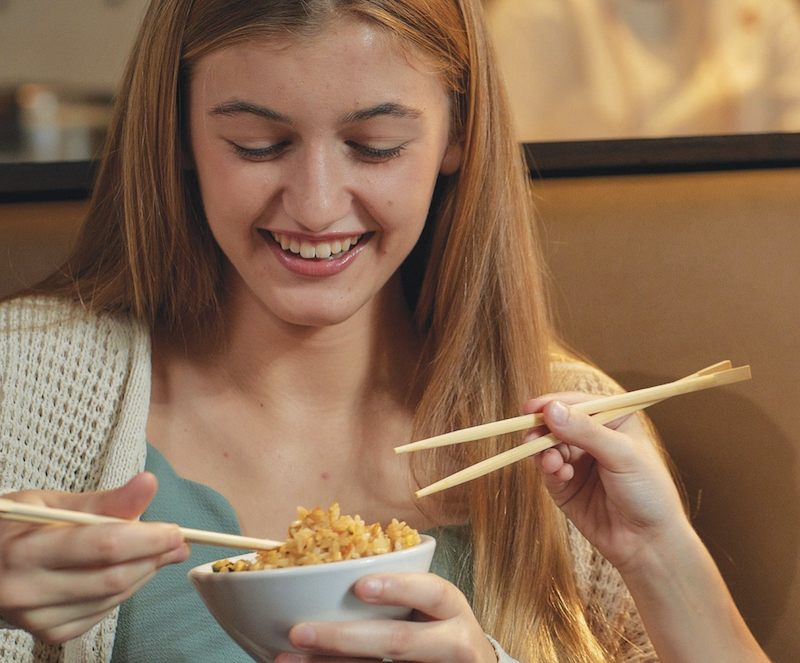 Benihana
Appetizers and side orders
Like any average Japanese restaurant you'll find in the US, edamame is the default vegan appetizer. Benihana's come warm and sprinkled with sea salt, though heat-seekers can opt for the spicy version coated in a tsuyu no moto sauce, which is also vegan. While the pan-fried edamame gyoza dumplings may look appetizing, a call to the restaurant informed us that they contain animal products. Beyond the addictive soybean snack, plant-based patrons can order the seaweed salad, Benihana salad, white and brown rice, and steamed or sauteed hibachi vegetables. Avoid both the onion and miso soups—the former contains beef broth and the later contains fish-based ingredients. While you're putting in your app order, start the night off right and inform your server or tableside chef of your dietary requirements. They'll know to serve you only the vegan-friendly sauces and other accouterments throughout your dining experience.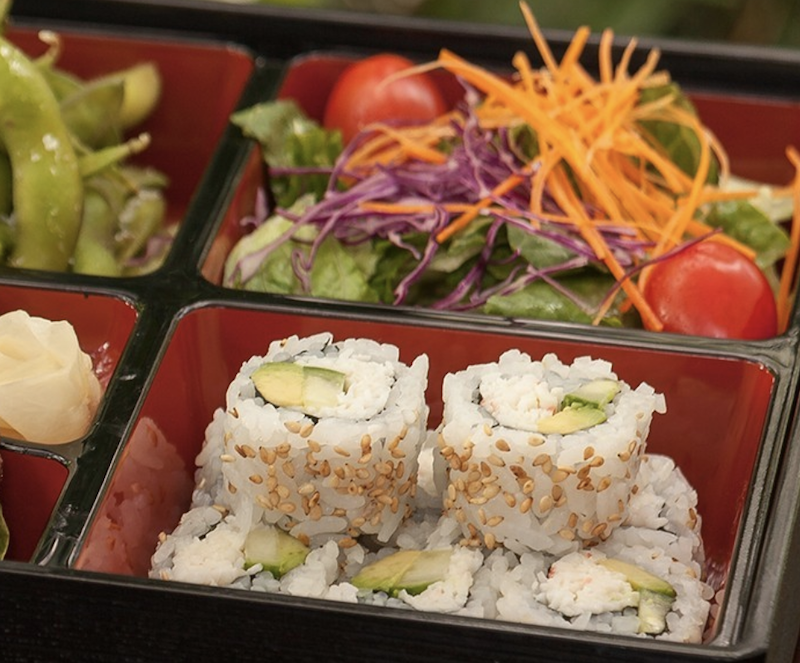 Benihana
Sushi
The trick to ordering vegan at any sushi restaurant is to look for the avocado and cucumber rolls. Benihana offers both, plus a vegetable roll that provides a bit more heft and satisfaction with the inclusion of greens, avocado, cucumber, red cabbage, and yamagobo (pickled burdock root). Those without a raging appetite could easily order a salad and two vegetable rolls and leave the restaurant perfectly content.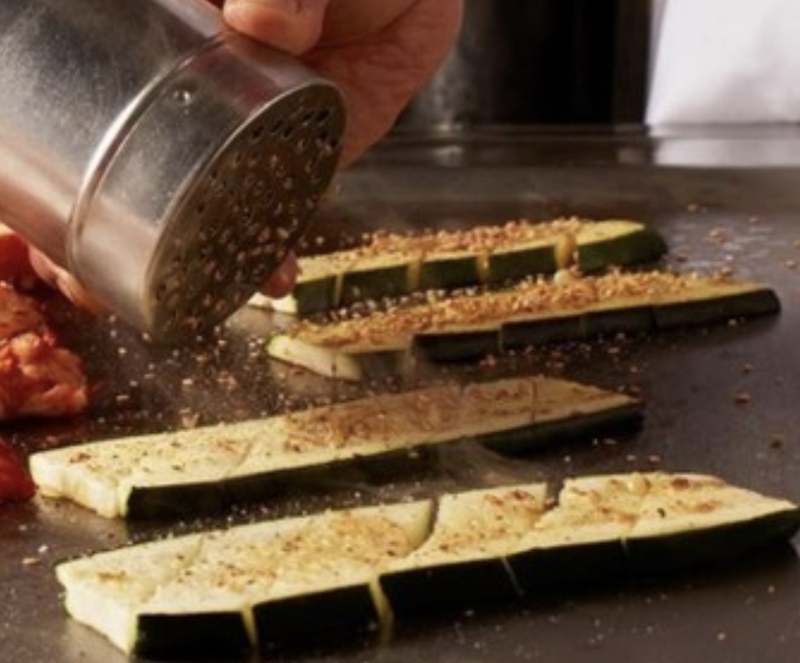 Benihana
Entrées
The fun starts with the entrées at Benihana. This is where the chefs flex their skills at the grill. Under the Noodles & Tofu section, the Spicy Tofu Steak is an excellent vegan option. Grilled with scallions and cilantro in a spicy homemade (and vegan) sauce, this slab of soy transforms into a delicious main meal for vegans and omnivores alike. Note: the selection comes with four other courses. Politely remind your server to omit the onion soup and hibachi shrimp appetizer. You'll still receive a Benihana salad, hibachi vegetables, dipping sauces, and a cup of Japanese green tea. Some servers may even double up the salad or veggies to compensate for the other dishes. Vegan fried rice is also an entrée option, though it's a bit of a secret menu item. Just ask your server to prepare it with vegetables instead of egg and chicken. For a lighter bite, order the Imperial Salad tossed with mixed greens, edamame, grape tomatoes, yellow pepper, cucumber, and other fresh veggies. Both the wasabi and ginger dressings are vegan.
Those who don't mind putting their fate in another's hands can ask the chef to get creative; after all, Benihana is all about the show and a bit of improv. Most Benihana chefs are happy and excited to make a vegan dish off-the-cuff, giving you a truly unique and delicious entrée others will envy. While creativity is impossible to predict, you can safely assume this secret menu meal will include tofu, vegetables, and an animal-free sauce.
Dessert
Sit tight while the rest of your party partakes in dessert. While the restaurant serves a sherbet, it contains dairy. Better yet, suggest a vegan-friendly scoop shop to caravan to and keep the fun going even after dinner is done.
For more vegan restaurant guides, read:
The Vegan Guide to the Cheesecake Factory

The Vegan Guide to Chili's
The VegNews Vegan Guide to TGI Friday's