Like our bi-weekly shopping trips to Trader Joe's, brunch is a deeply ingrained habit. By Thursday evening, we've got pancakes and vegan huevos rancheros on the brain, and by Friday afternoon, we've either made plans to meet at a favorite vegan restaurant or spent a good hour scrolling through recipes to decide what to make on Saturday morning.
When brunch is a way of life, it should be relatively effortless. Yes, there are special occasion brunches—like Mother's Day—when we'll get up early and put in more effort, but most Saturdays and Sundays, we just want something sweet and savory and we want it fast.
This is where Trader Joe's steps in. With a few convenient pantry pulls and a stroll around the produce section, Trader Joe's products make brunching at home a breeze. There are options for every kind of home cook from place-and-bake cinnamon rolls in a pop tube to raw ingredients for those who find joy in brunching from scratch.
Below, we've compiled a list of both savory and sweet vegan brunch items at Trader Joe's. We recommend you mix and match, particularly if you're hosting a more elaborate brunch for Mother's Day; people want choices! Pause for a moment before striding into the store to grab a bouquet or two of fresh flowers to complete your table setting. Trader Joe's truly is your one-stop shop for all your brunching needs.
Trader Joe's savory vegan brunch staples
Eggy vegan scrambles, fully loaded avocado toasts, and lox-style bagels with schmear are all possible with a quick shop at this tiki-themed grocer.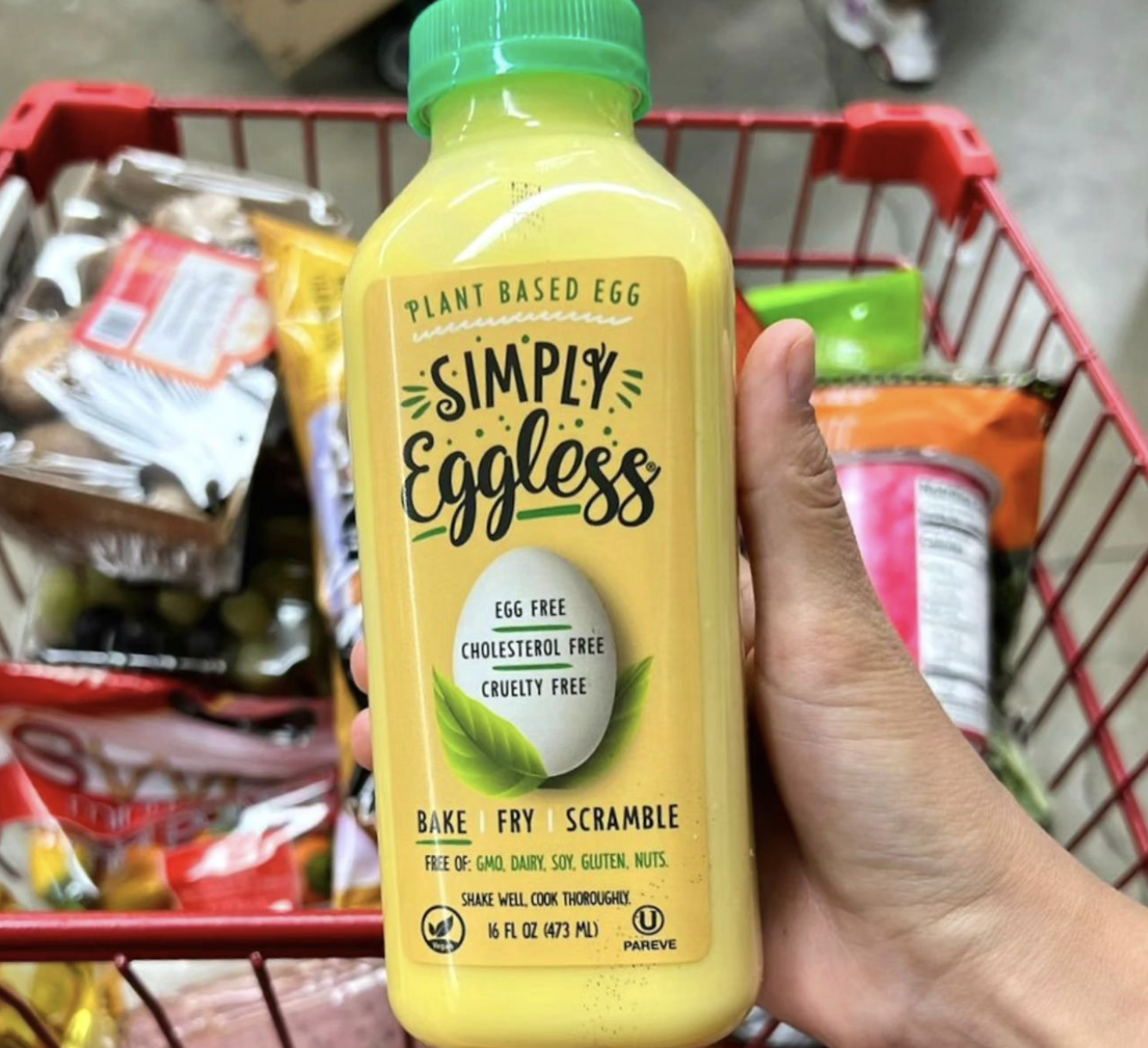 Simply Eggless
1 Simply Eggless Plant-Based Egg
This pourable vegan egg replacer can do it all when it comes to egg-based brunch classics. It scrambles, bakes, and fries without any reconstitution needed. Add a pinch of salt and pepper for a quick scramble you can stuff into breakfast burritos or serve with a pop tube of Organic Crescent Rolls and fresh fruit. For Mother's Day, pour it into a store-bought pie crust (unfortunately the frozen option at Trader Joe's is not vegan; it contains butter), add a few cherry tomatoes and fresh spinach from the produce section, and bake it off for a light and fluffy vegan quiche.
Find out more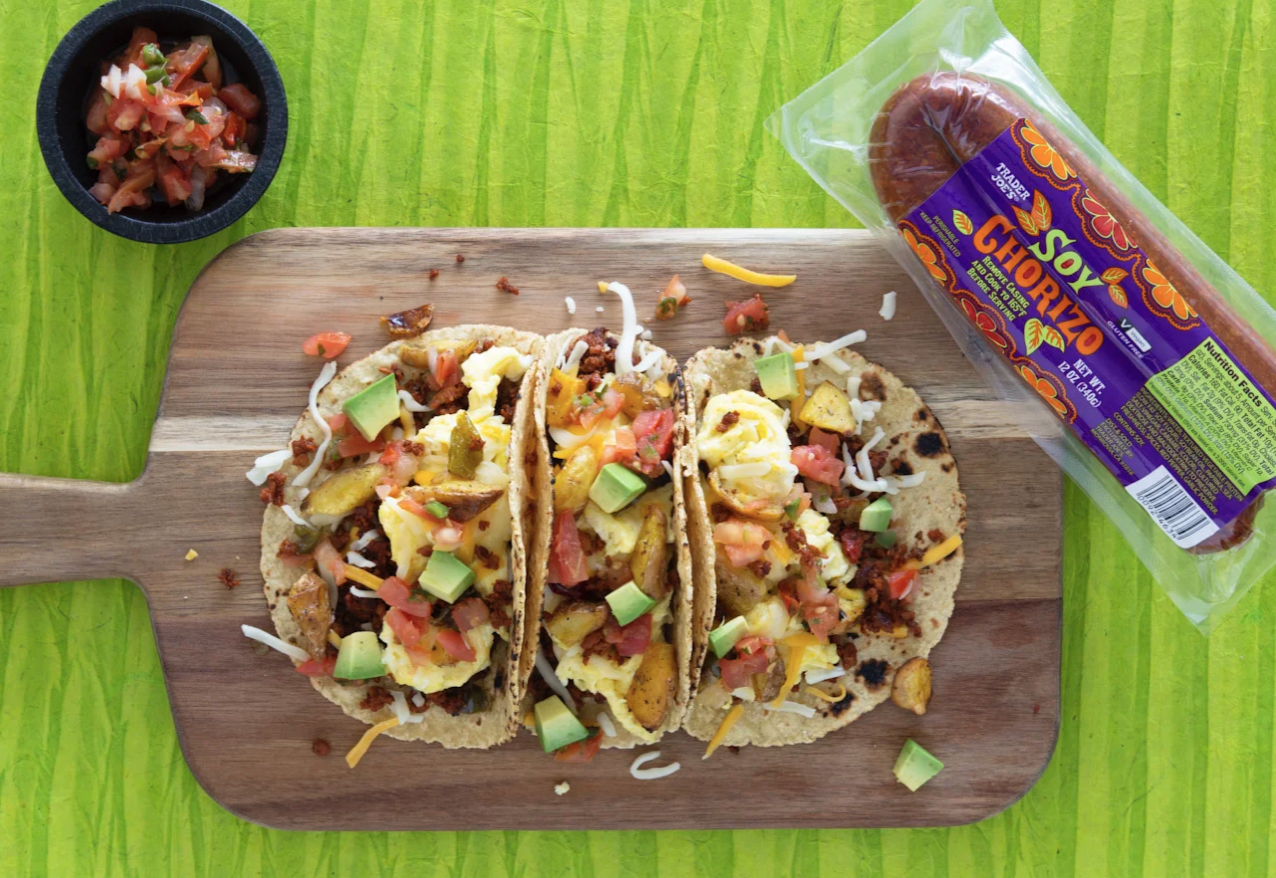 Trader Joe's
2 Soy Chorizo
From breakfast hashes to tofu scrambles, this vegan chorizo adds a pop of flavor and plenty of spice to a medley of brunch dishes. We love it stuffed into a big burrito with turmeric- and cumin-spiced crumbled tofu, wilted spinach, and pico de gallo. For a savory side, dice a few russet potatoes; sear them with salt, pepper, and olive oil in a cast iron skillet until cooked through; then toss in this soy chorizo for the last few minutes for a homemade papas con chorizo.
Find out more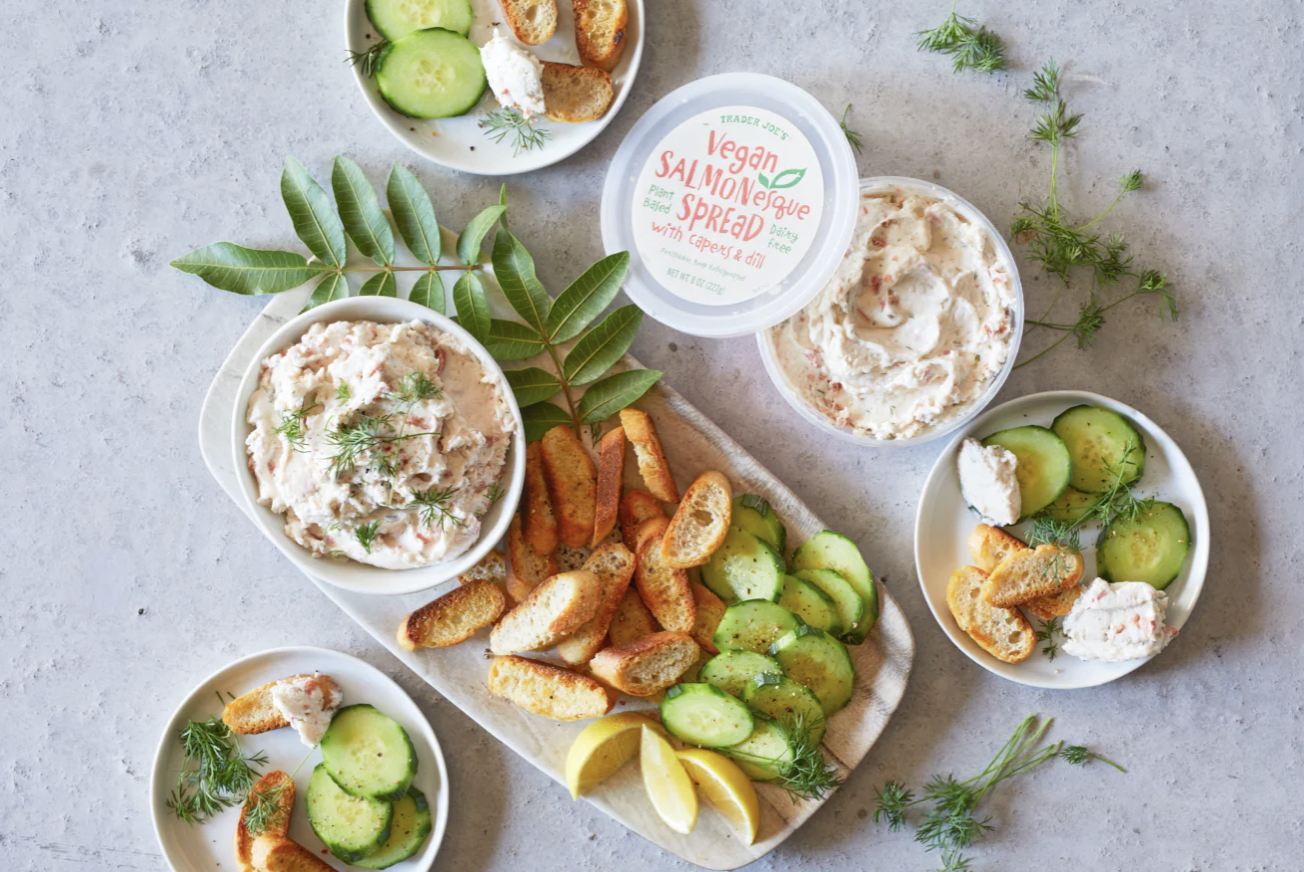 Trader Joe's
3 Vegan Salmonesque Spread
It may raise a few eyebrows, but this vegan lox-inspired schmear has stayed on shelves since launching in September of last year. When hosting brunch, we love to put out a bagel board, complete with a chalk menu of suggested pairings. One that keeps returning to our kitchen table is an open-faced vegan lox bagel sandwich complete with an everything bagel, Salmonesque Spread, capers, and fresh dill (and yes, you can find all of these ingredients at your local TJ's).
Find out more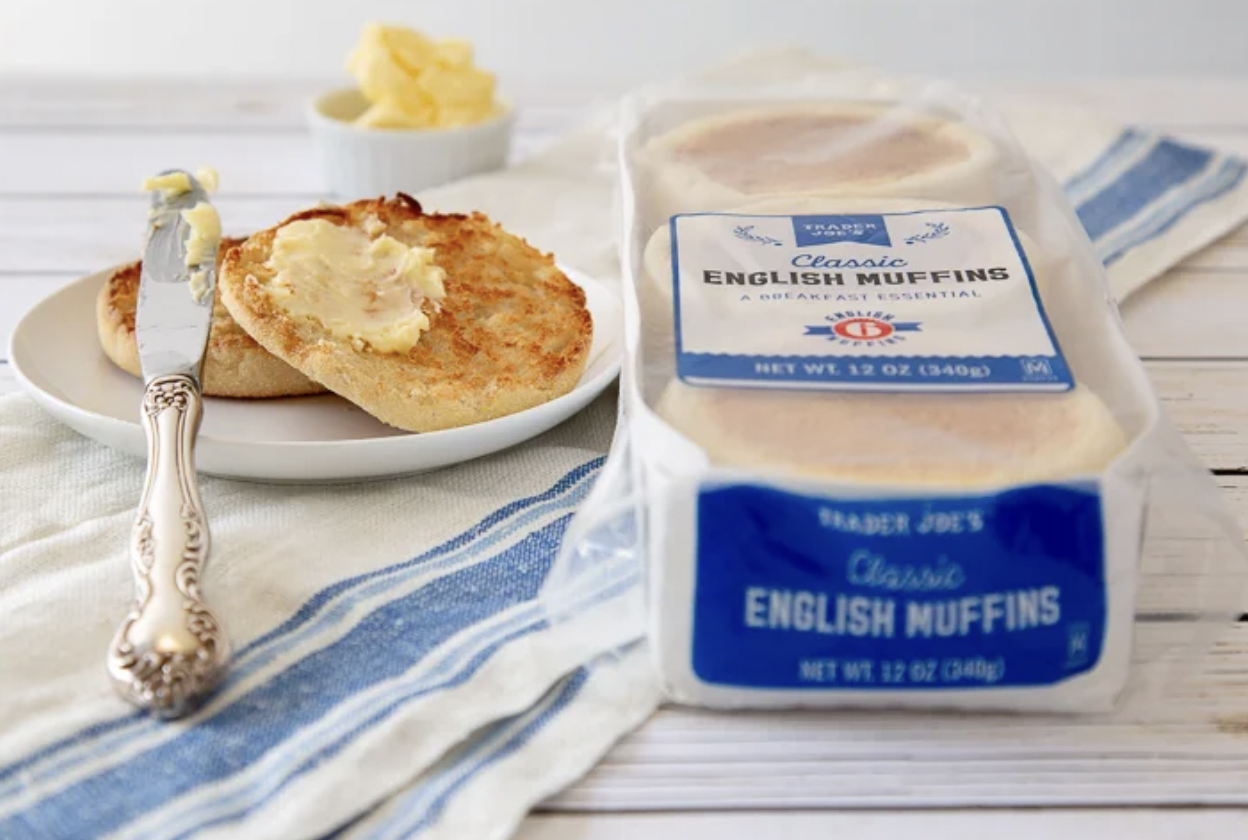 Trader Joe's
4 Classic English Muffins
We forgot about English muffins until we came across them on the Trader Joe's bakery shelf, then in search of the inconsistently stocked Vegan Brioche loaf. We purchased a pack impulsively, and now these craggly, cornmeal-dusted rounds make a regular appearance at our home brunches. These are best served simply with a generous swipe of Trade Joe's new(ish) Vegan Buttery Spread or perhaps a thin layer of Organic Apricot or Strawberry Preserves.
Find out more
Trader Joe's sweet vegan brunch staples
A successful brunch is all about balance. Pair any one of these sweet items with a savory dish, and consider your morning a success.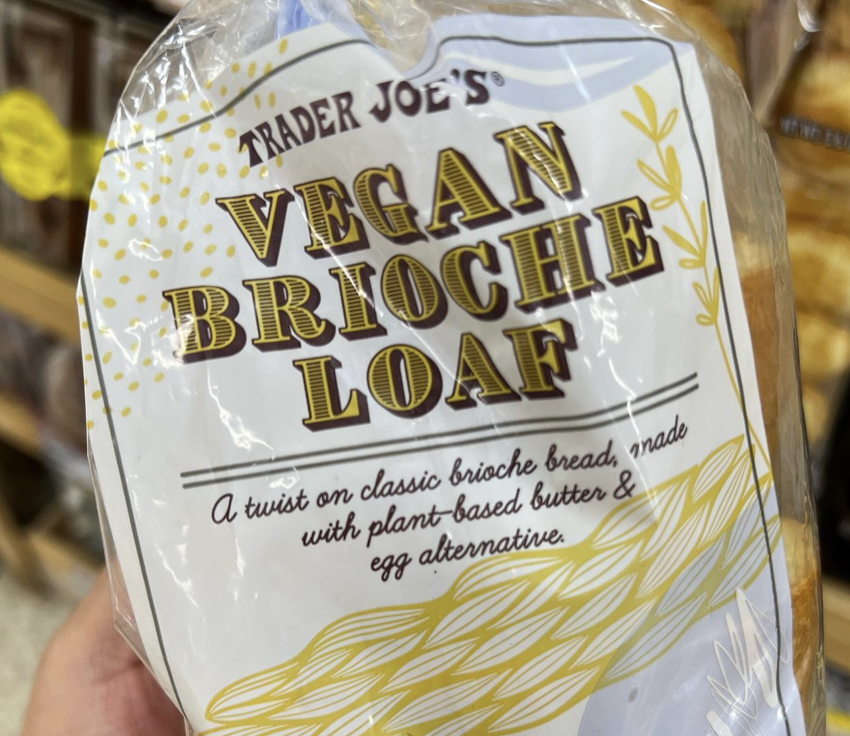 @tradjerjoesafficianado/Instagram
1 Vegan Brioche
There's French toast, and then there's brioche French toast. We have a strong opinion about which one is better. With a pinch of cinnamon, a little almond milk, a drop of maple syrup, and a bottle of Simply Eggless, you can create a quick and easy custard to dip those pre-sliced pieces of brioche into. Sear on both sides and top with powdered sugar, maple syrup, a pat of Trader Joe's Vegan Buttery Spread, and/or fresh berries.
Find out more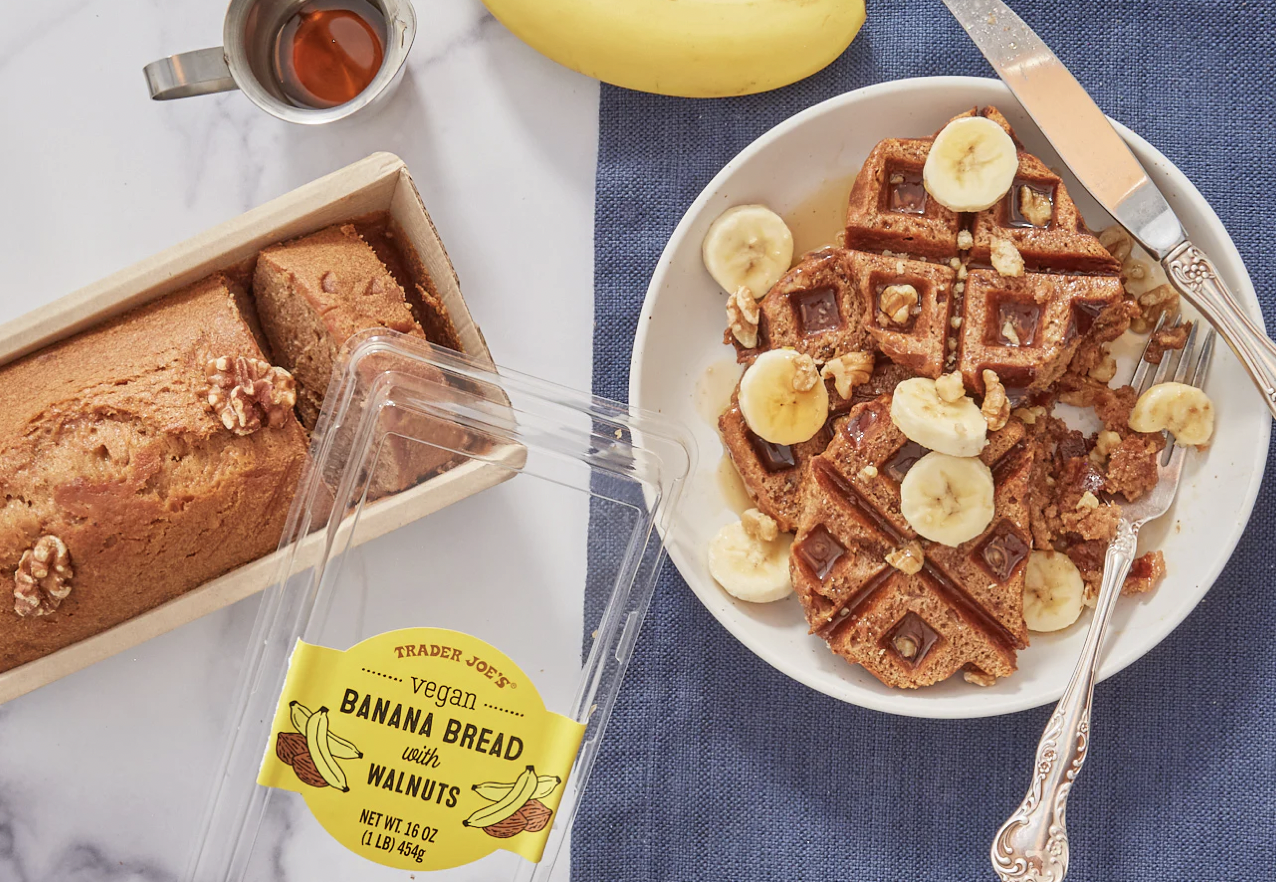 Trader Joe's
2 Vegan Banana Bread
Brunch could not be easier thanks to this vegan-as-is banana bread. It's studded with walnuts and truly shines when warmed up. If you want to be particularly extra, you can slice, dip in a basic custard, and griddle to make banana bread french toast. Regardless of how you enjoy this humble quickbread, a strong cup of coffee (with or without Trader Joe's Brown Sugar Oat Creamer) is a must-have accompaniment.
Find out more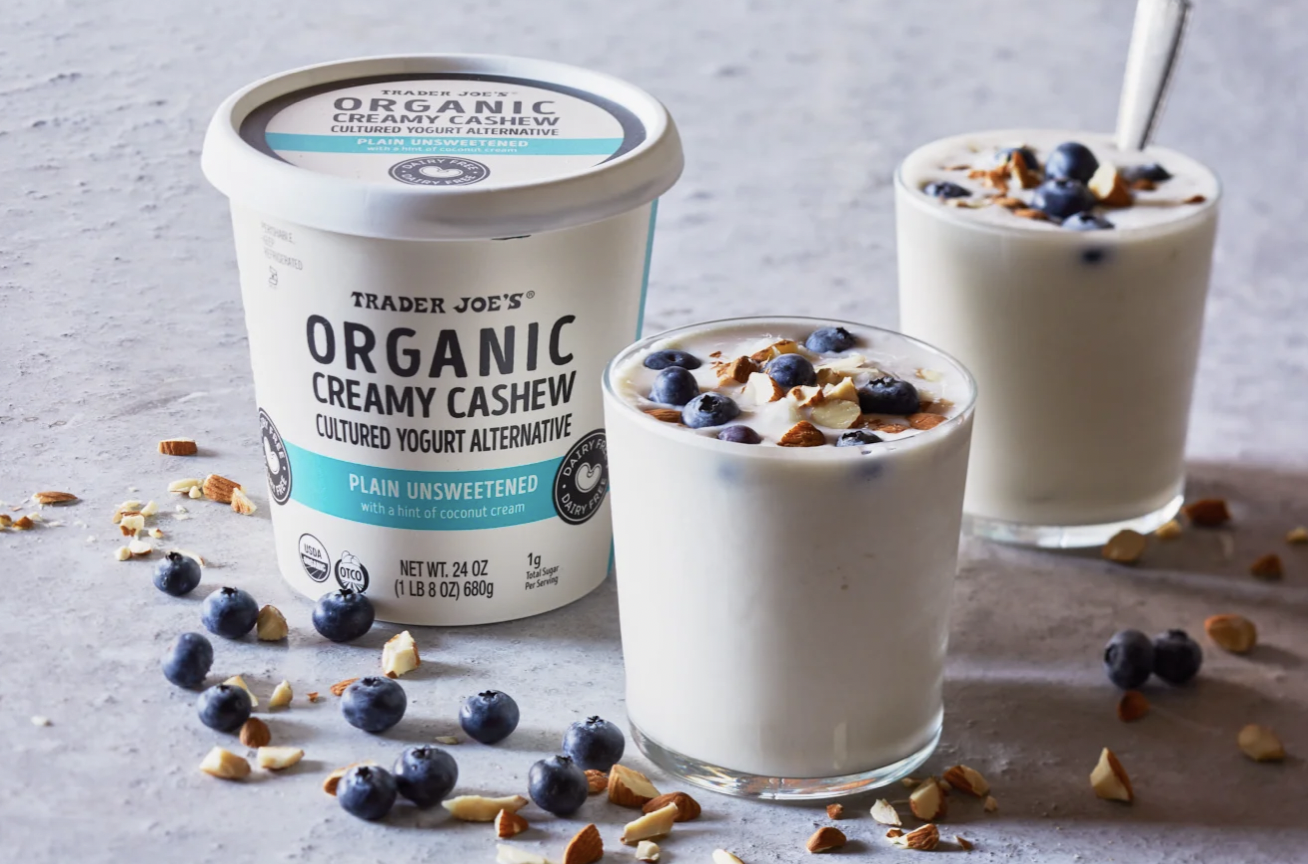 3 Vegan yogurt and granola
Brunch does not always have to be a decadent affair. If you've got afternoon plans and don't have time to nap off a heavy meal, a light yet satisfying yogurt parfait is just the thing. TJ's thick and luxurious Organic Creamy Cashew Cultured Yogurt Alternative, Plain Unsweetened, is the ideal canvas for any one of the grocer's on-the-sweeter-side vegan granolas (Peanut Butter Protein Granola, Gluten-Free Loaded Fruit and Nut Granola, and Grainless Granola are all fair game). Alternate layers of yogurt, granola, and berries or sliced mango for a pretty, polished, and 100 percent satiating morning meal.
Find out more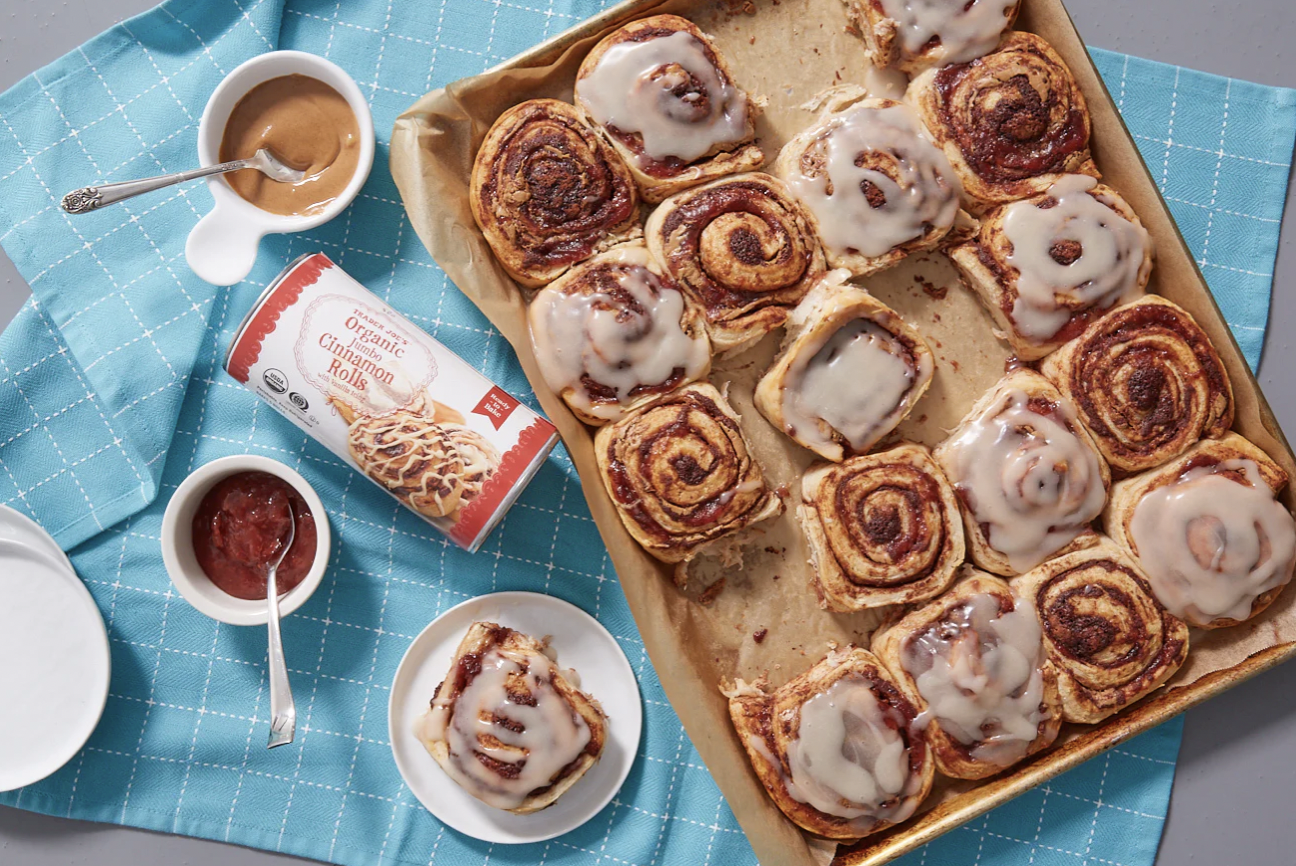 Trader Joe's
4 Jumbo Cinnamon Rolls
If you didn't know Trader Joe's cinnamon rolls were vegan, we hope we just made your day. Unless you enjoy spending hours on a treat that will be inhaled in minutes, these Pop-Tube treats are a fantastic alternative to baking cinnamon rolls from scratch, and we humbly believe that are just as good. Pro tip: for cinnamon rolls that are as soft and fluffy on the edges as they are in the center, evenly pour one-third cup of vegan heavy cream (like Silk) or creamer onto the rolls before baking.
Find out more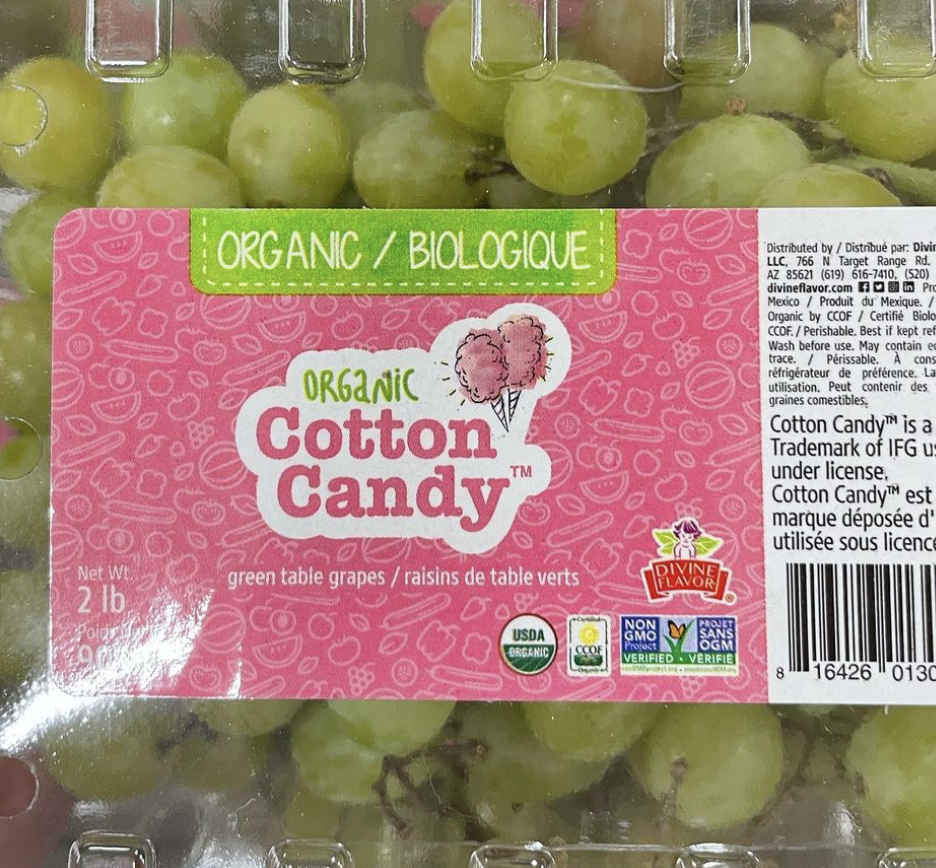 @traderjoesnew/Instagram
5 Cotton Candy Grapes
For those who have never experienced a cotton candy grape, yes, the flavor is spot on to the colossal clouds of spun sugar found at your local fair. They are a seasonal treat, and we've once again spotted them next to the berries at Trader Joe's. Serve these super sweet grapes as a light and surprising amuse bouche to entertain your guests while you put the finishing touches of the main meal on the table.
Find out more
Trader Joe's brunch beverages
As the iconic Alfred Coffee of Los Angeles continues to say, "But first, coffee." Trader Joe's carries a wide range of coffees from whole beans to instant and everything in between. You can always rely on a handful of roasts no matter the season such as the brand-name Joe Medium Roast Grounds and Fair Trade Organic Sumatra Coffee. Still, there's also a rotating selection of seasonal grounds and beans. Sip your brew slowly as-is or add a splash of Non-Dairy Oat Creamer Brown Sugar Flavor. It's thick, creamy, and firmly on the sweet side.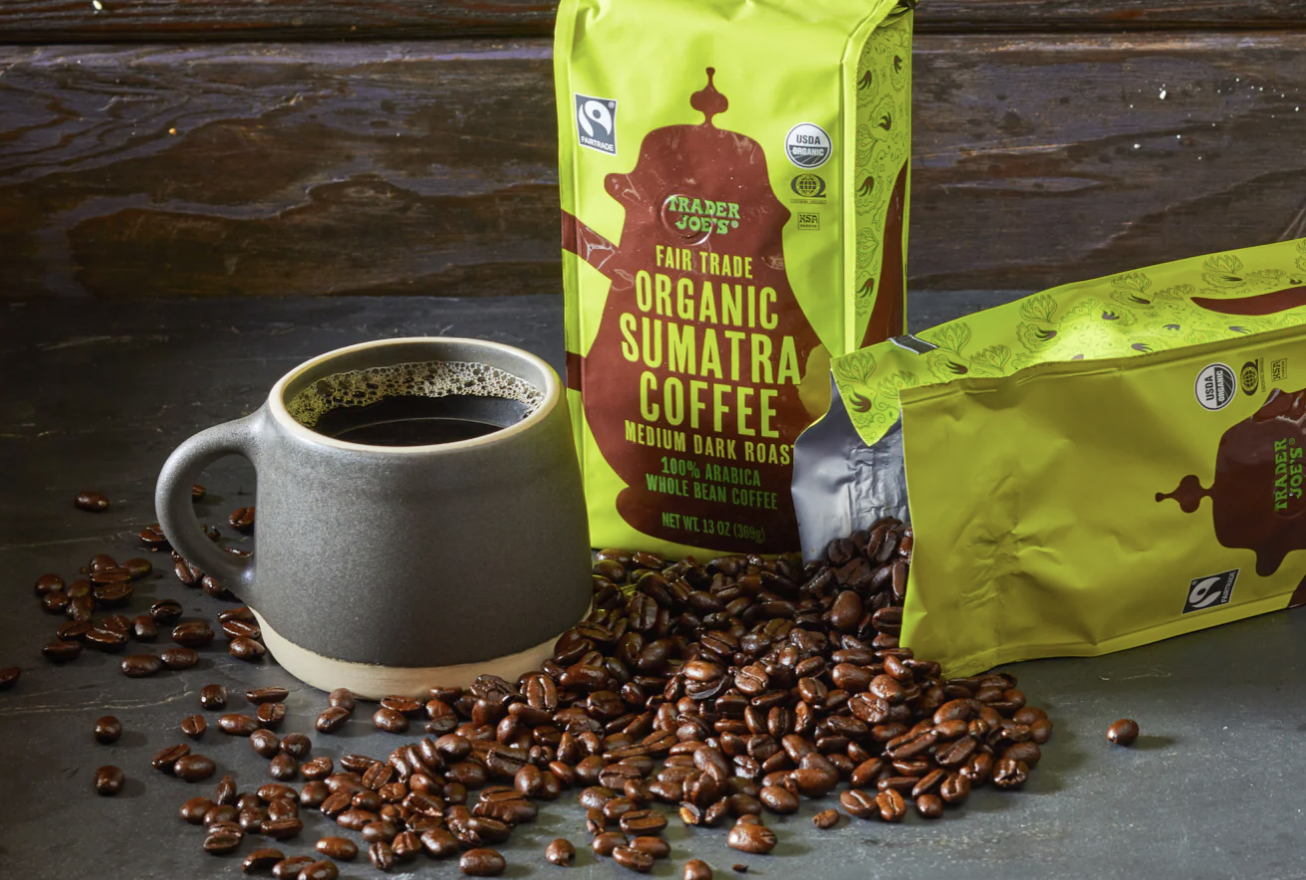 Trader Joe's
Prefer something stronger to wake up to in the morning? Grab a jug of 100% Orange Juice and a bottle of Villa Antica Asolo Prosecco DOCG Superiore. The well-stocked shelves of Trader Joe's also have plenty of fizzy white wines and roses that are fabulous to sip on their own. A few we have our eye on include La Ferme Julien Rose, Opaline Pinot Noir Brut Rose, and Le French Fizz Blanc 2021 (the latter two are only available for a limited time).
Beyond the bubbly, Trader Joe's Small Batch Vodka is smooth and mellow, making it the perfect base for a vegan bloody mary. While this grocer doesn't stock tomato juice, we've enjoyed taking creative liberties on this classic cocktail and mixing in some Organic Carrot Tumeric Juice Blend. It's a bit savory with earthy turmeric, a squeeze of lemon juice, and a dash of black pepper, so it's a solid stand-in for the go-to tomato juice. Head to the produce section to grab your garnishes from pickles to celery stalks.
Note: this carrot juice is great for kiddos, too, as is the non-dairy bottled Mango 100% Juice Smoothie.
For more vegan grocery finds, read: