It may only be April, but Trader Joe's seems to be in full summer mode. The grocer's debuting and bringing back many products that remind us of sunny days and seaside afternoons. Below, we've compiled a list of what's new and innovative (like the highly anticipated Vegan Beet Poke) and what's finally returned after a year off (we've missed you, Spring Gummies).
We never know how long these products will stay, but that's part of the fun of Trader Joe's. Whether you're shopping for a quick vegan meal or looking to spruce up your home decor with plants and candles, here are all the new, intriguing, and craveable vegan Trader Joe's products available now.
Who makes Trader Joe's products?
If you've ever enjoyed a product from Trader Joe's that reminded you of another big name brand (for example, we find the TJ's cashew yogurt remarkably similar to Forager's vegan yogurt), you may be on to something. Trader Joe's does not have its own manufacturing facility, meaning all of its products are white labeled.
White labeling allows one company to brand and market an item as its own that is made by a third party. There are some businesses that exclusively produce generic products intended for white labeling, but established brands can also offer up their goods for white labeling. While these brands don't get the name recognition, they are able to generate revenue and reach a larger distribution by entering into a white labeling agreement.
Trader Joe's and the brands it works with are extremely tight-lipped about these partnerships. Neither Trader Joe's nor brand representatives would confirm when asked, but we can't help but speculate. Does Nabisco make Joe-Joe's? Does Earth Balance make the new Vegan Buttery Spread? We will never be certain, but it's a fun game to play, and we can only hope our purchases at Trader Joe's are supporting rising vegan brands.
11 hottest vegan products at Trader Joe's this month
From boxed mixes to citrus-scented candles, here are 11 vegan products to look forward to at Trader Joe's this month.
@bigboxvegan/Instagram
1 Vegan Poke
Trader Joe's has never shied away from bold concepts (remember its pickle hummus phase?), and this beet-based vegan poke is something truly unique in terms of grocery store offerings. Yes, the poke trend has been around for years, but the vegan variation is relatively new and hard to find beyond marinated tofu that's slowly becoming standard in poke shops across the US. We're excited to try this plant-based poke in bowls and homemade sushi.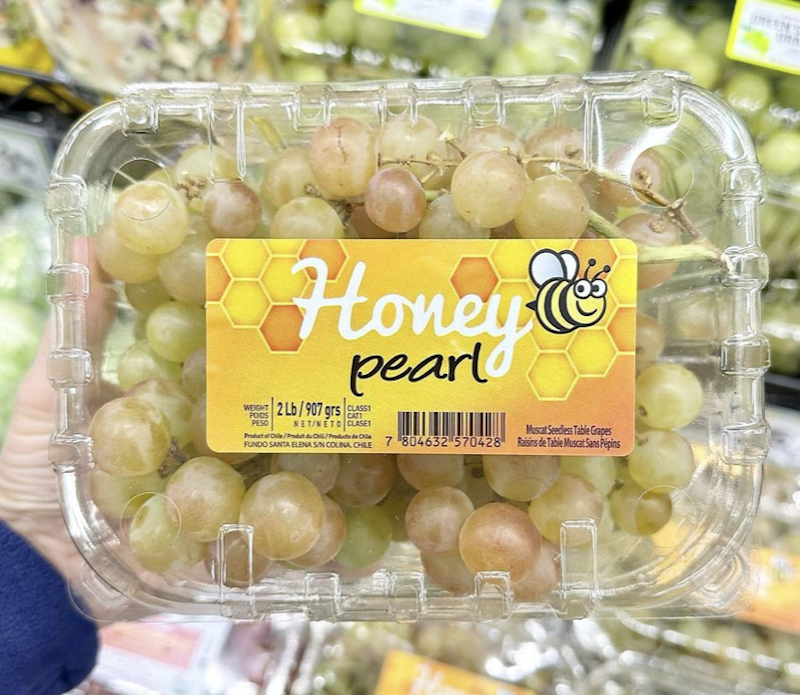 @traderjoesgeek/Instagram
2 Honey Pearl Grapes
Despite the name, these honey-hued grapes are vegan. The name is derived more from the color than the taste—they don't quite taste like honey; some say the flavor reminds them more of lychee or other floral-y fruits. At $6.99 a box, these grapes are priced higher than most produce at Trader Joe's, which makes us even more intrigued to try them.
@traderjoesobsessed/Instagram
3 Spring Gummies
Just in time for Easter, these bunny- and butterfly-shaped pastel gummies have returned to Trader Joe's. We were pleasantly surprised to find that, unlike most gummy candies, they are free from gelatin—an ingredient containing animal byproducts. Adults and kids alike will be happy to find a bag or two stuffed alongside a vegan chocolate bunny come Easter morning.
@traderjoeslist/Instagram
4Tikka Masala Curry Sauce
Finally, a vegan simmer sauce at Trader Joe's! While the Green Curry is free from animal products, the Thai-Style Red and Yellow Curry Sauces both contain dairy. We're excited to try this new, heavily spiced sauce with tofu cubes and a bag of frozen veggies. Really, a good sauce makes the meal.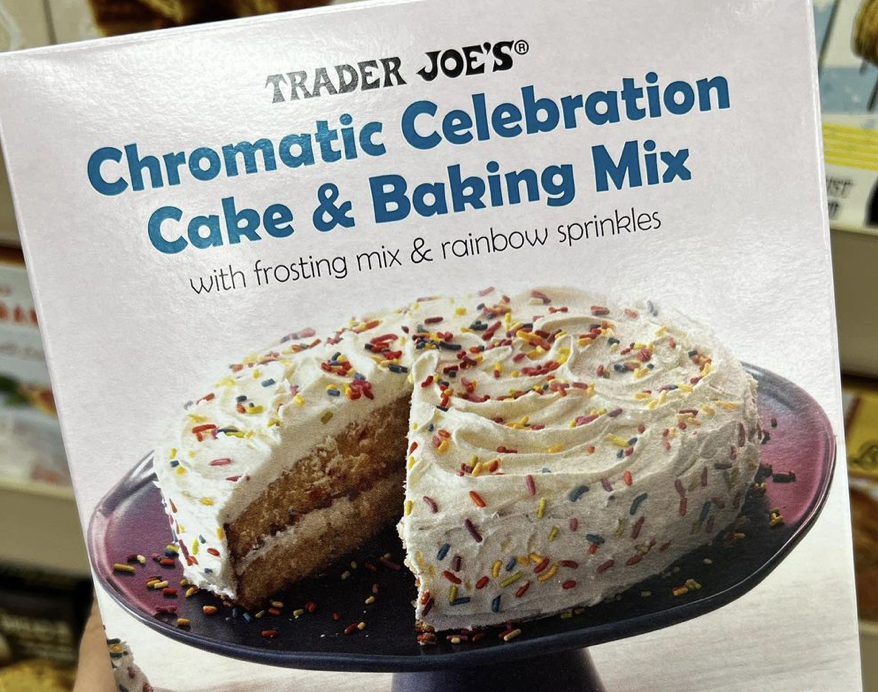 @traderjoesafficiando/Instagram
5 Chromatic Celebration Cake & Baking Mix
Pillsbury owns the trademark to Funfetti, so that name was off the table. Most call this confetti cake, but those who shop here often know Trader Joe's loves to take liberties with its product names (for example, Almond Beverage translates to almond milk). This nostalgic cake and frosting mix is vegan as-is; just swap in the two eggs for a vegan egg replacement (Acremade, Just Egg, and aquafaba work well here). Note: not all Trader Joe's baking mixes are vegan—always check the ingredients before buying your egg replacer, and stay away from the chocolate chip pancake mix, which contains dairy.
@traderjoesafficiando/Instagram
6 Buttery Vegan Spread
It was only a matter of time before Trader Joe's followed up its Vegan Buttery Sticks with a spreadable, tub-based option. While the sticks are ideal for baking and recipes that call for precise measurements, this new spread is made for shoppers who love to schmear butter over toast, bagels, muffins, and butter boards.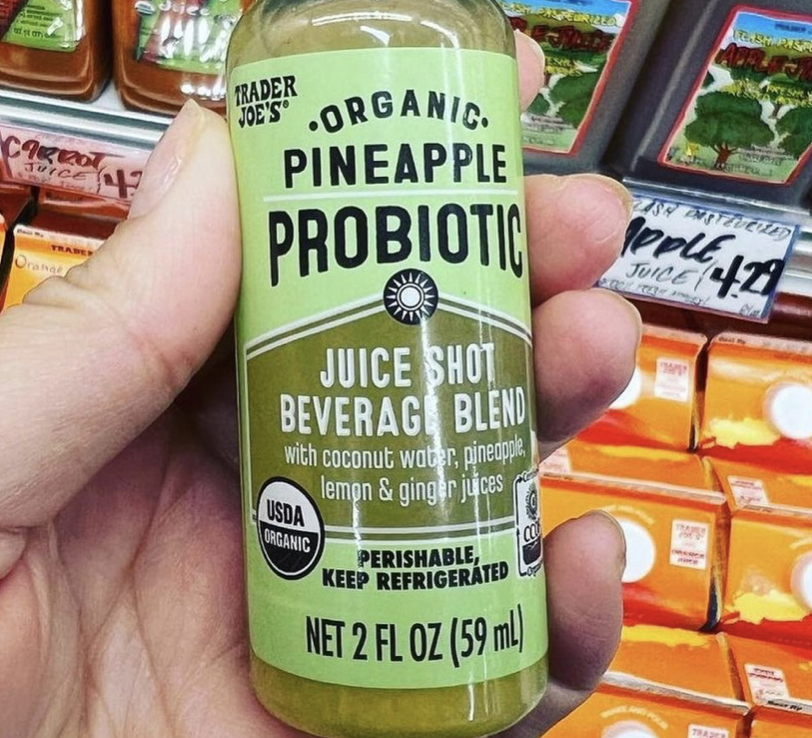 @traderjoesafficiano/Instagram
7Organic Pineapple Probiotic Juice Shot Beverage Blend
These shots aren't new, but this summery pineapple blend is. Mixed with coconut water, pineapple, ginger, and lemon juices, it's potent but refreshing enough to not light your taste buds on fire.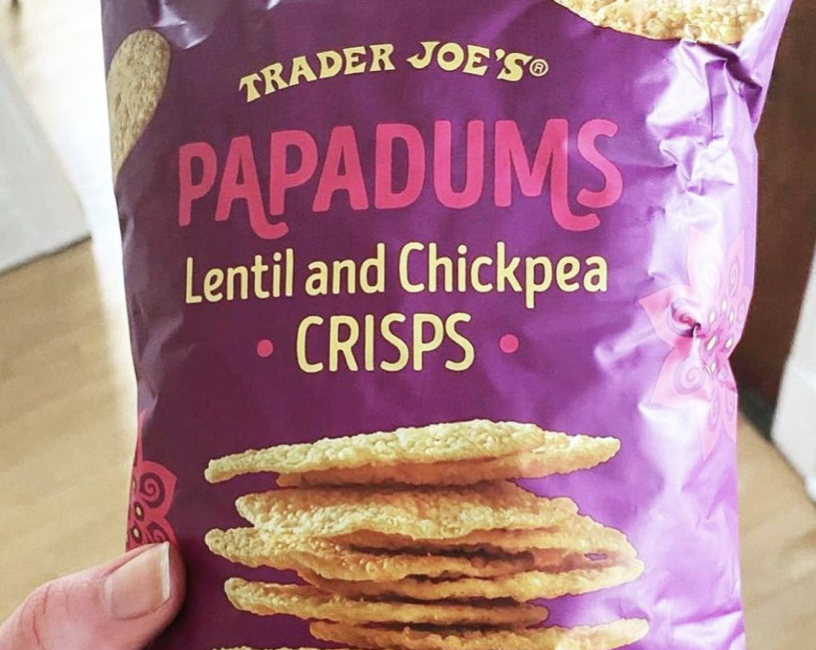 @traderjoeslist/Instagram
8Papadums
Back on shelves from last spring, these lentil and chickpea crisps are delightfully, well, crispy with just a hint of satisfying crunch. The ingredients are relatively simple for a chip—just lentils, chickpeas, rice bran oil, baking soda, cumin, and salt. Use them to scoop up hummus or crush a few over a salad for a lightly spicy, crunchy element.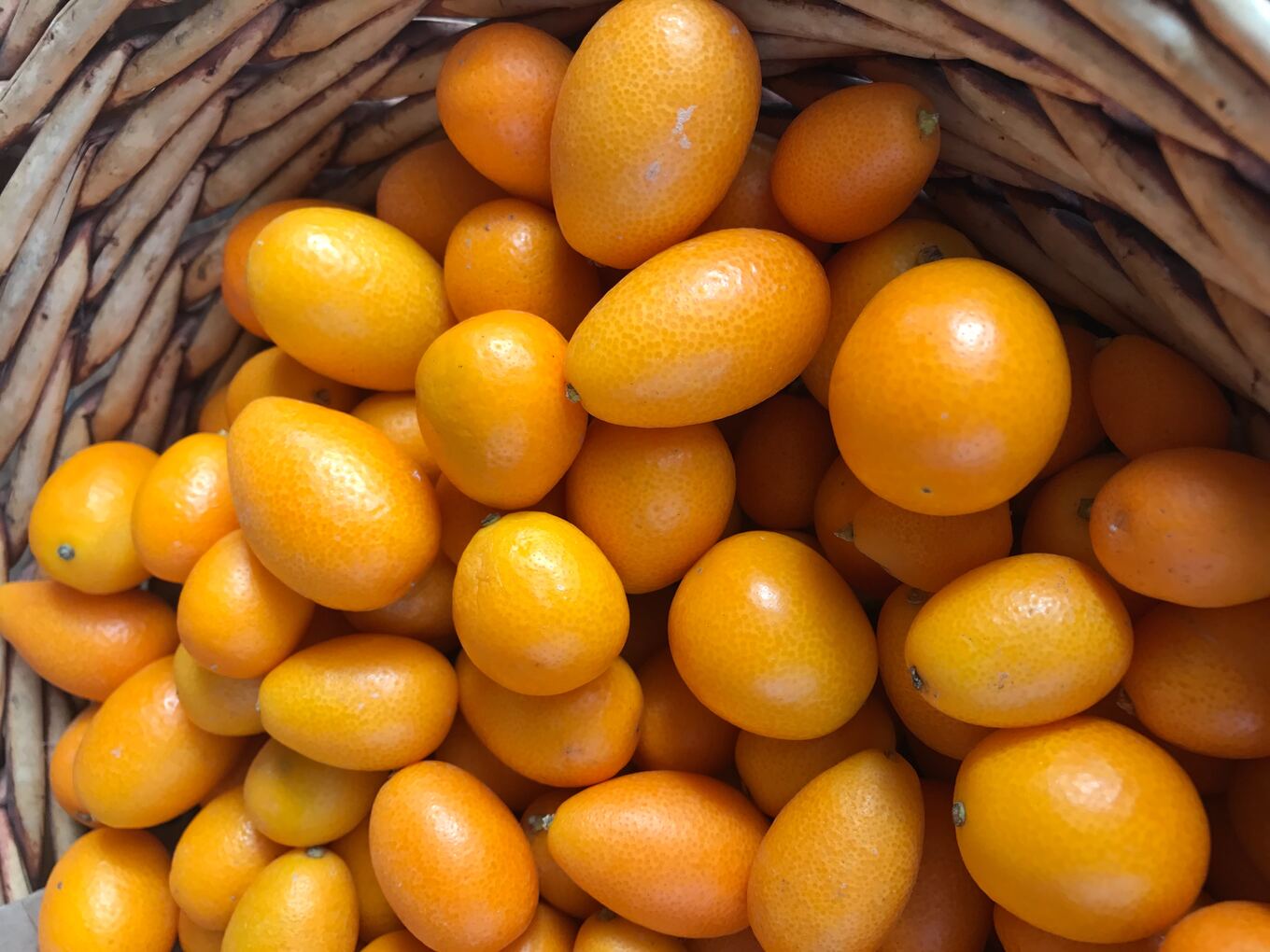 Elianna Friedman
9 Popjoys Kumquats
We may be at the tail end of kumquat season (typically early winter to April, though harvesting can go as late as June), but these bright orange citrus fruits are just starting to appear in the TJ's produce section. Kumquats are unique in that you can eat the skin, unlike other citrus fruits with an extremely bitter and thick rind. They are slightly sweet and a bit sour. Enjoy as-is or toss on a salad for a burst of citrusy flavor to contrast earthy greens.
Trader Joe's
10 Grapefruit Scented Candle
To be completely transparent, we enjoy the smell of grapefruit more than the taste. This candle offers a hint of sweetness with none of the sour components that make us pucker. The fragrance is light and refreshing—essentially, the perfect grapefruit, with no sugar needed.
Trader Joe's
11 Palms, daffodils, and orange star
Before darting into your local TJ's to grab all of these new products before they're gone, take a look at the greenery outside the store. A small plant can light up a room or a drab office space, and these new spring plants are an affordable option to flex your green thumb. Check out the mini palms, cheery yellow daffodils, and bright orange star flowers on your next trip.
For more Trader Joe's finds, read: