Roman banquets were incredibly lavish affairs. The idea was to be excessive and impressive, to demonstrate power and wealth, says NPR. For the main meal, there would be everything from pheasant to raw oysters to wild boar. But there was usually an appetizer to begin. And often, that appetizer was a boiled egg seasoned with spices. Or, as we may call it today, a type of deviled egg.
Yep, according to the North Carolina Egg Association, research suggests that deviled eggs can be traced all the way back to the ancient Romans. Today, the recipe is a little different of course, but it's still incredibly popular.
But what if you're vegan? Is it still possible to enjoy this savory seasonal treat? The answer, surprisingly, is yes—but with a few tweaks of course. Here's more about vegan deviled eggs and how to make them using only plant-based ingredients.
What are deviled eggs?
Usually, deviled eggs consist of shelled and halved hard-boiled chicken eggs, which have been filled with a mix of ingredients like yolk, mayonnaise, mustard, and vinegar, and seasoned with salt, pepper, and paprika. The ingredients often vary from recipe to recipe, but it's always made with chicken eggs. And this, of course, means that the conventional recipe is off the menu for vegans.
But if you love that deviled taste, but you don't want to actually eat eggs (more on the issues with the egg industry here), here's how to make this Roman appetizer vegan.
What are vegan deviled eggs?
Vegan deviled eggs have a very similar taste to regular deviled eggs, only they're made with plant-based ingredients. Small Yukon gold potatoes are a popular alternative, for example, because they are similar in shape and size to chicken eggs. They can be stuffed with vegan mayonnaise and mustard, before they're seasoned with paprika and dill, to get all the same taste, just none of the animal products.
But if you're not a potato fan, you can also use ingredients like chickpeas, avocado, or tofu. And kala namak, a type of black salt that smells and tastes just like egg, is a must. To get you started, here are some of our favorite vegan deviled egg recipes.
Vegan deviled egg recipes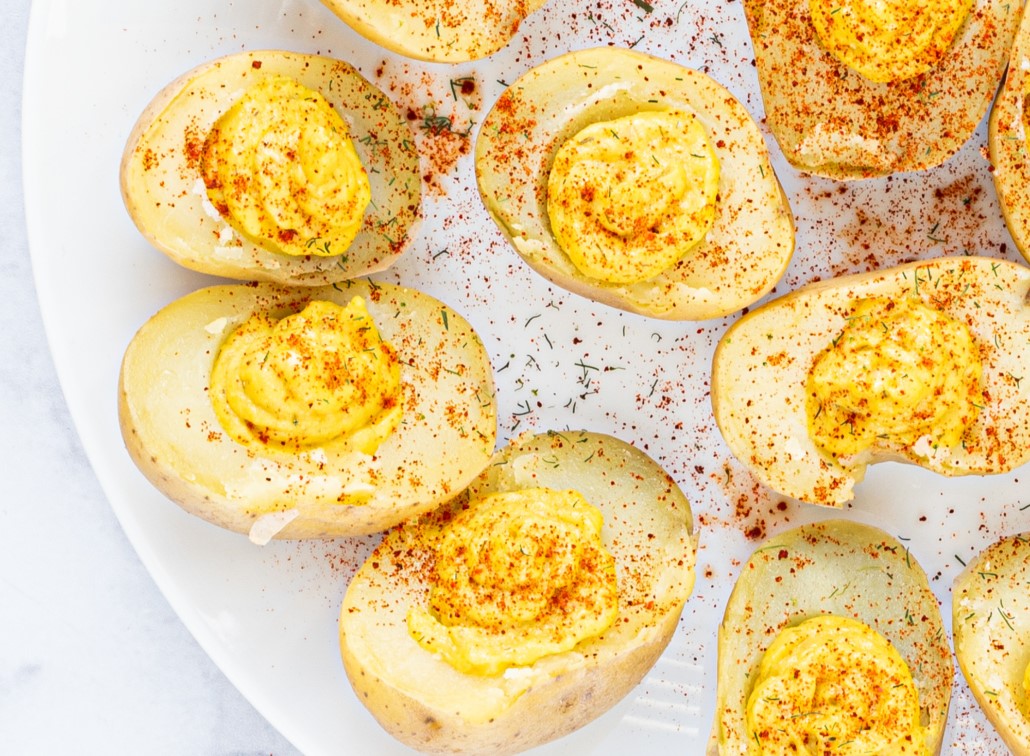 Danielle Keith
1 Vegan Deviled Egg Potatoes
If you're planning your own banquet and you're stuck for appetizer ideas, these vegan deviled egg potatoes will go down a treat. With just eight ingredients, including potatoes, vegan mayonnaise, and apple cider vinegar, they're super easy to pull together. If you fancy adding a bit more texture, then you can also add a topping of vegan bacon bits or some crunchy onions.
Check it out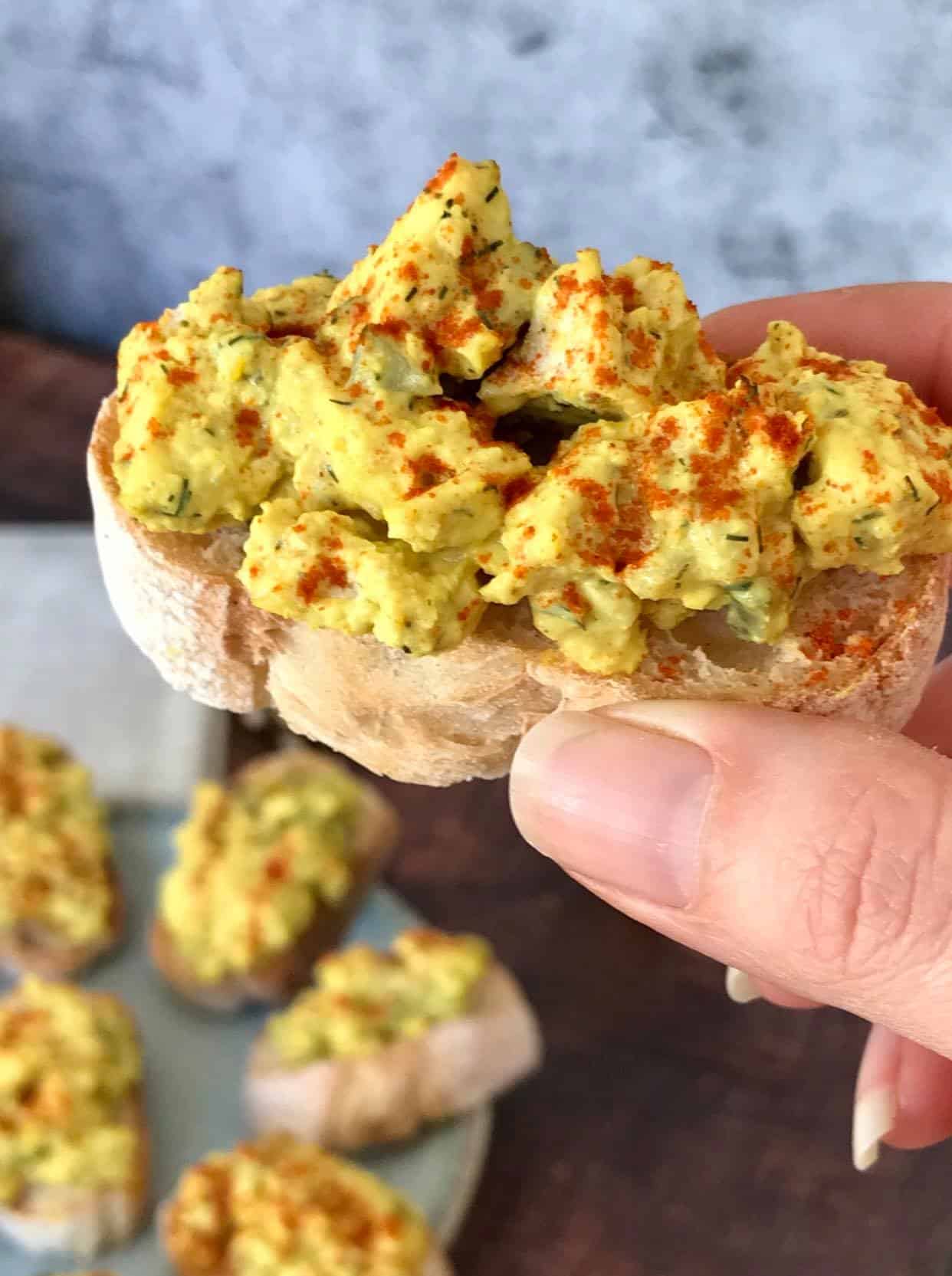 No Sweat Vegan
2 Vegan Deviled-Egg Crostini
If you're not fussed about realistically creating the shape of deviled eggs, and you want a quick and easy recipe with all the flavor, then this recipe is for you. First, make a simple tofu scramble, before combining it with ingredients like vegan yogurt, sweet pickles, and dried dill. Finally, this recipe is at its best when served on a crunchy slice of crostini bread. But, if you want something more substantial, you could fill up a baguette for a delicious and satisfying lunchtime meal.
Check it out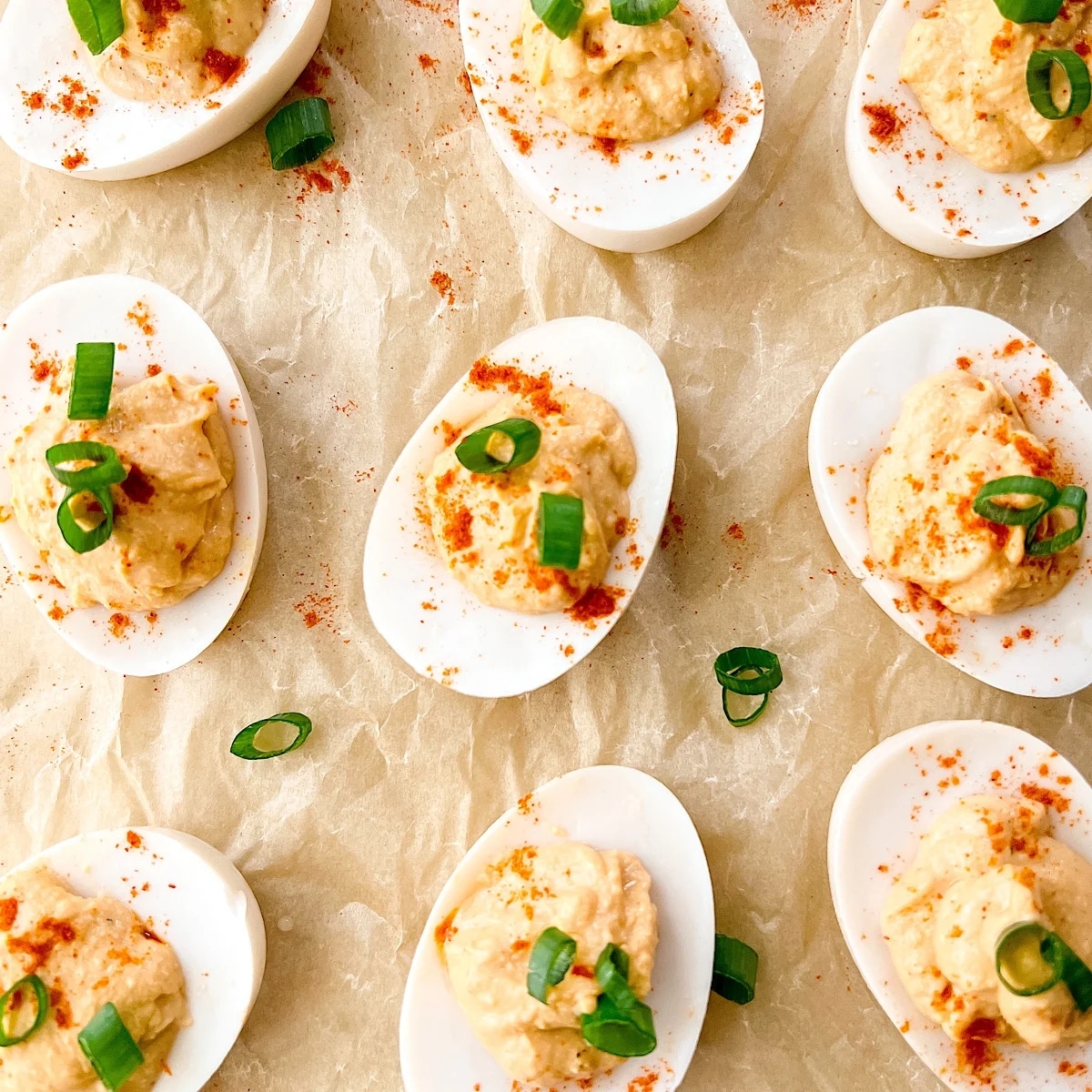 The Vgn Way
3 Vegan Deviled Wunder Eggs
If you can get your hands on vegan boiled eggs (like Crafty Counter's Wunder Eggs, for example), then give this simple recipe a try. It's not too fiddly, and looks and tastes just like regular deviled eggs, thanks to the look and feel of the Wunder Eggs. For extra flavor, don't forget to add more kala namak salt.
Check it out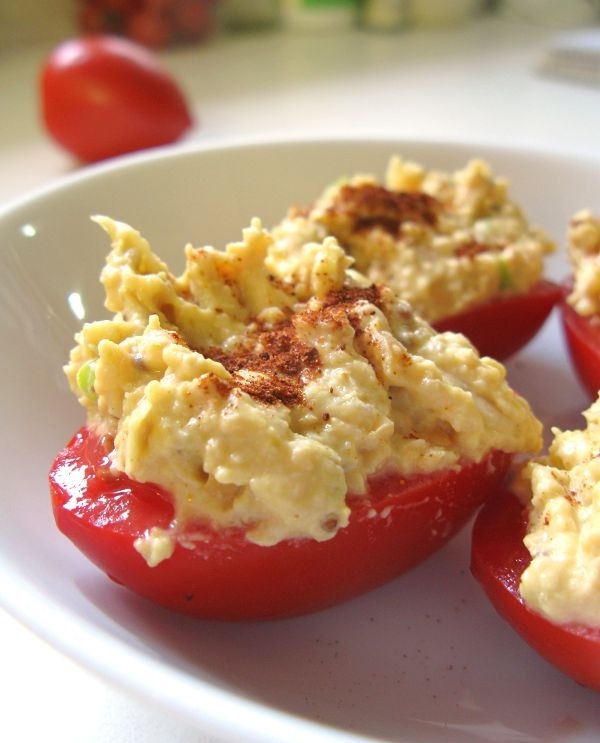 Eating Vibrantly
4 Vegan Deviled Eggs Filling With Chickpeas
While there are some vegan hardboiled egg products on the market now, they are far from widespread. So if you don't have access to them, or you simply prefer to cook with whole foods, then this chickpea alternative is delicious too. Tomatoes take the place of the egg before they are stuffed with a mix of avocado, canned chickpeas, nutritional yeast, mustard, and more. If you don't like tomatoes, then you can also serve this yummy filling on a baked potato, a cracker, or crusty bread—the choice is yours!
Check it out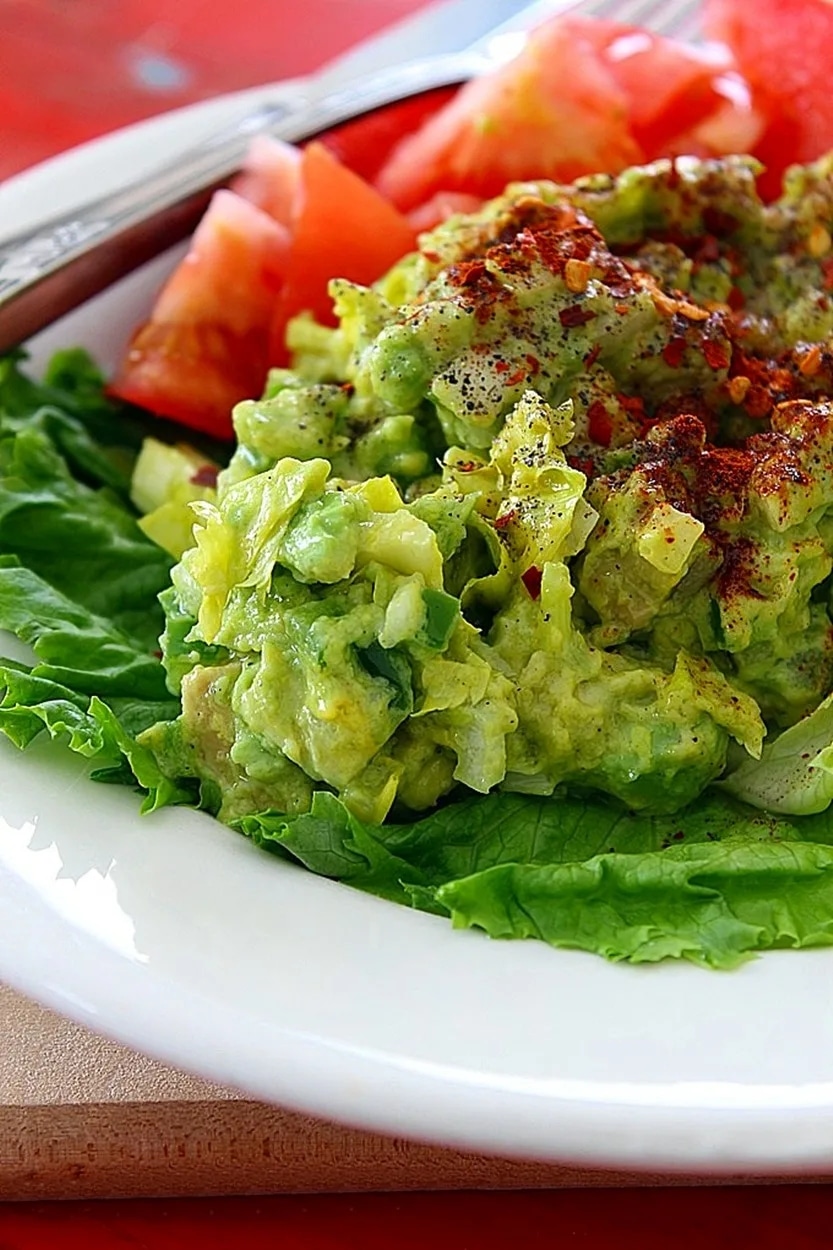 Planted 365
5 Deviled Avocados
Avocado on toast has quickly become a modern classic. But if you fancy adding a little bit of a twist to your regular recipe, then why not make it deviled? All you need to do is mix together the avocado with ingredients like celery, onion, mustard, and paprika, of course, for a boost of flavor. This is great for those who don't love the taste of eggs, as there is no kala namak in the recipe.
Check it out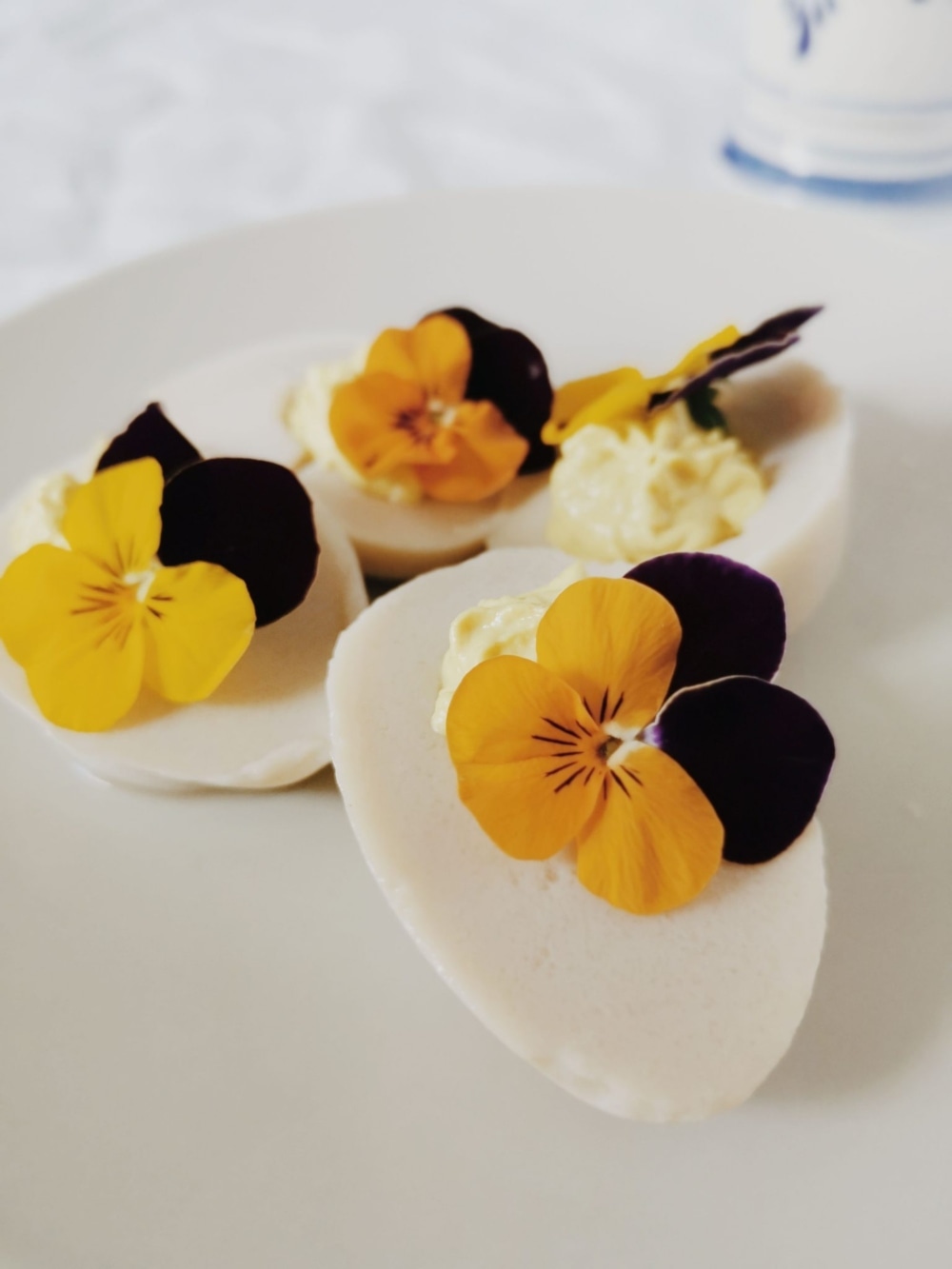 Compassionate Snob
6 Vegan Deviled Eggs With Tofu
If you're after a beautiful presentation, then this vegan deviled egg recipe is well worth a try. Topped with edible flowers, the "egg" consists of silken tofu, agar agar (a jelly-like substance derived from red algae), and kala namak. For the filling, you'll need tofu again (this time firm tofu) and more kala namak, vegan mayonnaise, mustard, apple cider vinegar, and turmeric. Don't forget to use an egg mold to get that perfect shape!
Check it out
For more on vegan eggs, read: