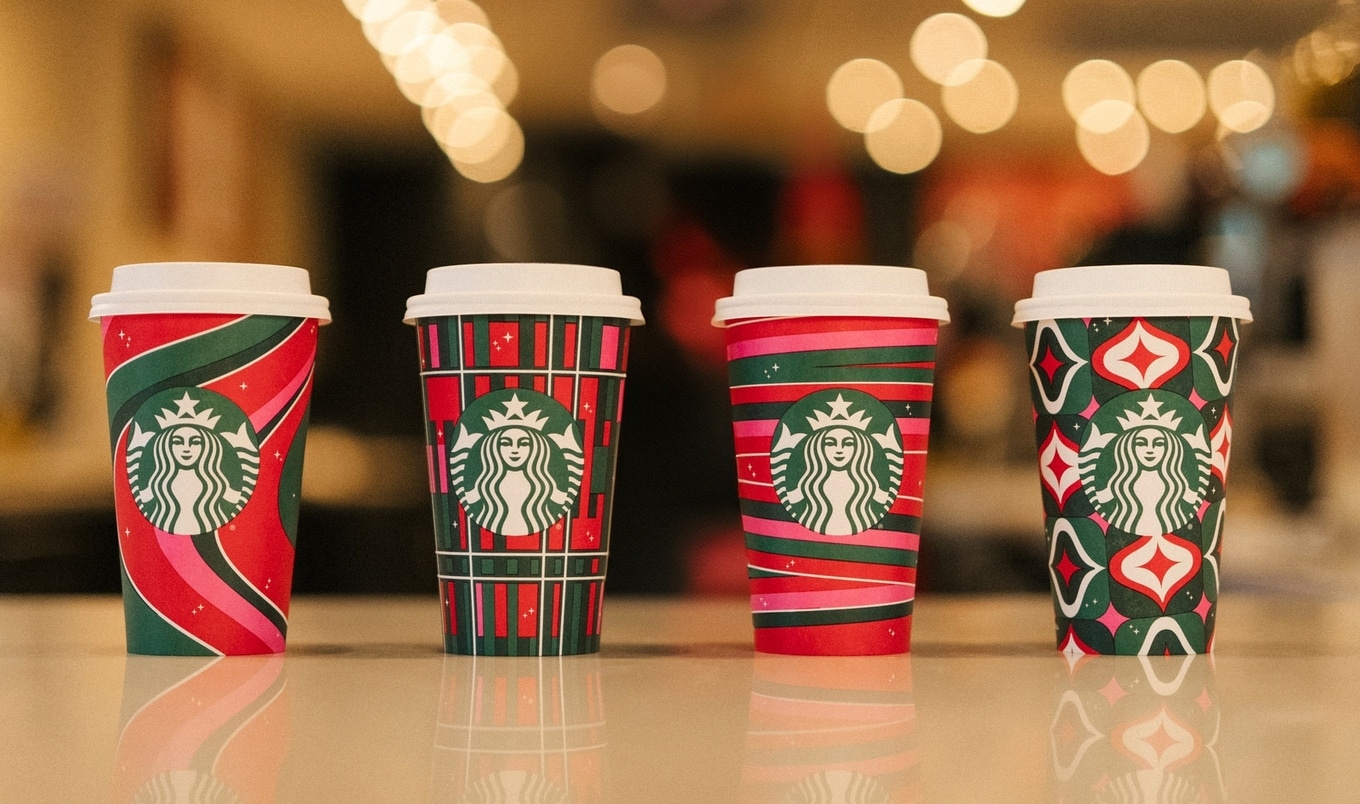 From sugar cookies to peppermint sticks, Starbucks holiday drinks prove you can make a warm and cozy vegan beverage out of every seasonal treat.
November 1, 2023
---
In 2021, Starbucks introduced its first vegan-as-is holiday beverage: the Sugar Cookie Almondmilk Latte. Alongside two new exciting oat milk options, the winter drink joins the lineup of returning holiday specials such as the Chestnut Praline Latte and Peppermint Mocha—all vegan with certain modifications. When you're in the mood for something cheery in the form of a caffeinated sweet drink, here are all the vegan variations of Starbucks' holiday beverages.
Vegan at Starbucks
Starbucks first introduced soy milk back in 1997. While this early move was appreciated by vegans and lactose-intolerant individuals alike, it was nearly two decades before the chain launched other vegan options.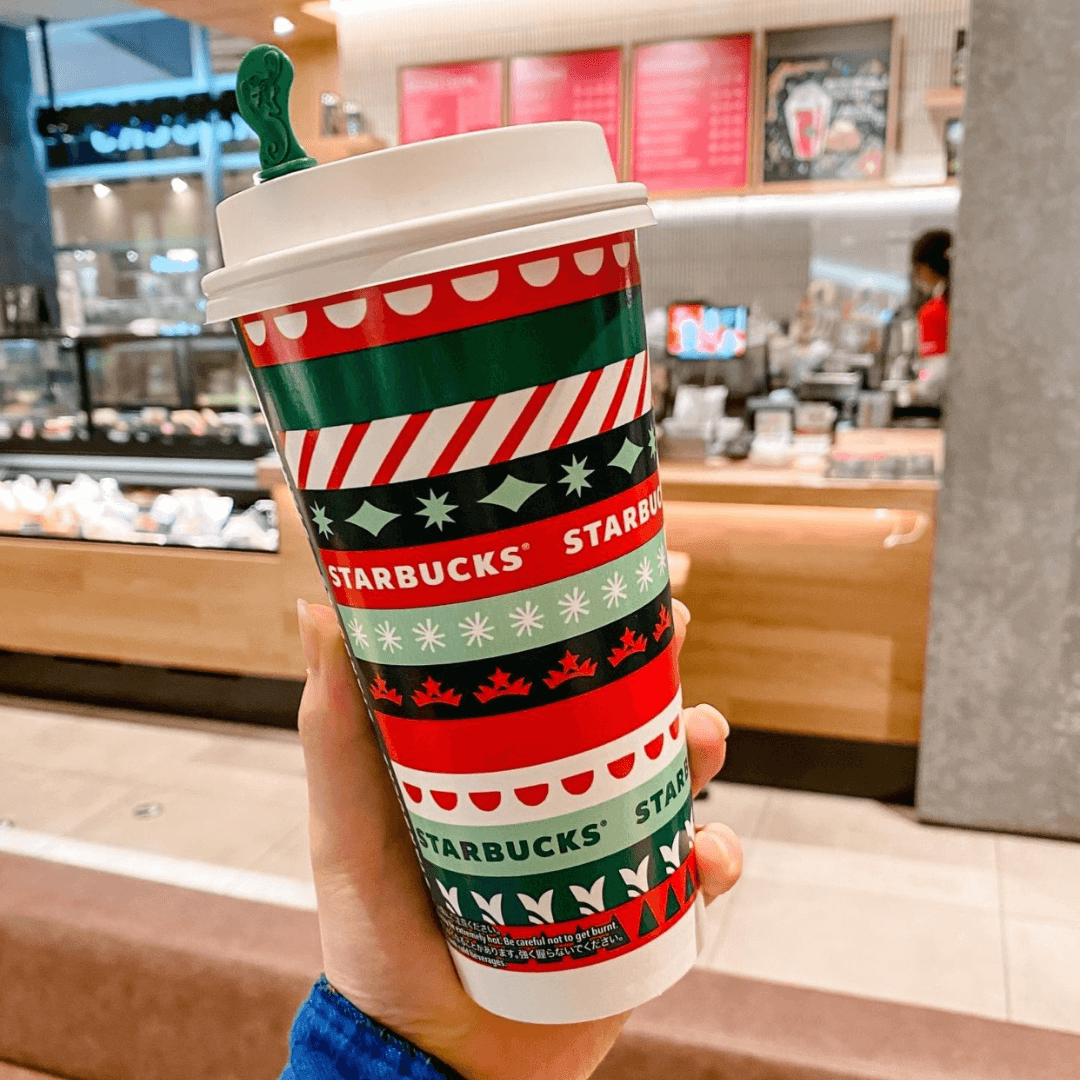 @rilafood/Instagram
Coconut milk appeared in 2015, closely followed by almond milk in 2016. Following the tidal wave that was the Oatly craze, Starbucks finally established a partnership with this popular Swedish brand and added Oatly oat milk to its menus nationwide in 2021.
Beyond the news-worthy oat milk shortages that shortly ensued, this move was notable in that it was a departure from the way Starbucks typically did business. The previous non-dairy milk options were made in-house—Oatly was the first milk brand to not only partner with Starbucks but receive name recognition.
The inclusion of oat milk on the menu further sparked vegan moves at Starbucks. It coincided with the chain's first vegan-as-is specialty beverages—the Iced Chocolate Almondmilk Shake Espresso and the Brown Sugar Oatmilk Shaken Espresso—both of which remain on the menu today.
Last fall, the vegan Apple Crisp Oatmilk Macchiato hit the menu as a welcome consolation to the fact that the iconic Pumpkin Spice Latte is still not vegan-friendly, no matter what substitutions you make (the pumpkin spice syrup contains dairy).
Vegan food at Starbucks
If you're looking for some substance to go with your holiday beverage, Starbucks does carry a basic range of vegan-friendly items, though nothing so cheerful as the buzzed-about Cranberry Bliss Bars or adorable reindeer cake pops.
Without fail, those who abstain from animal products can rely on plain, cinnamon raisin, and everything bagels; oatmeal (when ordered with hot water or non-dairy milk); and a selection of bananas. The chain briefly tested Miyoko's single-serve cream cheese in 2020, but we've yet to see that come to fruition at scale. If you need a schmear for your bagel, the Avocado Spread is your best bet.
For something more savory, the Chickpea Bites & Avocado Protein Box is a decent option. Coupled with a bag of Hippeas and a piece of fruit or Justin's Dark Chocolate Peanut Butter Cups, you could have a solid lunch on the go.
Starbucks vegan holiday drinks
During the holidays, Starbucks becomes a destination. The festive atmosphere picks us up with more than just caffeine. As commercial as it is, we just can't help feeling a bit merrier with a red cup and a vegan holiday beverage in our hand. Here are 11 vegan Starbucks drinks to try this season.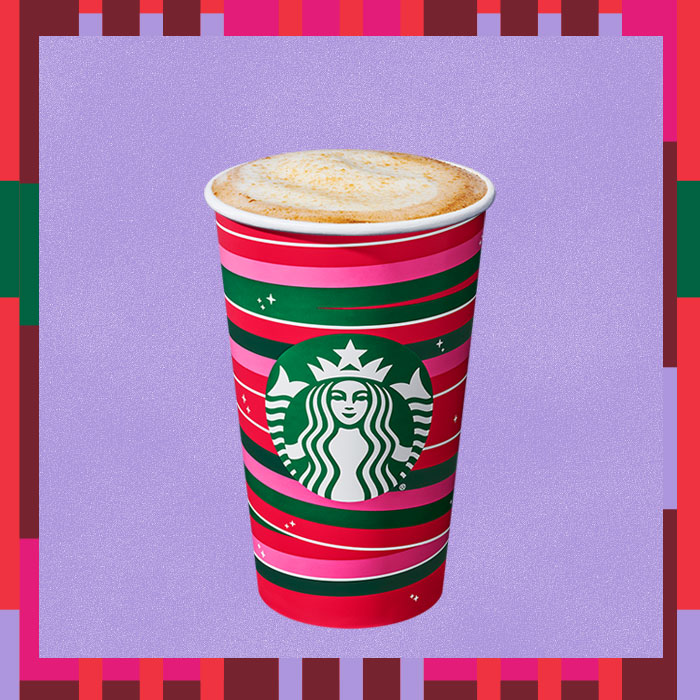 Starbucks
1 Oleato Gingerbread Oatmilk Latte
This year, Starbucks is offering its first holiday Oleato beverage (which is Starbucks coffee infused with extra virgin olive oil) at select locations. According to Starbucks' senior product developer Billy Altieri, the new velvety smooth beverage is "reminiscent of freshly baked gingerbread and olive oil cake." It's everything you need from a holiday beverage: creamy, satisfying, and incredibly comforting.
Barista tip: If you love the idea of olive oil coffee, most of the Oleato range is vegan (three out of four beverages, with this festive special).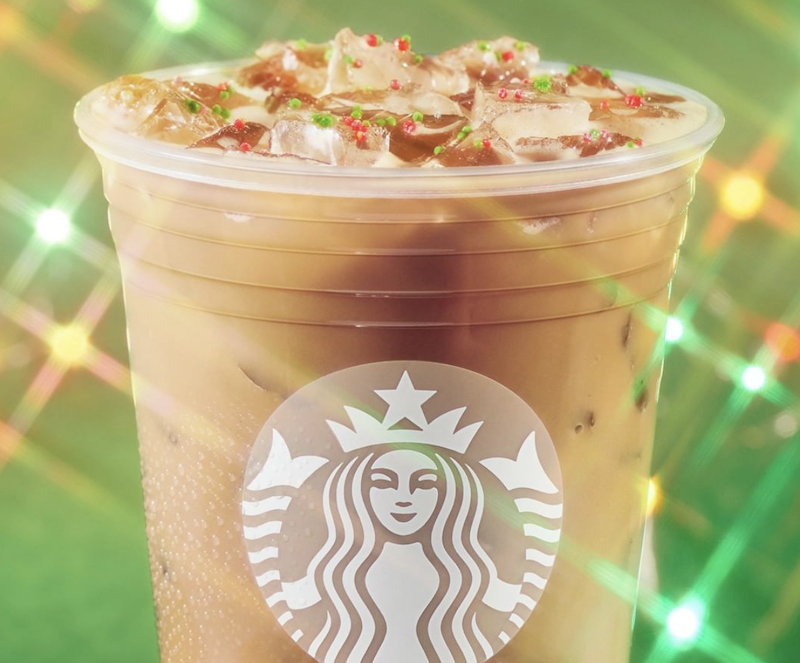 Starbucks
2 Sugar Cookie Almondmilk Latte
Introduced in early November 2021, this Starbucks holiday drink was first billed as an iced beverage. As temperatures dip, more customers are opting for the hot version. When served hot, the drink is made with Starbucks' signature Blonde espresso, steamed almond milk, sugar cookie-flavored syrup, and is topped with red and green sprinkles. Based on this description, it seems cloyingly sweet, but the unsweetened almond milk balances it out quite nicely.
Barista tip: Ask for a long shot of espresso or even a full extra shot if you prefer a stronger coffee taste with just a hint of holiday flavor
3 Peppermint Mocha (or hot chocolate)
There is nothing cozier than walking around looking at holiday lights with a Starbucks Peppermint Mocha or hot chocolate in hand. The mocha sauce is vegan, so all you need to do is nix the whip and swap the cow's milk for soy, oat, almond, or coconut … and pay the non-dairy milk upcharge (womp, womp).
Barista tip: The drink is made with both mocha and peppermint syrups, making it very sweet. As Starbucks' soy milk is also very sweet, opt for almond or oat milk.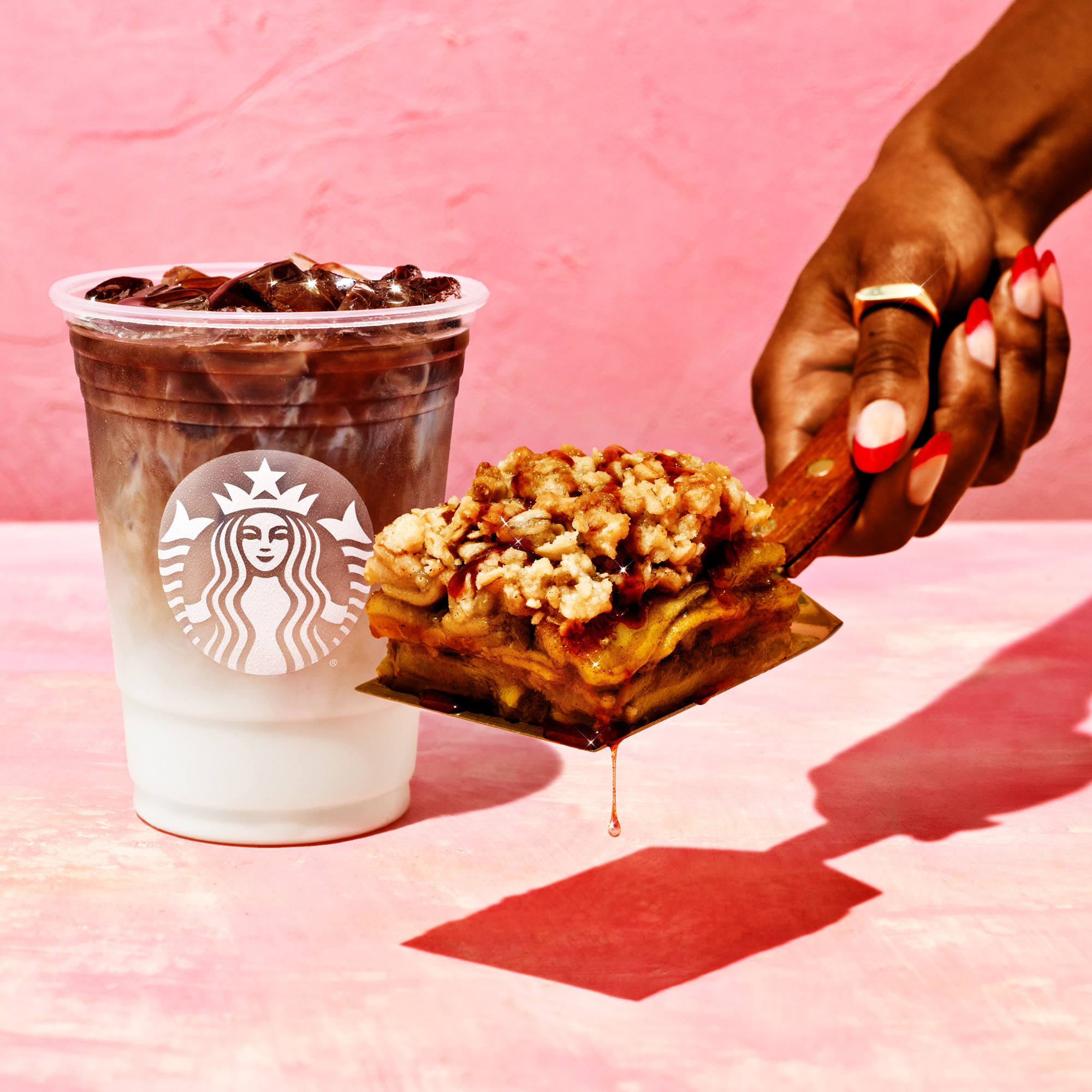 Starbucks
4 Apple Crisp Oatmilk Macchiato
Introduced in the 2021 fall lineup, this orchard-themed beverage is still available for the holiday season. Served hot or iced, the drink is made with oat milk (or your preferred non-dairy milk), Apple Brown Sugar Syrup, espresso, and a crosshatch of vegan-friendly Spiced Apple Drizzle.
Barista tip: Starbucks' definition of a macchiato is not an accurate representation of a traditional macchiato, which is a very strong drink made with mostly espresso and just a spot of steamed milk. Buyer beware: the Apple Crisp 'Macchiato' is far from its espresso-forward muse.
5 Cinnamon Dolce Latte
This item never leaves the menu, but the warming cinnamon spices beckon feelings of merriment. Easily transform this drink into a vegan-friendly option by swapping in your favorite non-dairy milk and asking for no whipped cream or cinnamon dolce topping (it contains dairy).
Barista tip: Experiencing a hot day in December? Order iced or as a blended frappuccino, hold the whip.
Starbucks
6 Hazelnut Latte
This beverage is all about customization. Order a regular latte with your choice of non-dairy milk, then ask for hazelnut syrup. The standard is three pumps for a tall, but if you prefer a pick-me-up that's not so sweet, ask for just two pumps.
Barista tip: Don't confuse this for the Starbucks Reserve Hazelnut Bianco Latte—this can't be veganized no matter how hard you try, as the base contains dairy.
7
Flavored Mocha (or Hot Chocolate)
Gussy up a basic caffeinated hot chocolate (that's what a mocha is) with the flavors of the season. Ask for a (insert your favorite non-dairy milk here) mocha with either hazelnut, cinnamon dolce, caramel, or toffee nut syrup and hold the whip. If you're wondering, the caramel syrup is vegan but the caramel drizzle is not. We're baffled, too.
Barista tip: Skip the Dark Chocolate Mocha—it's made with ground chocolate that contains dairy.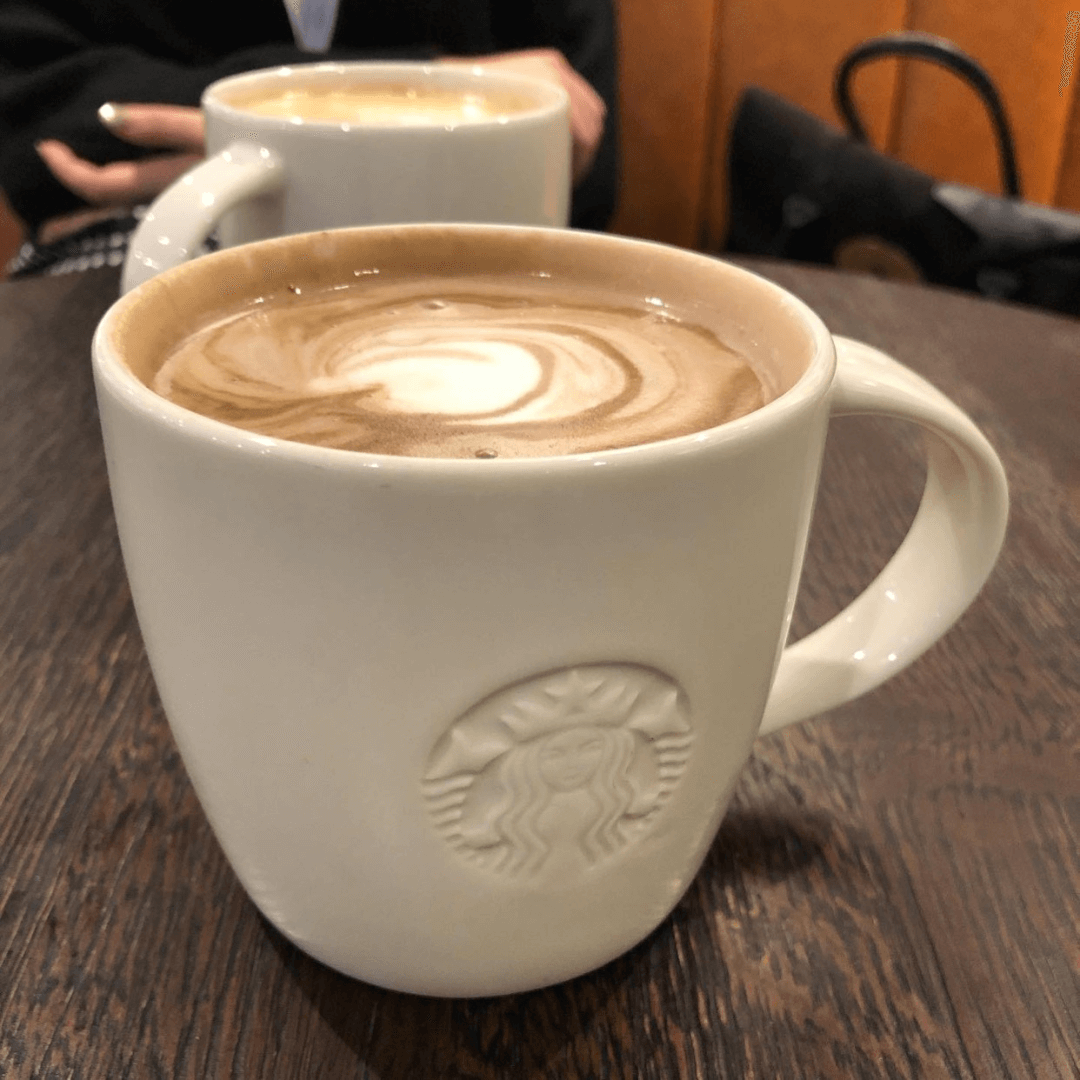 @sashas_vegan_eats/Instagram
8Toffee Nut Latte
Like the Cinnamon Dolce Latte, this flavor is available year-round, but Starbucks only promotes it when the leaves begin to fall. It's a unique drink with a caramely, nutty flavor that's sure to put a smile on your face. To veganize it, skip the whip and say no to the toffee nut sprinkles, which contain dairy.
Barista tip: Opt for oat or soy here—the creaminess of these plant-milks really elevate this beverage.
9 Butterbeer Latte
Brought to you by our VegNews resident Starbucks barista—otherwise known as Editorial Director Richard Bowie—here's how to hack your way to Hogwarts: order a tall soy latte with one pump each of caramel, toffee nut, and cinnamon dolce syrup plus extra foam and sea salt topping. The result is a delightful potion even Snape would award points to.
Barista tip: This beverage is best served hot. If you want an iced drink, save the butterbeer for another time.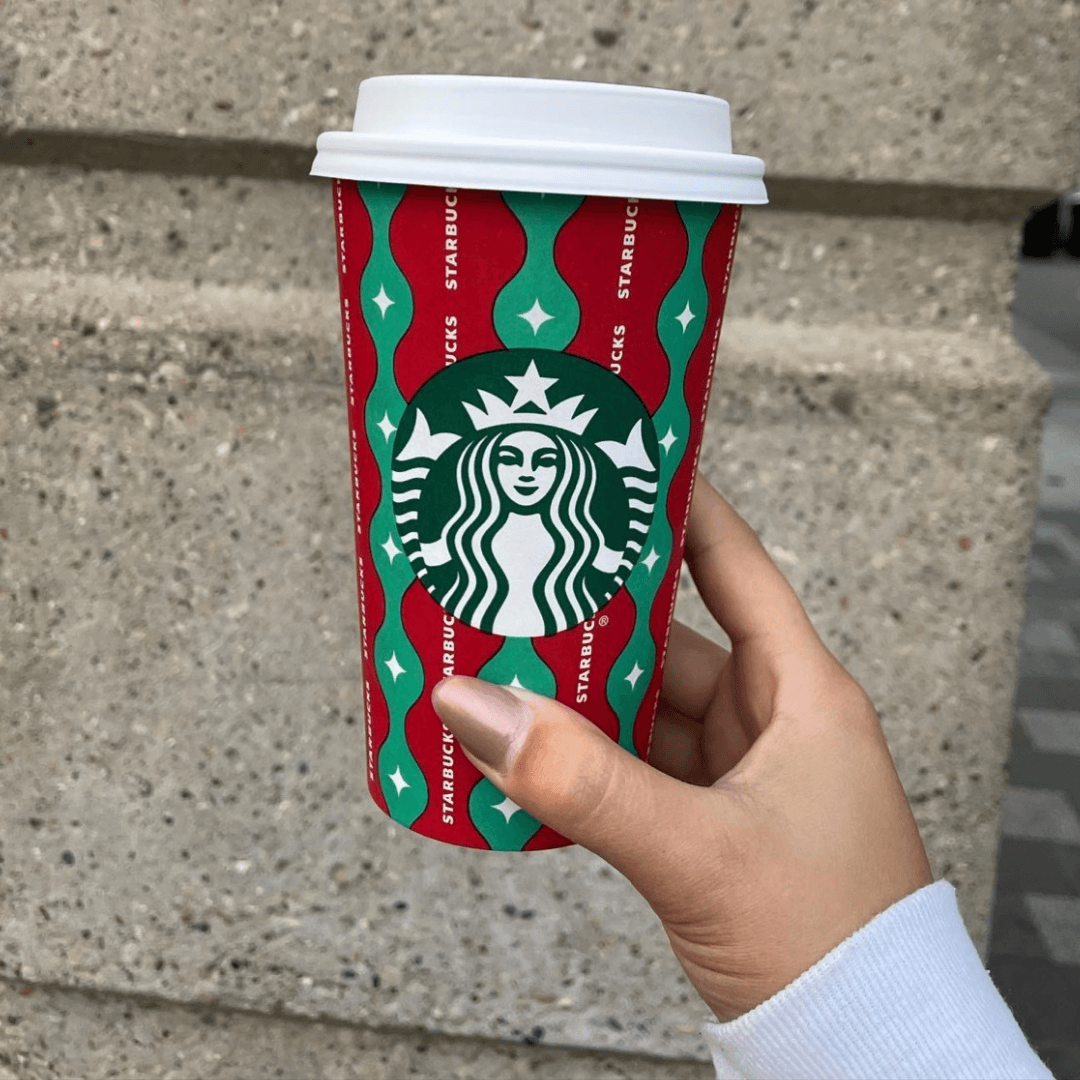 @ash.cash.eats/Instagram
10Nutmeg London Fog Tea Latte
Trick out your typical tea latte by asking your barista to top your drink with a sprinkle of nutmeg. The warm spice will bring out the vanilla flavors of this mixed drink and add a layer of warm fuzzies to your morning.
Barista tip: This is really exceptional with oat milk.
11 Chestnut Praline Latte
It's been four years since the Holiday Spice drink has been discontinued, and while we're still in mourning, the Chestnut Praline Latte is a small consolation. It has a spiced, almost buttery flavor and a delightful spiced sugar and toffee topping we'd like to sprinkle on everything. Order it vegan with your favorite non-dairy milk (we love it with soy or almond) and ask for no whipped cream.
Barista tip: You can add a taste of the holiday season without ordering a super sweet drink. Ask for a soy milk latte with the Chestnut Praline topping. It cuts back on the sugar while keeping the warm praline flavors.
For more vegan Starbucks, read: