Celebrities and Los Angeles locals alike rely on Pink Dot whenever hunger and the need for convenience occur in sync. It's a Hollywood institution that's been delivering groceries to Angelenos for the past 30 years, and everyone from aspiring LA actors to Gigi Hadid and the Black Eyed Peas have ordered sundries and such from this iconic convenience store. The selection of products has evolved significantly throughout Pink Dot's history. While we can't say for certain what was on shelves back in the '90s, the grocer has definitely evolved with the times and incorporated a considerable amount of the most popular and locally niche vegan brands. Whether you're an LA resident or just visiting for work or pleasure, here is a comprehensive look at Pink Dot's plant-based finds.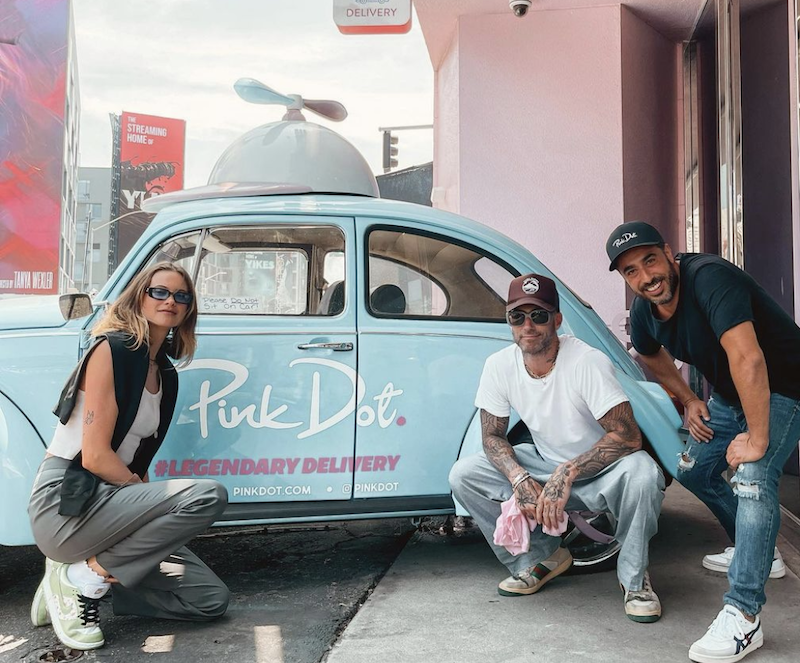 Pink Dot
Pink Dot Kitchen
The latest iteration of Pink Dot includes a full selection of ready-made hot and cold menu items. From breakfast burritos to California-cool flatbreads, here's what's on offer for 2022.
1 Vegan California Salad Pizzette
Pizzette, flatbread—it's really all the same: a thin layer of crust mounded with sauce and toppings. The vegan version of this item is loaded with marinara, vegan parmesan, tomatoes, and a haystack of fresh Italian salad garnished with slices of avocado. More places should put salads on pizza. One bite, and it will make sense. Note: scroll further down the menu and you'll find an option to build your own vegan-friendly pizzette.
2Vegan Southwest Wrap
If you enjoyed that late-night breakfast burrito, you'll love this wrap. It includes many of the same ingredients—vegan chorizo, tortilla chips, and a grilled tortilla—plus creamy chipotle hummus, romaine, red onions, and avocado. It's a stellar pick for lunch as you settle down on the sand in Santa Monica or prepare for a hike at Griffith Park.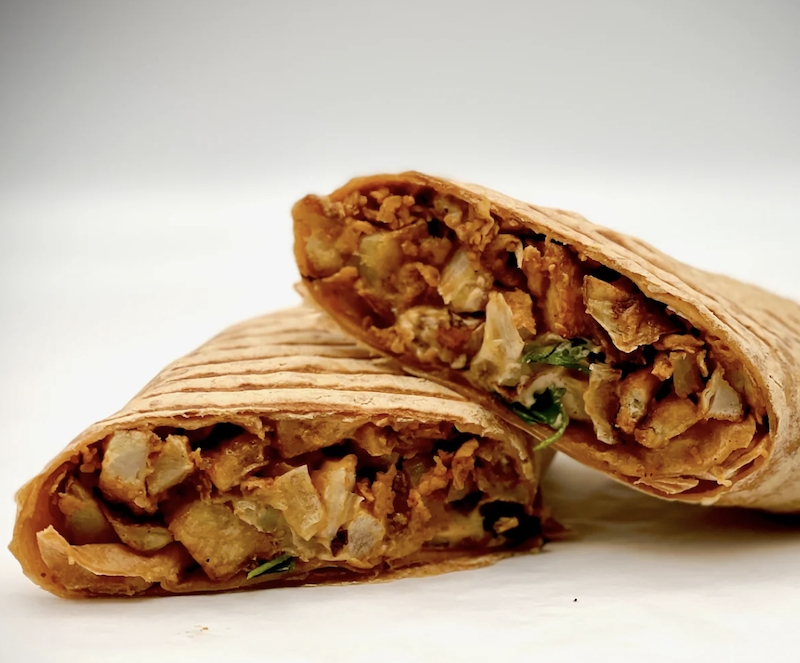 Pink Dot
3Vegan Chorizo Breakfast Burrito
Craving breakfast at 8pm? Pink Dot has you covered. This grilled wrap is stuffed with homefries, plant-based chorizo, caramelized onions, vegan chipotle mayo, and crushed tortilla chips. Might as well purchase a jar of salsa while you've got your virtual cart open.
4 Build Your Own Sandwich / Veggie Sandwich
Those who prefer a meaty or cheesy vegan sandwich may not be satisfied with the selection here, but veggie-lovers can have their fill with this BYOS option. Choose from a white or wheat baguette or Clark Street batard for your base then pile on the veggies, garbanzo beans, and chimichurri sauce. Further down the menu you'll find the Veggie Sandwich which features a solid handhold of hummus (the pesto isn't vegan), romaine, tomato, avocado, artichokes, red peppers, and famous Rockenwagner Bakery toasted sourdough slathered with spicy brown mustard.
5 Salads
Pink Dot offers two vegan-friendly salads—the Super Garden and Superfood—just omit the ranch dressing from the former and order a side of hummus instead (yes, hummus can be a dressing). Both come with an assortment of veggies, but you can also top it off with everything from cornichon pickles to artichokes to dried cranberries.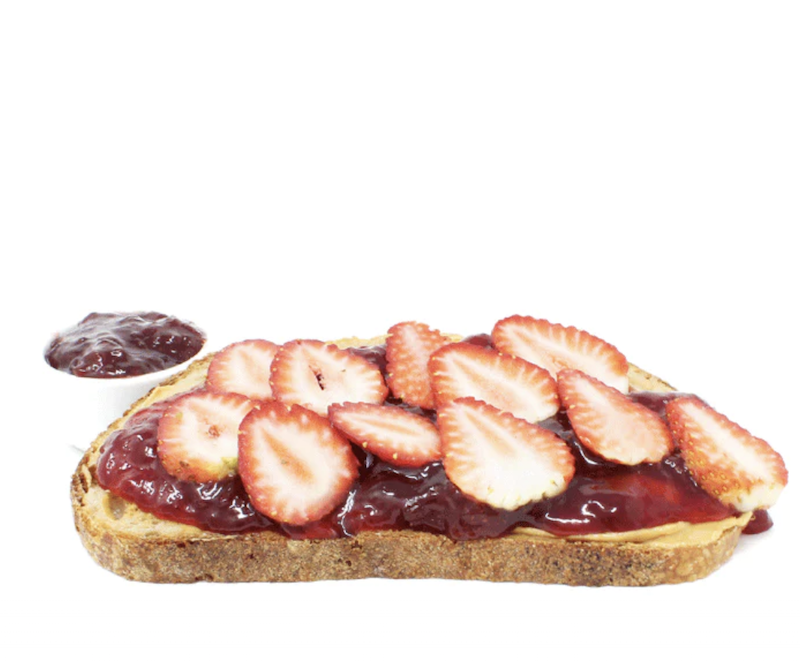 Pink Dot
6 PB and Jam
We promise not to judge for ordering an open-face peanut butter and jelly sandwich. This one is special, after all. It's served on crusty sourdough, slathered with PB&J, and garnished with fresh strawberry slices. Essentially, it's simple comfort, conveniently delivered.
Pink Dot Market
Groceries are Pink Dot's claim to fame in the City of Stars. Here's how to fill your vegan bag when the craving calls.
7
Gelato Festival Award Winning Vegan Flavors
Not all flavors are vegan, but you really only need one showstopper. The super decadent Banana Peanut Butter Vegan pint is actually cheaper when you order from Pink Dot as opposed to the company's website. However, once you order and get hooked on this creamy oat milk treat, do check out the other flavors at Gelator Festival.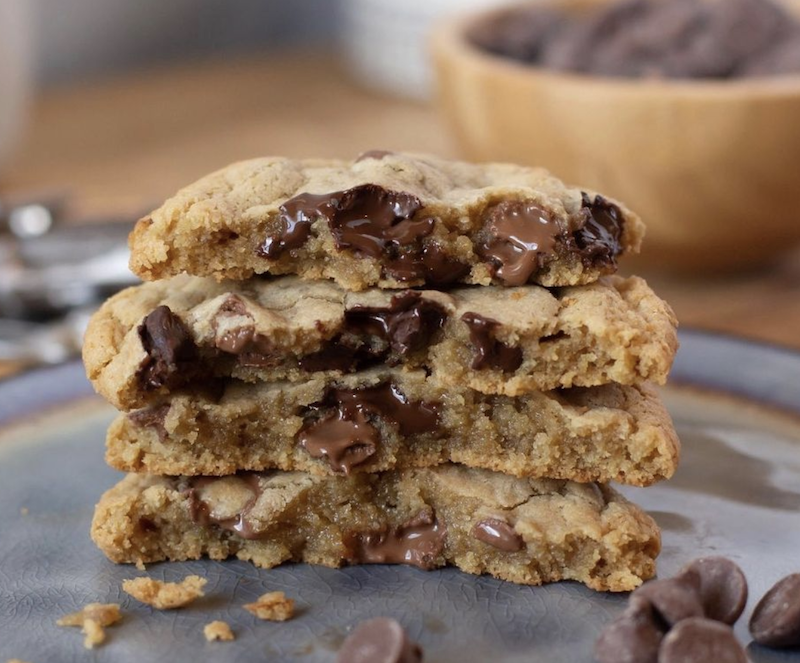 Zooies
8
Breads and baked goods
Whether you're looking for freshly baked baguettes and batards straight from LA's finest bakeries to everyday staples like Dave's Killer Bread, Pink Dot carries it. Also check out Zooies vegan chocolate chip cookies and a variety of Glonuts—vegan and keto-friendly baked doughnuts.
9
Produce
Supplement your sweets and snacks with a bit of fresh fruit and veg. Pink Dot carries the basics when it comes to this category. Think a handful of apple varieties, lemons and limes, bananas, strawberries, broccoli, avocado, potatoes, onions, lettuce, and a few other produce picks. You could certainly make a satisfying salad with Pink Dot's produce options—potentially one that rivals the delivery service's pre-made options.
10
Condiments
While not extensive, Pink Dot's selection of condiments proves that it knows its customers. The range includes Justin's nut butters, dill pickles, sriracha, hot sauce, and Fly By Jin Sichuan Chili Crisp. What else could you need?
11
Beverages
Los Angelenos survive off kombucha and cold-pressed juices. Scroll through the various beverage categories on the Pink Dot sight and you'll find plenty of each—from Little West juices to JT's Kombucha. There's also a wide range of alcohol if you're in that kind of mood.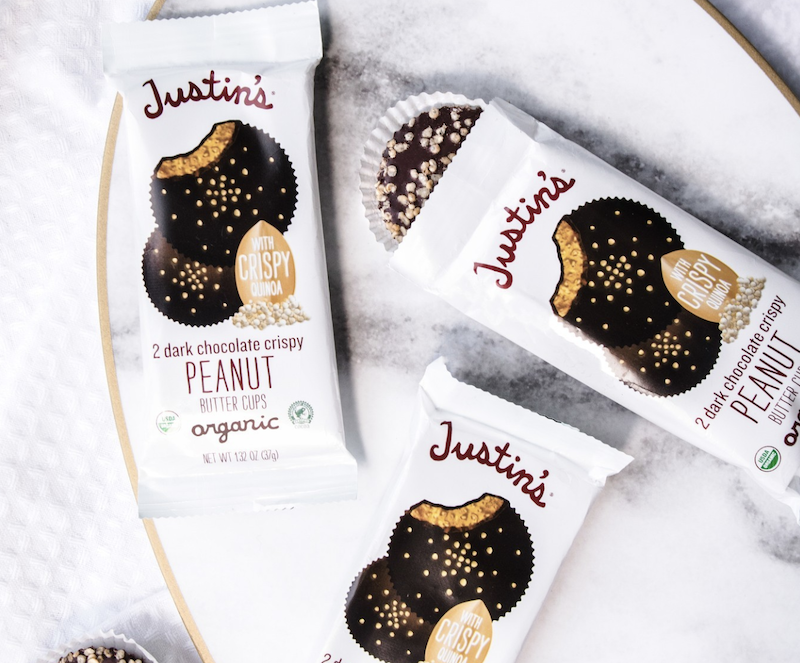 Justin's
12
Snacks and miscellaneous
Vegan-friendly cereals, tortilla chips, Kettle chips, and conventional jars of salsa are all on offer at Pink Dot. You'll also find a mismatched assortment of other sweet and savory snacks such as Justin's nut butter cups, Eden Foods pumpkin seeds, gimme Roasted Seaweed Snacks, Lenny and Larry's cookies, and dried mango pieces. Again, all excellent options for any one of the area's famous hikes.
For more on vegan delivery, read:
We Tried All the Vegan Meal Kits and Here's What We Thought
16 Vegan Eats You Can Get on Goldbelly
VegNews Guide to Nationwide Delivery