Colloquially called Space City, Houston is home of the Astros baseball team and NASA Space Center, but the city's vegan food just so happens to also be out of this world. The plant-based culinary movement in Houston has grown with its population. Now ranked as the fourth most populated city in the US, local restaurants have picked up on the rising tide of vegan culture and tourism. This influx has led to a variety of vegan cuisines in Space City—from tried-and-true Texas barbecue to globally inspired eats. Here's a local's take on the vegan Houston food scene, including where to go and what to get.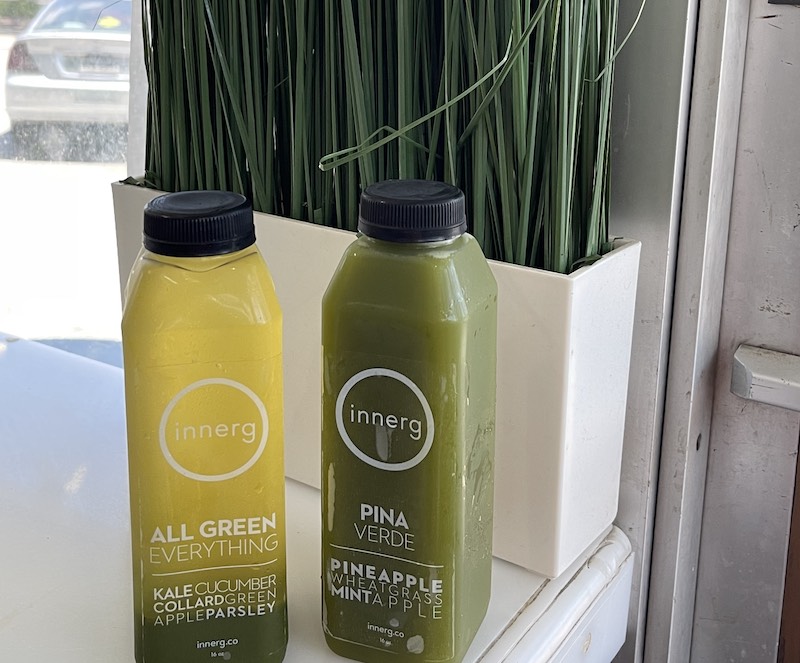 Green Seed Vegan
1 Green Seed Vegan
Green Seed Vegan is a vegan restaurant pioneer as far as Houston is concerned. Now an impressive 10 years old, it's the place to go for all things vegan, soy-free, and raw. The business has evolved from food truck to brick-and-mortar, but it's still serving the same energizing elixirs, homemade veggie burgers, fresh juices, and raw desserts as always. First-timers can't go wrong with the Grounded Elixir blended with turmeric, ginger, lemon, and cayenne along with the Big Tex—a buckwheat quinoa patty on a whole wheat bun with zucchini bacon, avocado, and jalapeños. It's no wonder The Food Network named Green Seed Vegan one of the best vegan restaurants in the country in 2020.
Find out more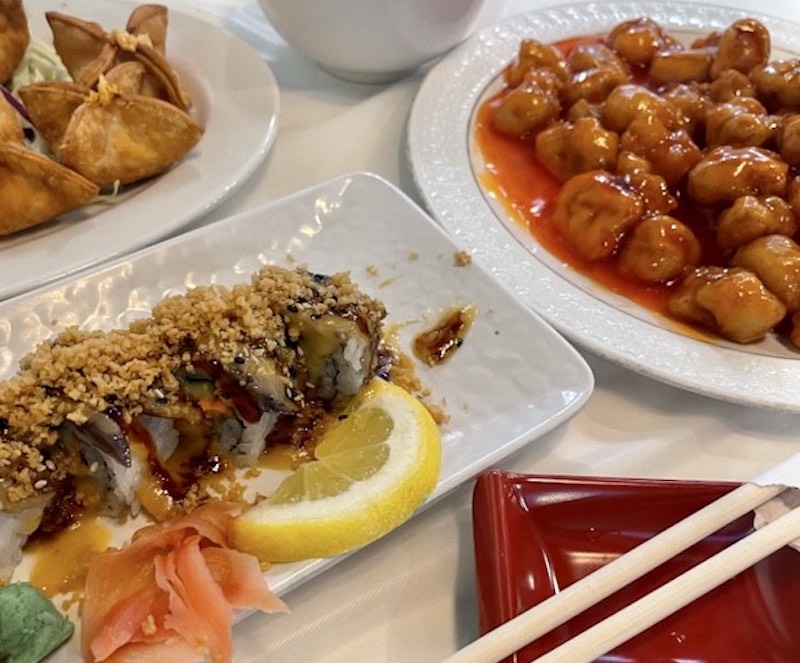 Chef Kenny's
2 Chef Kenny's
When you ask vegans in Houston where to go for Asian food they'll direct you to Chef Kenny's, a full-service restaurant offering vegan and Americanized Asian dishes made with fresh ingredients. The appetizers are solid; an order of the vegan cream cheese wontons or fried veggie dumplings is non-negotiable. The entrée selection is extensive and has a bit of something for everyone. This includes vegan meat and rice dishes like Spicy Kung Pao Beef; plant-based sushi rolls such as Vegan Crunchy Rolls and Vegan Spicy Tuna Rolls; as well as an array of dim sum and ramen bowls. You'll need to visit a few times to try every delicious option on Chef Kenny's menu.
Find out more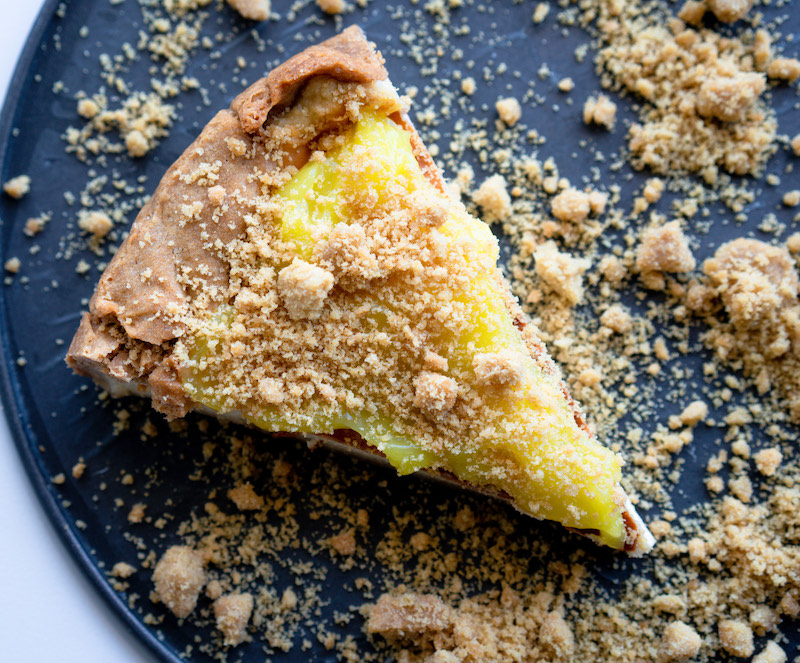 Mikah Danae
3 Sinfull Bakery
Is it sinful to purchase a whole vegan cheesecake, several savory kolaches, and a giant cinnamon roll all in one day? Looking at the mouthwatering array of baked goods at this 12-year-old vegan institution, your mind will certainly go there. The mostly organic bakery cranks out a dizzying amount of sweets and savories throughout the day with exceptional espresso beverages to pair them with. If the gargantuan cinnamon roll looks like too much for one person, the Cinnamon Roll Latte is a sippable alternative. Many locals will also stop in for breakfast and lunch, nibbling a slice of just-baked vegan quiche or forking into a Jackfruit Chick'n Salad. Those outside of the greater Houston area can get a taste of Sinfull Bakery by ordering a tight selection of cookies, bars, and granola for nationwide shipping.
Find out more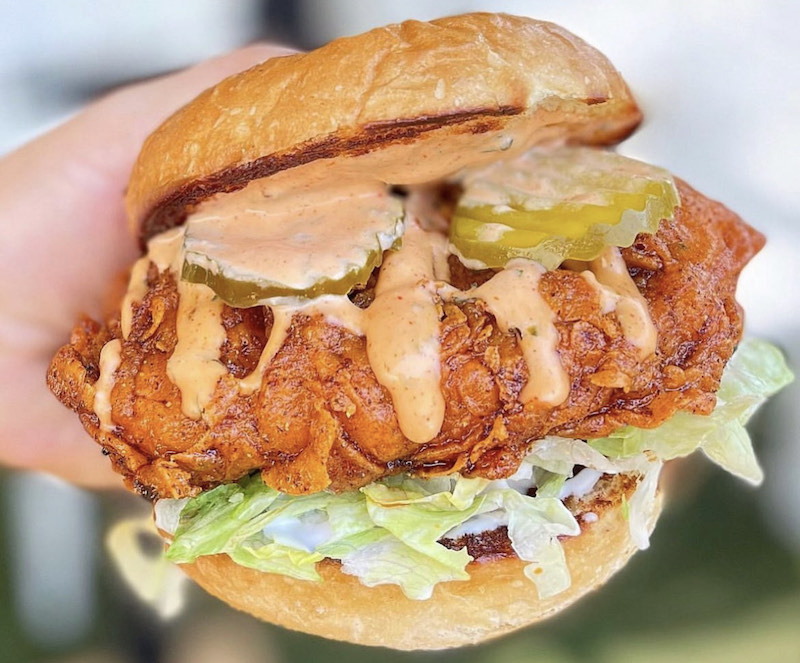 Korny Vibes
5 Korny Vibes
Craving vegan fast food? Korny Vibes does it all. Menu items mimic popular drive-thru chains with vegan renditions of fried chicken, Nashville hot chicken sandwiches, stacked burgers, and cauliflower wings. Sides-wise, it's all about the fried food—fried okra, fried pickles, and even fried vegan cheese sticks. For something sweet, a swirly oat-based soft serve topped with vegan whip and sprinkles will take you back to simpler times.
Find out more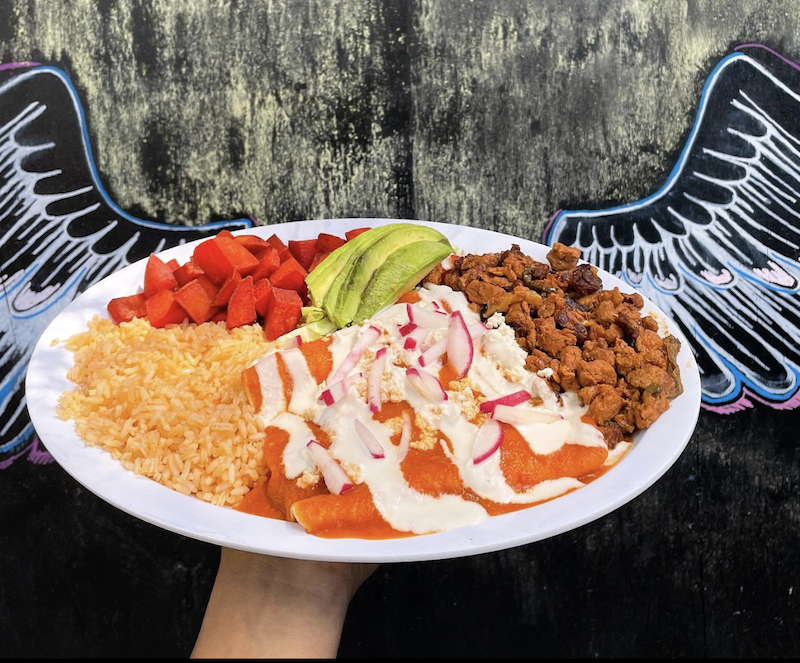 Cascabel
6 Cascabel
Houston's first full-service vegan Mexican restaurant is a testament to expertly executed plant-based dining. The restaurant pairs a traditional menu with a full bar, making it the perfect place to celebrate Taco Tuesdays on the regular. Order the jackfruit-based Birria Tacos with a side of consommé for dipping. While you wait, a Tamarindo Margarita will help pass the time. Remember to pace yourself through the tacos, because you'll want to leave room for dessert. The vegan flan is divine.
Find out more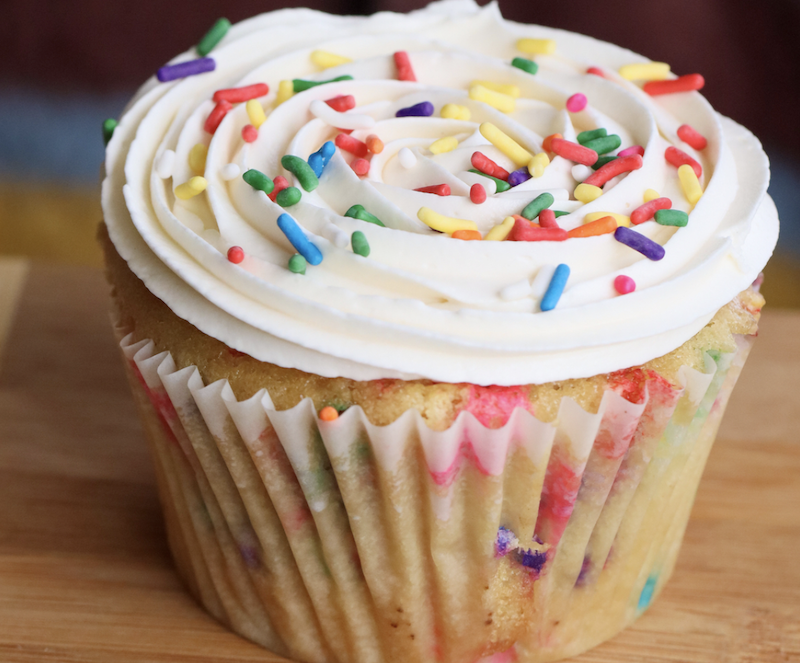 Wisdom Bakery and Cafe
7 Wisdom Bakery and Cafe
While slightly north of Houston, Wisdom Bakery and Cafe in Spring, TX is worth the detour. On the bakery side, the quaint café offers vegan muffins, cookies, croissants, and jumbo cupcakes in addition to a robust espresso program. Those looking for more of a meal should pick up the kitchen menu and order from a number of burgers, salads, and sandwiches on offer. Our top picks include the vegan Sausage Pretzel Roll, Philly Cheesesteak, truffle fries, and the giant cupcakes, obviously.
Find out more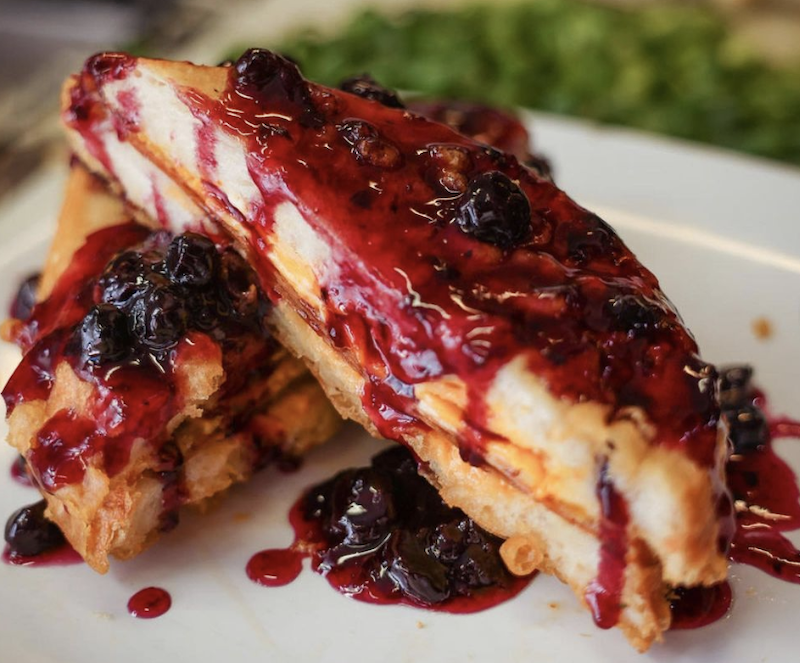 Mo' Better Brews
8 Mo'Better Brews
This grammatically incorrect vegan hotspot has the Tabitha Brown seal of approval. The restaurant cranks out breakfast, lunch, dinner, and coffees for in-between meals amongst its old-school vinyl theme. The food is decidedly comforting classics, and Brown highly recommends the Chick'n-fried Shroom and Grits. We also polished off the Motown Monte—a plant-based Monte Cristo sandwich made by deep-frying a thick ham and cheese on sourdough bread and serving with powdered sugar and blueberry compote. It pushes the boundaries of sweet and savory, and it works. No matter what you enjoy, pair your meal with a craft cocktail, beer, or glass of wine.
Find out more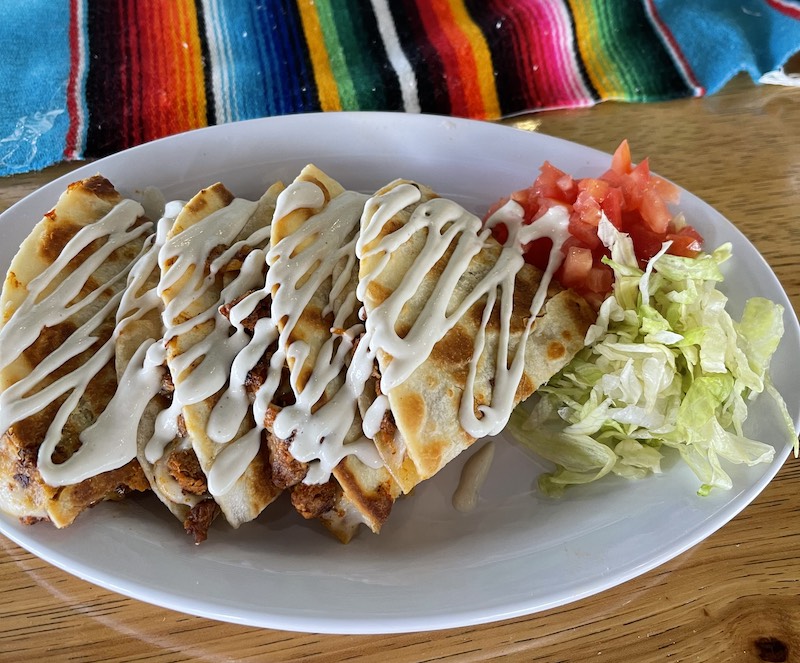 Veegos
9 Veegos
Those looking for a quick Mexican joint must swing by Veegos. The strip mall vegan eatery provides a solid menu of plant-based Mexican fare with generous portions and a casual vibe. First-timers should try the Quesadilla Plate. The quesadilla is made with melty cashew cheese and customer's choice of protein and is served with lettuce, tomato, sour cream, rice, and refried beans. Tacos, nachos, burritos, and burgers are also on offer. Truly, you'll be satisfied with anything your order.
Find out more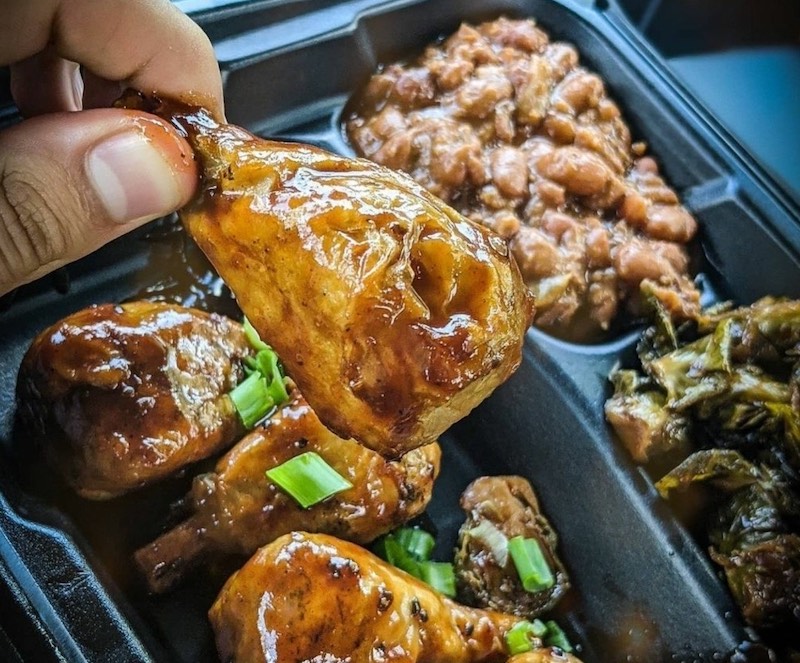 Houston Sauce PIt
10 Houston Sauce Pit
One of the outlier food businesses that set up shop in 2020, this plant-based barbecue food truck is still going strong. It all started with the sauce. Co-owners Jarrett Milton and Courtney Lindsay had been running a successful barbecue sauce brand, Houston Sauce Co., since 2017 and decided to show off what it could do. The tight menu consists of plate entrées—customers pick a meat and a few sides. The Smoked Wangs and Links are popular choices, along with the Brussels Sprouts with Bakon and vegan mac and cheese. Looking for a true taste of Texas? The Frito Pie is as Texas as it comes. The humble meal is made with a mound of Fritos smothered with beefy chili and/or brisket. In the case of Houston Sauce Pit, it comes self-contained within the Fritos bag. Don't knock it until you've tried it.
Find out more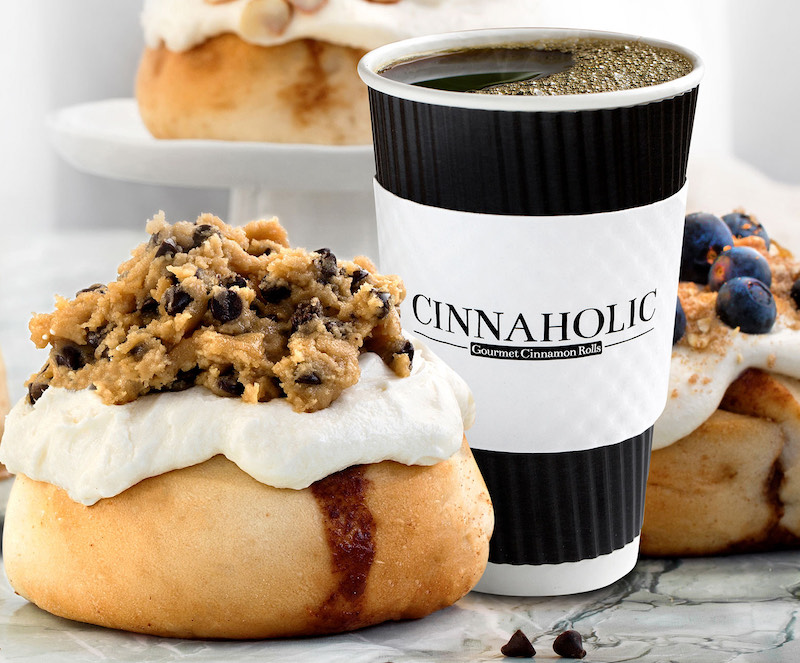 Cinnaholic
11 Cinnaholic
Cinnaholic isn't unique to Houston—the create-your-own vegan cinnamon roll shop operates over 60 franchises throughout the US and Canada—but it's a treat to visit nonetheless. The concept is similar to Cold Stone Creamery. Customers can choose from a selection of recommended creations or opt to be the master of their perfect cinnamon roll, customizing their gigantic roll with over 20 different frostings and topping options. The options can be stupefying, which is why we recommend going with a pre-made option: the Texas Two Step. This Houston favorite is slathered with original cream cheese icing, cookie dough, Oreo pieces, chocolate chips, and finished with a liberal chocolate drizzle. It's certainly a treat best shared.
Find out more
For more vegan finds in Texas, read:
The 10 Must-Visit Restaurants in Texas
This Restaurant Is Turning Dallas Vegan One Taco at a Time
This Texas Entrepreneur Aims to Put Chick-fil-A Out of Business
Rose Bruno Bailey is an author, poet, and vegan blogger trying to make a difference in Houston, TX.