Vegan cinnamon roll franchise Cinnaholic aims to open 25 new locations by the end of 2022. Despite the challenges all restaurants faced due to the COVID-19 pandemic, Cinnaholic had a great 2021 and brought in $20 million in sales from its existing locations. When compared to 2020, Cinnaholic's sales were up 64 percent in the United States and up 30 percent in Canada (where they are a favorite of Prime Minister Justin Trudeau). While the unfortunate circumstances surrounding the COVID-19 pandemic have forced many chains to close locations, in 2021, all of Cinnaholic's locations remained operational.
"2021 was a fantastic year for Cinnaholic, and it has been thrilling to watch the brand continue to grow over the last several months," Leanne Cavallaro, Director of Operations at Cinnaholic, said in a statement. "We have a lot to look forward to with the new openings on the horizon and the new owners that will be joining our family. We are also thankful for our hardworking franchisees, who embody the Cinnaholic spirit at every bakery."
The brand currently operates more than 60 locations in the US and Canada and is considered a highly sought-after franchise brand due to its low startup costs, manageable operations, corporate training as well as support for real estate, construction, operations, and marketing. Over the last 12 months, Cinnaholic has opened 13 locations with plans for another 18 new outposts in early 2022. The new locations are planned for new markets in Florida, Ohio, New York, and Massachusetts.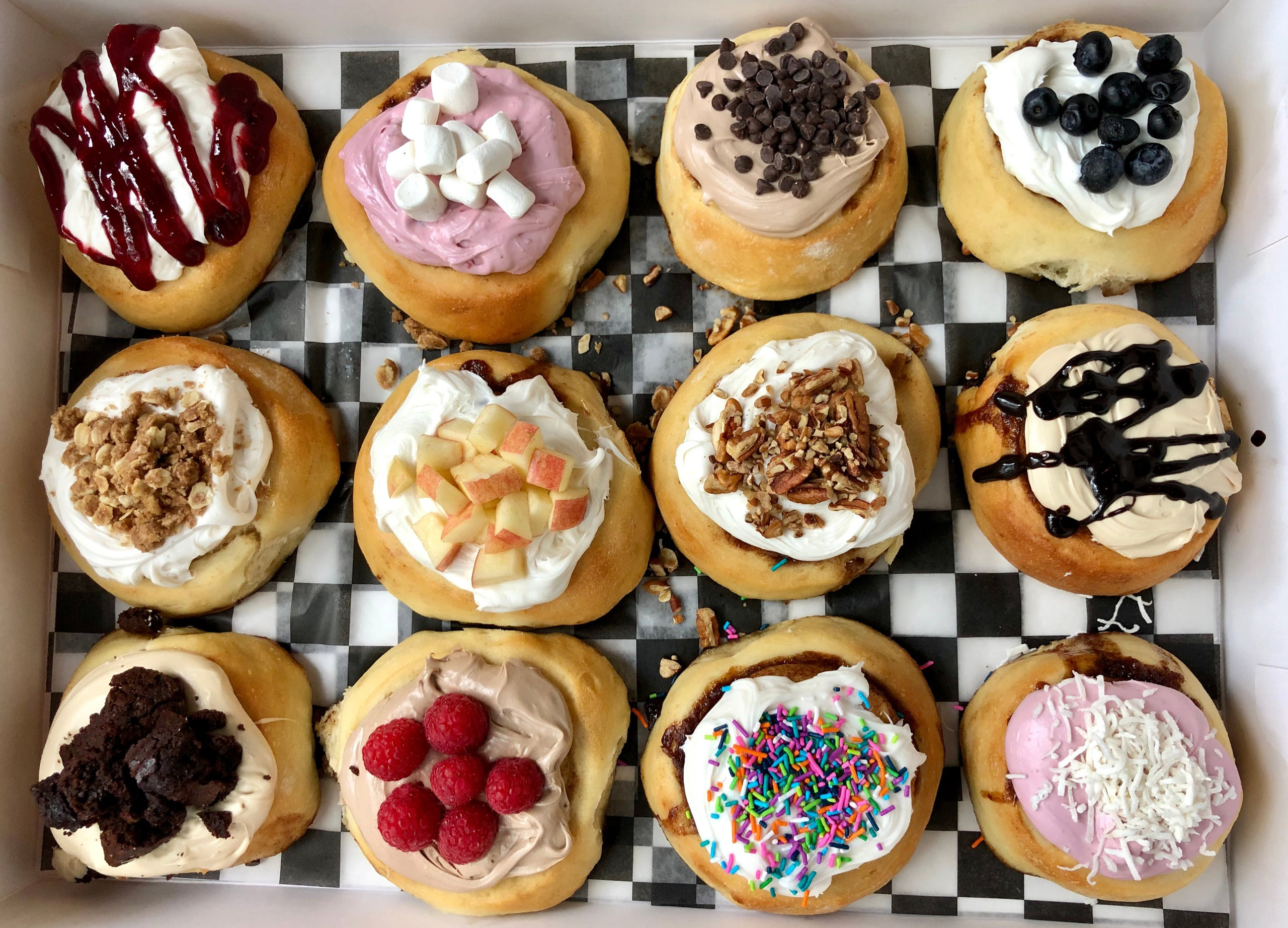 Cinnaholic
Vegan cinnamon rolls for all
Husband-and-wife team Shannon and Florian Radke opened the flagship location of Cinnaholic in Berkeley, CA in 2009 and began franchising the vegan cinnamon roll chain in 2014 after appearing on investment reality show Shark Tank. While the business received an offer from "shark" Robert Herjavec for $200,000 in exchange for 40-percent equity, the Radkes decided to go a different direction to grow Cinnaholic as a franchise across North America—and the move has been paying off.
The vegan bakery is known for its indulgent cinnamon rolls, which can be customized with more than 20 frosting flavors and more than 20 toppings. In addition to cinnamon rolls, Cinnaholic offers a variety of vegan baked goods, including cookies, brownies, and cakes. The bakery also offers catering services for birthday parties and other special events.
In addition to its core menu, the chain is also known for experimenting with new items such as the Savory Pizza Roll (stuffed with vegan cheese and marinara sauce) and Fluffernutter Roll (filled with gelatin-free marshmallows).
"We love coming up with ways to treat our fans—and we have big menu and promotion plans in the new year," Cavallaro said. "Cinnaholic lovers can definitely look forward to exciting brand news in 2022. Whether we offer deals or new flavors, we are always ready to spice things up."
For more about vegan cinnamon rolls, read:
Portland Gets a Magical Vegan Cinnamon Roll Shop
DIY Vegan Cinnamon Roll Shop Coming to Canada's Capital
Canadian Prime Minister Justin Trudeau Orders Vegan Cinnamon Rolls