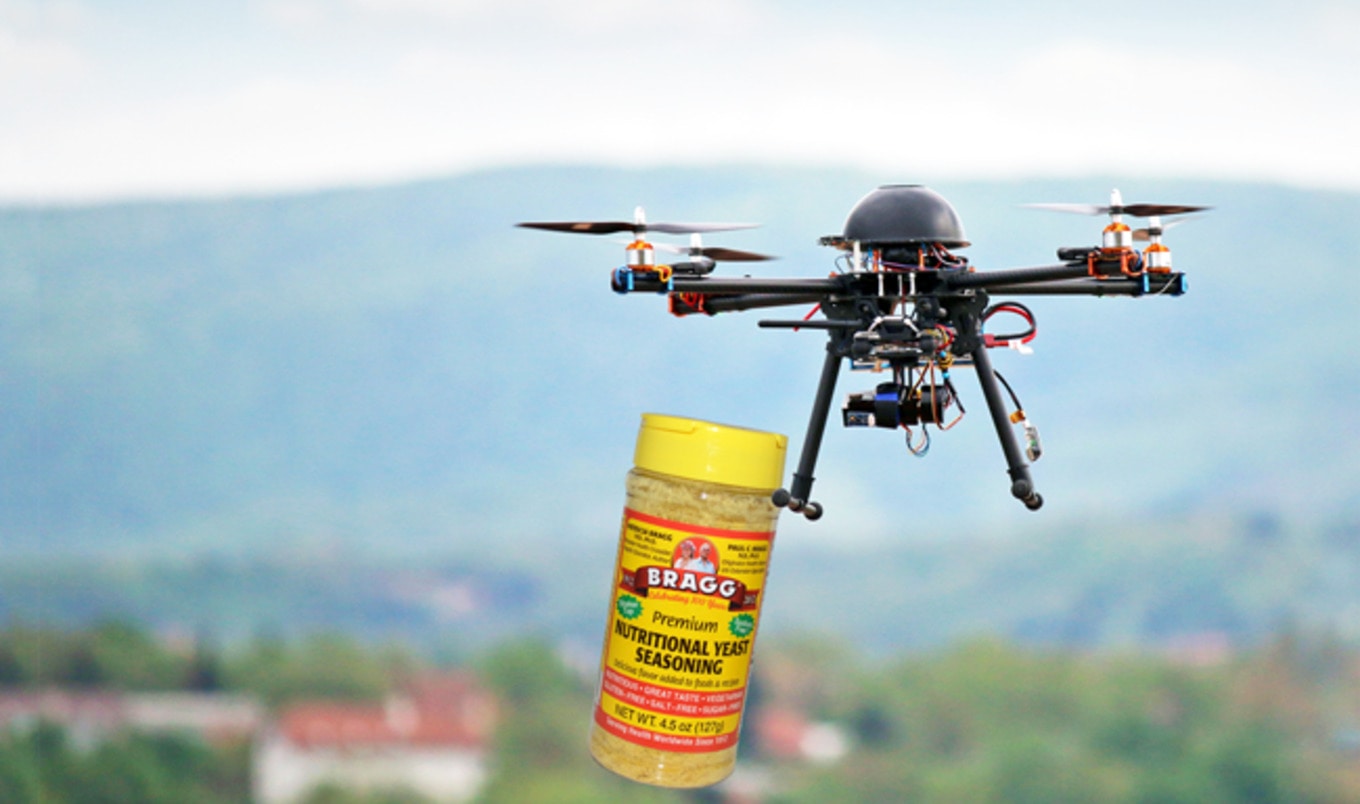 Rev-up the robot motor, Amazon, because we want pie from Chicago, veganized unicorn frappuccinos, and hunky Australian activists delivered straight to our door.
May 3, 2017
---
The development of auto-driving Amazon Prime Air drone delivery is all the rage—touting the ability to get people whatever they want in just minutes. There was some rumor going around that Chipotle—home of tasty vegan sofritas—was the first to place an unidentified burrito into the drone last year during its testing phase. While Amazon prepares for take off, we're dreaming of all the vegan things we can stuff onto that bot. Pie from faraway lands? Check. A piece of delicately fried vegan chicken from London? Bring it on. Australia's most outspoken vegan activist James Aspey (who happens to be a total babe)? If he fits, he sits. While VegNews offices in sunny Santa Cruz, CA are close to a lot of fantastic vegan foods and people, the summer months are no time to put extra effort into getting to them. That's why we've chosen five vegan things we need delivered by drone, stat.

Pie, Pie My Darling
Chicago's premier vegan bakery Pie, Pie My Darling is on the brink of opening and has us swooning for buttercream-covered cakes topped with whole cookies, luscious cheesecakes, cupcakes, and, of course, pie! As we're gearing up for strawberry and rhubarb season, we're pleading with the bakery's owner Heather Bodine-Lederman—who has already booked all the catering gigs she can handle for the month of May—to fly us over some pie. We could, of course, shimmy on over to Chicago ourselves but summer airfare is through the roof. As such, we're just going to sit right here and wait for pie to drop from the sky.

Temple of Seitan
Even if we were anywhere near London—where this hoppin' new vegan fried chicken shop opened in January—we've seen the mile-long lines swirling around the always-empty butcher shop next door. And while everyone waits in said line, we've been slobbering over Temple of Seitan's chicken buckets, sandwiches, and mac n' cheese from afar. Amazon should note that we will require the SUV of drones for this one because we're ordering each cruelty-free chicken thing on the menu.

Vegan Unicorn Frappuccino
This drone would have to bypass every Starbucks—which created the trendy unicorn frappuccino but forgot to make it vegan—and go straight to Kathy Patalsky's house. The blogger and cookbook author behind Happy Healthy Vegan Kitchen re-created the technicolor beverage recently with healthful (and animal-free) ingredients such as blue algae powder, almond milk, and Kite Hill's vegan yogurt in the key lime flavor—all topped with soy whipped cream and an optional (recommended) homemade mango puree-based drizzle. Load up the drone Kathy, we're waiting.

Sainsbury's Vegan Cheese Line
The hilarious launch of UK-based supermarket Sainsbury's vegan cheese line—recap: a 1,000-word social media rant arguing against the idea of vegan cheese united every vegan on the internet in calling vegan cheese "Gary" for all eternity—is reason enough for us to crave this cheesy import. As for the type of Gary we need delivered from the seven-flavor, coconut milk-based FreeFrom line? Let's do all of them and double up on the Wensleydale-style because we're American and have no idea what that means. Hey, drone people (er … robots?), drop by competitor supermarket Tesco to pick up its new line of vegan cheeses while you're at it!

James Aspey
Watching Australian animal-rights activist James Aspey emphatically speak about vegan issues on YouTube, following his impactful Facebook posts, and staring at his tanned-to-perfection Instagram photos is not enough! He took a year-long oath of silence for the animals and broke it on national television in 2014 with words of wisdom about the plight of animals in agriculture. James now gives lectures around the world and him coming here on his own volition doesn't seem too far off. However, if you're itching to try out this new drone thing James, hop on … we'll talk your ear off and share our vegan snacks with you.
Anna Starostinetskaya is the news editor for VegNews and would happily fly via drone to Chicago, London, and Australia to pick up all theese goodies herself.