Last year, Green Giant went on a mission to figure out which vegetables are most loved in the US. The top spot for most states, the canned and frozen veg specialist found out, goes to broccoli. But for several states—including Montana, Wyoming, Louisiana, and Illinois—it's carrots that take the crown. It's no surprise that Americans love these bright orange vegetables—they're packed with nutrients and they're versatile, too. You can bake with them, stir-fry them, and roast them. But, here we're looking at carrot juice, in particular. Yep, it turns out, carrot juice is a healthy, tasty addition to your diet. Plus, we've also listed some of the best juicers for carrots, and recipes, too.
Is carrot juice healthy?
According to Healthline, just one cup of carrot juice contains two grams of fiber, as well as vitamin C, vitamin K, and potassium. Plus it's low in calories, too, and it's high in the carotenoid beta carotene, which is converted into vitamin A, an antioxidant, in our bodies. Because of this antioxidant effect, carrot juice may help to promote heart and liver health, as well as boost immunity. So with this in mind, drinking carrot juice seems like a pretty healthy habit to get into. But that said, for some, it is important to be mindful.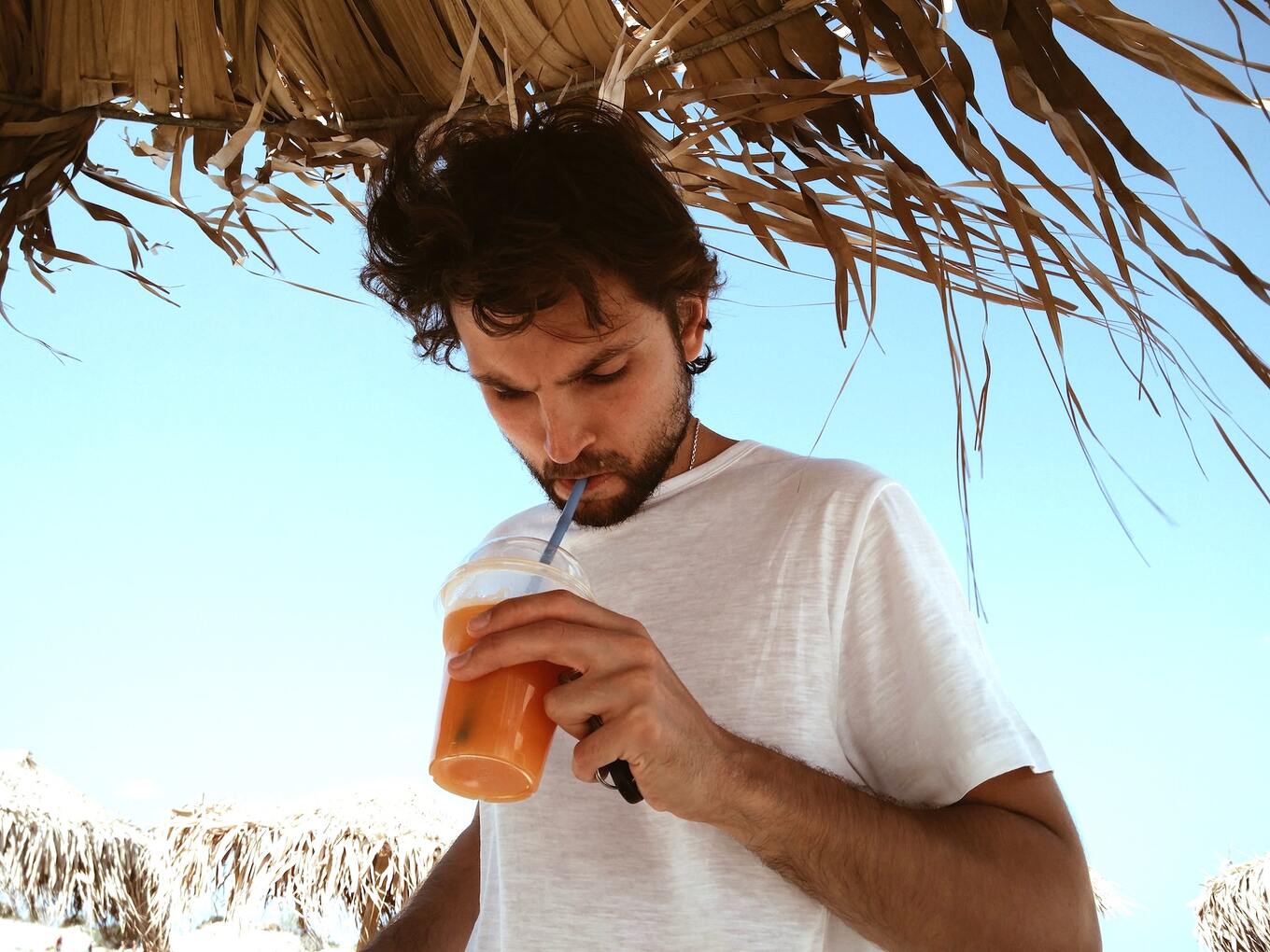 Pexels
"Some carrot juices, especially freshly prepared varieties, may not have been pasteurized to kill harmful bacteria. Pregnant people, older adults, young children, and those with compromised immune systems should avoid unpasteurized carrot juice," notes Healthline. "Carrot juice [also] has less fiber than whole carrots and contains natural sugars. The lower fiber content means its sugars are absorbed more quickly, so drinking too much carrot juice may spike your blood sugar levels."
Best vegan carrot juice recipes
For many of us, drinking carrot juice on a regular basis is a great way to add extra nutrients to our diet. It can also be a pretty tasty addition. To prove it, here are some of our favorite vegan carrot juice recipes.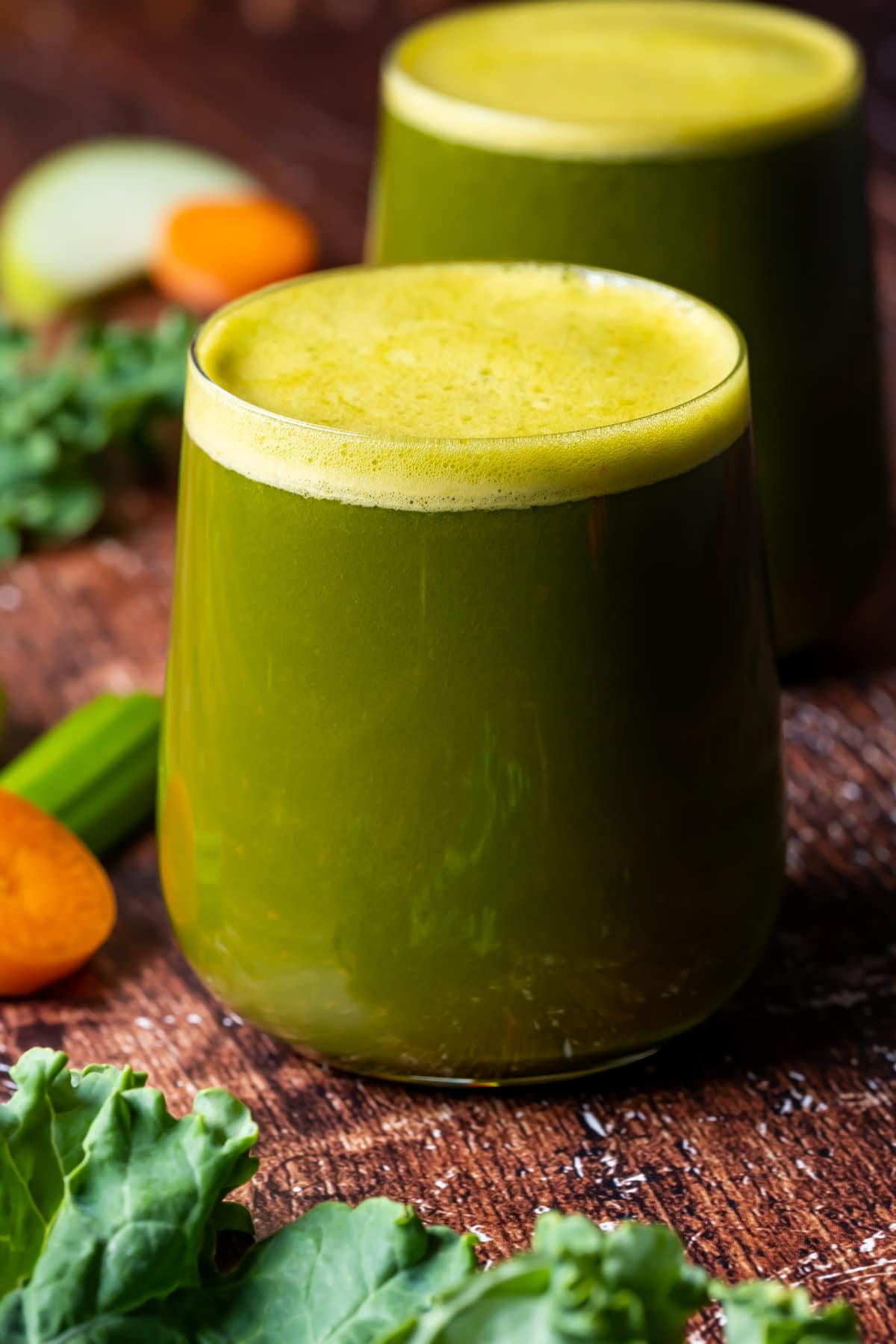 Loving It Vegan
1 Apple, Carrot, Celery, and Kale Juice
Not satisfied with carrot on its own? Boost the nutritional value (and tastiness) of your juice by adding in some extra fruits and veggies! Ideal for drinking from a nice cold glass in the summertime, this super refreshing juice also contains a blend of apples, celery, and kale.
Get the recipe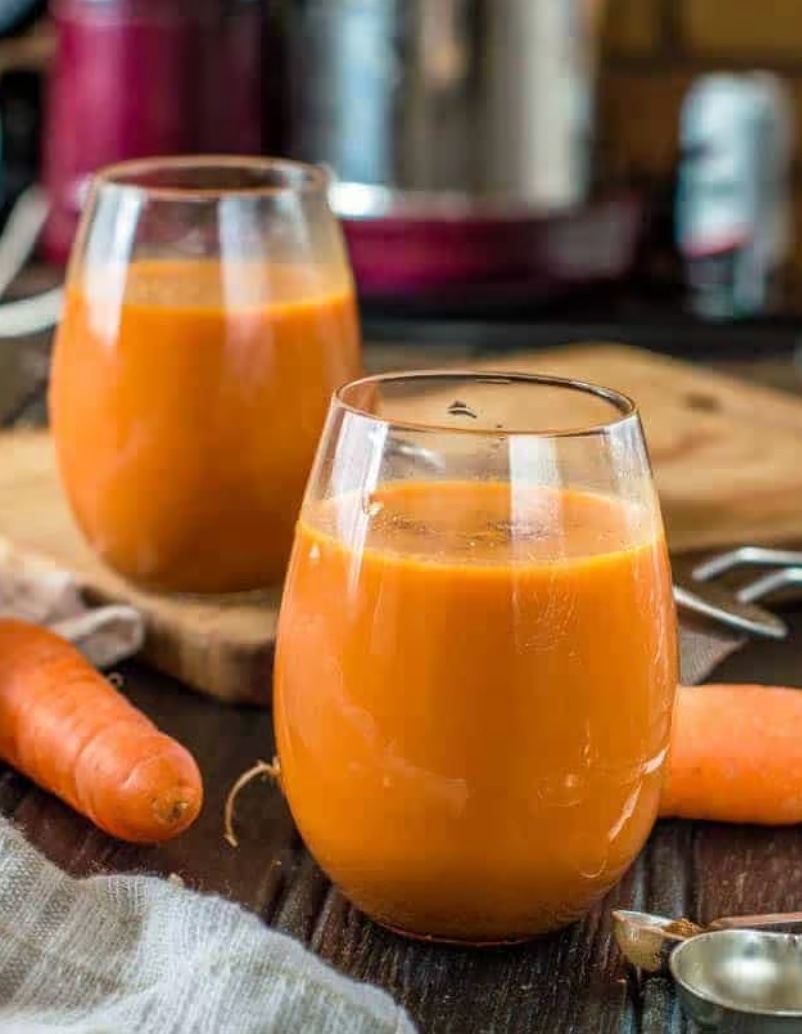 That Girl Cooks Healthy
2 Jamaican Carrot Juice, Vegan-Style
Sometimes referred to as Jamaican carrot punch, this Caribbean recipe usually calls for condensed milk, but as that ingredient isn't vegan, this recipe uses dairy-free condensed coconut milk instead. For that traditional spicy-yet-sweet taste, the carrots are also blended with nutmeg, cinnamon, and vanilla powder.
Get the recipe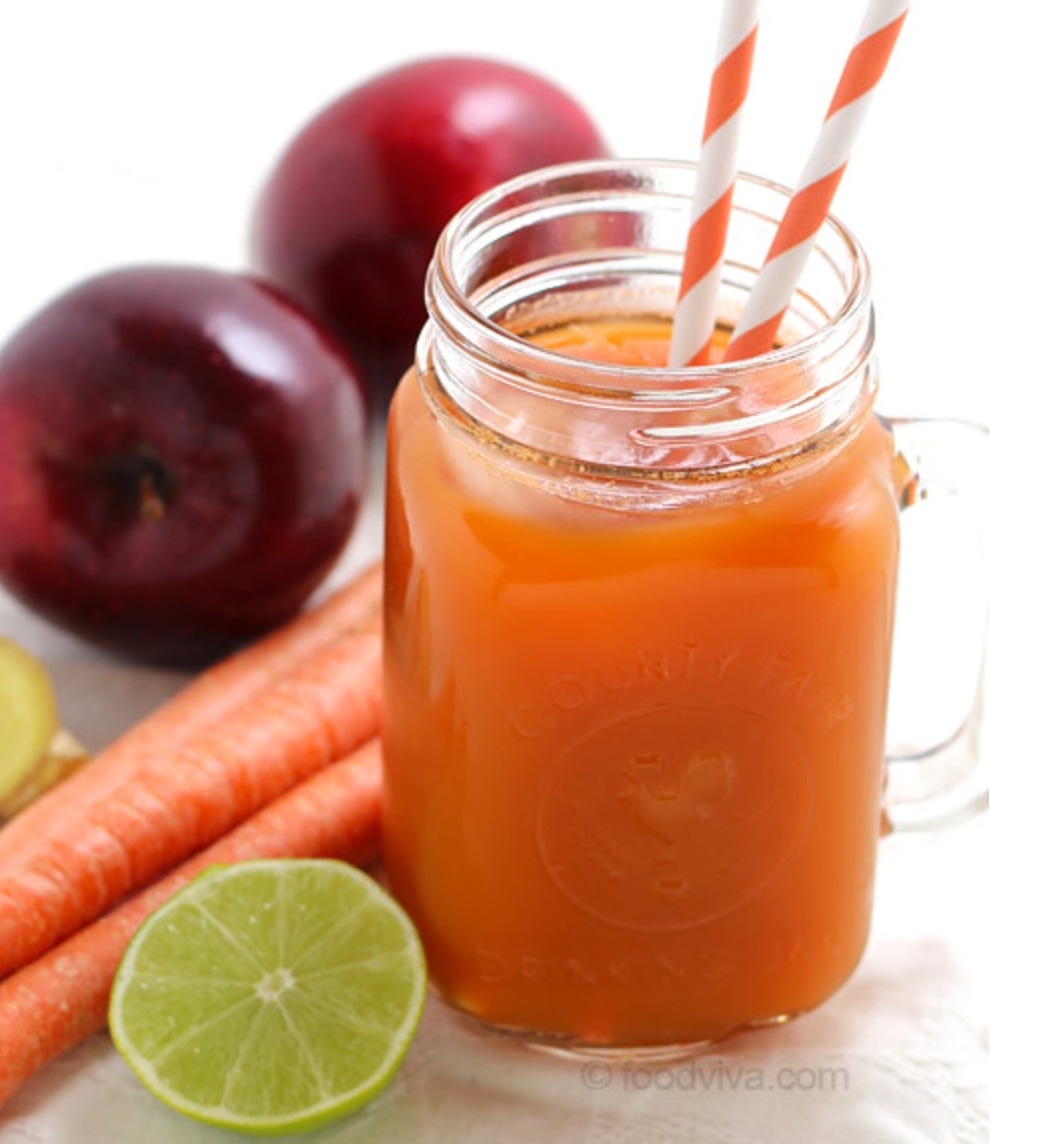 Food Viva
3 Carrot, Apple, and Ginger Juice
Ginger and carrot are a great mix—they go well together in cakes, soups, and yes, you guessed it, juices. Add apples too for extra vitamins, fiber, minerals, antioxidants, and, of course, even more delicious flavor.
Get the recipe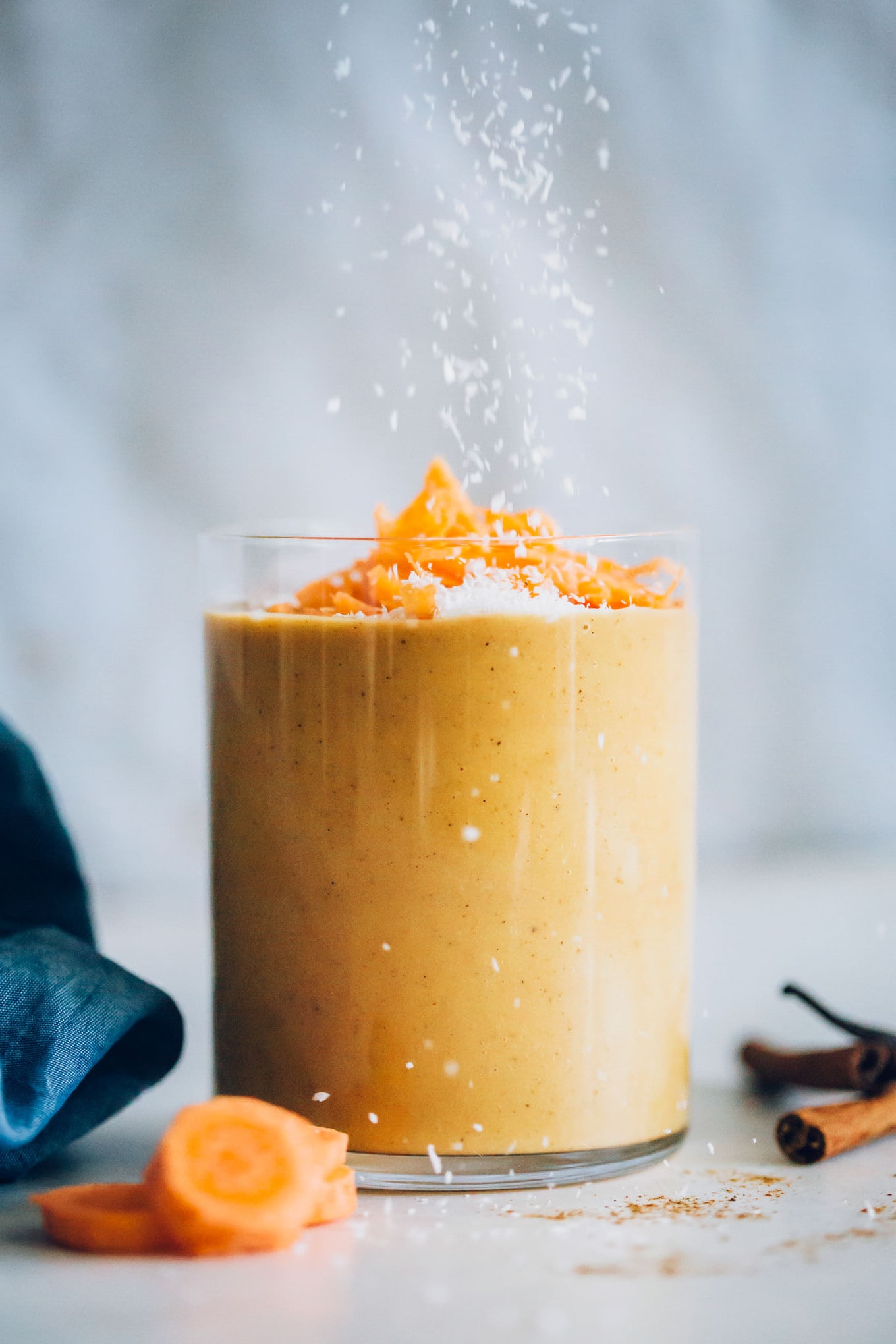 Minimalist Baker
4 Creamy Carrot Cake Smoothie
If you prefer something a little thicker, consider opting for a carrot smoothie over juice. This particular recipe is super sweet and ultra-creamy, thanks to the addition of dates, bananas, dairy-free milk, and vanilla protein powder.
Get the recipe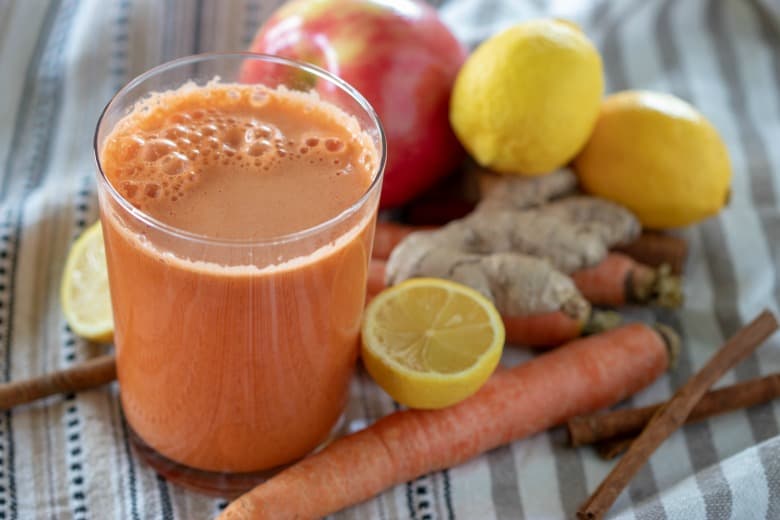 My Cultured Palate
5 Indian-Style Carrot Juice
Just like carrots, turmeric is a great healthy addition to your diet, because it has anti-inflammatory and antioxidant properties. Get the benefits (and delicious flavor) of both by combining them in this Indian-style carrot juice recipe.
Get the recipe
Best juicers for carrots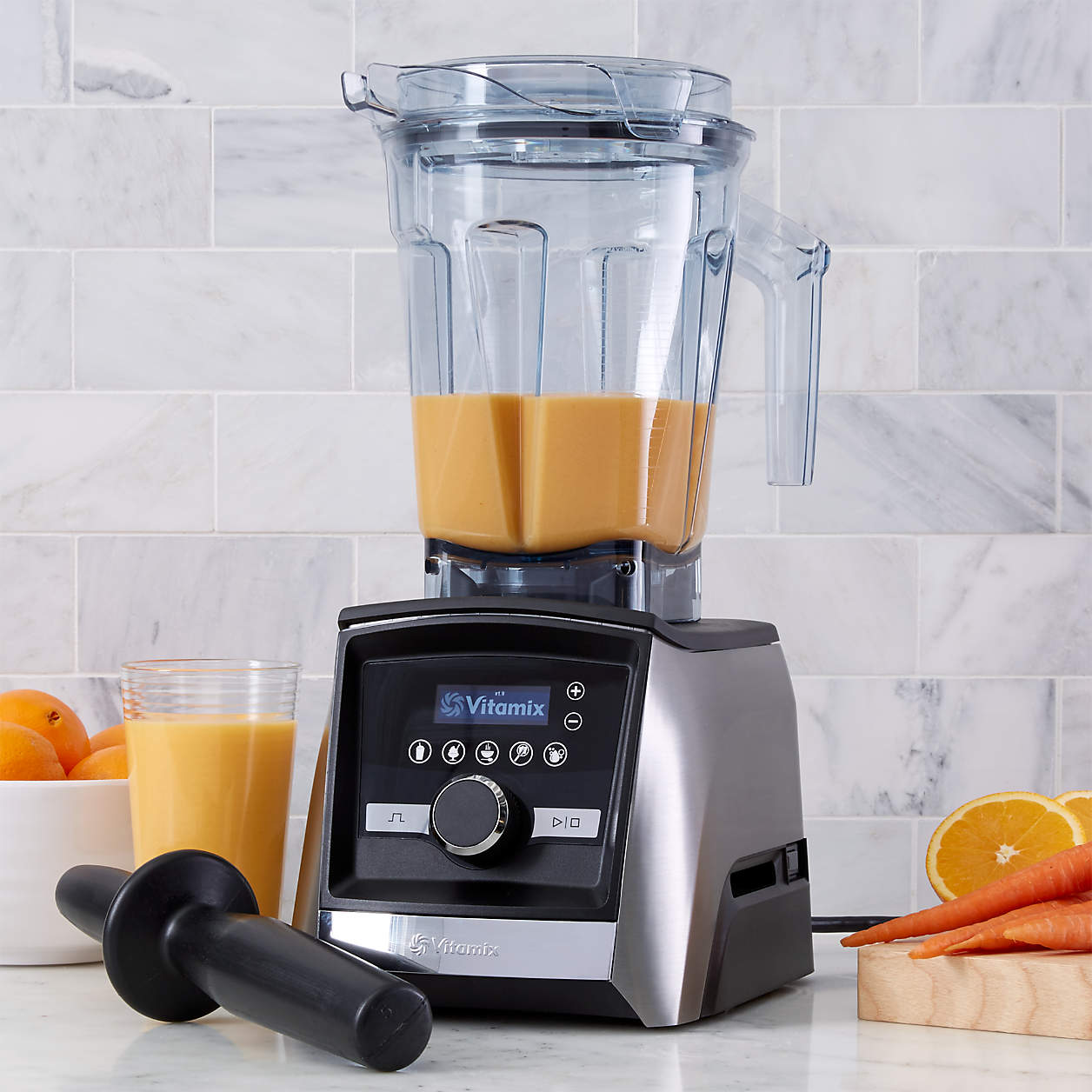 Vitamix
1 Vitamix Ascent Series A3500
When it comes to top-quality juicing, you can't go wrong with this top-of-the-range model from Vitamix. It's easy to use and versatile, and the touchscreen interface will allow you to control the speed and pulse of the blender to ensure you get the right texture and consistency every time. Plus, when you're done with carrot juice, you can use it to make everything from smoothies to dips to ice cream. It's called multitasking!
FIND IT HERE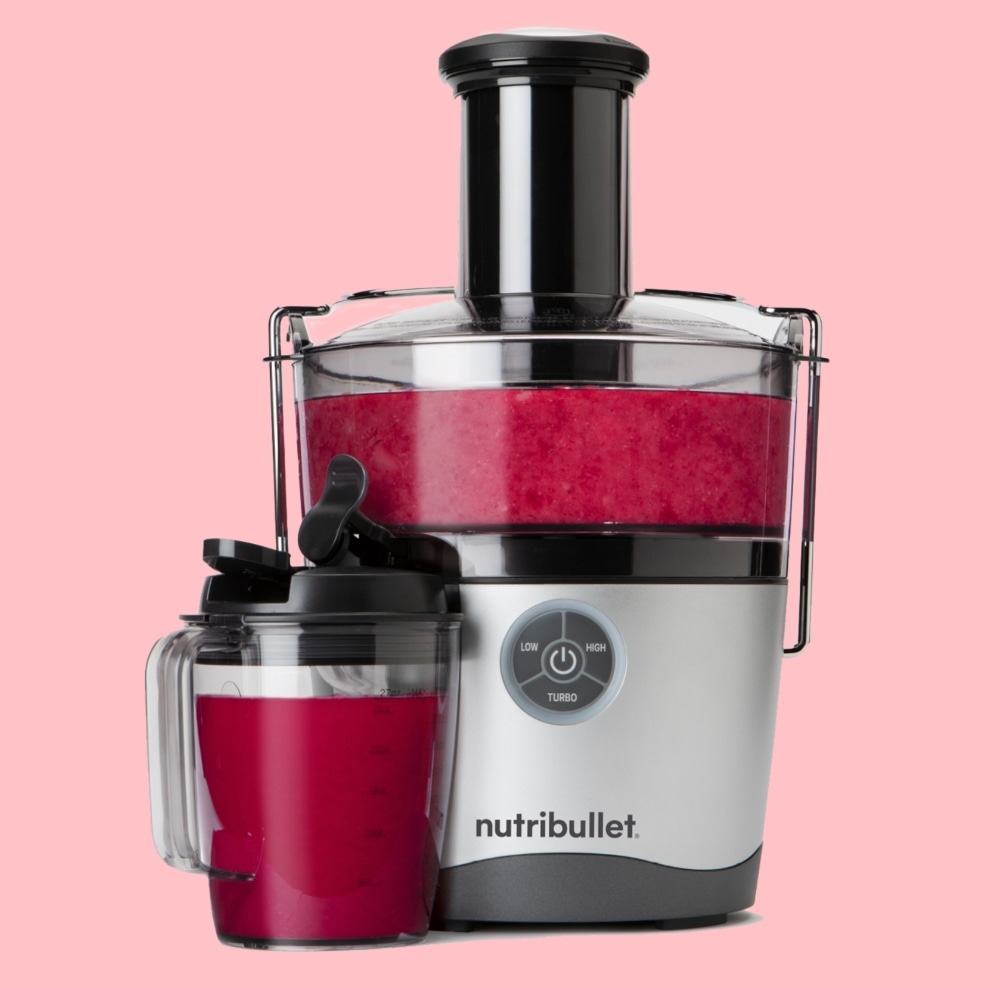 Nutribullet
2 Nutribullet Juicer Pro
As the name implies, this highly efficient, super streamlined gadget is an absolute "pro" at juicing. It will handle crunchy carrots with ease thanks to its turbo-speed setting, and also comes with a handy freezer tray so you can store any leftover juice, ready for a hot summer's day.
FIND IT HERE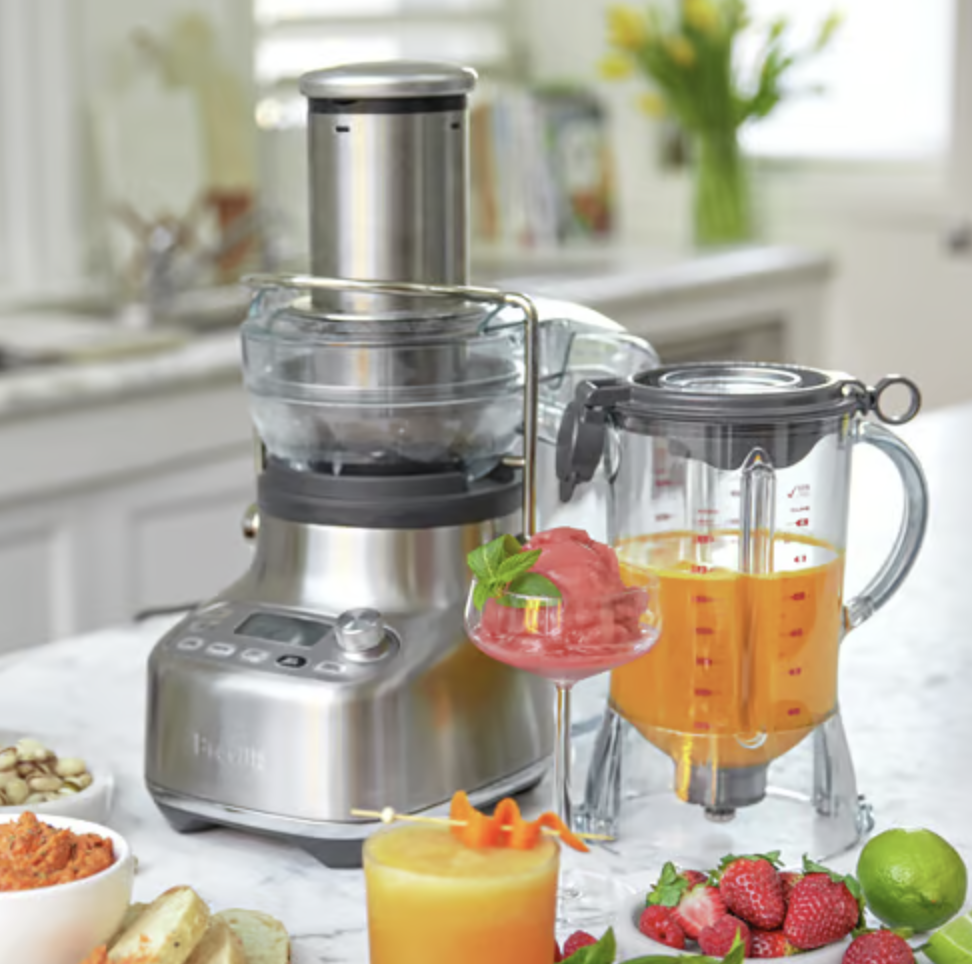 Breville
3 Breville 3X Bluicer Pro
If you really, really love juice, as well as smoothies, cocktails, and shakes, then consider splashing out on Breville's 3X Bluicer Pro option. According to the brand, the optimized speed and time combinations will produce ultra-flavorful results. Plus, it also features cold-spin technology, which keeps your juice nice and cold, regardless of how fast the blades are spinning.
FIND IT HERE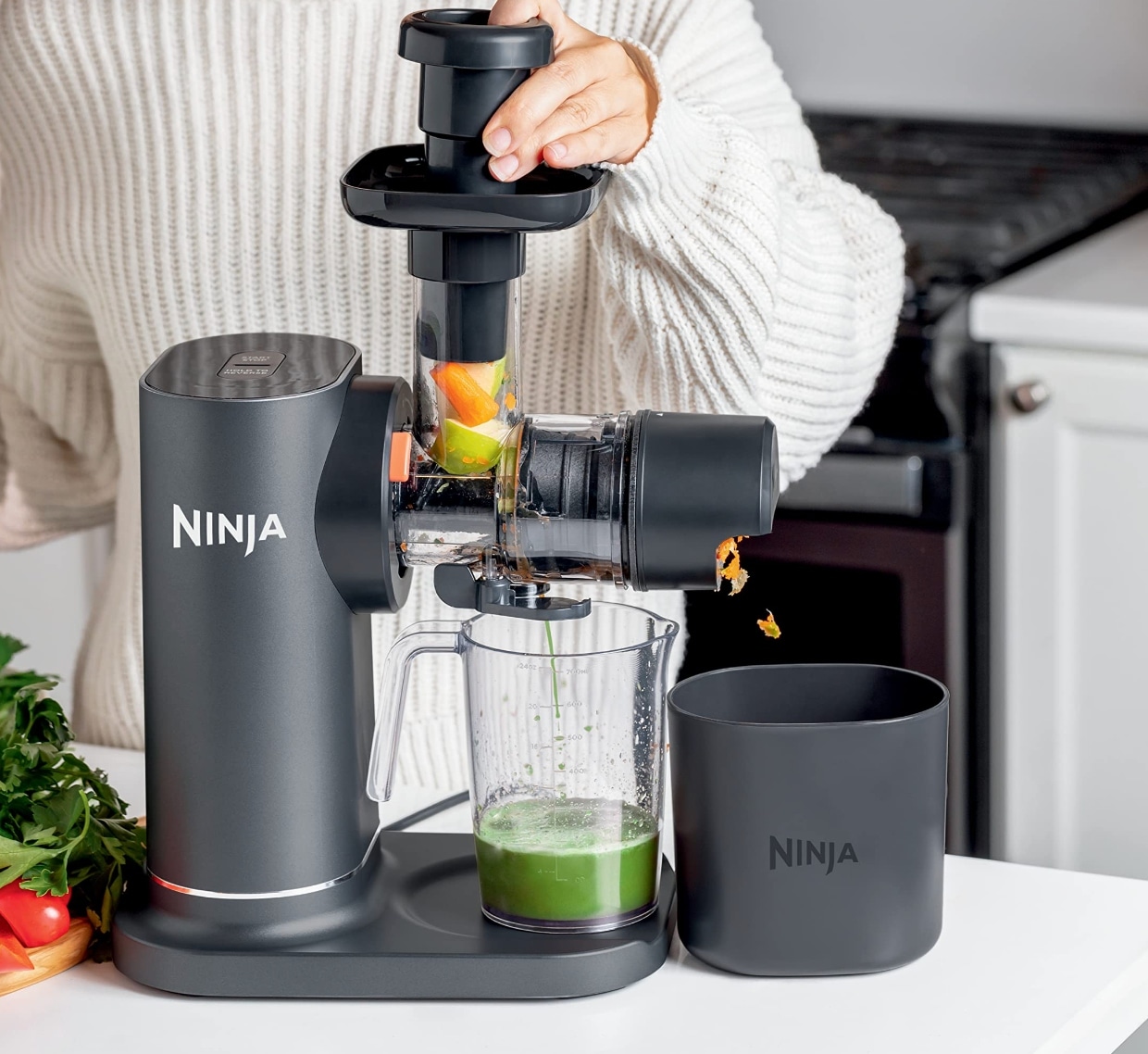 Ninja
4 Ninja NeverClog Cold Press Juicer
If you prefer to add smoothies, soups, and frozen desserts to your rotation, you might be best off with a multitasking option like the Vitamix or the Breville Bluicer. But if you're thinking you're happy just juicing every day, the NeverClog is a great, reliable, easy-to-use, and relatively affordable option. The clean-up is easy, too, as every part that the juice touches is dishwasher safe.
FIND IT HERE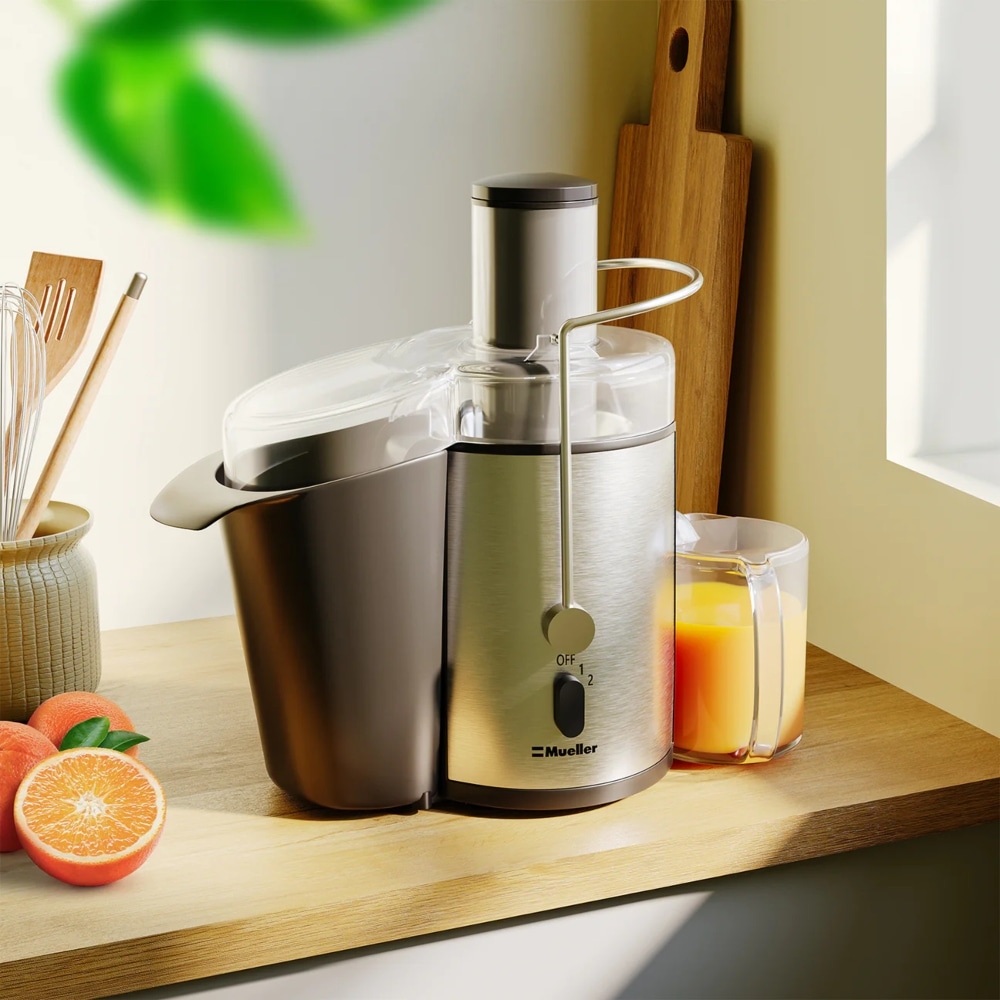 Mueller
5 Mueller Ultra-Power Juicer
This option from Mueller is slightly cheaper than the other options on this list, but it doesn't compromise on quality. With its stainless steel blades, it'll effectively blend and juice your fruit in no time. For harder foods like carrots, just make sure you select the high-speed setting.
FIND IT HERE
For more on vegan juices and smoothies, read:
Here at VegNews, we live and breathe the vegan lifestyle, and only recommend products we feel make our lives amazing. Occasionally, articles may include shopping links where we might earn a small commission. In no way does this effect the editorial integrity of VegNews.