Every June, the country celebrates Caribbean Heritage Month. In full transparency, when discussing how we should best recognize this celebration of culture, we decided this was not the time for a recipe roundup. We needed to ask the experts, and so we did. Food blogger and pop-up queen Denai "Dee" Moore of Dee's Table and Taymer Mason, food scientist and author of Caribbean Vegan, agreed to offer their perspective on Caribbean food traditions. We hope you enjoy diving into this rich history and learning more about (vegan) Caribbean cuisine.

@dees_table/Instagram
It's a region, not a country
For those of us relatively unfamiliar with the Caribbean, the name likely sparks ideas of a far-off vacation destination with sandy beaches—but can you point to it on a map? The Caribbean consists of the collection of islands that lie within the Caribbean Sea, which is located southeast of Florida and northeast of South America. There are approximately 7,000 islands, 13 countries, and over a dozen territories. All this is to say that while there are similarities, there are also differences between the island nations. Mason affirmed, "If you have no prior knowledge of the Caribbean, you would think it is one big place where everyone talks the same and eats the same kind of food. Each island is unique, and that should be respected. Eating Jamaican food—while it is Caribbean—for us in Barbados is like eating food from a totally different country."
A breakdown of the cuisine
Moore described the cuisine of the region as "a fusion cuisine," and Mason's detailed explanation supports that definition."Each island has different historical backgrounds," she began. "Islands that were colonized by France have more French-influenced dishes. In France, they do a lot of stuffing of vegetables like peppers and tomatoes and that gets Caribbeanized in the French West Indies. In Barbados, some African dishes show up like mashed or pounded yam—even Cou Cou (cornmeal-based okra polenta) has African roots. Immigration and ethnicity play an important part in the food culture as well. For instance, in Trinidad and Tobago, there are more people with an Indian background so there are more vegetarian and curry dishes. Caribbean cuisine is full of flavor and ultimately a melting pot of cultures like Indigenous, African, Asian, and even European."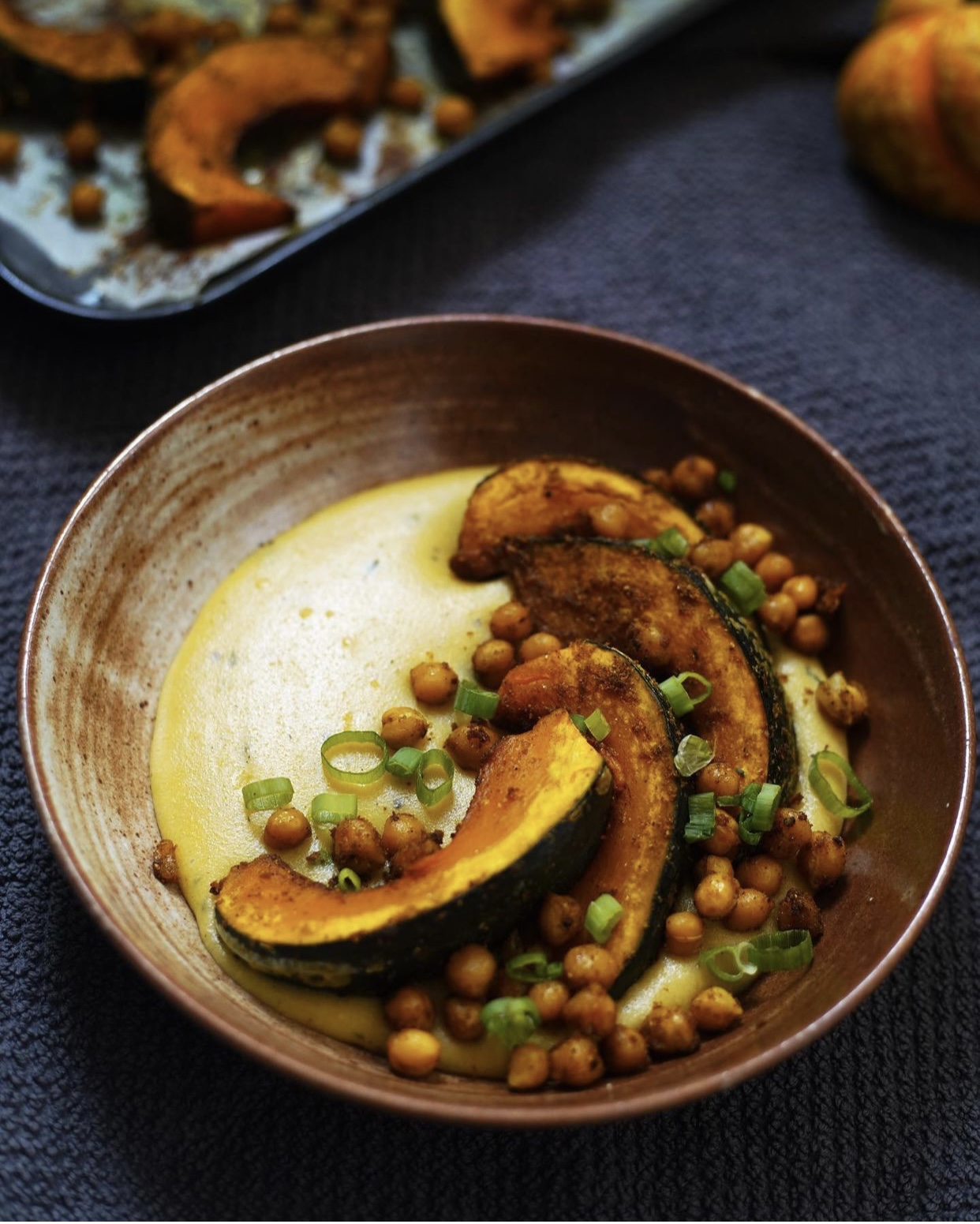 @dees_table/Instagram
A sampling of the food
What incredible dishes come from such an international mashup of influence? In Barbados, Mason said that British-style puddings are popular, along with a seemingly American baked macaroni and cheese called macaroni pie. She calls it "quintessential Caribbean" due to its distinct spices and flavors. Looking at the region as a whole, every nation seems to have its own version of a patty, though the Jamaican patties have traversed the seas and popped up worldwide. Moore added that plantains are a staple in her cooking, and specific ingredients such as Scotch Bonnets, scallions, thyme, nutmeg, and pimentos help her recreate the taste of Jamaica. Finally, Moore grew up eating rice and peas made with coconut milk. "A cultural thing is to make a big batch on Sunday and serve as a side [throughout the week]," she explained.
Fond food memories
Both Mason and Moore described early childhood food memories of fresh fruit. For Mason, her childhood in Barbados was marked with golden apples (referred to as plums in Jamaica) sprinkled with salt. "The salt helped to amplify the taste of the sweet fruit and it always made me long for more," she explained. She also looked back on her father's baking tradition during the holidays, when he would make coconut bread—a dense loaf with "almond and vanilla notes." When asked about her Jamaican upbringing, Moore cited days as a child anxiously waiting for mangos to ripen. It's a process of staying patient that she practices to this day.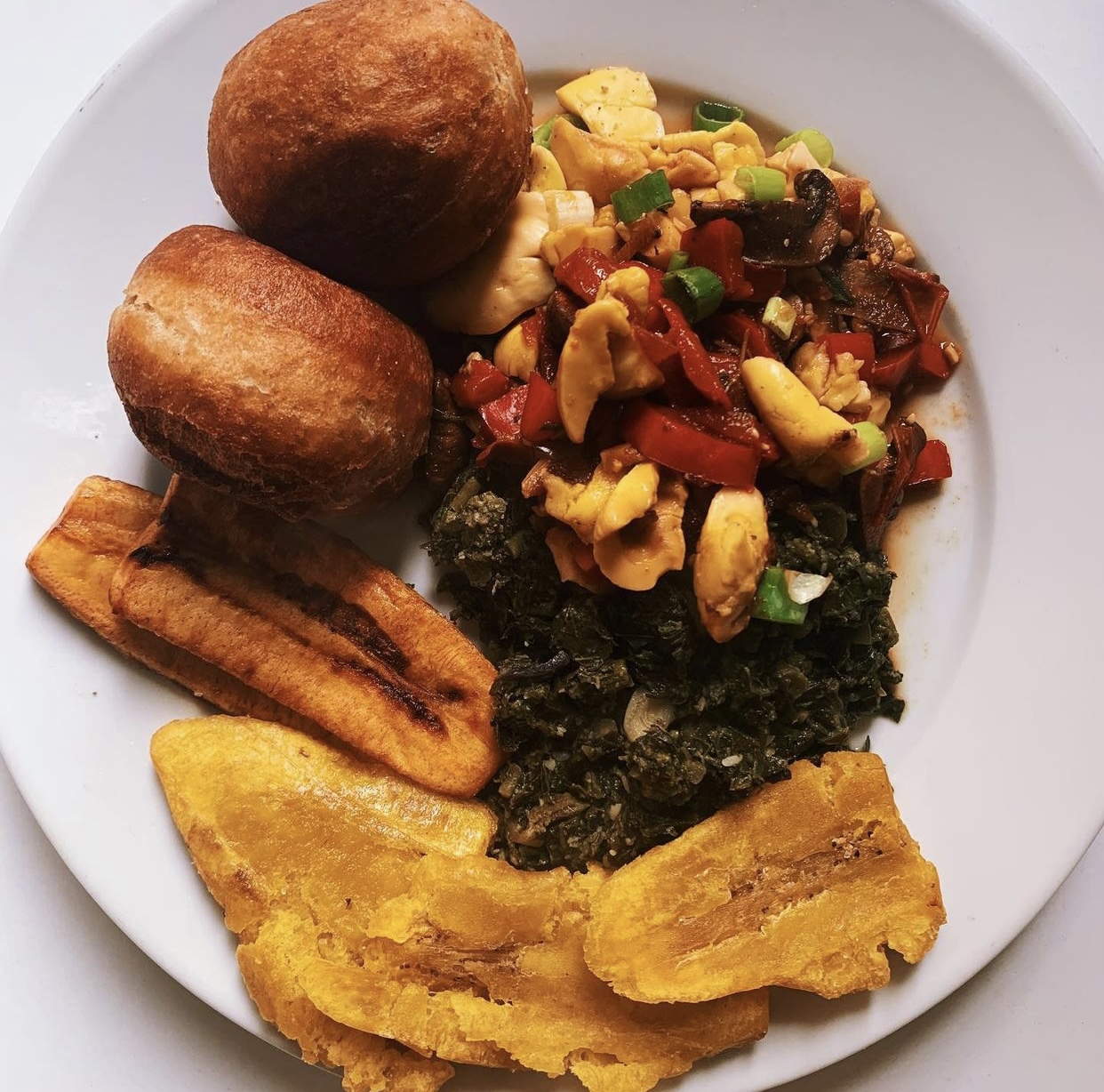 @dees_table/Instagram
Foods you need to eat now
We asked both women about their favorite foods, and we started salivating. Moore describes Stew Peas as her "favorite Jamaican dish of all time." She swaps the traditional salted pork for dried smoked mushrooms to veganize this "cozy and hearty" dish. On the sweet side, vegan rum raisin ice cream is her go-to. Mason cited the national dish of Barbados—Cou Cou and flying fish. She veganizes the dish by swapping the fish with soursop (a fruit that takes on the texture of fish when cooked). She also listed a St. Lucian fry bread made of flour, water, salt, and baking powder.
Assumptions you're probably wrong about
While there a few authentic vegan and vegan-friendly Caribbean restaurants in the US, the cuisine is still unrepresented and not well understood. Not all the food is spicy, and pineapple is far less popular than one may think. Also, jerk seasoning is uniquely Jamaican—it's not part of every Caribbean nation's food culture. Finally, it can be veganized. Just take a scroll through Moore's mouthwatering Instagram account, cook along with Mason on her Island Love Gourmet YouTube channel, or follow the Paratha Roti recipe in Caribbean Vegan. Caribbean cuisine is everyday cuisine. It's comforting, nutritious, and satisfying, and it deserves to be savored every month of the year.
For more vegan Caribbean food, read:
Fried Vegan Caribbean Jackfruit Fritters
Creamy Coconut Milk Jamaican Vegan Curry
NYC's Iconic Chain Golden Krust Debuts Beyond Beef Jamaican Patties