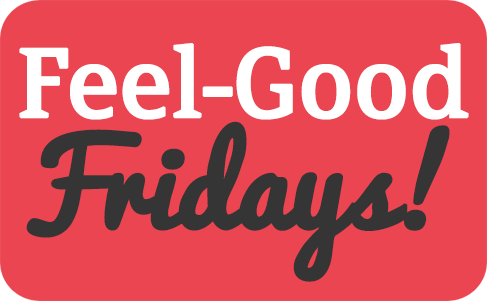 VegNews editors bring you this week's most heart-warming vegan stories.
December 25, 2015
---
Veganism got you feelin' good? Us too. In fact, the world is so full of great veg stories that we have a hard time keeping up with all this positive news. As such, every Friday we're collecting the most heart-warming, smile-inducing, thumbs-uppiest web posts of the week to start the weekend with a smile. Cute animal videos, tasty vegan dishes, restaurant openings, and cool travel stories … if it made us feel good we'll share it here every week.
Without further adieu, we give you this week's Feel-Good Friday lineup!
This week, Examiner went on a date at Crossroads—where they were treated to vegan chicken parmigiana with creamy ricotta and mozzarella— and loved it, Paste Magazine featured 20 vegani(ish) books that'll make great last minute gifts, acclaimed vegan fine-dining Vedge restaurant in Philadelphia skyrocketed the city onto Chicago Tribune's Top 10 Food Cities in America list, newly opened Singapore-to-San Francisco transplant VeganBurg continues to get great press—this time from Tech Insider which says the burger joint is like "McDonald's for vegans"—and Food & Wine Magazine says vegans deserve an amazing Christmas too (thanks!) and offers recipes for Mashed Winter Squash with Indian Spices, Mixed Mushroom Ragout, and Vegan Chocolate Cupcakes with Chocolate Frosting. Speaking of Christmas, Aaron Bruno of AWOLNATION fame—Sail!—will be putting out raw vegan oatmeal cookies for Santa this year, the Los Angeles Times is chugging mugs of hot vegan avocado-based eggnog from Gracias Madre, and vegan chef Ashraf Khalil of iCafe is donating his culinary know-how to feed the homeless in Pottstown, PA during the holidays.
In news, vegan shoe brand Olsenhaus released a limited edition collection of Star Wars-printed shoes, comedian Aziz Anzari went on a rant about his frustrations with the meat industry, and celebrity tattoo artist Kat Von D donated $50,000 to animal-activist group Mercy for Animals. Perhaps the biggest news was that the much-anticipated announcement of NYC's beloved Cinnamon Snail food truck finally landing a brick-and-mortar spot, at the new Pennsy Market near Penn Station nonetheless!
Lastly, may your holidays be as joyous as this adorable baby armadillo playing with his toy!
It feels awfully good to be vegan!