Let's be honest: prunes aren't the most glamorous fruit. But, while you may associate them with your grandma's kitchen, they do have many health benefits. And they can be quite tasty, especially if you prepare them the right way. Here, we've gathered a few flavorful vegan recipes with prunes. But first: what actually are they? And why are they good for you?
What are prunes?
Prunes are actually a specific variety of dried plums. They are usually made from La Petite d'Agen plums, which, as the name suggests, originated in France, but were brought to California in the 1800s.
"This heritage variety produces medium-sized, blue to purple oval fruits with a shallow suture. You'll notice a heavy bloom on the skin," notes online plant nursery Nature Hills. It adds that these plums are turned into prunes because they contain enough natural sugar to dry in the sun without fermenting.
Are prunes good for you?
Like plums, prunes contain a lot of nutrients. In fact, eating just three can count towards your Five A Day. As well as fiber, they contain carbohydrates, vitamin K, vitamin A, B vitamins, and antioxidants.
Prunes are associated with a reduction in constipation, which is largely due to their fiber content, but also because they contain a sugar alcohol called sorbitol, which may have a natural laxative effect on the body.
"Eating prunes has been shown to be more effective at treating constipation than many other types of laxatives, such as psyllium, which is a type of fiber often used for constipation relief," notes Brianna Elliott, RD, for Healthline.
Research suggests that prunes may also help to lower blood sugar, improve bone health, and benefit heart health.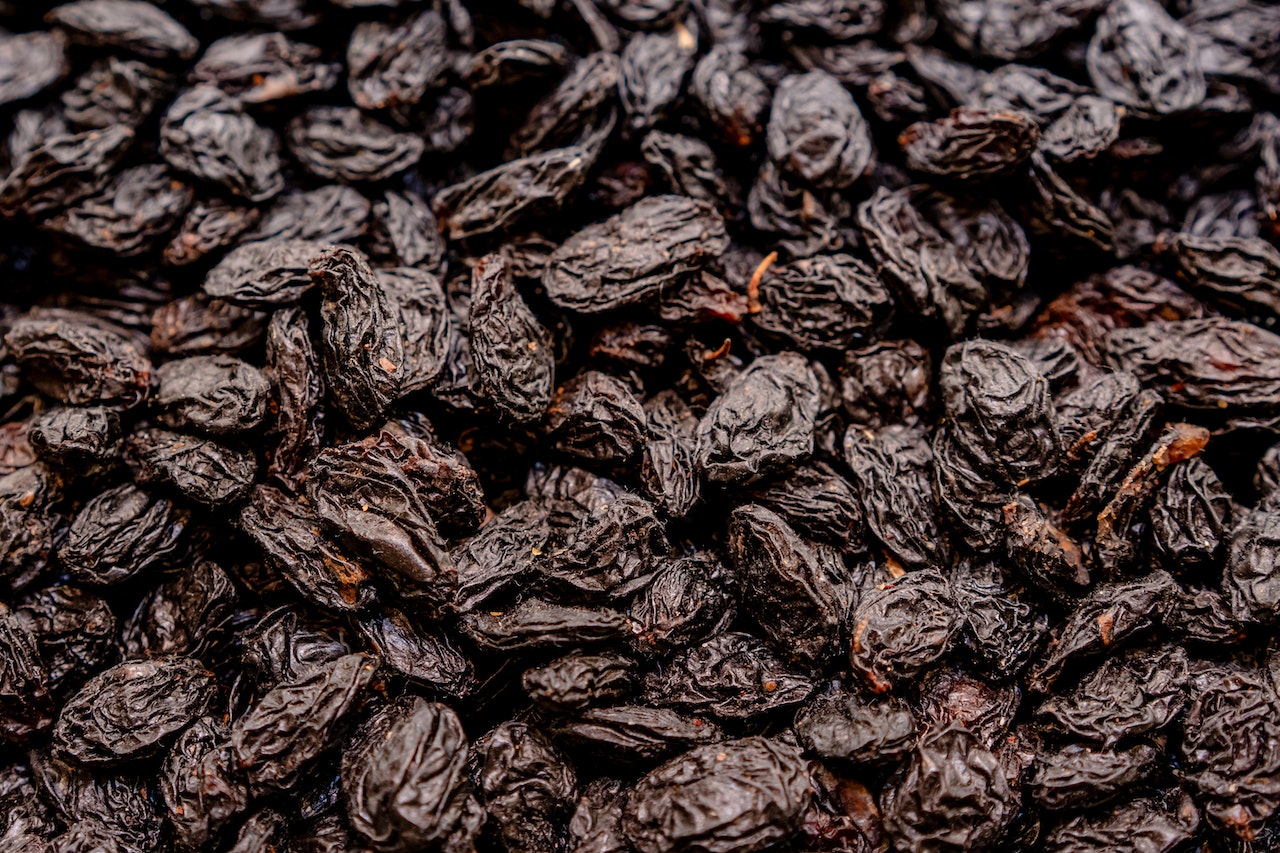 Pexels
Where to buy prunes
Most grocery stores stock prunes in a few different formats. For example, Safeway offers bite-size pitted prunes from Sunsweet, as well as prune juices and baby food. Sprouts also offers organic own-brand pitted prunes, as well as pitted prunes from Bulk Foods. Other prune brands commonly found on grocery store shelves include Mariani, St. Dalfour, and Made In Nature.
How do you cook with prunes?
Prunes are easy to eat because they can be consumed straight from the packet or the jar. But that said, they also taste delicious in smoothies and juices. You can also add them to salads, bake them into sweet treats or energy bars, or mix them with granola and oatmeal and enjoy them as part of a nutritious vegan breakfast. For more ideas, check out the tasty plant-based recipes below.
7 vegan recipes with prunes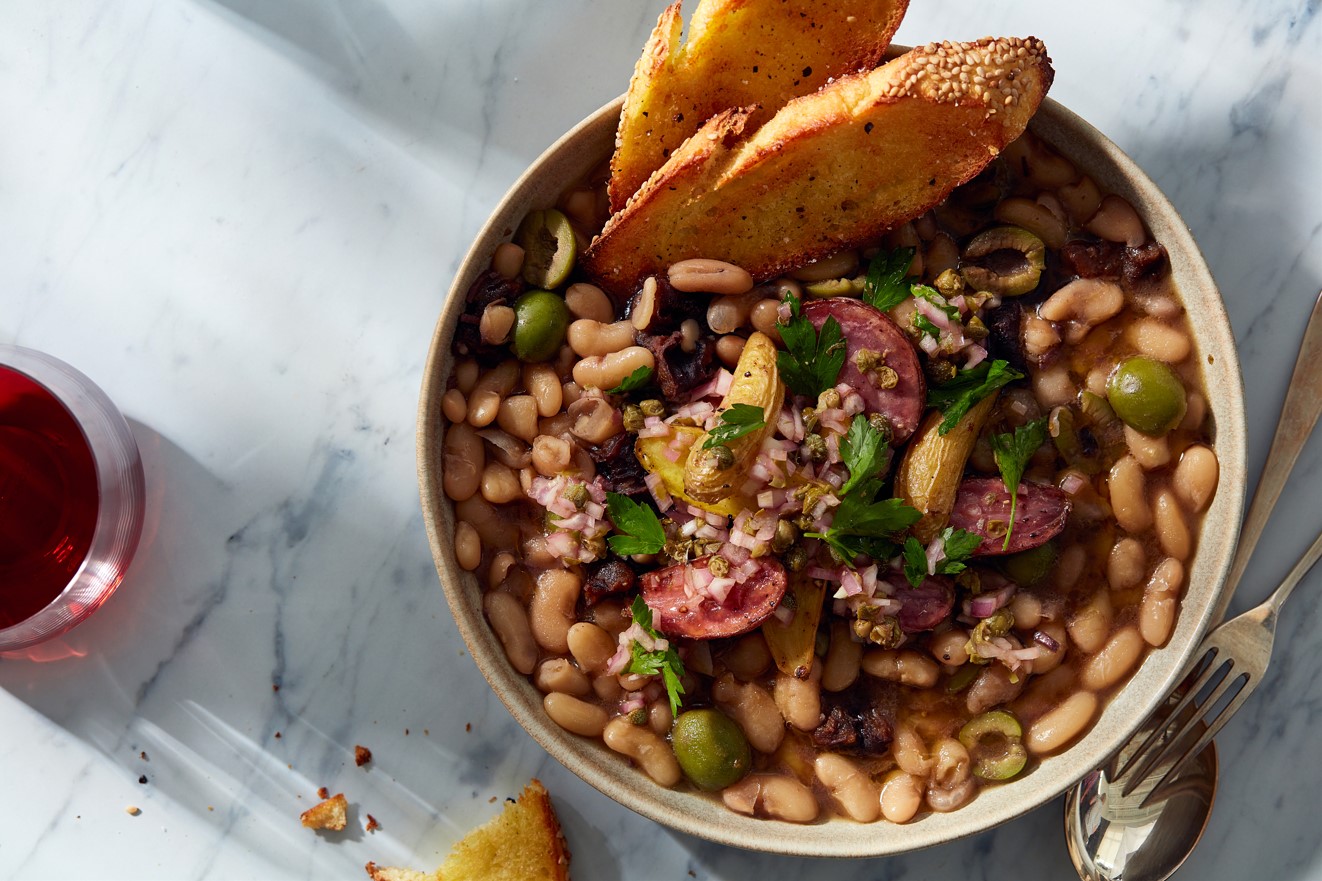 1 Beans Marbella With Salty Roasted Potatoes
Sweet prunes, tangy vinegar, salty potatoes, and tender beans combine to make a flavor-packed, delicious, chicken-free Marbella dish. It's so good, that it's guaranteed to become one of your new go-to dishes.
Get the recipe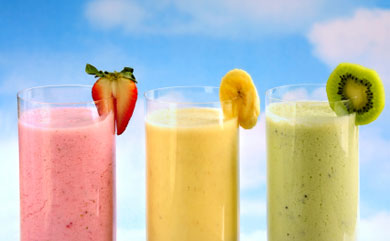 2 Patricia Bragg's Morning Smoothie
A good dose of nutrients is a great way to start the day, especially if they're all blended together in a tasty smoothie. Sweeten with prunes, and add in all of your favorite fruits with vegan yogurt or milk to get that deliciously creamy consistency.
Get the recipe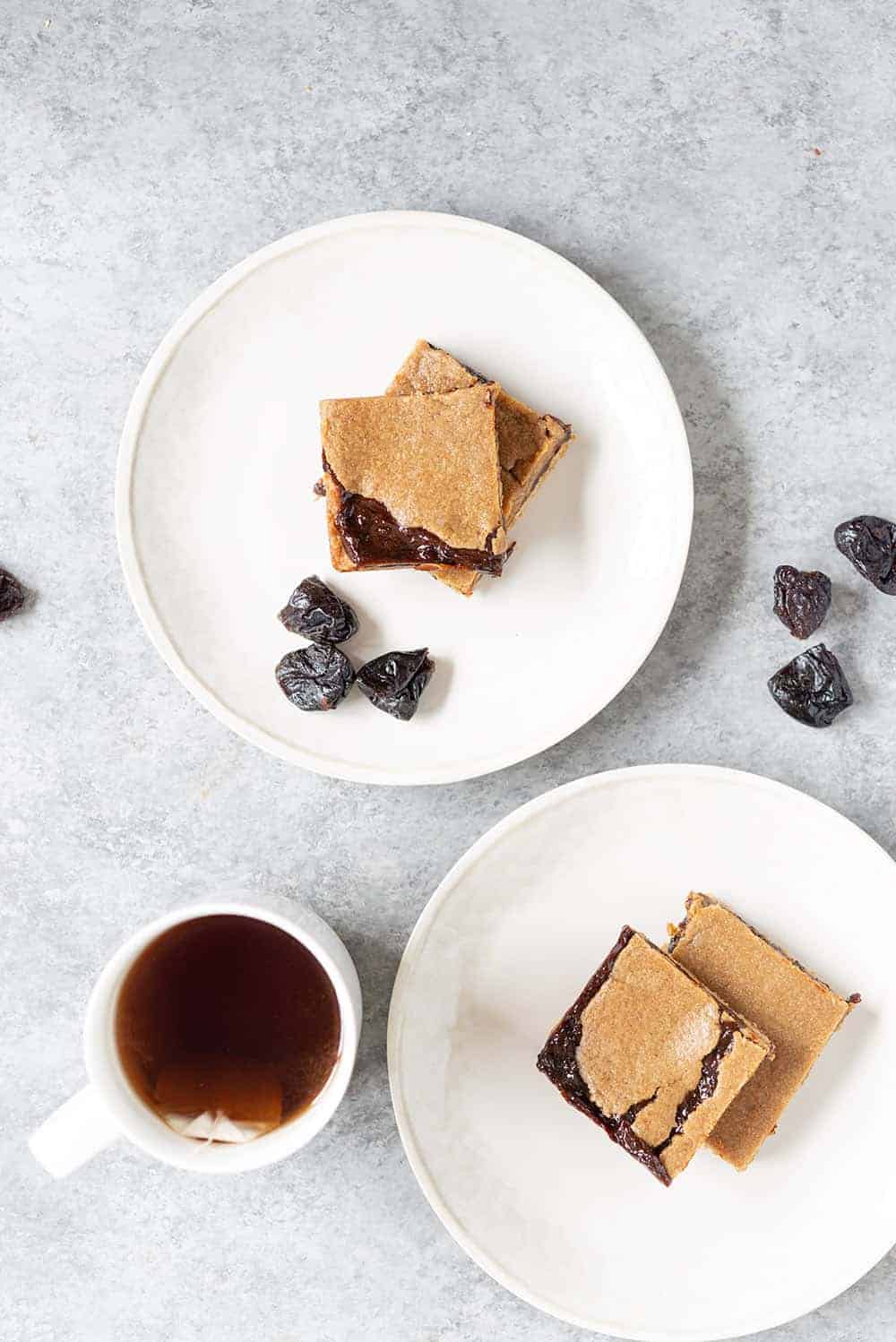 Delish Knowledge
3 Homemade Prune Bars
If you're looking for a way to make prunes fun and kid-friendly, you've found it. These homemade prune bars are sweet, nutrient-dense, and to be honest, pretty addictive. Once you've made a batch, your little ones will be asking for more.
Get the recipe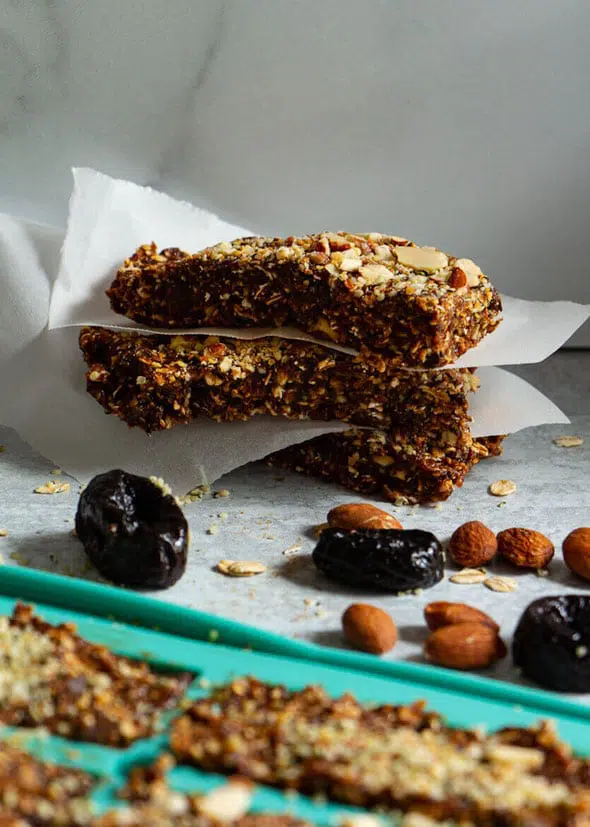 Plant Based With Amy
4 Prune Energy Bars
Sometimes, you need a little tasty burst of energy to get you through the day. And that's where these prune energy bars come in. They're not only vegan, but also gluten-free, low in sugar, and the best part: really tasty.
Get the recipe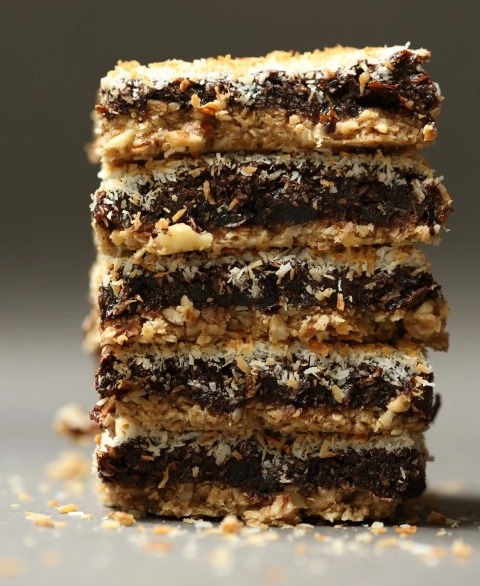 My Goodness Kitchen
5 Chocolate Prune Slice
Chocolate and prunes is already a great mix, but it gets even better when you add oats, almonds, cinnamon, desiccated coconut, and maple syrup into the equation. These slices are easy to make and easy to finish in a flash.
Get the recipe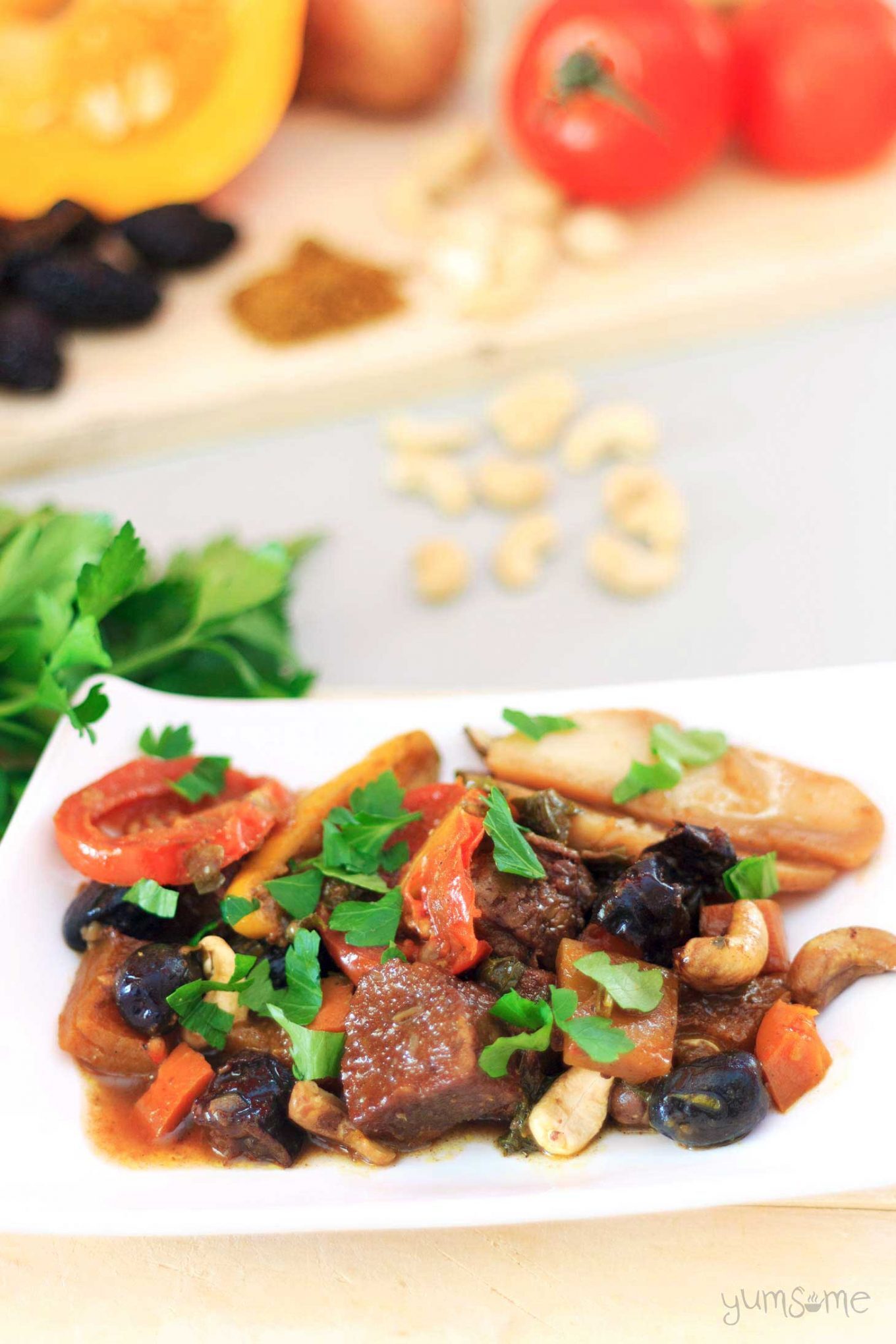 Yumsome
6 Seitan and Prune Tagine
For those who like to keep things savory, this Morrocan-inspired tagine is simple, flavorful, hearty, and guaranteed to keep you feeling fuller for longer. Throw in some seitan chunks for added texture and protein.
Get the recipe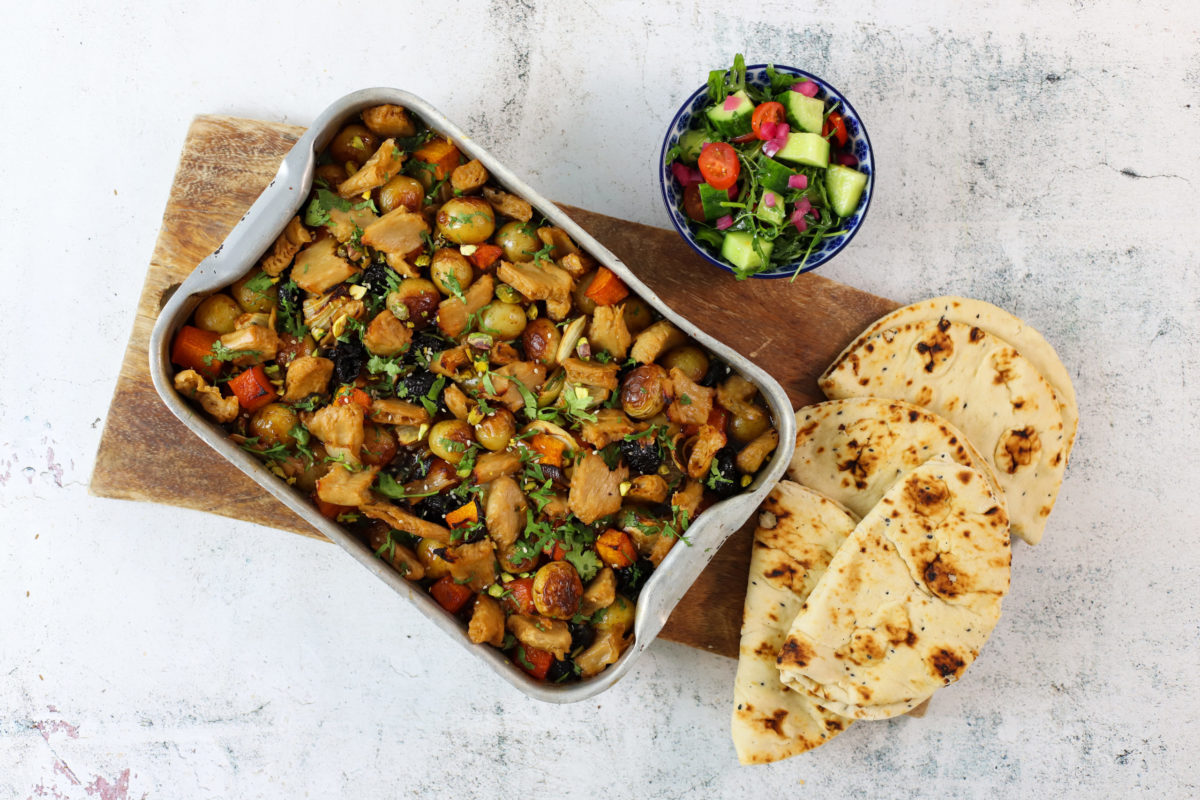 Veganuary
7 Vegan Persian Chicken With Potatoes, Prunes, and Pumpkin
When it's dark and cold outside, you can't beat a nourishing, vegetable-packed tray back to warm up your insides. There are a couple of ingredients that make this particular dish stand out. The first is vegan chicken from The Vegetarian Butcher and the second? It's prunes, of course.
Get the recipe
For more on vegan ingredients, read:
Here at VegNews, we live and breathe the vegan lifestyle, and only recommend products we feel make our lives amazing. Occasionally, articles may include shopping links where we might earn a small commission. In no way does this effect the editorial integrity of VegNews.