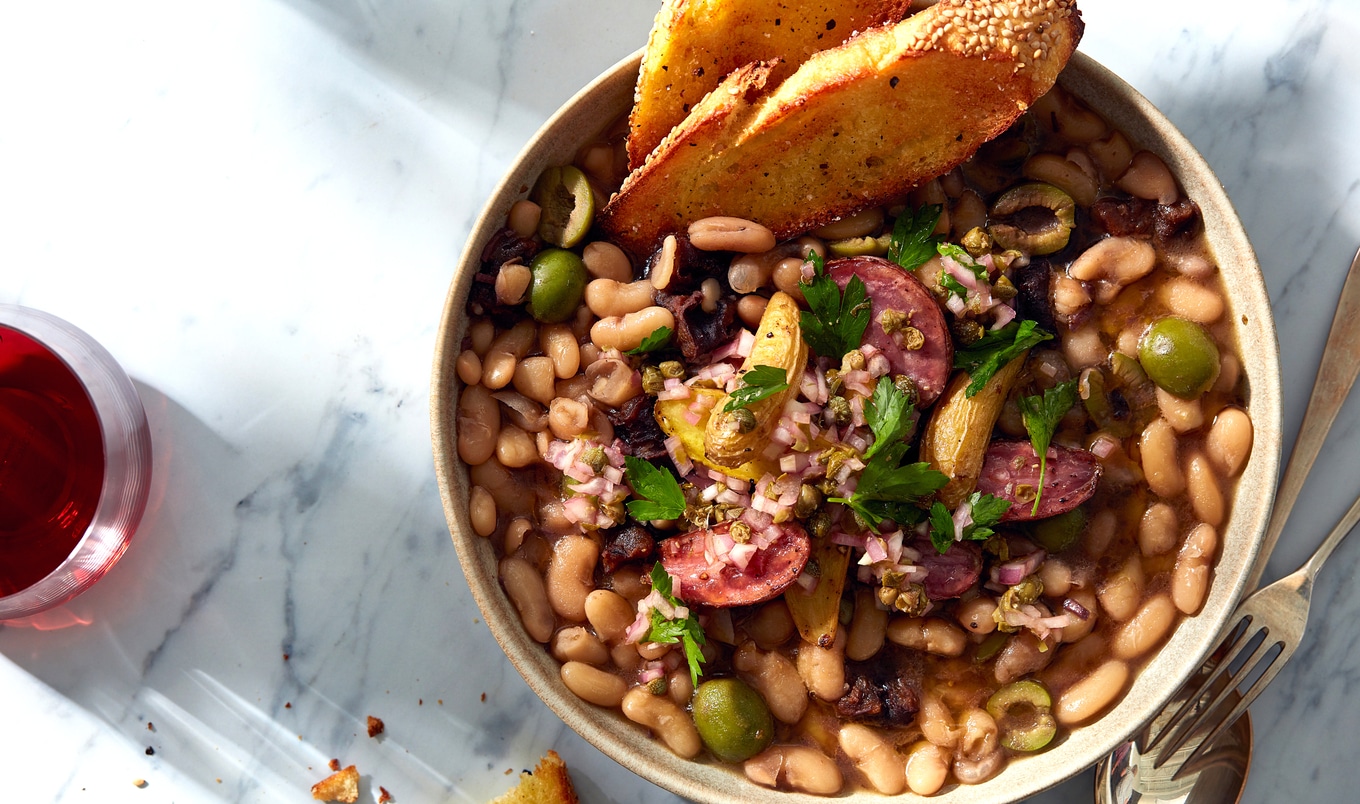 The tangy, briny sharpness of vinegar, capers, and olives set against the sweetness of prunes creates a backdrop of big flavor for the tender beans and potatoes in this recipe.
April 17, 2023
This plant-based take on chicken marbella by New York Times' The Veggie writer Tejal Rao and NYT Cooking Senior Staff Editor Alexa Weibel swaps a pot of thin-skinned, creamy beans and its rich cooking liquid for the protein. Add in fried garlic and reduced red wine with plenty of olive oil, prunes, and olives, and a simple roasted potato salad dressed with vinegar-soaked shallots, capers, and parsley—and you've got one luxuriously delicious dinner.
What you need:
For the beans:
1 pound dried beans (preferably cannellini or great Northern beans), rinsed
½ cup plus 2 tablespoons olive oil, divided, plus more for finishing
3 fresh or dried bay leaves
1 teaspoon dried oregano
1 teaspoon kosher salt
Freshly ground pepper
4 garlic cloves, chopped
1 cup dry red wine
½ cup halved Castelvetrano olives
½ cup roughly chopped prunes
For the potatoes:
1 pound fingerling potatoes, halved lengthwise
2 tablespoons olive oil
1 teaspoon kosher salt
½ teaspoon black pepper
1 large shallot, minced
1 teaspoon red wine vinegar
2 tablespoons chopped capers
Torn fresh parsley leaves and tender stems
What you do:
For the beans, into a large, heavy pot, add beans and cover with enough water to generously immerse (about 12 cups). Add ¼ cup olive oil, bay leaves, oregano, and salt, then bring to a boil over high heat. Once boiling, reduce heat to medium-low and simmer, stirring occasionally, until beans are very tender, 1½ to 2 hours. Add extra water as needed to keep beans immersed.
For the potatoes, preheat oven to 375 degrees. On a large sheet pan, toss potatoes with olive oil, ½ teaspoon salt, and ¼ teaspoon pepper, and toss to coat. Roast, stirring once about halfway through, until potatoes are golden-brown and tender, about 30 minutes. Set aside.
In a large, deep skillet, heat 2 tablespoons olive oil over medium heat. Add garlic and sauté until soft and fragrant. As soon as edges of garlic start to color, add red wine and simmer until wine is reduced by half, 5 to 10 minutes.
Using a slotted spoon, transfer cooked beans to skillet, then add about 2 cups of beans' cooking liquid, just enough to mostly cover beans. Add olives, prunes, and remaining ¼ cup olive oil, and simmer over medium heat, stirring occasionally, until liquid thickens slightly to form a sauce, 10 to 15 minutes.
In a medium bowl, combine minced shallot with red wine vinegar. Add potatoes, capers, and parsley, and toss to coat. Stir in remaining ½ teaspoon salt and ¼ teaspoon pepper. Tip potatoes on top of beans, drizzle with olive oil, and serve.