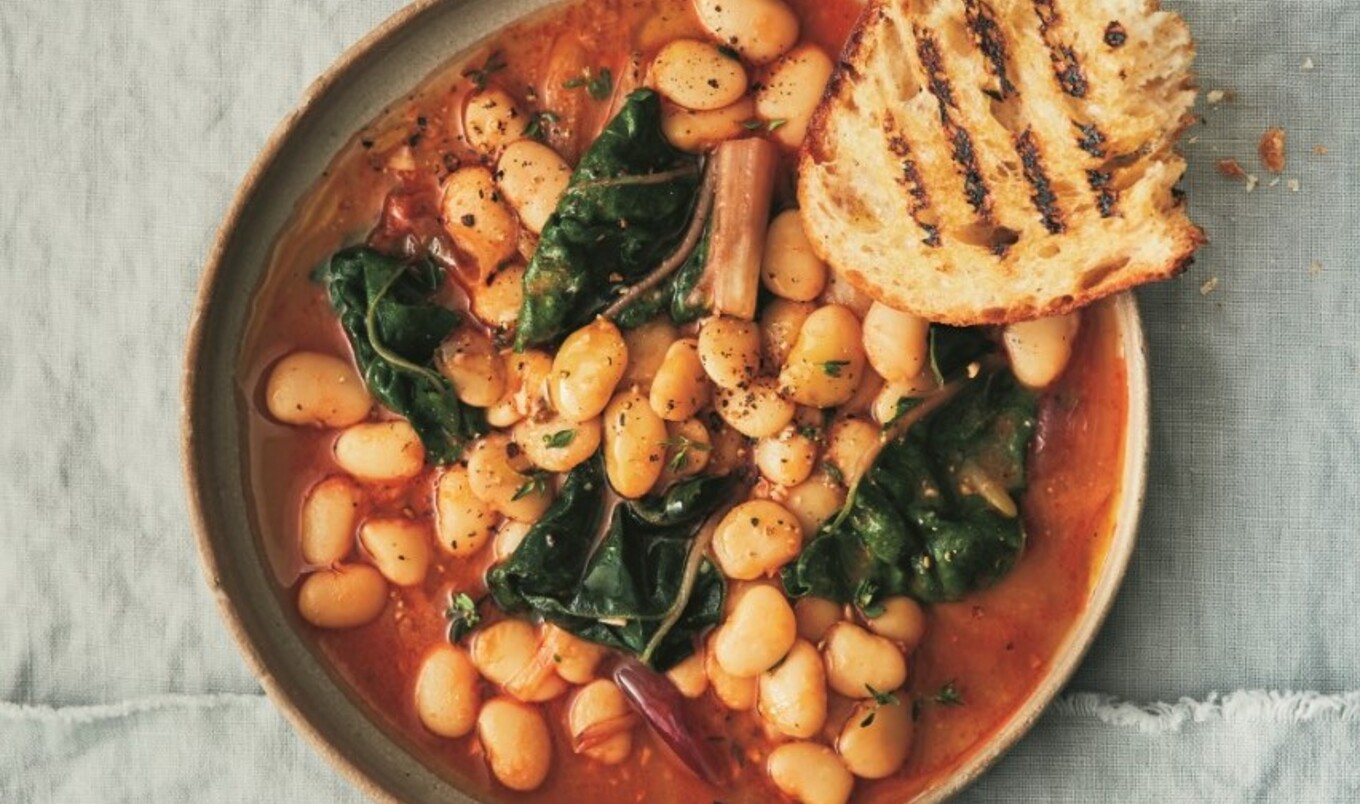 It's hard to beat home-cooked beans, but sometimes you don't have hours to spend cooking. This recipe's got your back.
November 23, 2022
This dish from the Evergreen Cookbook infuses canned beans with heaps of flavor, in a fraction of the time. In addition to the usual suspects—shallots, garlic, and herbs—tomato paste and miso add extra depth of flavor. It's an impressive level-up for canned beans!
What you need:
¼ cup olive oil, more for garnish
1 tablespoon tomato paste
2 large shallots, thinly sliced (about 1 cup)
5 garlic cloves, minced
1 tablespoon fresh thyme
2 cups vegetable broth
¼ teaspoon fine salt
½ teaspoon black pepper
2 (14-ounce) cans butter or cannellini beans, drained and rinsed
1 tablespoon white miso
3 cups packed chopped Swiss chard, spinach, or lacinato kale
Lemon wedges, for serving
Grilled crusty bread or focaccia, for serving
What you do:
In a large Dutch oven or pot over medium heat, warm oil. Add tomato paste and shallots and cook, stirring frequently, until shallots are soft and tomato paste has darkened, about 5 minutes. Add garlic and thyme and cook, stirring continuously, until fragrant, about 1 minute.
Add broth, salt, and pepper. Cover with a lid and bring to a boil. Once boiling, reduce heat to medium-low and simmer for 5 minutes to let the flavors meld.
Add beans and gently stir to mix. Cover with a lid and cook over medium-low heat until beans are warmed through, about 10 minutes. Stir in miso until fully dissolved. Stir in Swiss chard.
Serve beans hot with lemon on side and bread for dipping.