The link between palm oil and deforestation has been well-documented in recent years. The oil—which is used in everything from food to beauty products—has been linked with the destruction of some of the world's most biodiverse forests, which are also home to many endangered species. But it's not the only product that comes from palm trees.
Hearts of palm has been eaten for centuries across South America, Central America, and Southeast Asia, but lately the ingredient—which, as the name suggests, is sourced from the middle of palm trees—has started to rise in popularity across the West. This is, in part, because it's a very convincing seafood alternative, thanks to its mild taste and slightly firm, flaky texture.
But considering the issues associated with palm tree cultivation, is it ethical to eat hearts of palm? It turns out, it depends on a few factors, including how it's sourced. Here's what you need to know.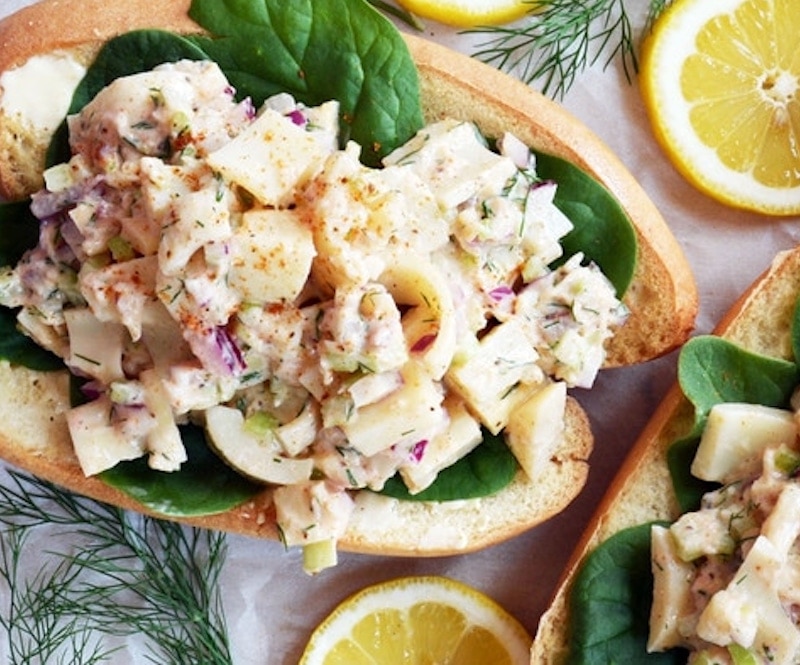 Ilene Godofsky Moreno
What are hearts of palm?
Hearts of palm are taken from the tender, inner core of several palm tree species. After they have been harvested, they are usually cut into small chunks and packed into cans and jars, often with brine. While they can be used to make vegan seafood, like lobster, scampi, and crab, they are also frequently added to stews, salads, and tacos, too.
In Mexico, they're often marinated and eaten with lime juice and powdered pepper as an appetizer, according to the recipe blog Mexico In My Kitchen. And in Colombia, they're a key ingredient in palmitos gratinados, which is basically hearts of palm loaded with heavy cream and cheese.
The market for hearts of palm is steadily growing. According to market research firm The Insight Partners, this is due to the changing lifestyles of many consumers, who are looking for healthy and nutritious plant-based foods.
"[Hearts of palm] is highly nutritious, as well as an important source of dietary fiber," notes the firm. "It is also a rich source of zinc, which helps in the quick recovery of wounds. The vegetable also consists of vitamins A and K, which are required for a healthy scalp and hair. Thus, all these health benefits have increased the demand for [the] packaged hearts of palm market."
How are hearts of palm harvested?
While plant-based foods are, on the whole, more sustainable than animal products, they are not always perfect. Hearts of palm has been linked with environmental damage, but it's important not to conflate the ingredient with palm oil. It is possible to harvest hearts of palm in a sustainable way, but producers must pay attention to several factors, one of the most important elements being the species of palm tree they are using.
According to the research-based sustainability platform Citizen Sustainable, hearts of palm can be sourced from peach palms or acai palms, both of which have several stalks, or jucara palms, coconut palms, and sabal palms, all of which just have one single stalk. If hearts of palm is taken from a tree with several stalks using responsible harvesting practices, they can be sourced without killing the tree and the tree can be left to regenerate. If the ingredient is sourced from a palm tree with just one stalk, this will kill the tree.
"Although there are regulations in place in many regions to protect the palm populations, some countries, like Brazil, have a history of illegal palm harvesting," the platform notes.
But, according to the chef, food stylist, and author Mariana Velasquez, who grew up eating hearts of palm in Colombia, in Putumayo, Southern Colombia, the government has actually used hearts of palm cultivation to incentivize people to move away from illegal activities associated with coca crops (coca leaves are the raw material for making cocaine). "[It's] part of a government strategy to give communities a safe, sustainable, and profitable livelihood," she writes for Saveur.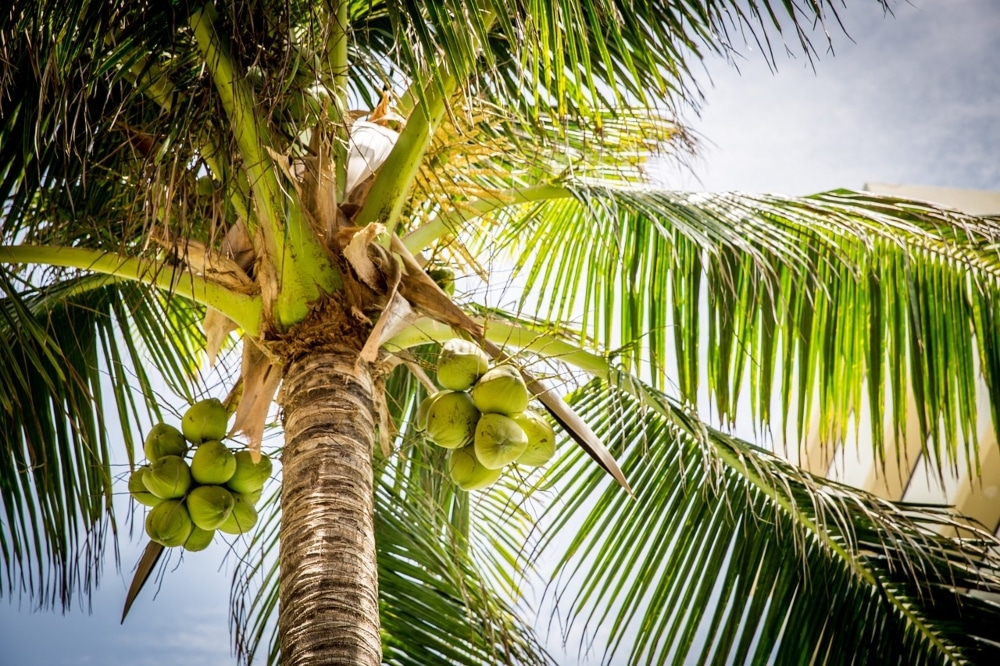 Pixabay
Is it ethical to eat hearts of palm?
Whether it's ethical or not to eat hearts of palm depends largely on where it comes from. For example, Velasquez notes that there are farms that have openly committed to sustainable harvesting techniques, like Puna Gardens in Hawaii.
And Edward & Sons Trading Co, an organic, vegetarian food supplier based in California, which produces Native Forest Organic Hearts of Palm, relies on mission-driven projects to source its main ingredient and, at the same time, "support social welfare while conserving pristine rainforest ecology." The brand's lead partner, Edgar Montenegro, even received the 2018 Oslo Business for Peace Award for his work in using food production to help build sustainable communities in several locations across Colombia, including Putumayo.
"Montenegro works closely with local Afro-Colombian communities and indigenous people, providing jobs for over 240 households, impacting over 1,300 families, and helping marginalized groups become more resilient," notes Edward & Sons. "We are proud that the Native Forest Organic Hearts of Palm project contributes to the success of his mission."
The brand isn't alone. In Belgium, Oxfam Fair Trade sources its hearts of palm from San Martín, Peru, through a cooperative that empowers farmers to move away from coca, and instead cultivate palm sustainably. According to Oxfam, the cooperative, called Apropal, currently benefits 350 farming families and is one of Peru's biggest hearts of palm exporters.
The bottom line is, when it comes to ethical hearts of palm consumption, it's important to pay attention to where your food is coming from. Before you buy, first, do your research into where it came from, and which trees were used to produce it. If it's sustainable, the truth is, you shouldn't have to look too hard—most brands and producers that are doing the right thing will make sure this information is easily accessible to you. It takes a little bit of extra time and effort, but this way, you know your next delicious vegan dish isn't damaging the environment.
For more on vegan ingredients, read: