Watching the events unfold in Ukraine on the nightly news can put you in a helpless state of mind. We've all watched the bleak situation go from bad to worse, knowing that millions of people and animals on the other side of the world have been killed, displaced from their homes, or separated from their loved ones. As disheartening as it is, there are ways to help, perhaps not on a mass scale, but on an individual level. Both non- and for-profit organizations have stepped up to make the lives of those affected by the crisis in Ukraine a bit more bearable—even hopeful. From animal rescue efforts to plant-based food donations, here are just a few of the heroes stepping up to make an impact for good.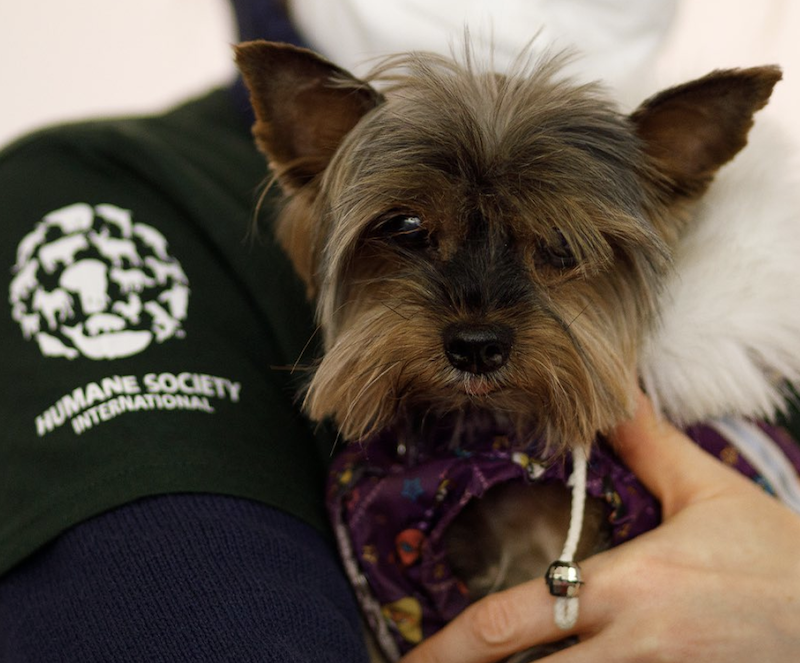 Humane Society International
Animal rescue
When faced with the impossible decision between personal safety and abandoning a companion animal, Ukrainians have demonstrated an unequivocal love for their pets. We've all heard the stories of refugees walking miles upon miles carrying their animals the entire way to the border. Of course, we cannot judge those who make the hard choice to leave their animals behind. Either option has its consequences, but thankfully, non-profit organizations have mobilized to help those who left with their animals and those animals who were left behind.
People for the Ethical Treatment of Animals (PETA) Germany quickly organized early on in the conflict, welcoming Ukrainian crowds at the Polish border with pet food, veterinary services, and other necessities to tend to companion animals. The organization at large is also constantly working to provide supplies to overrun animal shelters within the attacked country. To lessen the burden of choice for Ukrainian refugees, PETA fought hard to encourage neighboring European countries to temporarily suspend their requirements for animals traveling internationally. PETA representatives argued, "The current regulations for bringing companion animals into the EU and the UK are impossible for refugees to follow in a state of war." Over a dozen EU nations have acquiesced. Beginning in mid-March, PETA Germany advanced its rescue efforts by working with Ukrainian shelters to transfer hundreds of animals out of the country. Many of these animals came from bombed areas in Kyiv and other at-risk regions.
Inside Ukraine, the International Fund for Animal Welfare (IFAW) is focused on transferring funds and support to animal shelters in need. Not only are the shelters overcrowded with animals, but many have also sustained damage from bombings. The nonprofit is working closely with shelter staff to provide what they need in this stressful and dangerous situation. Like PETA, the IFAW is also providing necessities to veterinary centers stationed at the Polish border. These centers process an average of 500 to 600 animals per day, according to IFAW. Aga, a veterinarian at one of these reception points, explained in an Instagram reel, "I'm vaccinating and microchipping the animals coming from Ukraine. We are very grateful for your generosity. These animals, very often they haven't eaten or drank for two, three days because very often, these people leave their homes with nothing." The simple gift of an animal carrier or a tin of pet food makes a world of difference to Ukrainian refugees—humans and animals included.
Countless other international and Ukrainian-based animal nonprofits are also assisting by way of caring for animals inside the country and those who made it out. These include Humane Society International, UA Animals, and Kyiv Animal rescue, among many others. All are accepting monetary donations to fund their necessary work.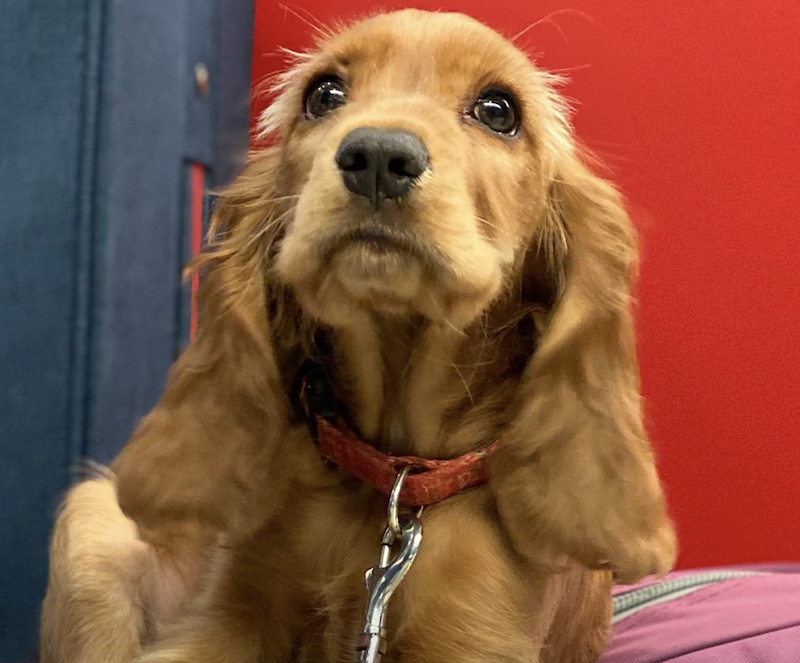 Humane Society International
Lifestyle brands
In addition to animal rescue organizations and the food industry, a plethora of vegan lifestyle and beauty brands have pledged their support to Ukrainian relief organizations. Again, by purchasing from these socially responsible brands, your dollar is going farther. Makeup and skincare brand e.l.f. Cosmetics made a large donation to UNICEF as a company and pledged to match its employee donations to other nonprofits. Further, the brand implemented a donate button at checkout for all online shoppers to contribute a few dollars as they stock up on their vegan beauty essentials. The Body Shop also made a company donation to Children on Edge while simultaneously providing a literal truckload of its own hygiene products to Romania where partner organizations could distribute the supplies to Ukrainian refugees. Online customers can donate to this cause on the brand's website as well. Vegan-friendly, Nordic skincare and fragrance company Skandinavisk donated two percent of its February sales to Ukrainian relief efforts and is now donating 100 percent of proceeds from the sales of it blue OY and yellow LYKKE fragrances. "The decades of stability in Europe are no longer and we, like many businesses and private individuals around the world, feel compelled to do our bit to help Ukrainian people defend themselves and receive the humanitarian aid they desperately need … Make no mistake, we are not encouraging you to spend more with us, you'd be better off donating directly, too. But if you need to replenish your Scandinavian collection at home, we are encouraging you to choose ØY or LYKKE this time around," the brand captioned this announcement.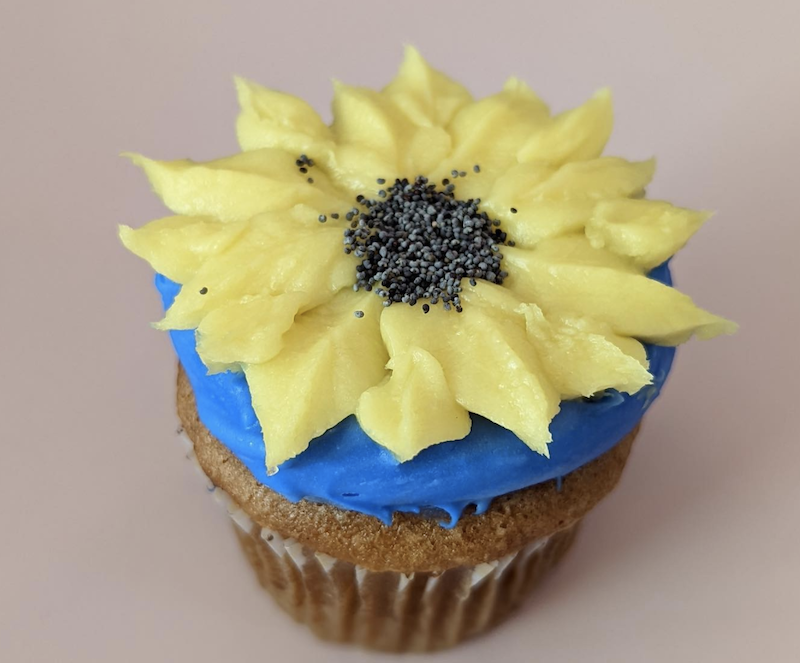 Erin Mckenna's Bakery
Vegan food donations
Restaurants around the world are also leveraging their business to support relief efforts in Ukraine. In early March, UK food producer Finnebrogue first made headlines by pleading to donate 50 percent of its packaged, vegan Better Naked Garlic Chicken Kyiv to UNICEF and Red Cross efforts helping families in Ukraine. Independently owned vegan restaurants across the US have initiated similar efforts, donating a portion of the proceeds from a dedicated menu item to humanitarian relief organizations abroad. Just a few that came across our radar include Veggie Galaxy in Cambridge, MA; Eden-A Vegan Cafe in Scranton, PA; Apteka in Pittsburgh, PA: and SoCo Vedge in Narragansett, RI. By purchasing these menu items and supporting these restaurants, you can help support those working for good.
On the sweet side, US-based Bakers Against Racism has shifted its focus to assist the crisis at large. This national nonprofit mobilizes bakers—both professional and amateur—across the country to host bake sales to benefit a specified need. While not exclusively vegan, many vegan bakeries have participated, such as Pie Pie My Darling in Chicago, IL. Others have chosen to donate to specific charities. Bi-coastal, allergen-friendly Erin Mckenna's Bakery whipped up a cupcake marked with a yellow and blue buttercream sunflower to raise funds for Heart to Heart International. Lincoln, NE-based Golden Rod Bakery debuted a yellow-and-blue vegan macaron to donate proceeds to chef Jose Andres' World Central Kitchen. "All refugees and victims of senseless war are on our mind and we feel so helpless as we live our daily lives here. But today, as a small gesture, we are starting a fundraiser that will go directly to [World Central Kitchen]. Food is one thing that can unite us," the bakery wrote.
It is impossible to capture all of the selfless efforts raised by vegan restaurants, nonprofits, and other brands in support of the Ukrainian crisis. In this case, social media has served as a positive tool to spread awareness about these initiatives across the country. Take a break from the news and follow your favorite plant-based brands and local restaurants, bakeries, and coffee shops to discover those that are stepping up in their small but impactful ways.
For more on the efforts to support Ukraine, read:
Ukrainian Veterinarian Is Helping Save Animals in War-Torn Kyiv
How This Vegan Chicken Is Helping Ukrainians in Crisis