Our guide to vegan-friendly stouts, crisp kolsch-style brews, and hoppy red ales will shamrock your world.
March 17, 2017
---
If the thought of binge drinkers lined wall-to-wall with green beer and smelly fish n' chips in hand does not sound like an ideal way to spend your March 17, you're not alone. For the rest of us who'd like to engage in an equal level of debauchery with a touch of class and sophistication, look no further than our list of favorite vegan craft beers for a St. Patty's house party that will surely be a whale of a time.

Rogue Ales Chocolate Stout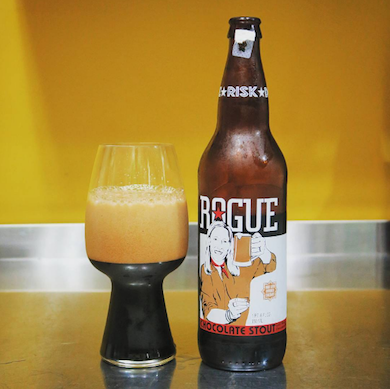 One of the most famous beers made by Oregon-based Rogue Ales, the chocolate stout—not to be confused with the non-vegan Double Chocolate Stout—captures the bitterness of cacao beans under a sweet aroma of vanilla. Rolled oats and malt linger underneath a foamy head, making this beer a true delight from start to finish.
Alcohol by volume (ABV): 5.8 percent

Russian River Brewing's Pliny the Elder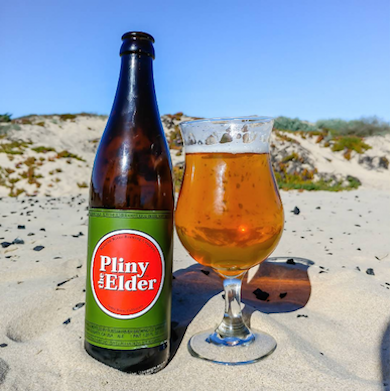 If you're into craft beer, you've definitely heard the hype surrounding this IPA from Russian River Brewing Company, and know that it's warranted. Those who don't enjoy traditional St. Patty's dark stouts or Irish red ales will appreciate the bright golden-orange hues, floral notes of pine and citrus, and hop-heavy flavor. Be sure to check that the bottle comes from the production facility and not the brewpub, which uses gelatin.
Alcohol by volume (ABV): 8 percent

Lagunitas A Little Sumpin' Sumpin' Ale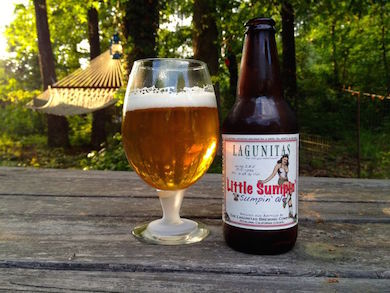 Despite its classification as a wheat ale, its strong hoppiness creates an IPA-style flavor. Lagunitas is a favorite amongst California beer drinkers, especially those who can enjoy their impressive taproom and "beer sanctuary" in Petaluma. Similar to Pliny the Elder, this is a great option—that is vastly more accessible—for drinkers who find stouts and red ales too heavy, but enjoy a strong presence of hops and bitterness.
Alcohol by volume (ABV): 7.5 percent

Coast Brewing Company's 32°/50°


Drinkers looking for a crisp, light brew might catch some flack from stout-faithful Irish transplants, but can quiet naysayers with a sip of this refreshing South Carolina Kolsch. Despite its vegan ingredients, the bright hay-hued beer contains a honey-like flavors (with no honey), in addition to notes of apple and pear. This incredibly drinkable beer is dangerous, making it an excellent choice for the binge-drinking festivities of the evening (or day).
Alcohol by volume (ABV): 4.8 percent

Diamond Bear Brewing Company's Irish Red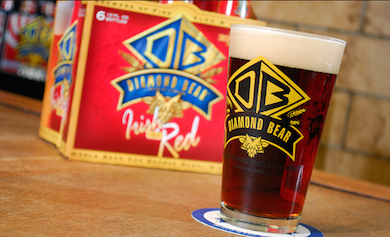 Celebrate the luck of the Irish with a classic Irish red ale—known for their reddish hue and lightly-hopped tea flavor, this brew by Diamond Bear Brewing Company is a perfect example of this classic Irish drink. If you're looking for a bold and smooth beer to sip on throughout St. Patrick's Day festivities, this brew will fit the bill—featuring notes of caramel and roasted malt.
Alcohol by volume (ABV): 5.9 percent

Wexford Irish Cream Ale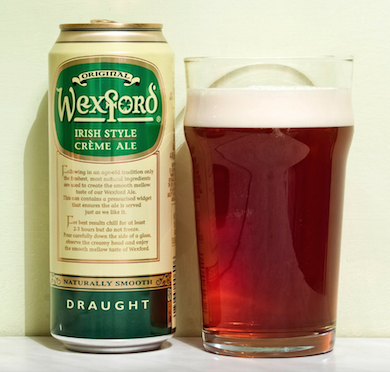 Opening a can of this UK-made creamy brew is an experience. The can's nitro widget allows for a beautiful pour of a smooth-bodied ale, culminating into a frothy head with mild hints of toasted malt, light fruits such as apple, and sweet toffee. Irish eyes will definitely be smiling if this beer is a part of your St. Patty's Day lineup.
Alcohol by volume (ABV): 5 percent

Discretion Brewing's Good Faith Barrel Aged Strong Ale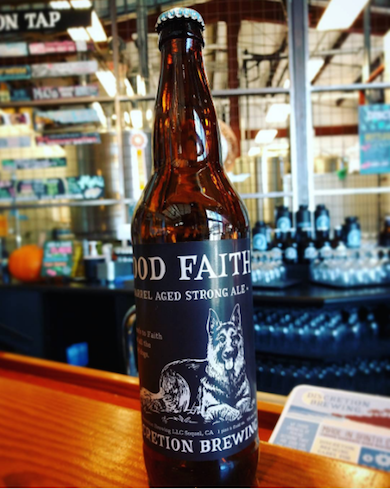 Hailing from the same seaside town as VegNews HQ (Santa Cruz, CA), Discretion Brewing's vegan beers are no joke. Specifically their Good Faith Barrel Aged Strong Ale—don't be fooled by the illustration of the puppy on the bottle, this beer will creep up on you with its sultry notes of oak, vanilla, and marshmallow at 9 percent alcohol by volume.
Alcohol by volume (ABV): 9.3 percent

Brewdog's 5 AM Saint Red Ale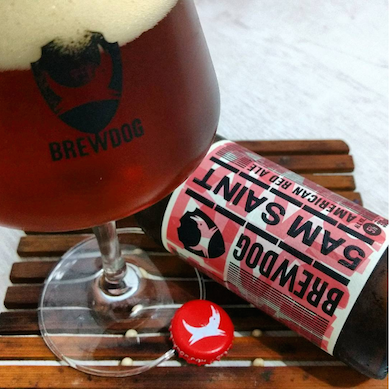 Brewdog has produced a red ale packed with flavor—find the notes of berry, caramel, marmalade, and chocolate, while sipping on this dark amber beer. The mix of malty and roasted flavors lends itself to a complex mix, but be prepared for the bitter finish and intense hop aromas.
Alcohol by volume (ABV): 5 percent

Ninkasi's Helles Belles Helles Lager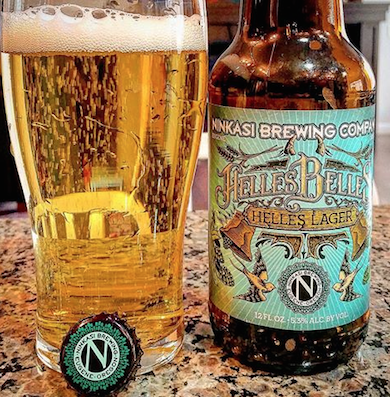 Raise hell with Ninkasi Brewing Company's Helles Lager—this beer is perfect if you're in the mood for a lively St. Patrick's night. This brew is characterized by its light and sharp flavor, maintaining a refreshing balance between the rich malt notes and hop aromas. With a strong golden color and a moderate amount of carbonation, this beer is easy to drink on-tap or straight out of the bottle.
Alcohol by volume (ABV): 5.3 percent

21st Amendment's Blah Blah Blah Double IPA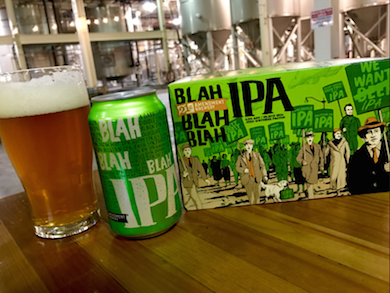 While the name is a tongue-in-cheek commentary on the popularity of IPA's, 21st Amendment Brewery is going all in, canning up a double IPA made from 9 different varieties of hops. This deep gold, hoppy brew has notes of pine, citrus, grapefruit, and jam making it perfect for the emerging spring weather.
Alcohol by volume (ABV): 8 percent

Nora Kovaleski was a former editorial assistant and Sarah McLaughlin is an assistant editor at VegNews. They plan on spending their St. Patrick's Day curled up with a James Joyce novel and vegan shepherd's pie.

Photos couresty of @brewandcraft, @beermemuffhugger, Velo Brew Blog, Coast Brewing Company, Little Rock Soireé, Piwni Hipsterzy, @discretionbrewing, @beerprojekt, @terrymcully, and 21st Amendment Brewery.