The earthy undertones of plant-based milks find their perfect crunchy cereals with our bourgeoise breakfast blowout.
April 23, 2017
---
Fine wines and cheeses (both vegan, of course) get all the attention when it comes to perfect pairings. However, we find that pouring a plant-based milk—of which there is an ever-growing variety—over a box-aged cereal is quite the culinary experience. The crisp texture of Quaker Cinnamon Life cereal pairs beautifully with the delicate tropical flavor of Silk's unsweetened coconut milk, while the full-bodied crunch of Barbara's beloved Peanut Butter Puffins provides a formidable base for Elmhurst's (a former dairy company) new super creamy, nut-based Milked line. Here are our 10 perfect vegan milk and cereal pairings for your next fancy breakfast soirée—or, more likely, a hungry morning (or night, we don't judge) alone in your apartment.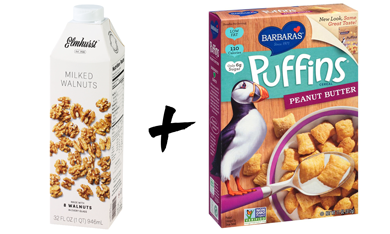 1. Elmhurst Milked Walnuts + Barbara's Peanut Butter Puffins 
Barbara's brand (and particularly its peanut butter flavor) is a classic amongst cereal-loving vegans, and here, it gets a modern boost with the addition of Milked Walnuts—one of four new varieties of nut-rich vegan milk recently launched by dairy-company-turned-cruelty-free-brand Elmhurst. Add a few dark chocolate chips to the bowl? Don't mind if we do!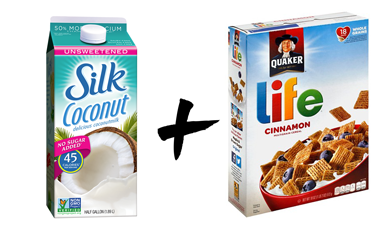 2. Silk Unsweetened Coconut Milk + Quaker Cinnamon Life 
Quaker's crispy oat-based woven squares act as tiny cages that trap a bit of Silk's delicate coconut milk—the reisling of vegan milks—into each bite. The addition of cinnamon to the cereal creates warmth in every bowl, which is especially great for early-risers in the chilly morning.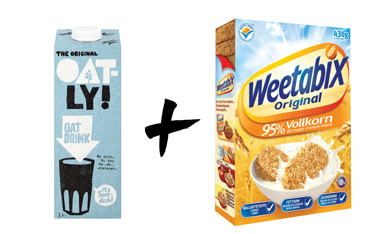 3. Oatly Organic Oat Drink + Weetabix 
The heart-healthy beta-glucans (a type of fiber contained in oats) of new Swedish import Oatly will take on the purported antioxidant benefits of any wine, any day. Paired with another foreigner, Weetabix—a giant, British biscuit-type thing that breaks down in liquids—the amount of fiber you'll ingest will keep you full (and regular) until dinner.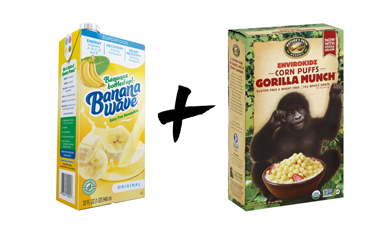 4. Banana Wave Banana Milk + Nature's Path Gorilla Munch Corn Puffs 
The golden hues of this banana-based milk and cornmeal-based puffs swirl together in a breakfast bouquet with a sweet finish. Banana Wave's liquified version of our favorite yellow fruit packs as much potassium per serving as a small banana, a fact we're sure Nature's Path Gorilla Munch mascot would find highly a-peal-ing.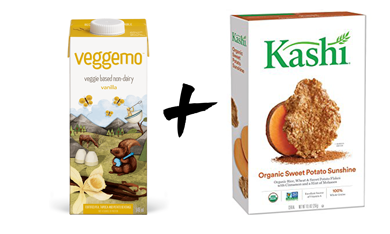 5. Veggemo Vanilla + Kashi Organic Promise Sweet Potato Sunshine 
When it comes to food and wine pairings, it is often said that "what grows together, goes together." That's why it's only natural that Kashi's potato-based cereal would pair well with a potato-based milk—which is actually a thing, thanks to Canadian brand Veggemo's vegetable-based vegan milk line. One potato, two potato, three potato … breakfast!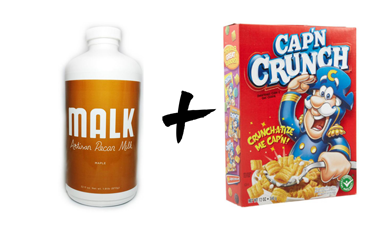 6. Malk Pecan Milk + Cap'n Crunch 
Malk and captain make it happen! The Austin-based plant milk-makers recently expanded their distribution channels, meaning that their innovative pecan milk flavor—which has a hint of that pecan pie flavor that reminds us of Thanksgiving—can be picked up near wherever you get your Cap' n Crunch on.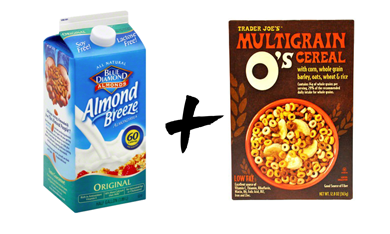 7. Almond Breeze Original Almond Milk + Trader Joe's Multigrain O's
TJ's tiny "o's" always make us think of flotation devices, perhaps swimming in an infinity pool near the ocean while taking in that … wait for it … Almond Breeze! We're loading our bowl with strawberries to bring out the natural terroir of the California almonds used to brew every batch of the Breeze.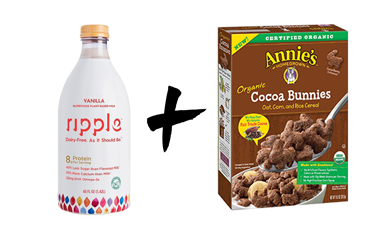 8. Ripple Vanilla + Annie's Organic Cocoa Bunnies
The only way we'd ever eat bunnies, Annie's tiny rabbits are best when they're bathing in a pool of pea-based Ripple milk. We're going for the vanilla flavor to balance the chocolate-y bunnies, but Ripple also makes a chocolate flavor if you'd like to pretty much eat cake for breakfast.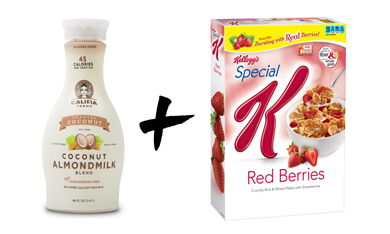 9. Califia Farms Toasted Coconut Almondmilk Blend + Kellogg's Special K Red Berries 
There's something sensual about the tart red strawberries that mingle with crispy flakes of rice and wheat in Special K's simple-yet-fabulous cereal. That level of panache can only be matched by Califia Farms' dreamy blend of toasted coconut and almond milk, sold in an award-winning bottle with an hourglass figure. This pairing is best enjoyed with a tantalizing romance novel in the morning.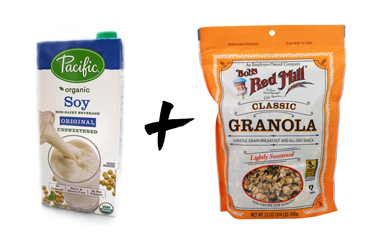 10. Pacific Foods Organic Original Unsweetened Soy + Bob's Red Mill Classic Granola
Similar to a hearty Bordeaux, Bob's no-frills granola moistened slightly by Pacific's nostalgically grainy soy milk is an old world combination that gets the breakfast job done. While this is the kind of meal that never gets invited to fancy dinner parties, granola and soy milk are hearty, filling, and nonetheless, make a perfect pair.
Photo courtesy of Almond Breeze
Anna Starostinetskaya is the News Editor for VegNews and eats cereal every morning … sometimes at night … sometimes without milk.