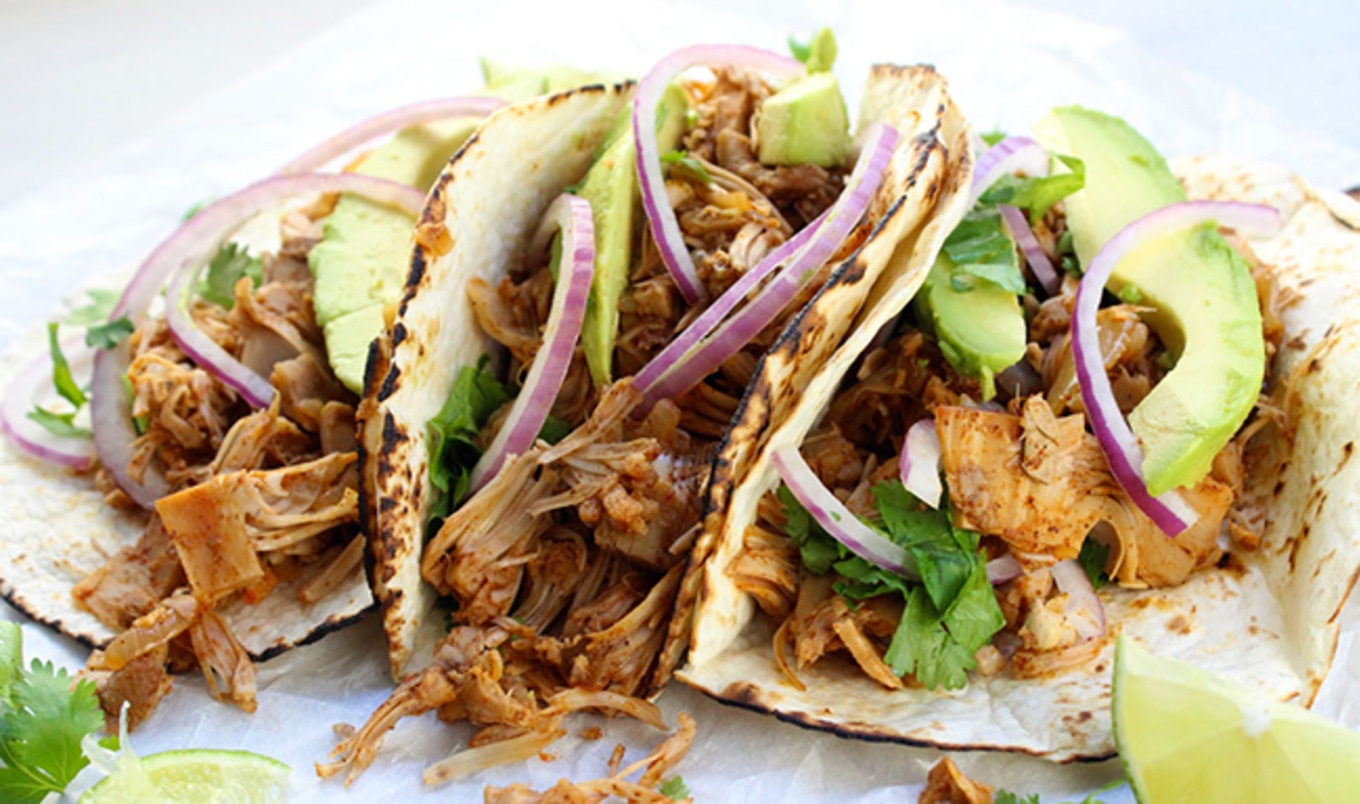 This vegan meat alternative has exploded in popularity thanks to its versatility and healthful, photo-ready qualities.
September 19, 2017
---
Jackfruit is the "it" vegan meat alternative of the moment. For evidence, how about the fact that jackfruit tacos were one of the most popular plant-based dishes at this year's Coachella, or that its savory "pulled pork" texture works perfectly when incorporated into burritos, sandwiches, and tacos. For more proof, head to Instagram, where more than 180,000 photos are featured using the "jackfruit" hashtag. Looking at all of these pictures could take a lifetime, which is why we've narrowed these photos to 13 of our favorites. Enjoy!
1. Curried Jackfruit Sandwich
Los Angeles-based coffee shop À bloc serves more than just coffee, as the eatery also dishes up loaded vegan sandwiches such as this curried jackfruit sub packed with jackfruit, curried vegan aioli, raisins, sunflower seeds, red onions, fresh cilantro, and red cabbage.
2. BBQ Pulled Jackfruit Crêpe
We're drooling over this mouthwatering jackfruit stuffed crêpe drizzled with barbecue sauce and vegan aioli from Little Choc Apothecary.
3. Jacked Up Falafel Burger
This loaded vegan burger is packed with everything we didn't know we needed on our burgers—beer battered chips, barbecued jackfruit, freshly made falafel, and vegan mayonnaise to name a few.
4. Pulled Jackfruit Saté Bapaos
Slow-cooked jackfruit simmered in peanut sauce that's stuffed into steamed buns have us seriously craving these traditional-style bapaos.
5. BBQ Pulled Jackfruit Pizza
Pizza is already one of our favorite foods, but pile on marinated pulled jackfruit, red peppers, and dairy-free aioli sauce, and we're in love.
6. Vietnamese Jackfruit Banh-Mi Sandwich
Jackfruit provides a plant-based twist on this traditional Vietnamese sandwich, and the artful drizzling of Sriracha chilli sauce and vegan mayonnaise over this stuffed vegan baguette has given us serious sandwich cravings.
7. Pulled Jackfruit Poutine
As the ultimate comfort food, poutine (fries covered in dairy-free cheese curds) is even better when pulled jackfruit and Sriracha mayonnaise are added on top!
8. Young Jackfruit Curry Masala
Consisting of young jackfruit simmered slowly in rich coconut milk, this traditional Sri Lankan dish is a favorite at the VegNews office.
9. Slow Cooker Bulgogi Jackfruit Tacos
We fully support Taco Tuesdays taking over every day of the week, especially when we can indulge in these homemade Bulgogi-style tacos with spicy jalapeño-cabbage slaw.
10. Barbacoa Jackfruit Burrito
Pasadena-based One Veg World offers a variety of delicious plant-based items on its menu, but after spotting this photo of a stuffed barbacoa-marinated jackfruit burrito, we think we know which one is our favorite.
11. Jackfruit Nachos
We hope you're hungry because Plant Food for People's photo of a towering plate of nachos loaded with vegan cheese, pulled jackfruit, and fresh pico de gallo will make you feel like you haven't eaten in days.
12. Smoky Chedd'r Jalapeño BBQ Sandwich
Upton's Naturals BBQ Jackfruit and Let Thy Food's Smoky Chedd'r Dip and Superfood Parm are the stars of this over-the-top spicy, jalapeño-topped sandwich.
13. Jackfruit Enchiladas
Vegan sour cream and cheese are the perfect toppings for these Mexican-inspired jackfruit enchiladas.
Sarah McLaughlin is an editorial assistant at VegNews who is now craving jackfruit tacos.