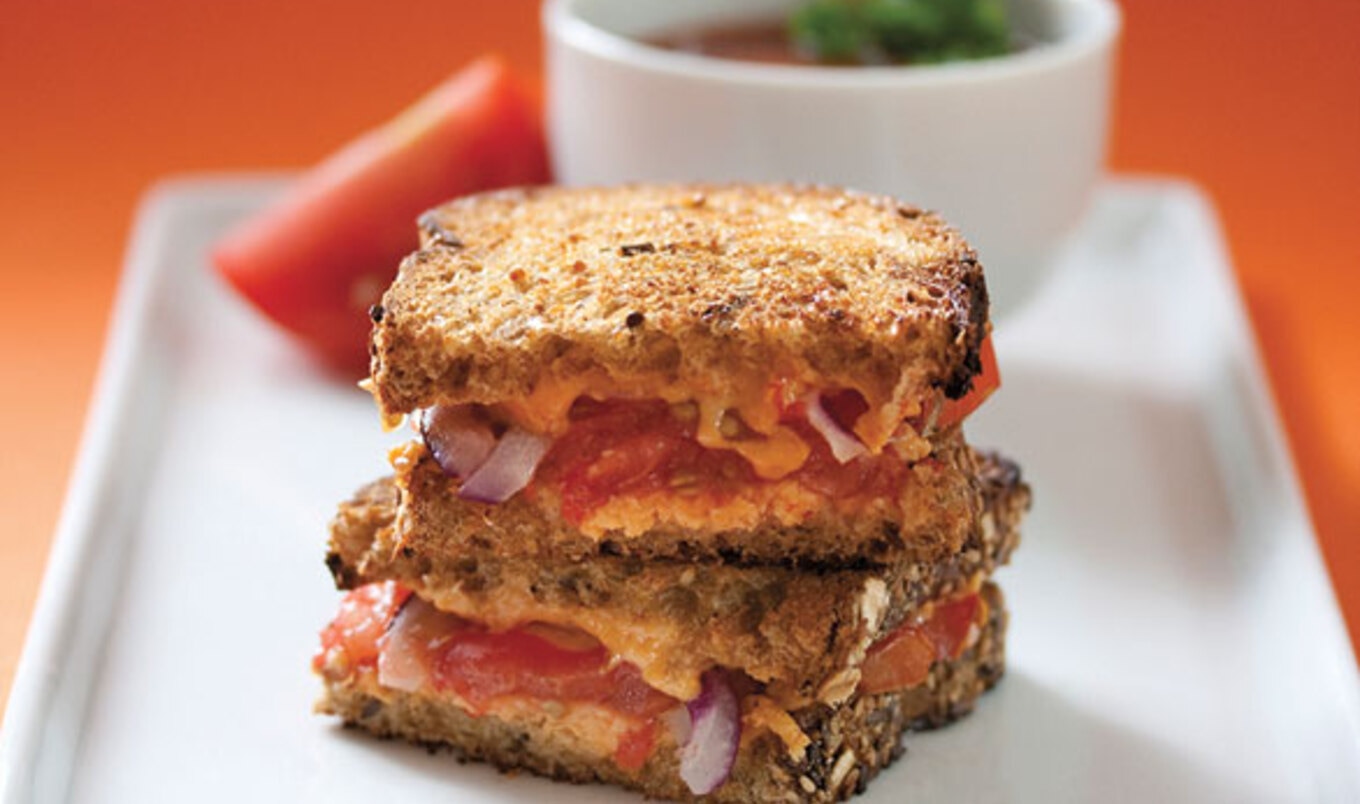 VN scoured the country for the best vegan sandwiches and lets you know how to make them at home.
March 27, 2011
---
Food stuffed between two slices of bread has to be one of the most brilliant culinary ideas ever. While sandwiches have been a mealtime choice since Neolithic times, most historians trace the name to John Montagu, 4th Earl of Sandwich. A heavy gambler, Montagu ordered his cook to make a meal that would not interrupt his games. In a stroke of genius, the cook offered him meat between two pieces of toast. Though that's far from a vegan's ideal lunch, without it, we might not have the following roundup of the most creative, finger-lickingly good, and cruelty-free sandwiches. Get your napkins ready, because here are our top picks (in no particular order) for the country's seven best meals between bread.
The Sandwich: The Radical Reuben from The Chicago Diner (Chicago, IL)
The Goods: "This is vegan?" is a frequent reaction from herbivores and omnivores alike after eating Chicago Diner's specialty Reuben. Perfectly seasoned seitan and sauerkraut worthy of German jealousy, complemented by onions, peppers, Thousand Island Dressing, and vegan cheese between two slices of marbled rye make you forget you ever ate anything else.
Make it at Home: Reuben Sandwich with Russian Dressing is a winning recipe that will have you picking for leftover crumbs.
The Sandwich: Grilled Daiya from Sticky Fingers Bakery (Washington, DC)
The Goods: Simplicity takes the gold in this twist on a childhood classic. Before Daiya, a good grilled cheese sandwich was mere fantasy for vegans. Now, Sticky Fingers has the right cheese and perfect technique to bring us back to the days when we could barely reach the stove and our parents made us lunch.
Make it at Home: Recreate the same sandwich at home with the Grilled Daiya recipe, courtesy of Sticky Fingers.
The Sandwich: Sloppy Joe Sliders from Blossom Du Jour (New York, NY)
The Goods: Barbequed soy crumble with corn, bell peppers, and cucumber mayo couldn't be eaten quickly enough at Blossom's restaurant venture into vegan fast-food. And while you're eating, watch videos of rescued farm animals or read up on animal rights and being vegan—it definitely adds to the sandwich-eating experience.
Make it at Home: Get messy in your kitchen with this version of Sloppy Joes.
The Sandwich: Chicken Salad Sub from DC Vegetarian (Portland, OR)
The Goods: Served out of a small food cart and made from soy curls, the vegan chicken salad in this sub has unbelievable texture. Massive in size, heavenly for your mouth, and so easily customizable, DC Vegetarian has perfectly veganized an American favorite.
Make it at Home: Make some Mock Chicken Salad and pile it on between two slices of your favorite bread with all the fixings.
The Sandwich: What's the Dilly, Philly? from Ethos Vegan Kitchen (Orlando, FL)
The Goods: It all started in 2007 when Ethos first opened with their signature sandwich. What's the deal with the name? Well, the deal with the flavor is clear—eaters have deemed this the best vegan Philly Cheese Steak from coast-to-coast, and yes, that includes Philadelphia. Between two slices of toasted ciabatta, this hearty sandwich is brimming with seitan, grilled onions, peppers, and melty vegan mozzarella.
Make it at Home: Instead of using seitan, try using tempeh as a meat stand-in in Philly No-Steak Sandwich.
The Sandwich: Banh Mi from Dinosaurs (San Francisco, CA)
The Goods: A culinary result of French occupation in Vietnam, the deliciously rendered banh mi sandwich fuses the baguette with authentic Vietnamese flavors of cilantro, jalapeños, pickled carrots, and onions. Beware though, Dinosaurs' crispy tofu version is seriously addicting with its added fried taro root and crackly crusted bread.
Make it at Home: Bring the flavors of Vietnam into your kitchen with this Vegan Banh Mi recipe.
The Sandwich: TLT (vegan BLT) from Hillside Quickie (Seattle, WA)
The Goods: Contrary to mainstream belief, vegans don't miss bacon. We're innovators and have already created a cruelty-free, delicious alternative—the tempeh, lettuce, and tomato sandwich. Hillside Quickie masters the meal between two slices of fresh artisan bread, even adding some grilled onion and potato salad in the mix. It'll never be hard to go vegan when we have sandwiches like this one.
Make it at Home: Whip up your own tempeh bacon or buy pre-made fake bacon to assemble a hearty Tempeh Lettuce Tomato (TLT) Sandwich.
Photo by Hannah Kaminsky