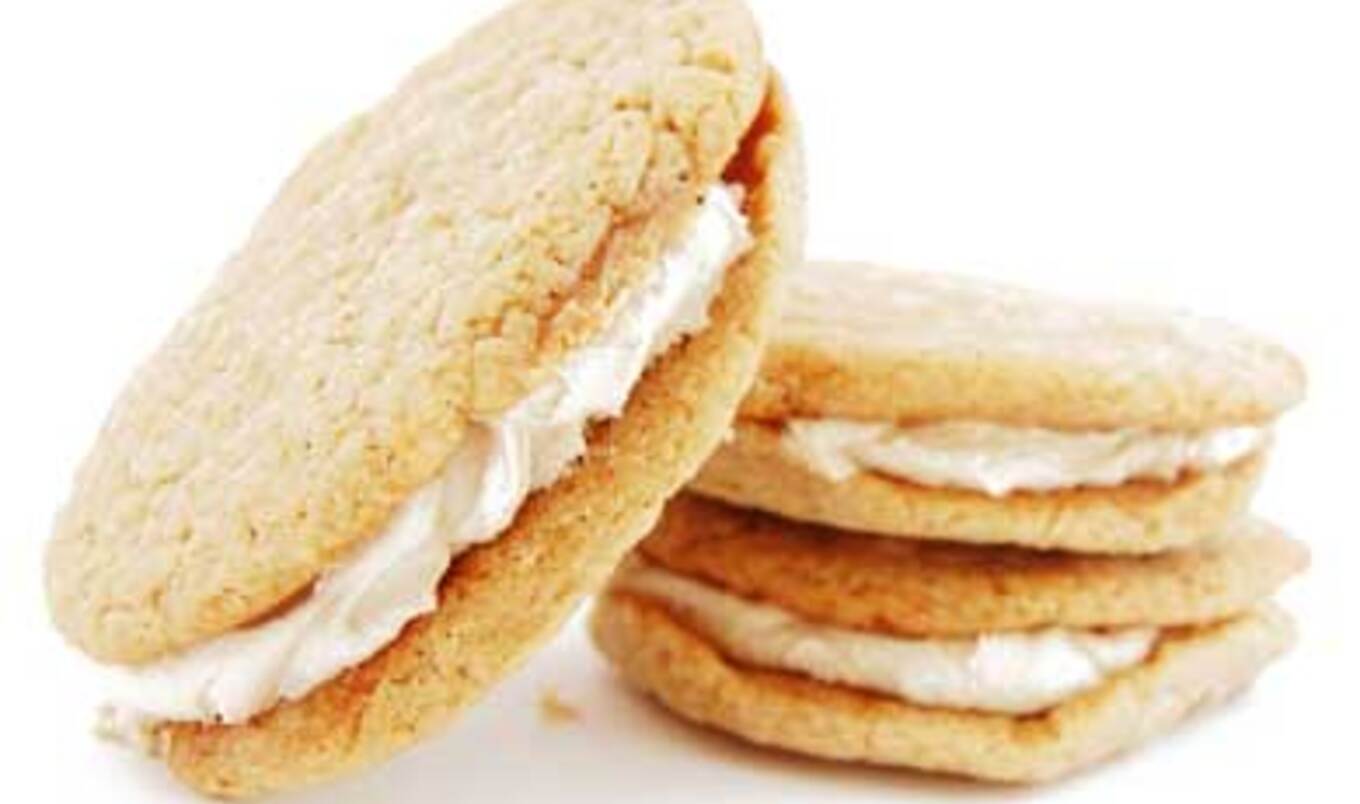 Filled with maple frosting, these cookies combine the best flavors of the season.
December 23, 2012
---
Makes 12 cookie sandwiches
What You Need:
For the cookies:
2 cups all-purpose flour
1/2 cup whole-wheat pastry flour
1 tablespoon baking powder
1/4 teaspoon salt
2 teaspoons pumpkin-pie spice
1/4 teaspoon ground cinnamon
1/2 cup vegan margarine, at room temperature
1-1/2 cups sugar
1/2 cup applesauce
1 teaspoon vanilla
For the filling:
1/2 cup vegan shortening, at room temperature
1/2 cup vegan margarine, at room temperature
3 cups powdered sugar
1/4 cup vanilla soymilk
1 teaspoon maple extract
What You Do:
1. Preheat oven to 375 degrees. For the cookies, lightly oil a large cookie sheet or line with parchment paper. In a large bowl, add flours, baking powder, salt, pumpkin-pie spice, and cinnamon. With an electric hand mixer, in a medium bowl, mix together margarine and sugar until creamy. Add applesauce and vanilla and mix again until incorporated. Add wet ingredients to dry ingredients in several batches until well mixed.
2. Take 2 tablespoons of batter and roll dough into a ball with your hand, then press down to make a thick cookie. Place cookies about an inch apart on prepared cookie sheet. Bake for 9 to 11 minutes, removing from oven when they are slightly soft. Let cool for a few minutes before moving them to a cooling rack. Cookies will firm up as they cool.
3. For the filling, with an electric mixer or stand mixer, cream together shortening and margarine. Add powdered sugar and continue to mix until incorporated. While the mixer is going, slowly add 1 to 2 tablespoons soymilk until filling is creamy but still thick. Add no more than 1/4 cup soymilk total. Add maple extract and mix on medium speed for about 2 minutes until filling is very creamy with some peaks.
4. Once cookies are completely cooled, scoop a dollop of cream filling on flat side of one cookie. Top with another cookie and squish slightly. Repeat until all cookie sandwiches are assembled.
Check out all of our 2012 VegNews Holiday Cookie Contest Winners!
Second Place: Chocolate-Covered Speculoos Balls by Jessie Smith
Third Place: Rocky Road Crinkles by Sandra Kohlmann
Honorable Mention: Chocolate-Covered Peppermint Sandwich Cookies by Cara Reed
Click here for the 2011 VegNews Holiday Cookie Contest Winners.