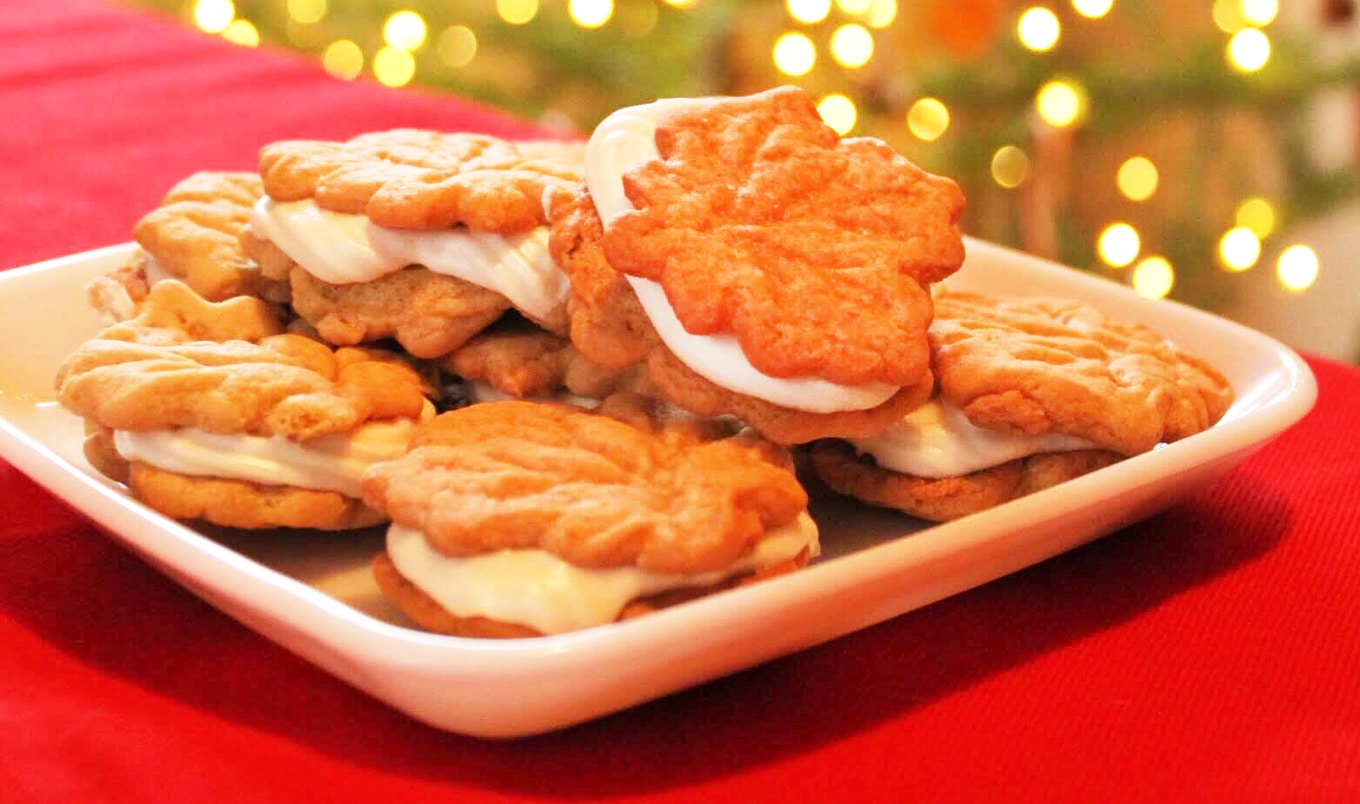 These festive sandwich cookies smell of warm, sweet maple, and an indulgent cream cheese filling will have you begging for more.
December 21, 2018
Crafted with the warm and comforting essence of maple, these cookies are not only plant-based but also a celebration of the cozy flavors that define the fall season. Nestled between each pair is a luscious maple cream cheese filling that adds the perfect touch of indulgence.
What you need:
For the cookies:
⅓ cup coconut oil, at room temperature
¼ cup sugar
½ cup light brown sugar
2 tablespoons cornstarch
¼ cup maple syrup
¼ cup vanilla vegan milk
1 teaspoon vanilla extract
1 teaspoon maple extract
2 cups all-purpose flour
½ teaspoon baking soda
½ teaspoon baking powder
½ teaspoon salt
For the filling:
¼ cup vegan cream cheese
4 tablespoons vegan butter, softened
1 teaspoon maple extract
1⅓ cups powdered sugar, sifted
⅛ teaspoon salt
What you do:
For the cookies, preheat oven to 350 degrees and line 2 cookie sheets with parchment paper. Into a mixing bowl, whisk oil, sugars, cornstarch, maple syrup, milk, and extracts for about 3 minutes. Sift in remaining ingredients, adding flour by ½ cup increments until a stiff dough forms. Flatten dough into a disk, wrap in wax paper, and chill for at least an hour.
On a lightly floured surface, roll dough out to ½-inch thickness. Make shapes, such as maple leaves or circles, with cookie cutters, and use a thin spatula to gently place onto cookie sheets. Bake for 6 to 8 minutes, or until golden brown.
For the filling, combine cream cheese, butter, and maple extract. Beat with hand or stand mixer until fluffy.
Add powdered sugar and salt, and continue to beat until sugar is completely incorporated and frosting is creamy. Using a piping bag and tip, pipe onto bottom cookie, then top with second cookie to make a sandwich.
For more recipes like this, check out: