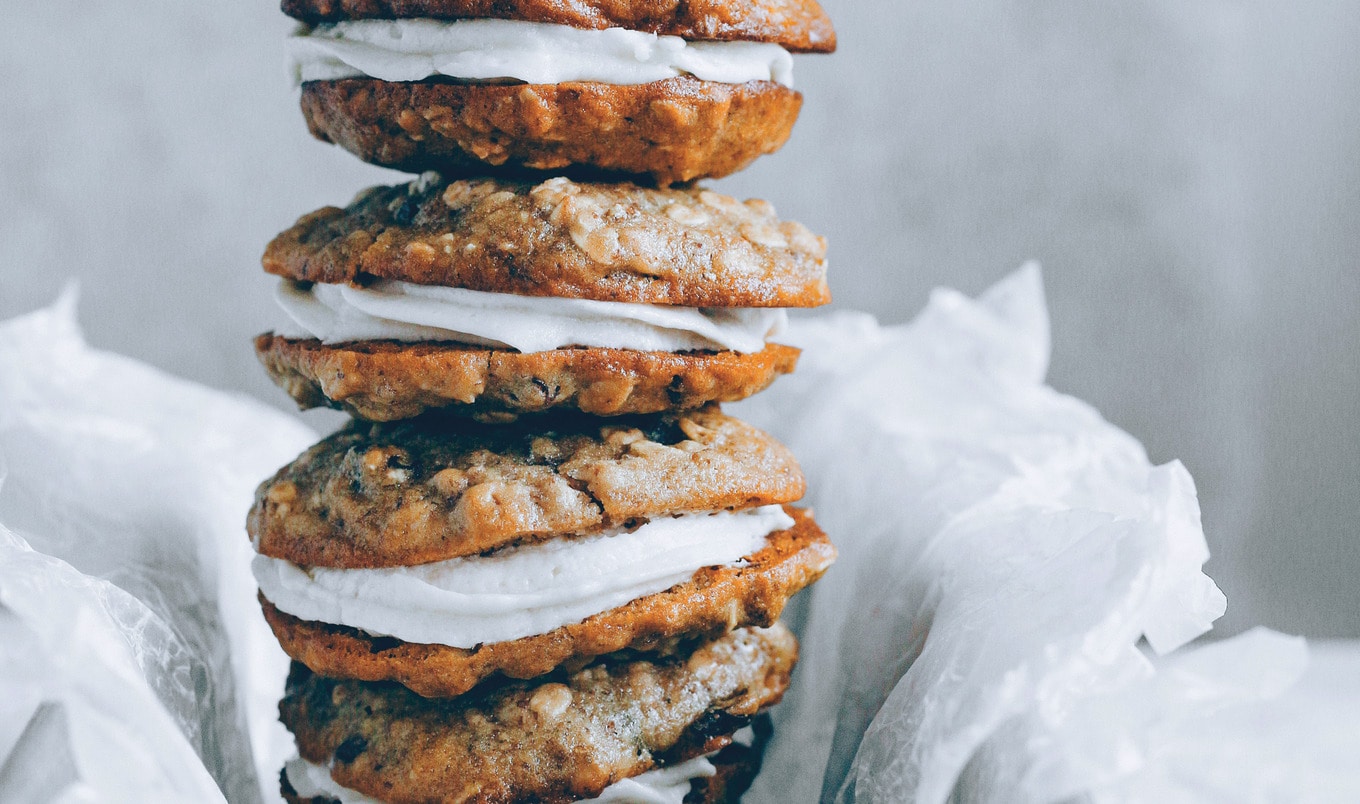 These classic cookies get a vegan makeover with homemade buttercream filling.
December 1, 2021
Be the star of your holiday cookie swap party with this mouthwatering recipe from Jennifer Rose Rossano's Living Crazy Healthy.
What you need:
For the cookies:
1½ cups all-purpose flour
1 teaspoon baking soda
½ teaspoon baking powder
1 teaspoon cinnamon
1 cup rolled oats
¼ teaspoon salt
2 flax eggs
½ cup vegan butter, melted
½ cup cane sugar
½ cup brown or coconut sugar
½ cup applesauce
1 tablespoon maple syrup
1 teaspoon vanilla extract
For the cream filling:
½ cup vegan butter, softened
½ cup vegan shortening
3 cups powdered sugar
1 teaspoon vanilla extract
¼ cup almond milk
What you do:
1. For the cookies, preheat oven to 350 degrees. Line a baking sheet with parchment paper and spray with nonstick cooking spray.
2. In a small bowl, whisk flour, baking soda, baking powder, cinnamon, oats, and salt. In a large bowl, beat flax eggs, butter, and sugars until fluffy. Add applesauce, maple syrup, and vanilla, and mix until combined. Add wet ingredients to dry ingredients, and mix until just combined.
3. Onto a baking sheet, drop dough by rounded tablespoons, 2 inches apart. Bake for 10 minutes. Remove from oven and cool before transferring to a wire rack to cool completely before filling.
4. For the cream filling, in a large bowl, place butter and shortening and cream together until fluffy. Add sugar, 1 cup at a time, and then mix on high speed for 3 minutes. Add vanilla and milk, and mix on high for 5 minutes, or until sugar has dissolved. Scrape down sides of bowl if needed.
5. Spread filling on the bottom of 1 cookie and top with another. Repeat with remaining cookies.