Coconut oil is not butter, and thanks to the plethora of vegan butter options, we no longer have to pretend it is. Gone are the days of smearing oil on toast and convincing yourself that "it's the same thing!" Vegans have options, and they are glorious. Whether you cook, bake, or use it as a condiment, these vegan butters really taste and perform just like butter. But first, why is regular butter not vegan?
Why is butter not vegan?
Traditional butter is made with churned milk or cream, which usually comes from cows (but it can also come from other animals like goats), and that's why it's not vegan.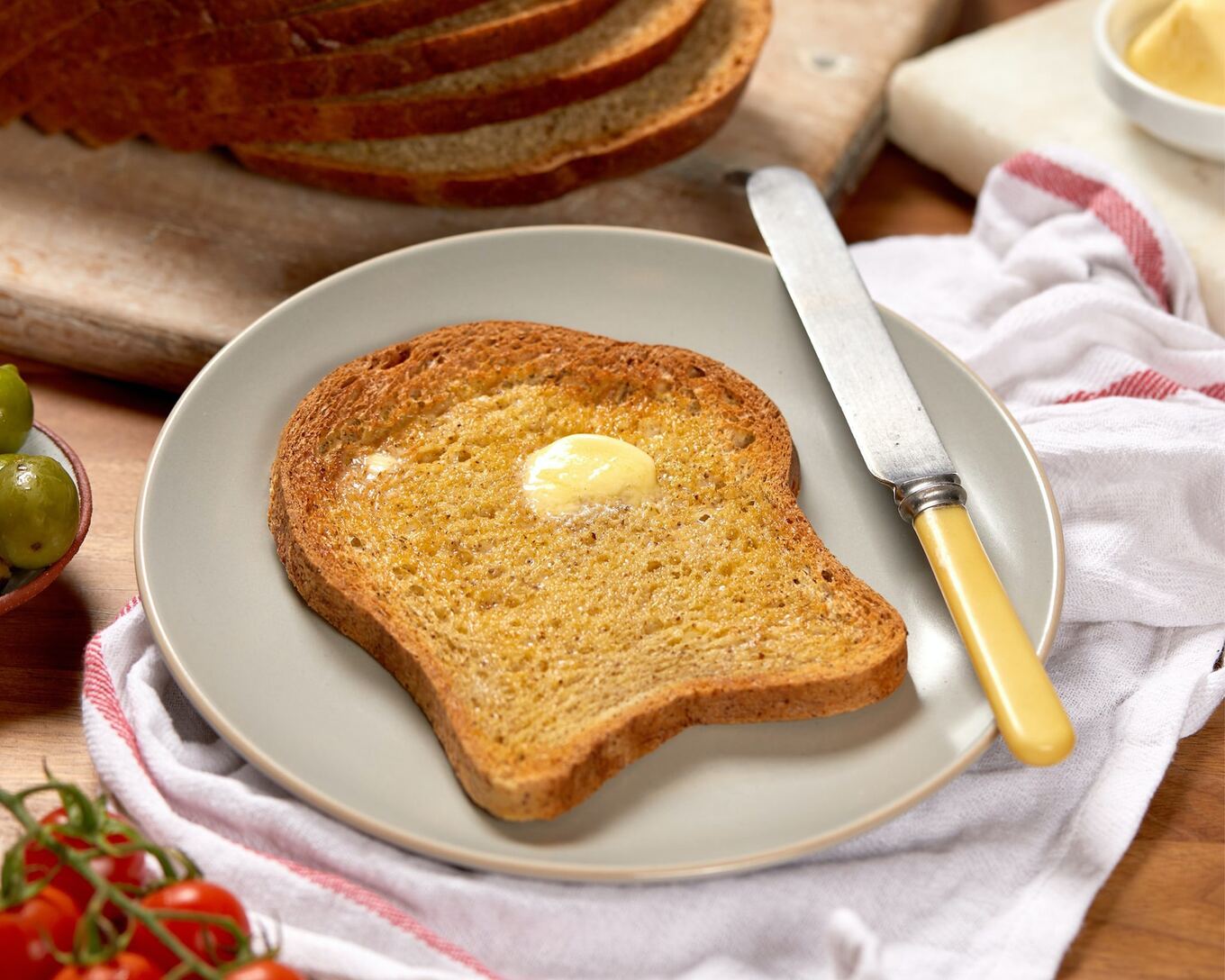 Unsplash
Many people also use margarine, which is similar to butter in texture and color, but it's usually made with plant-based fat instead of animal fat. (Don't assume that margarine is always vegan though because it can also contain milk.)
What is vegan butter?
In the past, many vegan consumers opted to use dairy-free margarine or coconut oil in place of butter. But that's changing now, as many brands are making authentic, plant-based butter products. These usually look and taste like the real thing, but they're actually closer to margarine products because instead of cow's milk, they're made with plant-based oils.
Best vegan butter brands
Next time you're looking to stock up your pantry with creamy, delicious vegan butter, make sure to check out each of these brands to find the best product for you.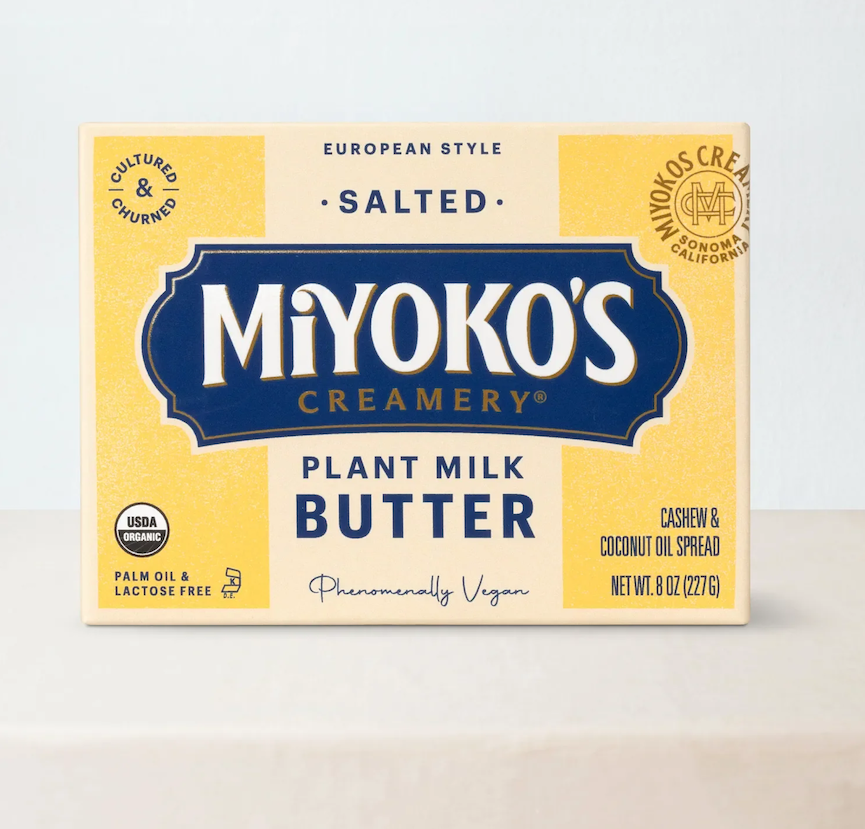 Miyoko's Creamery
1 Miyoko's Creamery
Miyoko's Creamery boasts three different butter varieties: European Style Plant Milk Butter Salted, European Style Plant Milk Butter Unsalted, and Oat Milk Butter Salted. The first two are nut- and coconut oil-based and work incredibly well for cooking and baking—they even brown. The latter is ideal for those with a nut allergy and for spreading liberally on refined carbohydrates—everything from toast and muffins to pancakes and waffles.
FIND IT HERE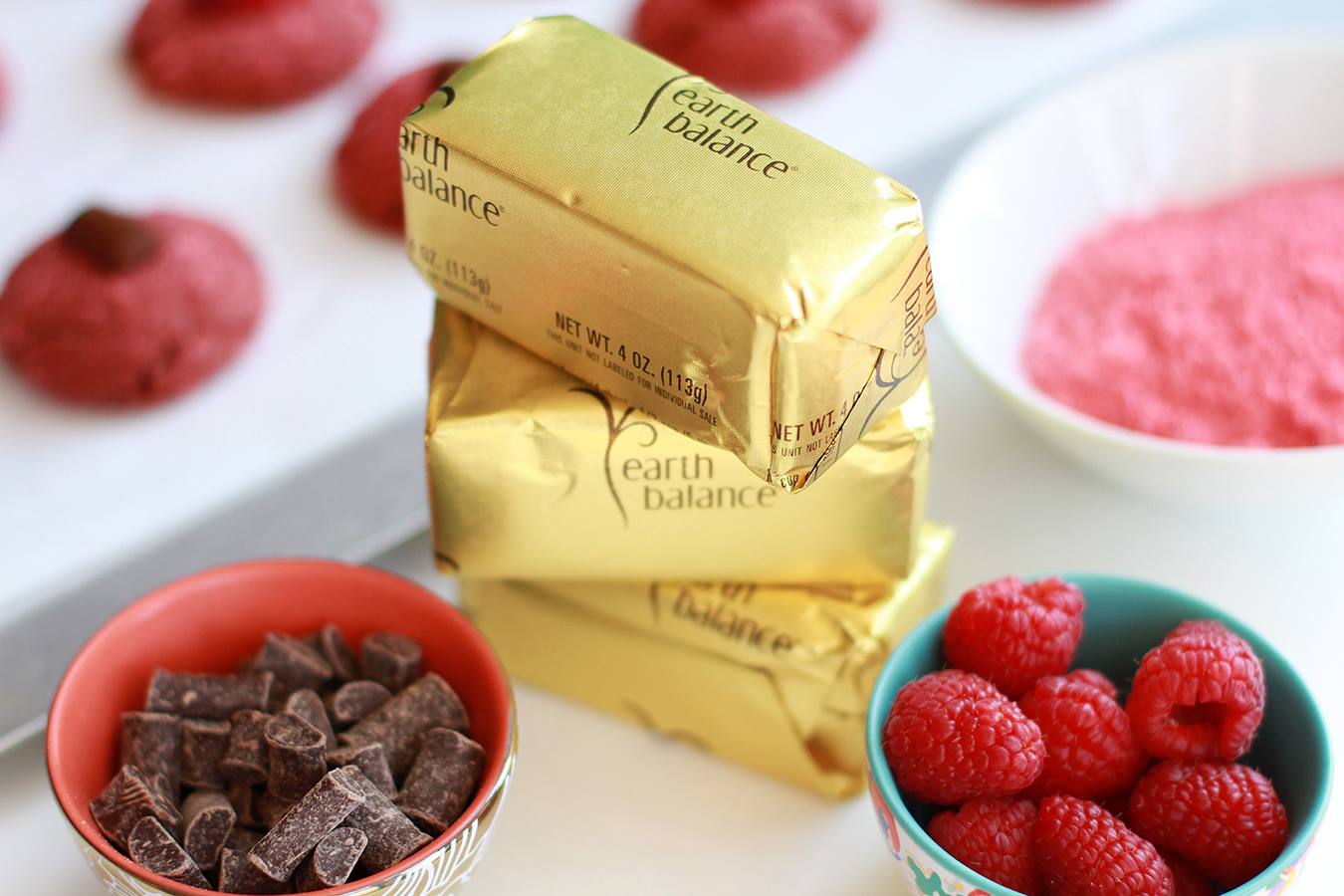 Earth Balance
2 Earth Balance
Ask any professional vegan baker what butter they use, and the overwhelming response will be Earth Balance Vegan Butter Sticks. They are an easy one-to-one swap for dairy-based butter sticks which makes for perfect pie crusts, velvety buttercreams, and tender cookies. For condiment use, check out one of the many varieties of the brand's buttery spreads. You can't go wrong with Original, but the Olive Oil and European Style are fan favorites as well.
FIND IT HERE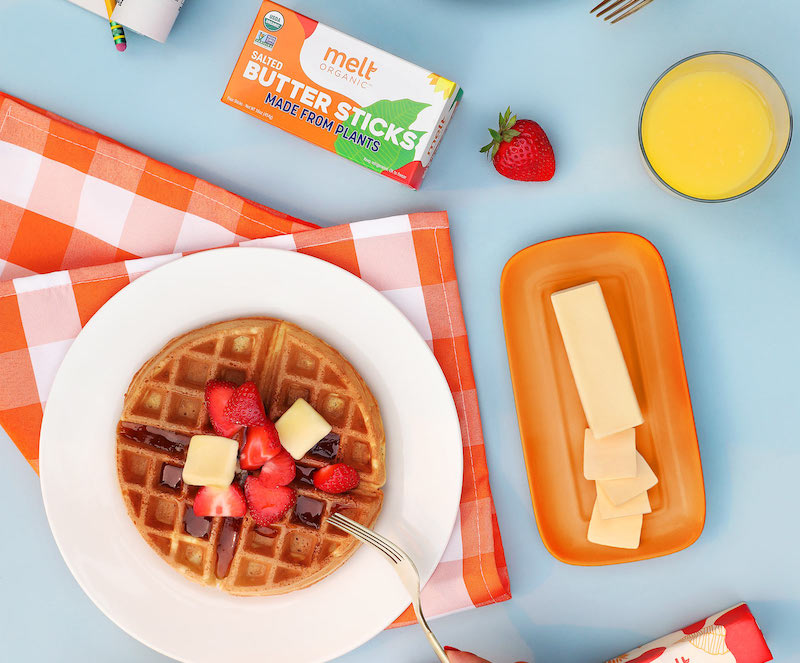 Melt Organic
3 Melt Organic
Made with sustainably sourced plant oils, this creamy rendition of butter is great for savory applications. Add a pat or two to a pasta sauce for a little indulgence, or use the buttery sticks to create a solid roux for mushroom gravy or vegan gumbo. Complete your meal with some homemade vegan biscuits using the Unsalted Butter Sticks, then slather those with the brand's original spreadable organic butter. Sometimes, it's necessary to infuse butter in every part of the meal.
FIND IT HERE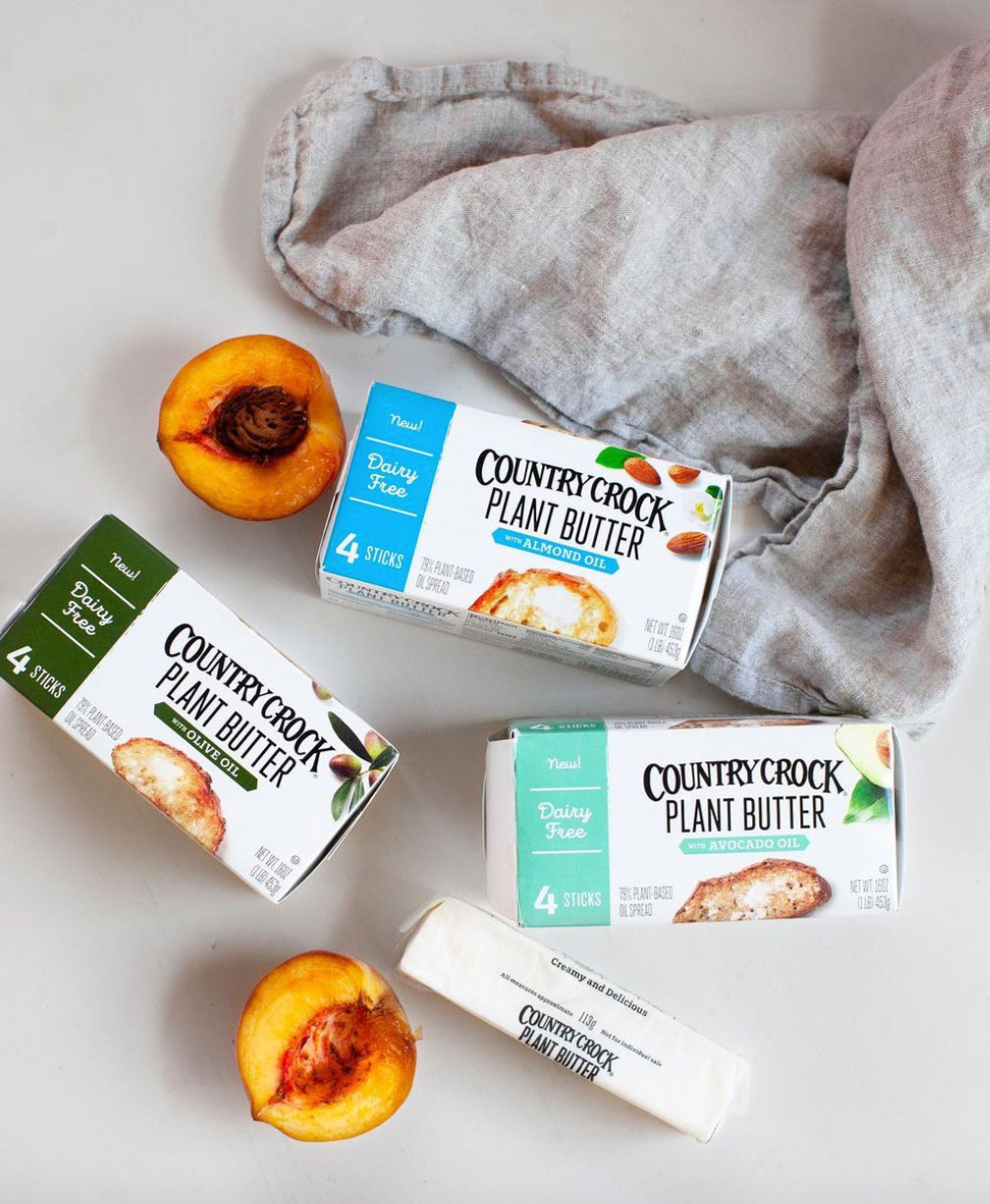 Country Crock
4 Country Crock Plant Butter
When dairy-based companies jump on the vegan bandwagon, it's obvious a trend has reached a high point. The company has stepped outside of its iconic brown-gray tub and developed seven different styles of plant-based butter. We bring the spreadable Plant Butter with Olive Oil tub to the table when hosting non-vegan guests.
FIND IT HERE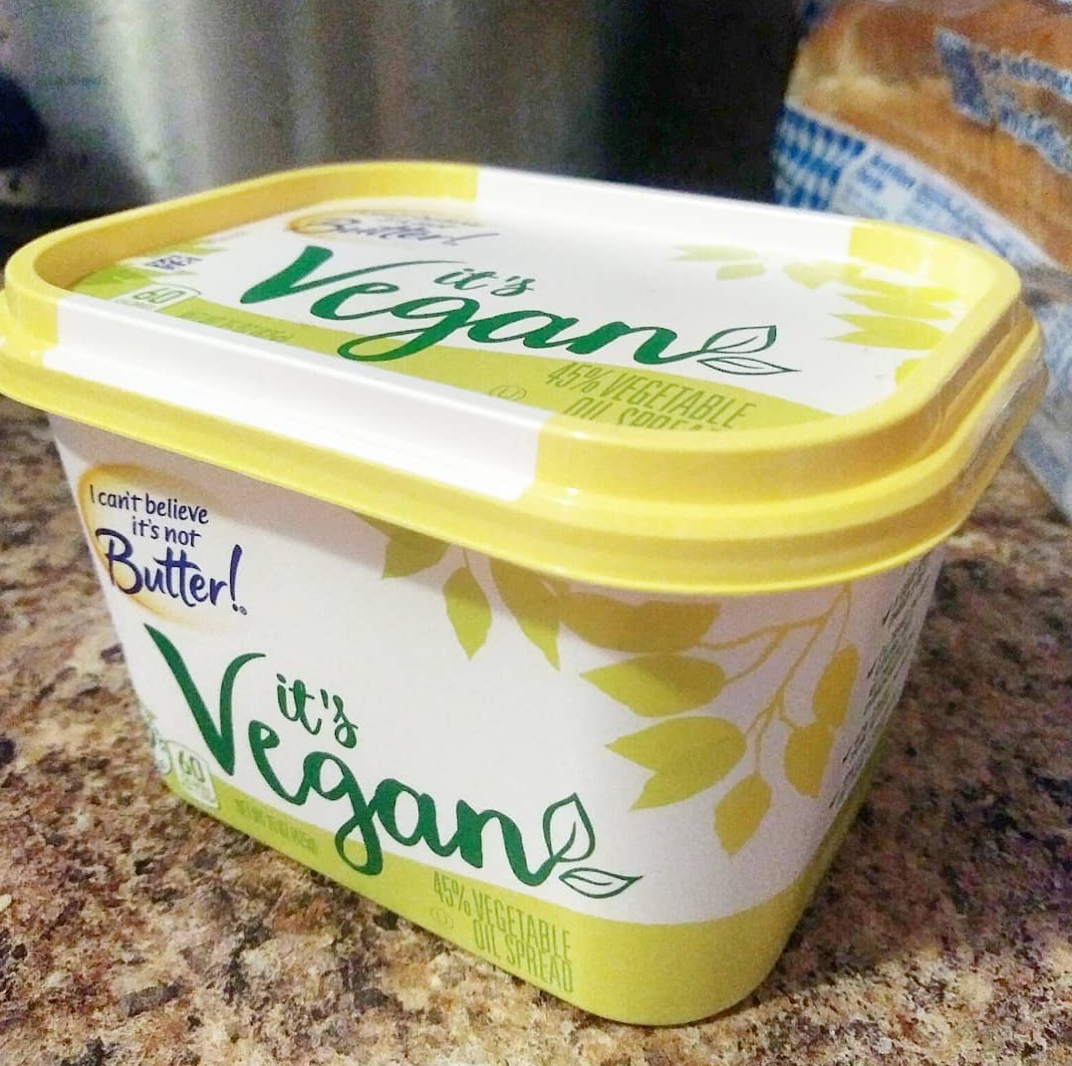 @peanikki/Instagram
5
I Can't Believe It's Not Butter! It's Vegan
Those who grew up with at least one yo-yo diet parent will recognize this margarine brand from their childhood. Now with an It's Vegan option made from a blend of soybean and palm oils, we really can't believe it's not butter. Like its dairy-based predecessor, this product is lower in fat and calories in comparison to both dairy and plant-based butters. Note: the company does not state the source of its palm oil, but the product is Vegan Certified.
Find it here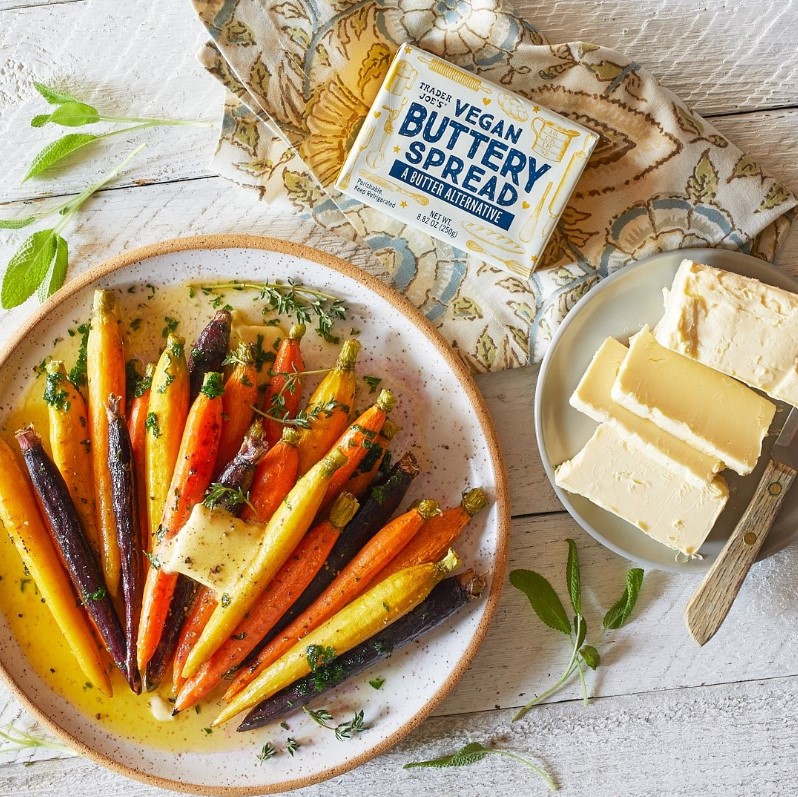 Trader Joe's
6
Trader Joe's
This dairy-free alternative offers the same rich and buttery flavor that many have come to love without compromising on ethics or taste. It's versatile, whether you're using it to slather on toast, cook savory dishes, or bake delectable treats. Plus you can grab it at everyone's favorite grocery market: Trader Joe's.
FIND IT HERE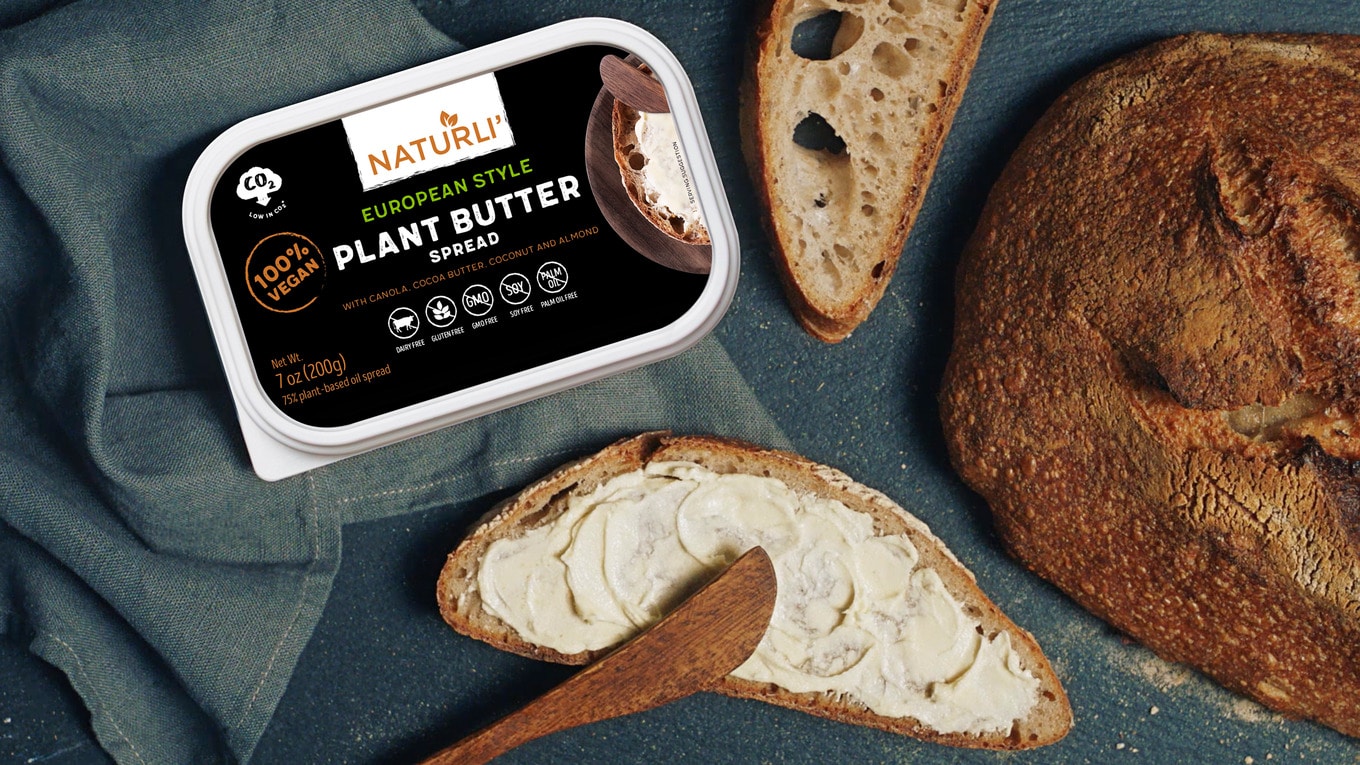 Naturli'
7
Naturli
Crafted with a blend of cocoa butter, coconut, canola, and almond oils, this plant-based butter delivers a luxurious, creamy texture that mirrors traditional dairy butter. Its versatility shines through, whether you're spreading it on your morning toast or incorporating it into your favorite recipes. With their carbon-neutral production and plant-based sourcing, Naturli has created a product that not only satisfies the palate but also aligns with eco-conscious values.
FIND IT HERE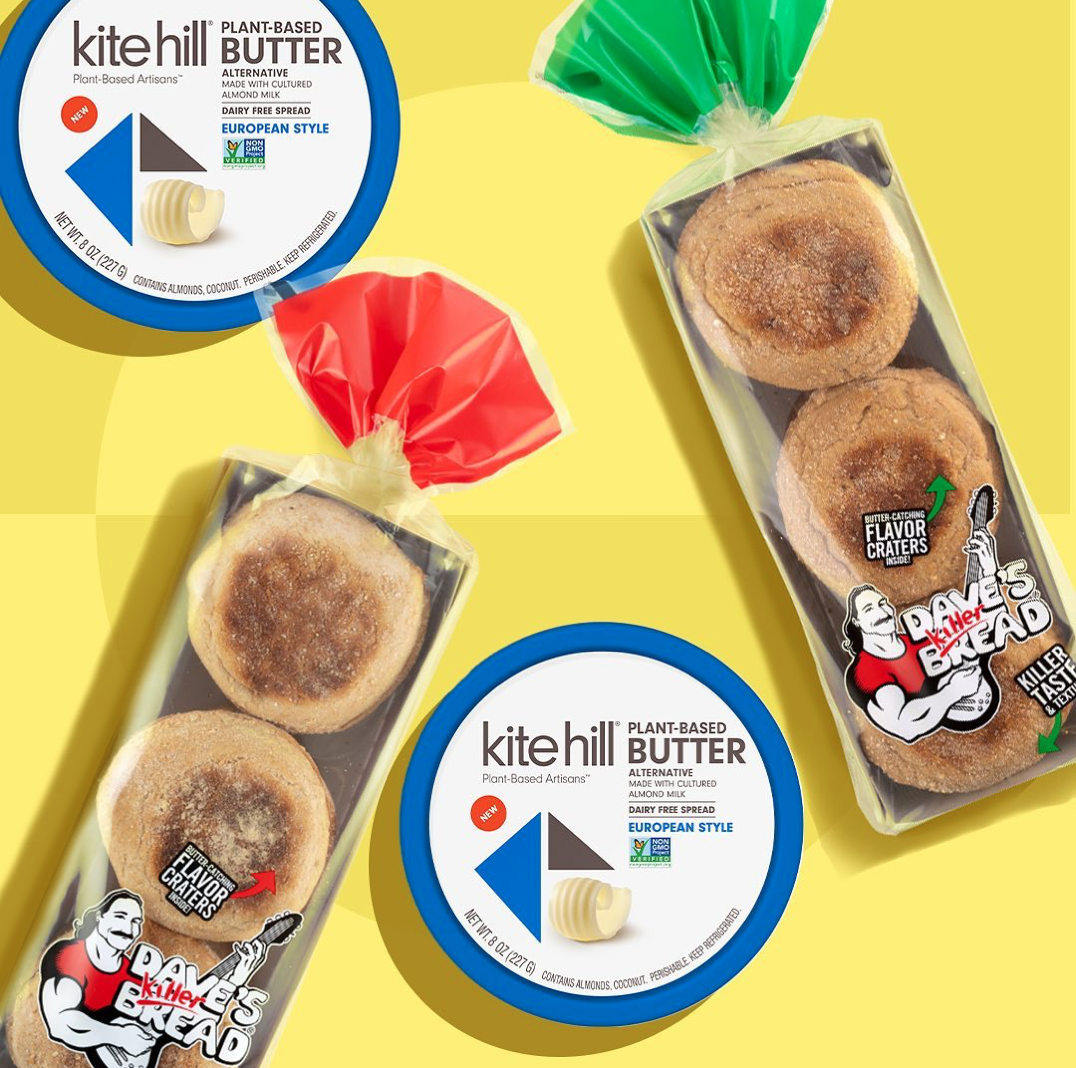 Kite Hill
8Kite Hill
There's a new reason to love this dairy alternative company: its European-style butter. Like many Kite Hill products, this is made with cultured almond milk to mimic that luscious, buttery taste and texture. Pro tip: melt this almond-based butter onto one of Kite Hill's filled pastas for a decadent yet simple weeknight dinner.
FIND IT HERE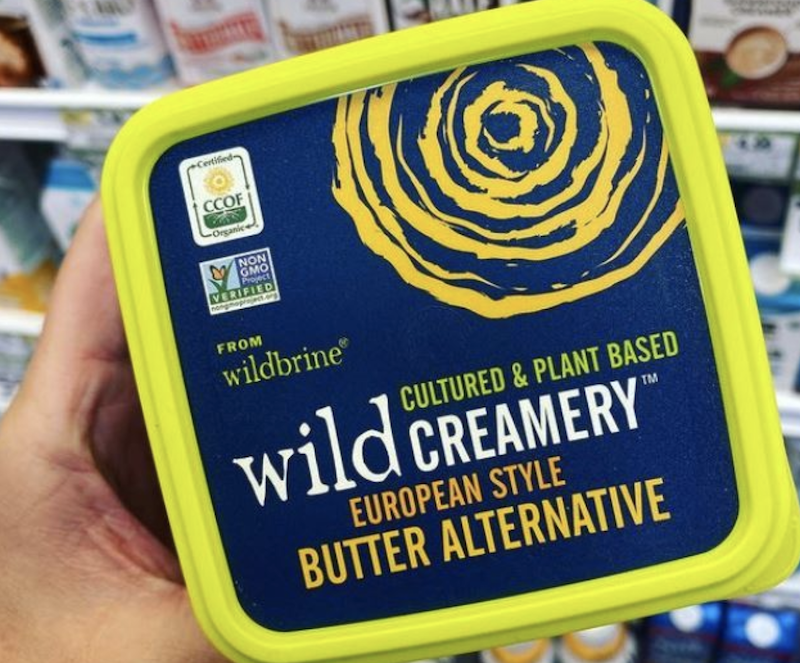 Wildbrine
9 Wild Creamery
Made from a blend of coconut oil and cashews, this vegan butter is not only vegan but also rich in flavor and creamy in texture. What sets Wildbrine apart is their dedication to fermentation, infusing their product with probiotics for added health benefits. It's a game-changer for those seeking a butter alternative that doesn't compromise on taste or quality.
FIND IT HERE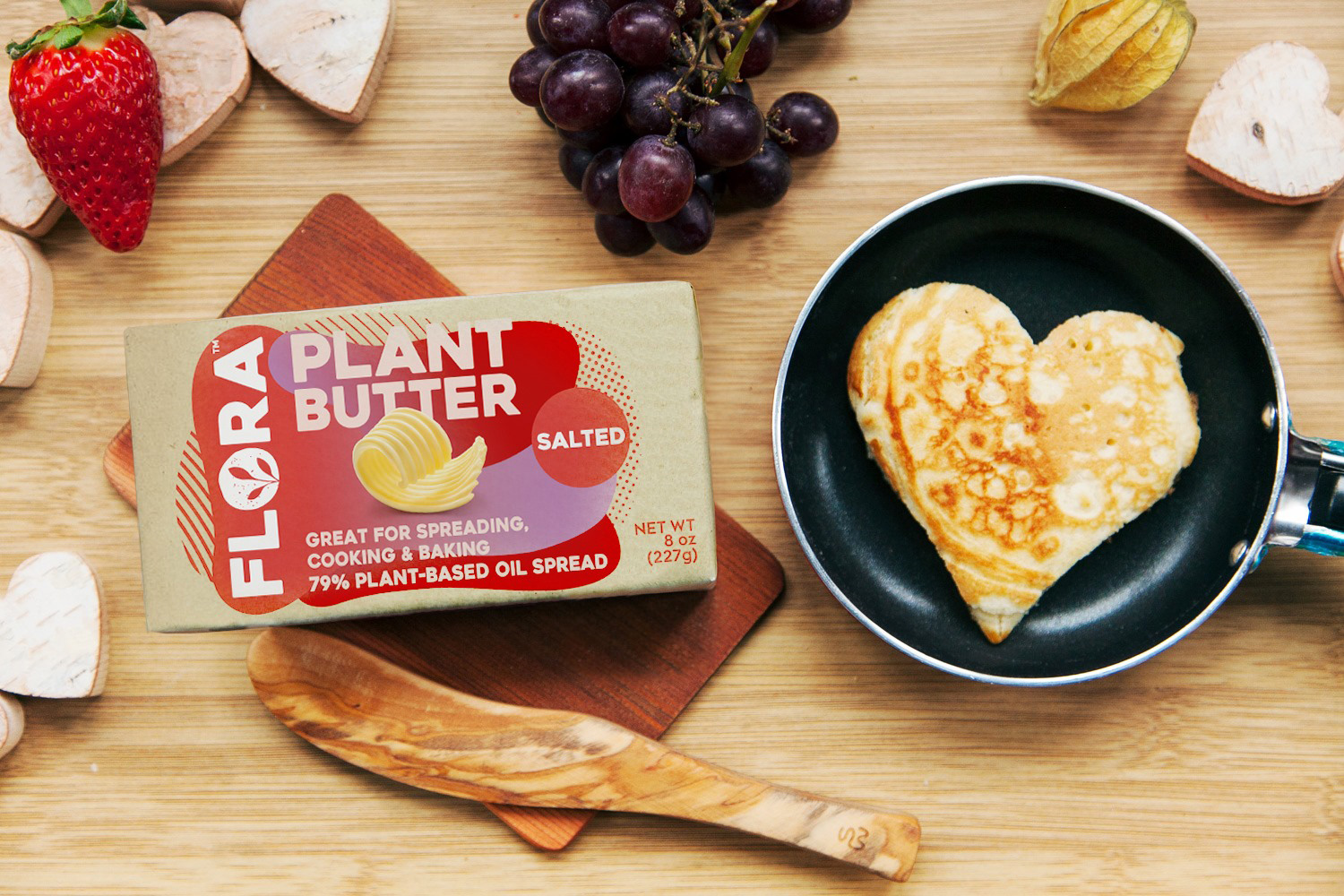 Flora
10 Flora
This company is upfront about its ingredients—including palm oil. The ingredient is commonly used yet highly controversial for its damaging environmental effects. However, Flora has promised to vet its palm oil suppliers to ensure sustainable production and sourcing. The brand even sits on the Roundtable of Sustainable Palm Oil to keep an eye on the industry and advance more environmentally friendly practices. Use Flora's Salted Plant Butter to create decadent sauces or spread liberally on a freshly baked vegan blueberry muffin.
FIND IT HERE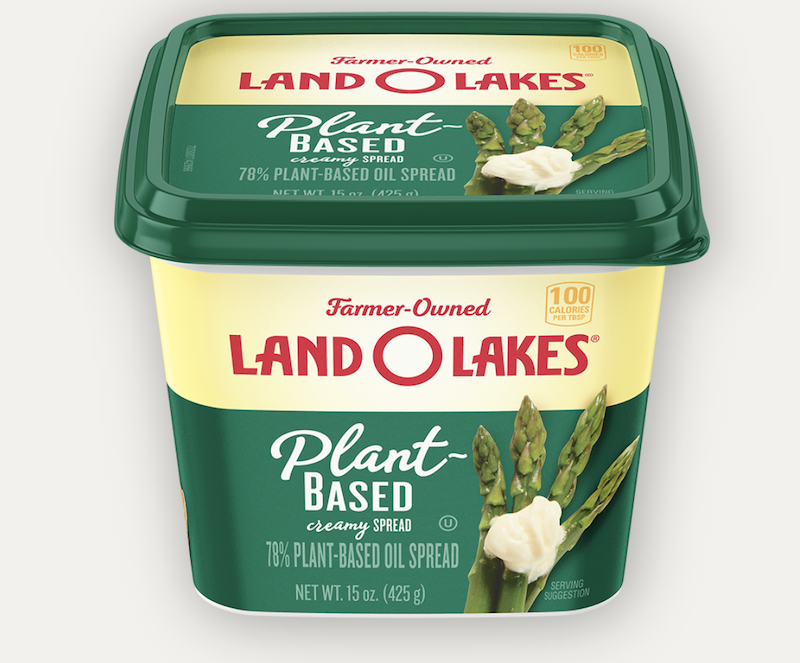 Land O Lakes
11 Land O Lakes Plant-Based Creamy Spread
Yet another dairy-based company has embraced the plant-based trend. Found at many nationwide supermarkets including Vons and Kroger, this vegetable oil-based spread offers Land O Lakes regulars a solid dairy-free option. While not suited for baking, this spread is excellent for slathering and melting on everything from your morning toast to a mound of mashed potatoes.
FIND IT HERE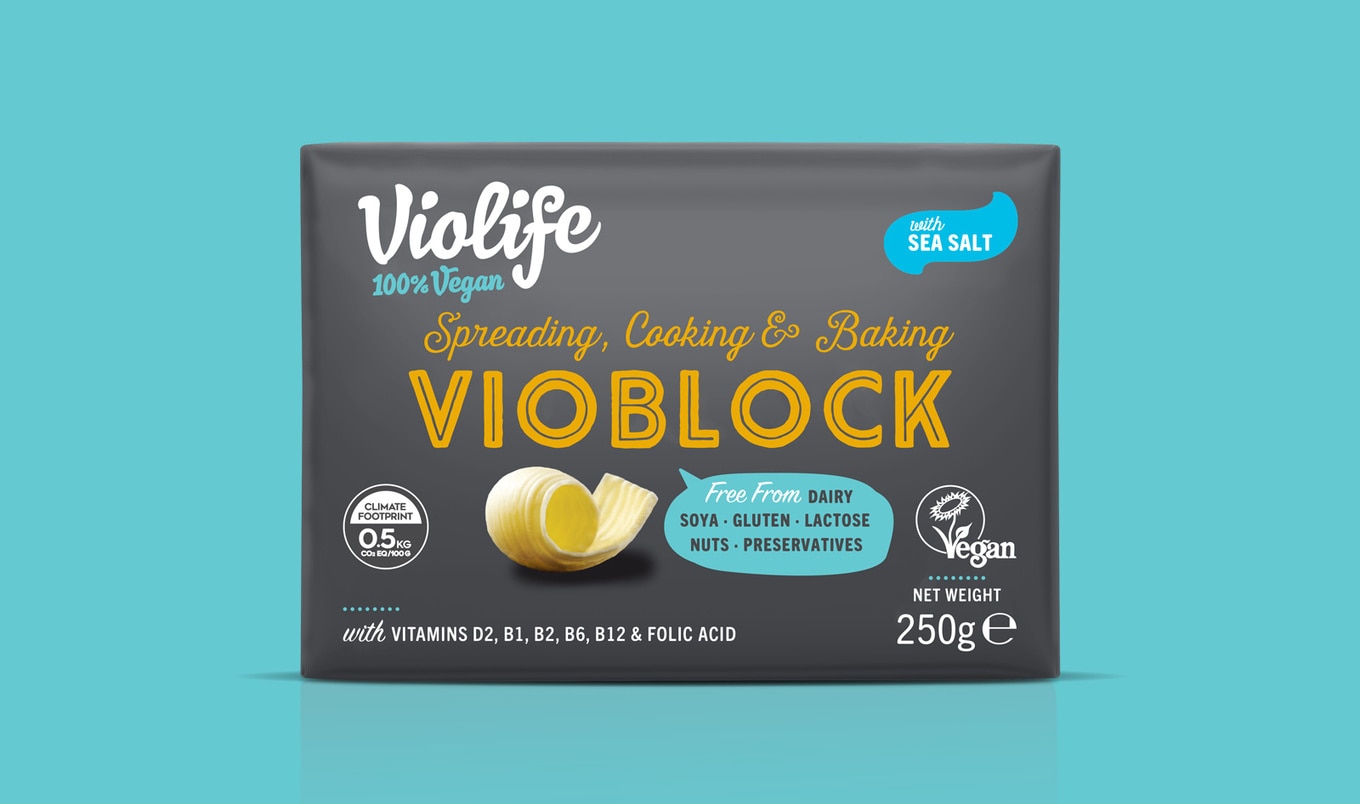 Violife
12 Violife
Boasting a rich, creamy texture and a delightful hint of salt, this butter from the popular vegan cheese brand captures the essence of traditional butter without the need for animal-derived ingredients. It's a versatile addition to any kitchen, with simple ingredients that are free from major allergens.
FIND IT HERE
For more vegan food guides, read:
Here at VegNews, we live and breathe the vegan lifestyle, and only recommend products we feel make our lives amazing. Occasionally, articles may include shopping links where we might earn a small commission. In no way does this effect the editorial integrity of VegNews.