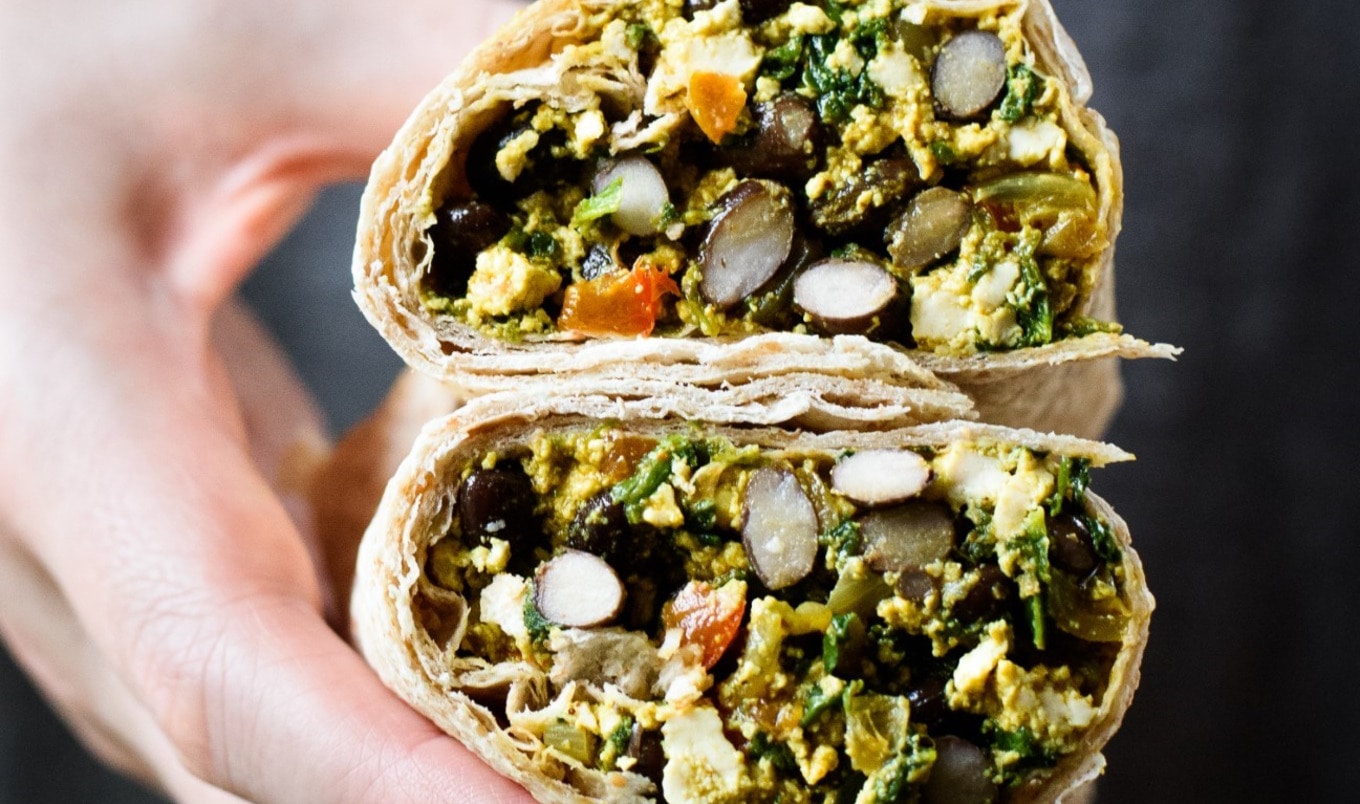 These breakfast burritos are hearty, delicious, and pack a walloping 20 grams of protein.
March 25, 2023
Finding convenient and tasty frozen burritos at your local supermarket is easier than ever. But have you ever thought about making them yourself? These easy and satiating burritos in this recipe from the Compassionate Cuisine vegan cooking program make it a breeze.
What you need:
1 tablespoon olive oil
1 medium red onion, diced
1 large red bell pepper, diced
1 teaspoon salt
1 (10-ounce) package frozen chopped spinach, thawed, excess water squeezed out
1 (16-ounce) package extra-firm tofu, rinsed and crumbled
2 (15-ounce) cans black beans, drained and rinsed
2 tablespoons nutritional yeast
1 tablespoon ground cumin
1 teaspoon ground turmeric
½ teaspoon black pepper
Hot sauce, to taste
8 large (10-inch) tortillas
What you do:
In a large pan over medium-high heat, warm olive oil. Add onion, bell pepper, and salt. Cook, stirring occasionally, until onions are softened and translucent, 8 minutes. Add spinach, tofu, and black beans. Cook for 5 minutes, stirring frequently. Add nutritional yeast, cumin, turmeric, and black pepper and mix well. Add hot sauce to taste. Allow to cool for 10 to 15 minutes before assembly.
Divide mixture into 8 equal portions. Place filling on bottom third of tortilla and roll while tucking ends in. Place seam-side down on a cutting board or serving plate. Repeat with remaining ingredients.
If freezing, place all burritos on a large plate or baking tray, freeze until solid, and then place in one large freezer bag. The burritos will keep in the freezer for 3 to 6 months.