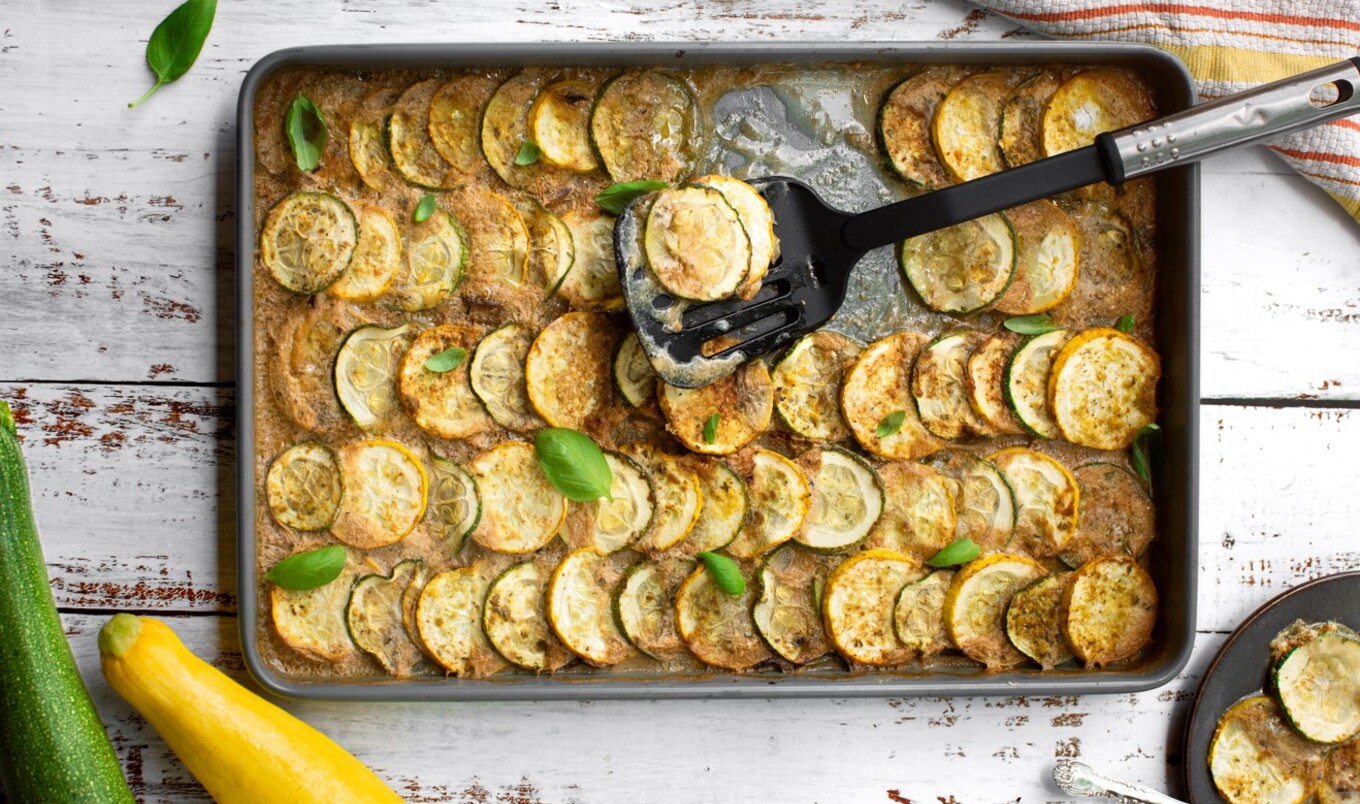 This elegant recipe—complete with an effortless creamy, cheesy sauce—is a simple way to use up that extra zucchini lying around.
January 5, 2023
If you're growing zucchini or yellow crookneck squash in your backyard garden, there's a good chance that you're up to your ears during the summer. This is a simple (and tasty) solution to the problem from The Everyday Vegan Cheat Sheet cookbook.
What you need:
¼ cup vegan butter
½ medium yellow onion, halved and thinly sliced
4 cloves garlic, minced
2 medium zucchini, thinly sliced
2 medium yellow squash, thinly sliced
¼ cup nutritional yeast
2 tablespoons tapioca starch
1 tablespoon dried parsley
½ teaspoon salt
½ teaspoon dried oregano
¼ teaspoon smoked paprika
⅛ teaspoon ground black pepper
2 cups plain vegan milk
2 tablespoons fresh basil
What you do:
Preheat oven to 400 degrees, and add butter to a baking sheet. Set in oven and allow to melt while the oven is preheating.
Add onion and garlic, stir to combine, and return to oven. Bake on center rack 6 to 8 minutes, until aromatic and lightly browned.
In a large bowl, place zucchini and squash, and add nutritional yeast, tapioca, parsley, salt, oregano, paprika, and pepper, tossing to coat. Arrange squash in slightly overlapping rows onto baking sheet, on top of browned butter. Slowly pour milk on top, drizzling evenly over everything.
Bake in center of oven for 25 to 30 minutes, until lightly browned, bubbly, and squash is fork tender. Let cool at least 10 minutes, garnish with basil, and serve hot.