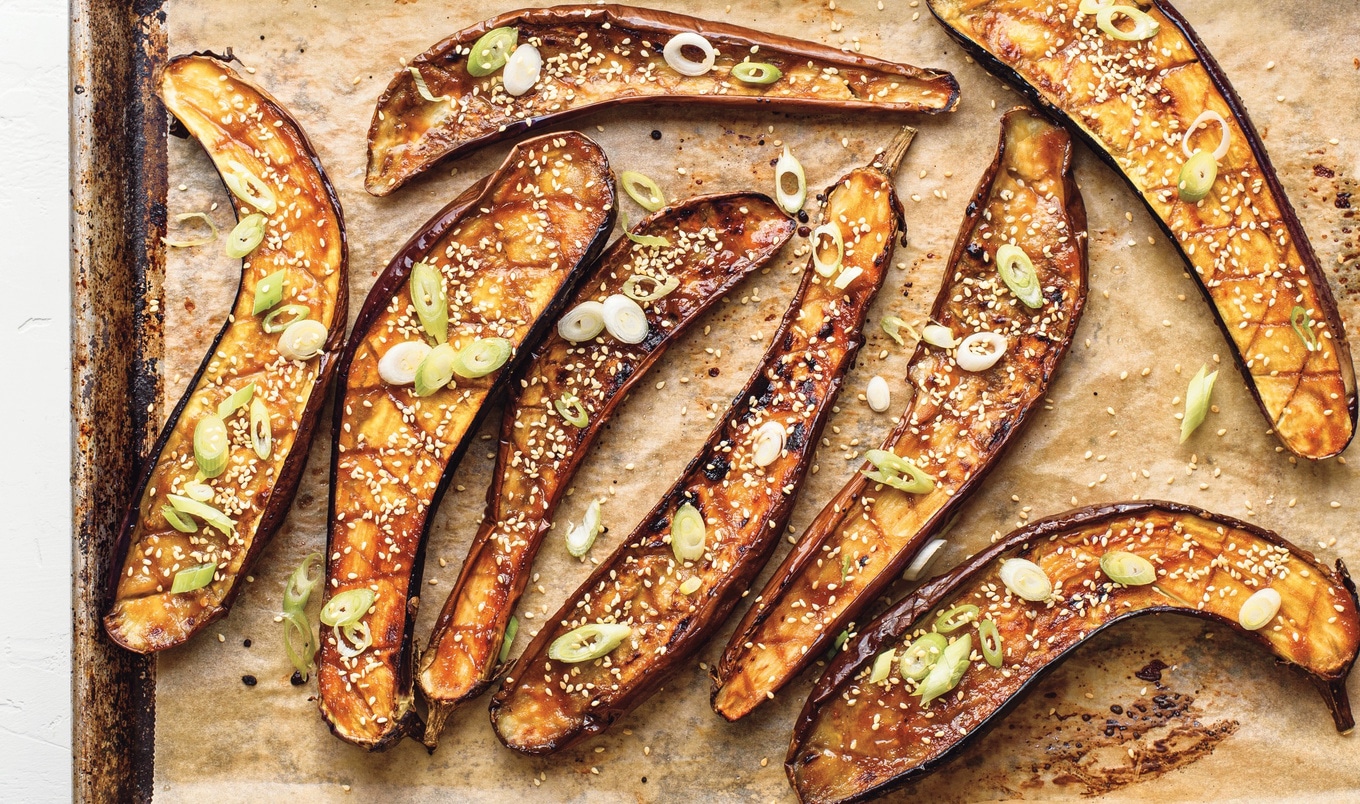 Broiling roasted eggplants with miso gives them a caramelized, sweet-and-salty glaze.
February 26, 2021
Pair this tasty appetizer from The Vegan ABCs Cookbook with brown rice and baked teriyaki-glazed tofu for a complete meal. And pro tip: use this tangy miso glaze for roasted Brussels sprouts, squash, or potatoes.
What you need:
For the eggplant:
4 Japanese or Chinese eggplants
½ teaspoon salt


Sunflower oil, for brushing
For the miso glaze:
2 tablespoons mellow white miso
1 tablespoon sunflower oil


1 tablespoon mirin


1 tablespoon tamari
1 tablespoon apple cider vinegar
For serving:
2 scallions, white and green parts, thinly sliced
2 teaspoons toasted sesame seeds
What you do:
Line a sheet pan with paper towels. Cut eggplants in half lengthwise. Using a paring knife, cut diagonal lines about 1 inch apart, without cutting through skin. Rotate and cut diagonal lines in other direction, resulting in a crosshatch pattern. Generously salt eggplants and lay flesh side down. Let drain for at least 1 hour.
Preheat oven to 400 degrees. Line a half sheet pan with parchment paper.
Pat eggplants with a clean paper towel to absorb any remaining water. Lightly brush all over with sunflower oil and place cut side down on sheet pan. Bake for 20 minutes, until flesh is soft and golden brown.
For the miso glaze, in a small mixing bowl, add miso, sunflower oil, mirin, tamari, and apple cider vinegar. Break up miso with a whisk and combine until completely smooth.
Remove eggplants from oven and turn oven to broiler setting.
Turn eggplants over and brush flesh with miso glaze, coating entire surface. Broil until glaze has caramelized and is charred in spots, about 5 to 8 minutes. Serve topped with scallions and sesame seeds.
Photo credit: Alexandra Shytsman