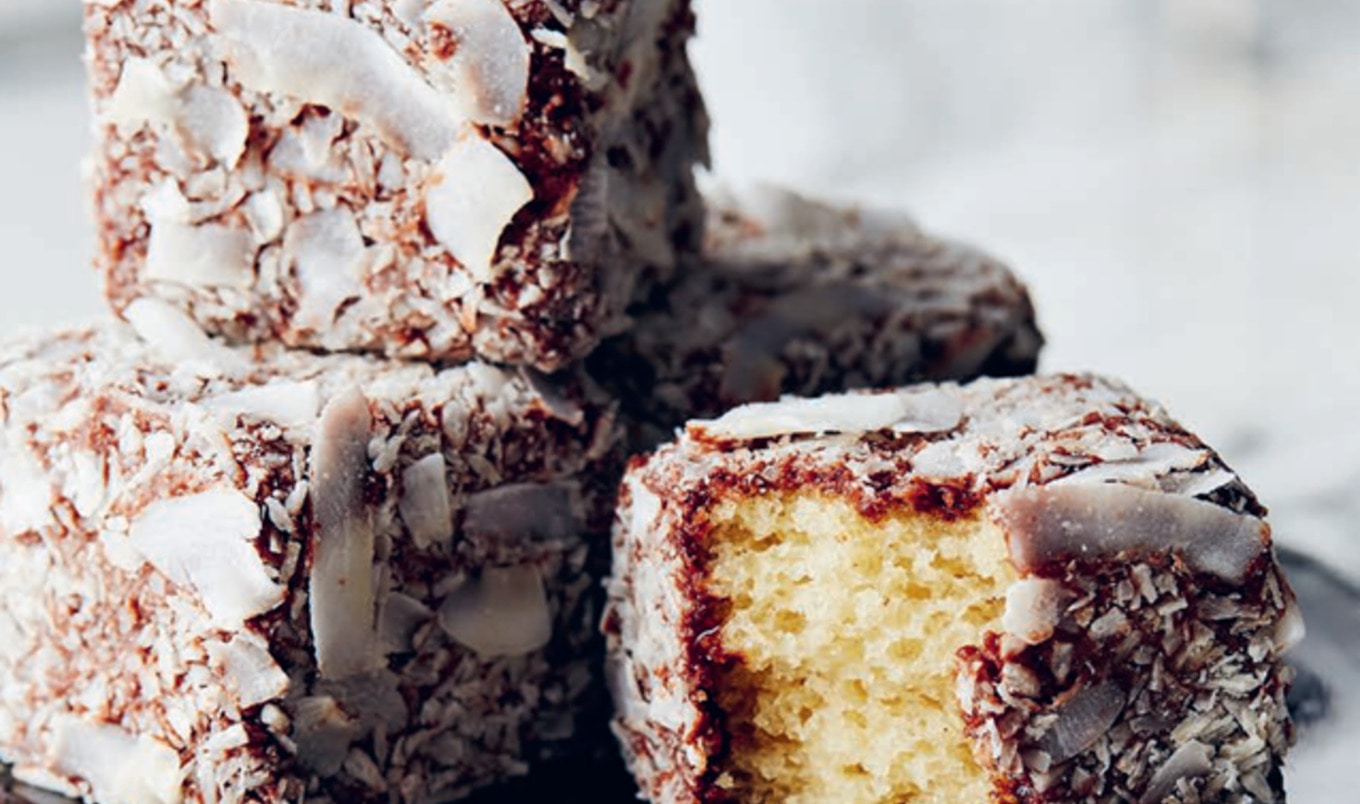 Indulge in the epitome of Australian dessert tradition with these mouthwatering vegan Lamingtons.
August 10, 2023
These fluffy sponge cake squares from the A New Way to Bake cookbook, coated in a luscious layer of chocolate and sprinkled with tender coconut, are a true Australian classic that bring joy to every bite. Whether enjoyed with a cup of tea or as a standalone treat, Lamingtons are a beloved emblem of Australian culinary heritage that's sure to delight dessert enthusiasts around the world.
What you need:
2¼ cups all-purpose flour
¼ cup cornstarch
1½ cups sugar
2 teaspoons baking powder
½ teaspoon baking soda
¼ teaspoon salt
⅓ cup sunflower oil
2 teaspoons vanilla extract
1⅓ cups coconut milk
1 tablespoon vinegar
1½ tablespoons coconut oil
¼ cup plus 2 tablespoons hot water
2½ cups powdered sugar
¼ cup unsweetened cocoa powder
2 cups dry shredded coconut
What you do:
1. Preheat oven to 35 degrees. Line a rectangular 9 x 13 cake pan with parchment paper.
2. To a large bowl, add flour, cornstarch, sugar, baking powder, baking soda, and salt, then add oil and mix until oil coats dry mix.
3. In a separate large bowl, mix vanilla, coconut milk, and vinegar, then add three-quarters of it to dry mixture and mix until a paste is achieved. Add remaining wet mixture and stir again.
4. Into prepared cake pans, pour batter and spread mixture evenly. Bake for 12 to 15 minutes, or until top is golden and center springs back when gently pressed.
5. Remove from oven and let cool in pan for a few minutes, then turn cake out onto a wire rack to cool.
6. To a microwave-safe bowl, add coconut oil and microwave for 30 seconds, or until melted. Set aside. Pour hot water into a heatproof container, add coconut oil, powdered sugar, and cocoa powder and blend or whisk until it is a smooth, glossy sauce. Set aside.
7. Once cake has cooled completely, using a serrated knife, cut into 12 neat cubes. Working from left to right, set prepared sponges, a shallow bowl for chocolate dipping sauce, followed by a flat baking sheet for coconut.
8. Use one hand to dip a cake square into chocolate sauce, then into coconut and roll around until coated. Press onto a flat surface to press coconut in and flatten surface. Set aside and repeat with remaining ingredients.
For more recipes like this, check out:
Here at VegNews, we live and breathe the vegan lifestyle, and only recommend products we feel make our lives amazing. Occasionally, articles may include shopping links where we might earn a small commission. In no way does this effect the editorial integrity of VegNews.