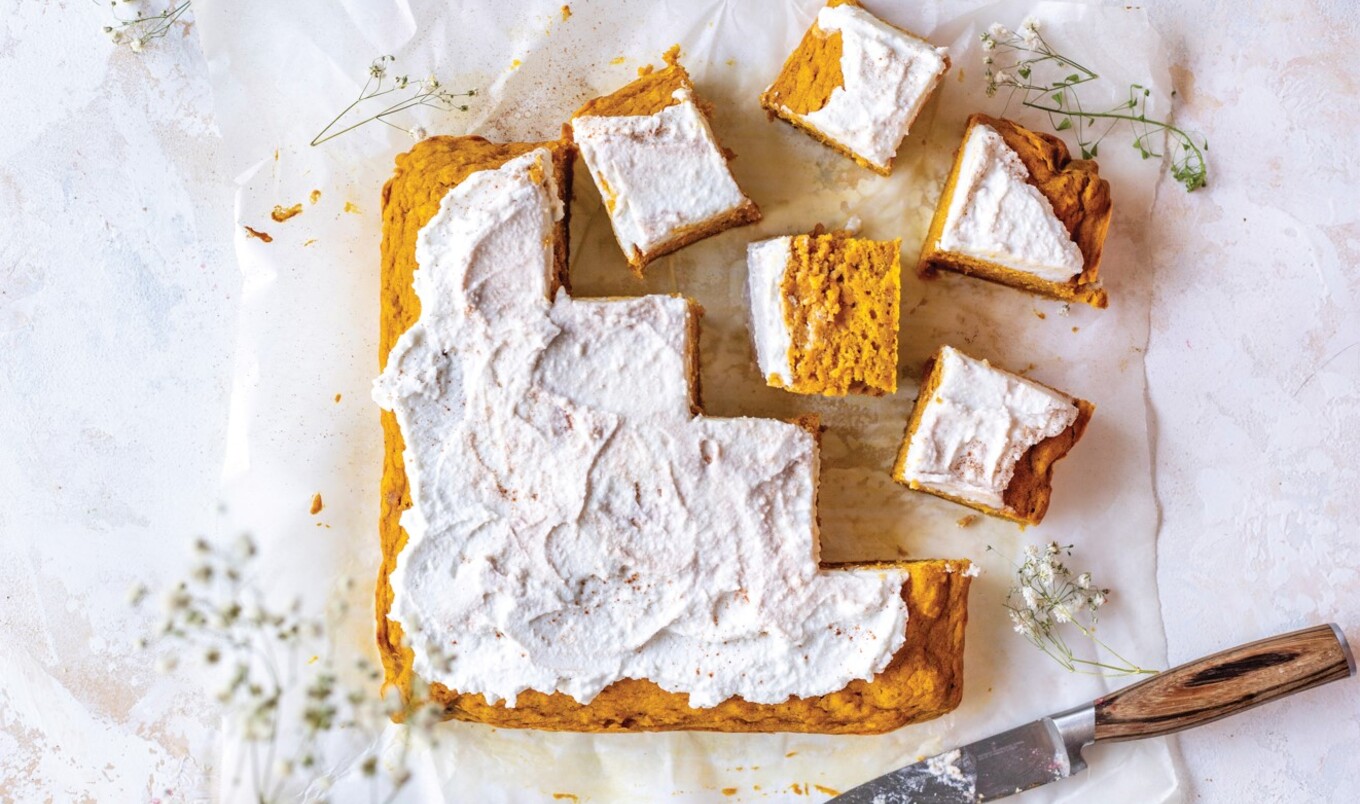 This vegan pumpkin cake is so light and refreshing that it could be served as either a dessert or a snack.
September 9, 2023
Adding chai spice lends the warmth of cinnamon and ginger to this delicious one-layer autumnal pumpkin cake from the Baked With Love cookbook.
What you need:
For the cake:
2 cups cake flour
1 cup coconut sugar
1 tablespoon chai spice blend, plus 1 teaspoon for topping
1 tablespoon baking powder
1 teaspoon baking soda
3 tablespoons ground flaxseed
9 tablespoons water
½ cup vegan milk
½ teaspoon apple cider vinegar
1 (15-ounce) can pumpkin purée
1 cup vegan butter, melted
1 teaspoon vanilla extract
For the cream cheese frosting:
1 cup room-temperature vegan butter
½ cup room-temperature vegan cream cheese
4 cups powdered sugar, divided
1 teaspoon vanilla extract
What you do:
For the cake, preheat oven to 350 degrees. Line an 8-inch square nonstick baking pan with parchment paper.
In a large bowl, whisk flour, sugar, chai spice blend, baking powder, and baking soda. In a measuring cup, combine flaxseed and water and set aside. In another measuring cup, combine milk and apple cider vinegar and set aside.
In a medium bowl, combine pumpkin purée, butter, flax mixture, milk mixture, and vanilla extract. Fold wet mixture into dry until combined, until smooth.
Into prepared pan, pour batter and bake for 35 minutes, until a butter knife inserted comes out clean and cake bounces back at a light touch.
Remove from oven and carefully invert onto a cooling rack, then turn right side up. Let cool completely, about 30 minutes.
For the frosting, in a large bowl, use a hand mixer to beat butter and cream cheese until creamy and whipped. Sift in powdered sugar 1 cup at a time and beat, until fully incorporated. Add vanilla extract and beat until fully incorporated and fluffy.
Frost cake, sprinkle with 1 teaspoon chai spice blend, slice and serve.
For more recipes like this, check out: