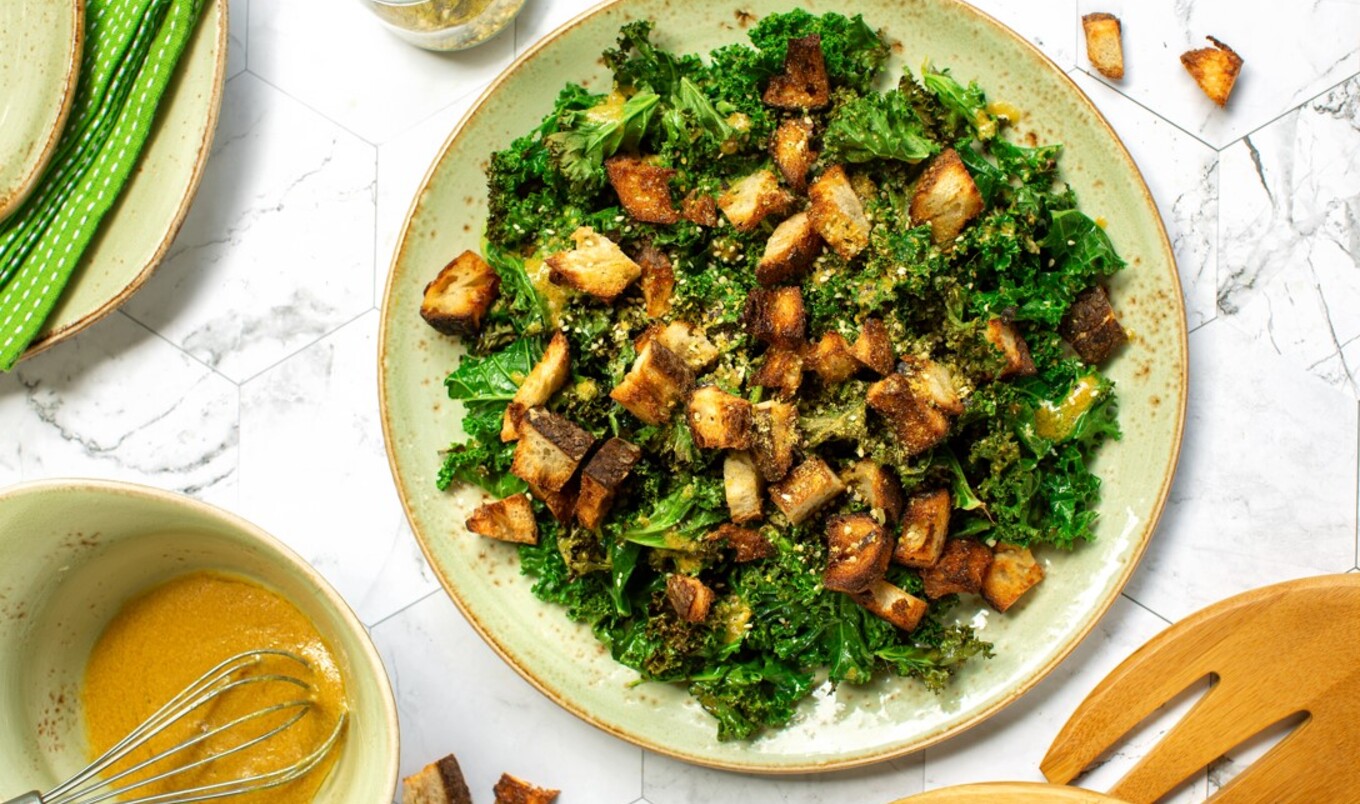 Lightly crisping the kale in this classic salad adds texture and toasty notes to this otherwise bright, greens-forward meal.
May 24, 2023
A light starter—bright with sharp acidity and tempered by the cooling, creamy foil of cheesy dressing and hearty croutons—this classic Caesar kale salad from The Everyday Vegan Cheat Sheet cookbook is a foolproof start to any meal.
What you need:
3 slices sourdough or country-style bread, sliced into 1-inch cubes
6 tablespoons olive oil, divided
½ teaspoon garlic powder
½ teaspoon salt, divided
6 cups curly kale, stems removed and roughly chopped
1 tablespoon white or chickpea miso paste
1 tablespoon Dijon mustard
1 teaspoon soy sauce
¼ cup nutritional yeast
¼ cup lemon juice
½ teaspoon ground black pepper
What you do:
Preheat oven to 400 degrees. In a medium bowl, add bread and toss with 1 tablespoon of olive oil, garlic powder, and ¼ teaspoon of salt. Mix well to coat. Transfer to a quarter sheet pan and bake for 10 to 12 minutes, stirring halfway through, until golden-brown and crisp.
Set aside and reduce oven temperature to 375 degrees. In a large bowl, add kale and drizzle with 1 tablespoon of olive oil and sprinkle with ¼ teaspoon salt. Spread into a single layer on a half sheet pan. Bake for 8 to 10 minutes, until edges are crisp and inner leaves are bright green and tender. Let cool to room temperature.
In a medium bowl, whisk miso, mustard, soy sauce, nutritional yeast, lemon juice, and pepper. Slowly stream in remaining ¼ cup of oil, beating vigorously until smooth and creamy.
In a large serving bowl, add kale and toss with croutons and dressing, until coated and serve.
For more recipes like this, check out: