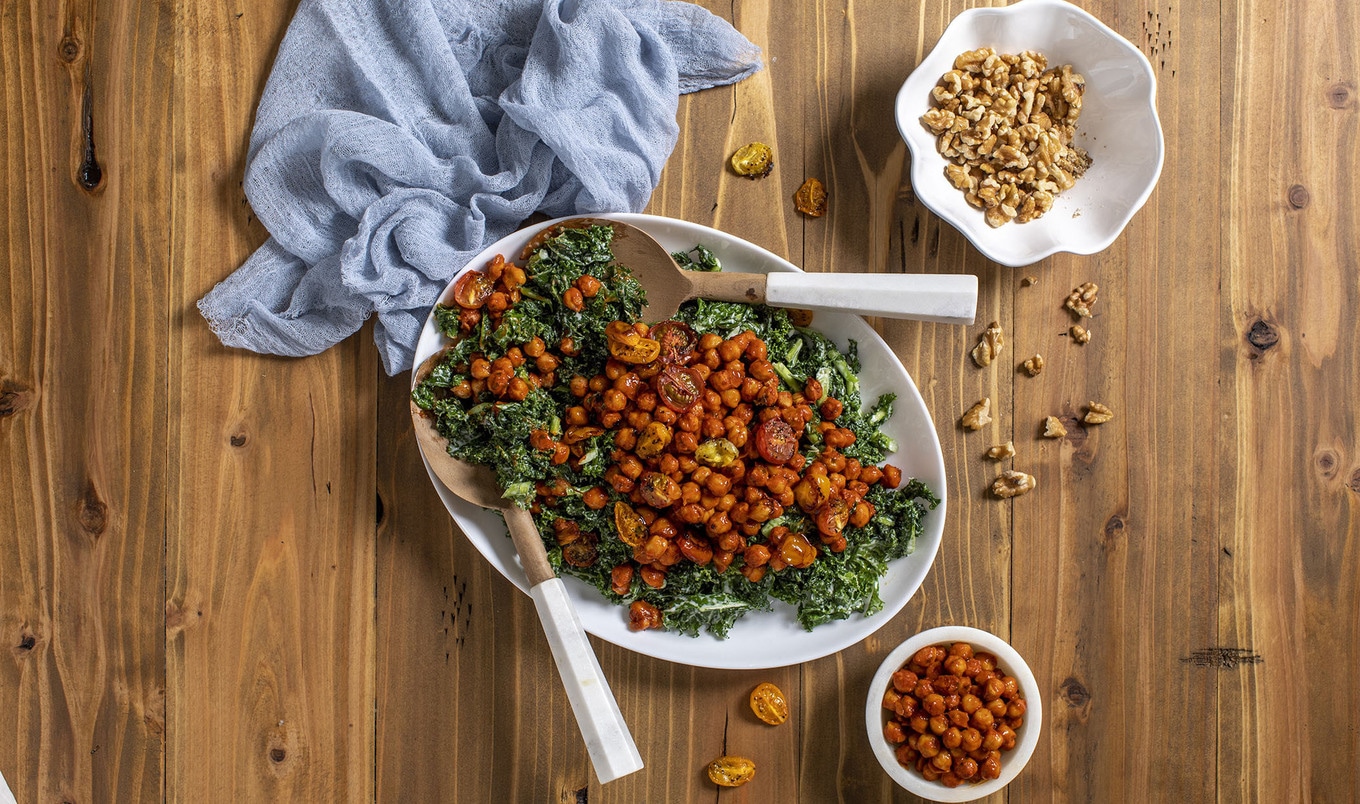 The blistered tomatoes and golden chickpeas in this recipe truly elevate a standard kale salad.
June 10, 2023
Add toasted pumpkin seeds or crunchy croutons to this delicious kale salad from the Orchids + Sweet Tea: Plant-Forward Recipes with Jamaican Flavor & Southern Charm cookbook for added crunch.
What you need:
1 (15-ounce) can chickpeas, drained and rinsed
2 tablespoons olive oil, divided
1 cup cherry tomatoes, halved
1 teaspoon dried parsley
1 teaspoon red pepper flakes
1 teaspoon turmeric powder
½ teaspoon ground cumin
½ teaspoon garlic powder
1½ teaspoons salt, divided
1¼ teaspoons black pepper, divided
2 cups Buffalo sauce
1 bunch kale
Creamy vegan salad dressing of choice, for topping
What you do:
Preheat oven to 425 degrees, and line a sheet pan with parchment paper.
In a medium-sized bowl, place chickpeas and 1 tablespoon of olive oil and toss until fully coated. In a separate bowl, toss halved tomatoes with remaining tablespoon of olive oil until fully coated. On prepared sheet pan, place coated chickpeas and tomatoes in an even layer, and sprinkle chickpeas with parsley, red pepper flakes, turmeric, cumin, garlic powder, 1 teaspoon salt, and 1 teaspoon black pepper. Sprinkle tomatoes with remaining salt and pepper.
Bake chickpeas and tomatoes for 10 minutes. Give pan a shake, then spoon Buffalo sauce over chickpeas and tomatoes until fully coated. Continue to bake until chickpeas are crisp, and tomatoes are slightly blistered around edges and wilted, another 10 to 15 minutes. Remove from oven and set aside.
Remove kale leaves from stems, then rinse leaves and chop into bite-sized pieces. Dress kale with creamy dressing and toss until evenly coated.
On a platter, spread kale and top with chickpeas and tomatoes. Serve immediately.
For more recipes like this, check out: