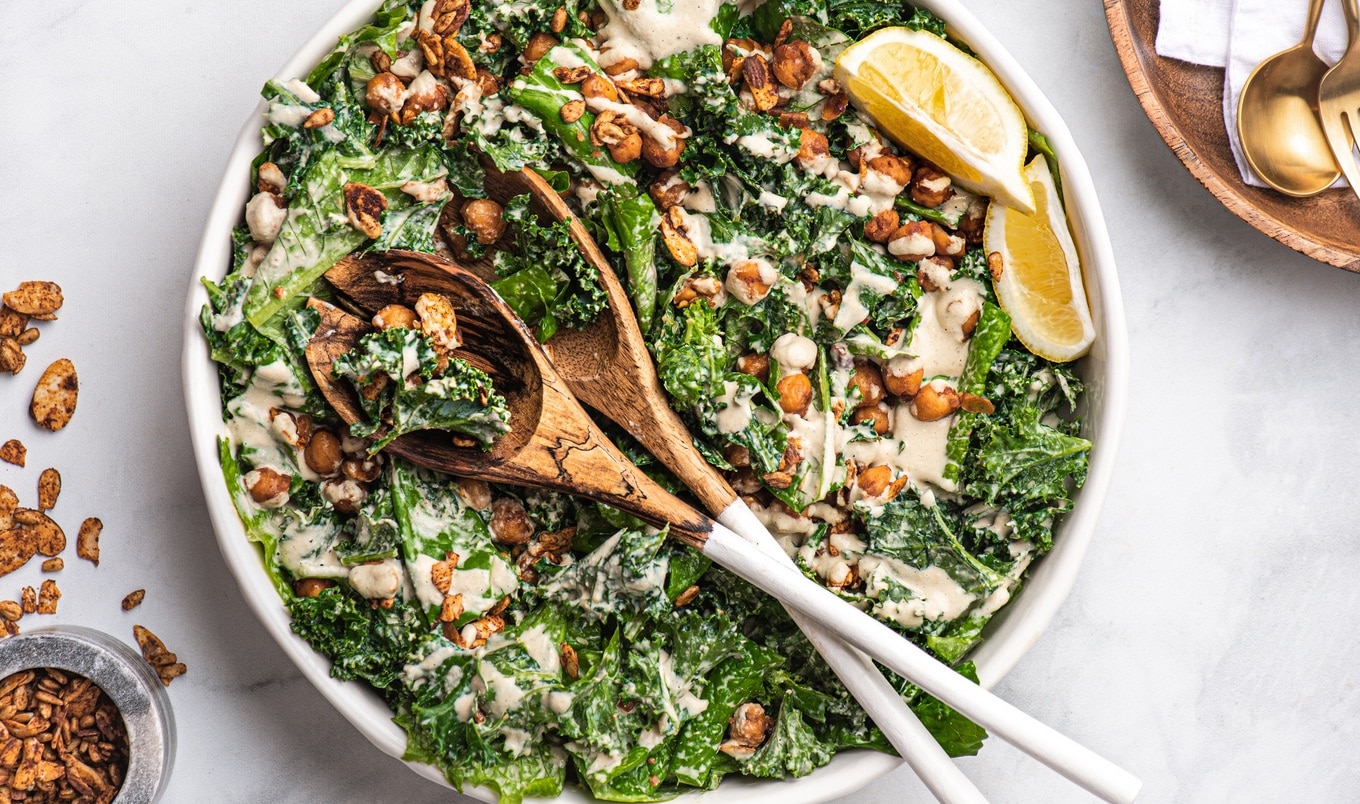 Tossed with a creamy dressing and garnished with smoky chickpeas and vegan bacon bits, this salad breaks the mold and is undeniably delicious.
July 30, 2023
Warmer weather has us craving light meals like this recipe from The Plant-Based Cookbook, which incorporates crunchy romaine and kale. Savory, smoky chickpeas stand-in as a gluten-free crouton replacement.
What you need:
For the dressing:
⅓ cup tahini
3 tablespoons lemon juice
1 teaspoon apple cider vinegar
2 small garlic cloves
2 tablespoons capers, drained
1½ teaspoons Dijon mustard
1 teaspoon nutritional yeast
1 teaspoon maple syrup
¼ teaspoon salt
¼ teaspoon black pepper
¼ cup water
For the chickpeas:
1½ cups chickpeas, drained and rinsed
2 teaspoons dehydrated minced onion
¾ teaspoon smoked paprika
⅛ teaspoon red pepper flakes
½ teaspoon coconut sugar
2 teaspoons tamari
1 teaspoon balsamic vinegar
2 tablespoons water
For the salad:
6 packed cups curly kale, stems removed, chopped
1 lemon wedge
5 packed cups romaine lettuce (hearts and leaves), chopped
½ cup vegan bacon bits
What you do:
For the dressing, into a blender, add all ingredients and blend until smooth. Add more water as needed, 1 tablespoon at a time, to reach a smooth pourable consistency. Set aside.
For the chickpeas, into a medium-sized pot over medium heat, add all ingredients and sauté for 3 to 5 minutes, stirring often until spices are fragrant and all water has evaporated. Cover and set aside.
For the salad, into a large bowl, add kale and squeeze lemon wedge into bowl. Massage kale with hands until leaves soften, shrink in size, and turn bright green. Add romaine, toss, and drizzle half of dressing over greens. Toss until coated.
Add chickpeas and another drizzle of dressing. Garnish with vegan bacon bits, toss again, and serve.
For more recipes like this, check out: