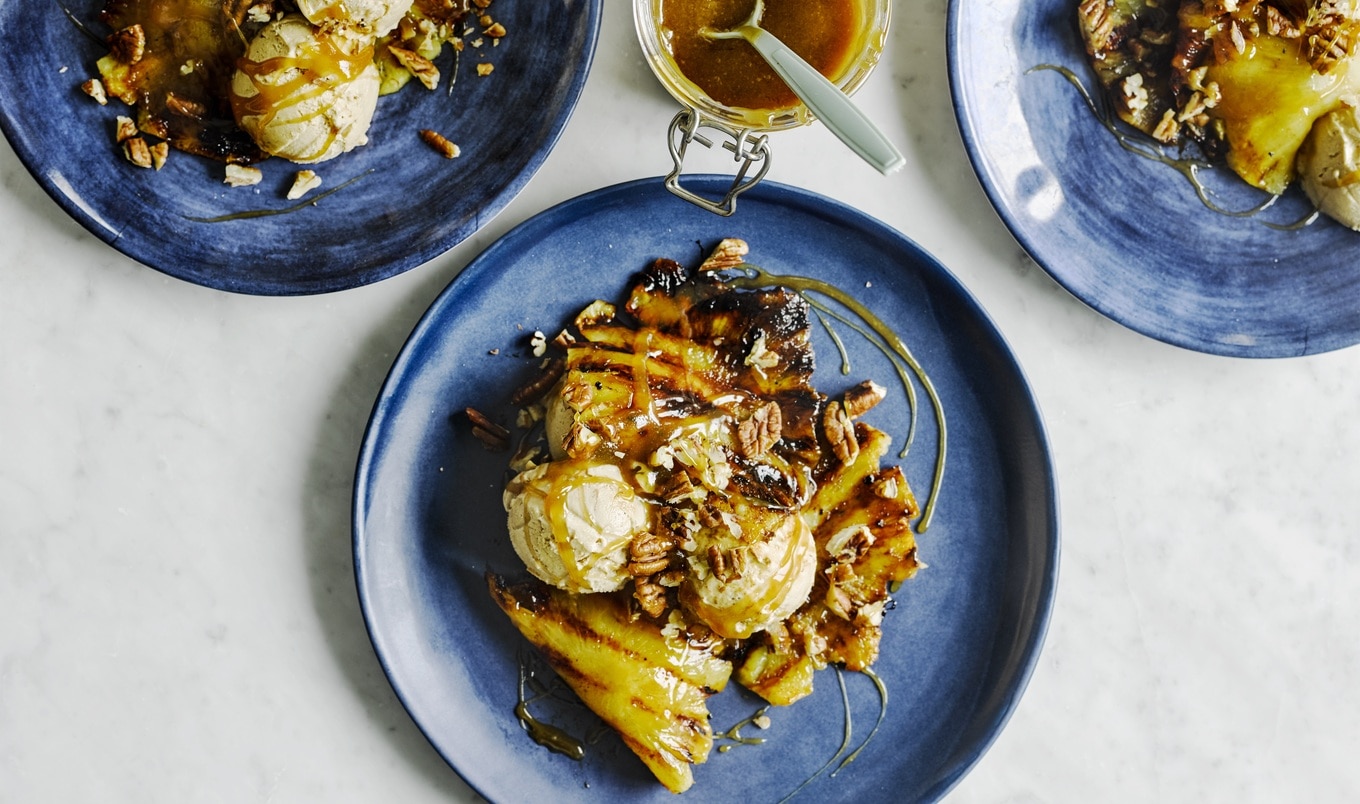 Juicy pineapples are marinated in maple syrup and cinnamon and then grilled until they reach golden-caramelized perfection.
June 10, 2022
Salty, sweet caramel sauce adds a depth of flavor to this summer-ready dessert from Rachel Ama's Vegan Eats cookbook, while buttery pecans add crunch and texture. A heaping scoop of vanilla ice cream on top finishes it all off with the perfect creamy touch.
What you need:
For the salted caramel sauce:
1 cup maple syrup
2 tablespoons vegan butter
¼ cup vegan coconut cream
½ teaspoon salt

For the pineapple:
1 ripe pineapple, peeled and cut into 2-inch-thick rounds
2 tablespoons maple syrup
1 tablespoon ground cinnamon
1 tablespoon vegetable oil

To serve:
½ cup pecans, lightly crushed
4 scoops of vegan coconut ice cream


What you do:
For the salted caramel sauce, into a non-stick saucepan over medium heat, pour maple syrup and bring to a gentle boil. Allow to bubble for 15 minutes, stirring occasionally with a wooden spoon. Add butter and stir until completely melted. Whisking constantly, gradually add cream until all combined. Add salt and mix well, then pour sauce into a jar or bowl and set aside to cool.
For the pineapple, in a large bowl, place pineapple, maple syrup, and cinnamon and stir to coat evenly. Leave to marinate for about 30 minutes.
In a griddle pan (or a heavy-based frying pan) over medium heat, warm oil. Add pineapple slices and cook for about 5 minutes on each side or until heated through and lightly chargrilled. Divide griddled pineapples between 4 serving plates and serve with a generous scoop of coconut ice cream, a drizzle of salted caramel sauce and a sprinkling of crushed pecans.