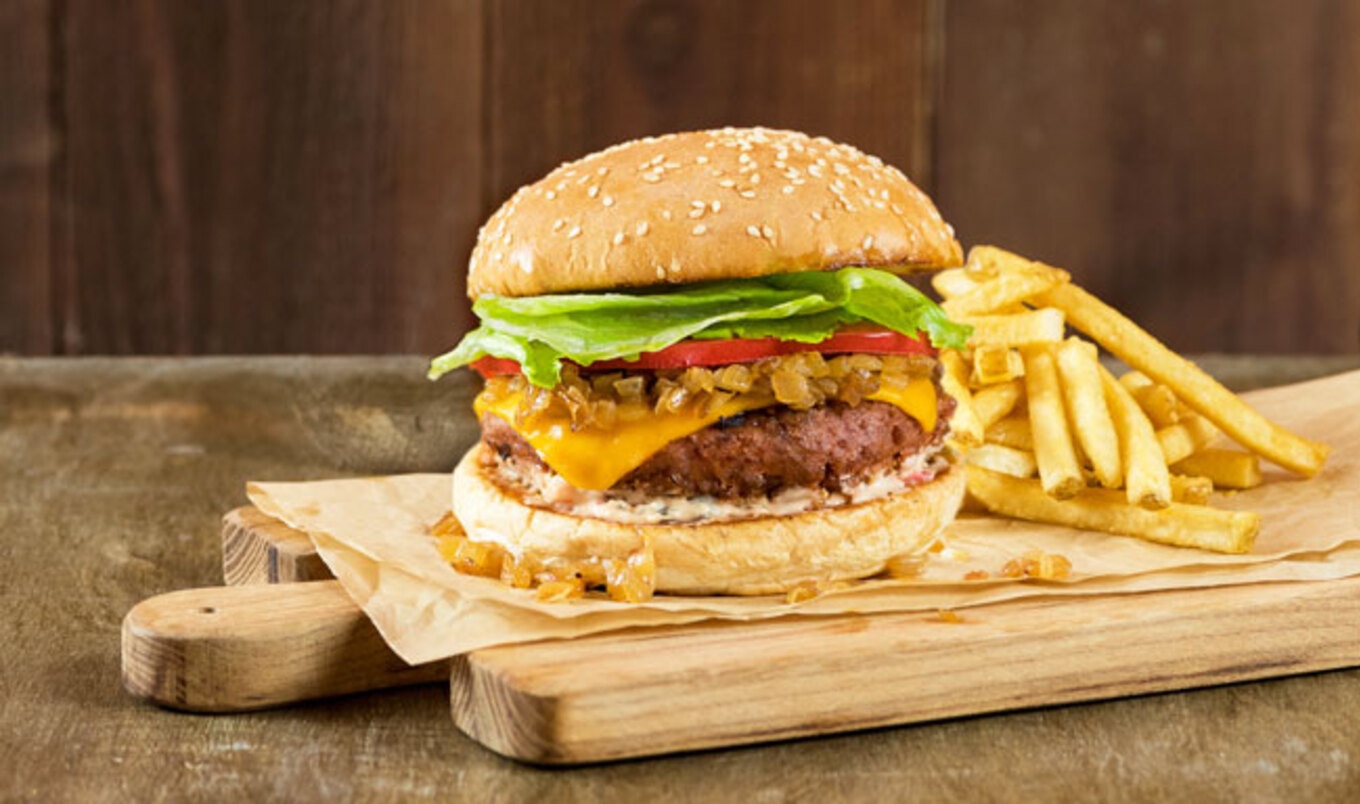 My cousin went vegan, so naturally I took her out to eat.
August 17, 2017
---
In the history of my life, there is only one person whose diapers I have changed. That person is my 16-year-old cousin. And, as I've since discovered, changing someone's diapers bonds you to another human being in a special way. Perhaps this is why she (and her older brother) are the only two people who bring out that paternal, parental vibe in me. Because of this unique bond, you can imagine my excitement when my aunt texted me a few weeks ago to tell me that her daughter had gone vegan. If I could do a backflip, I would have done three. Sadly, I can't, so I did the next best thing, which was take her to Veggie Grill for her first proper meal at a vegan restaurant. Here are some highlights from our lunch-time conversation.
Writer's note: Because she's 16 years old, I am not using my cousin's name and instead refer to her as "Ryan's cousin."
VegNews: You have a Beyond Burger in front of you. What are your thoughts before biting into it?
Ryan's cousin: It looks like a regular burger. It looks like it has cheddar cheese on it. [She takes a bite and laughs.] That's a burger.
VN: Is that a good thing?
RC: You can kind of tell, but very faint. Hmmm … that's crazy. When I was watching this on Buzzfeed, I thought the people were crazy, but it actually tastes like something I would eat. Hmmm. It looks like one on the inside. [Mouth full] It's good. It's a burger that you'd have at a backyard barbecue, you know, that someone's dad made.
VN: How did you think it would taste?
RC: I had my first veggie patty the other day, and that was black beans and corn. It literally tasted like mashed black beans. I know that's what it was probably supposed to taste like, but I was expecting more. I was expecting that to taste like this, but it didn't. That was good. I'm more scared for the Buffalo.
VN: Why?
RC: Because isn't it tofu? I know it's not actual chicken. [She takes a bite.]. Hmmm! It tastes like a Buffalo chicken wing. It doesn't have the consistency of chicken. Wait … [She takes another bite.]. I think the sauce is helping. It's such an overpowering flavor that if you put it on anything, it'll taste good.
VN: I've noticed you can't stop eating the fries.
RC: The fries are so good. I always ask for my fries at In-N-Out to be extra crispy, and these are already crispy. They're perfect.
VN: What were your impressions before we came here today?
RC: I thought "tofu on everything"—I'm not a big fan of tofu. Tofu ruins stuff. [She laughs]. I'm picky with flavors and textures.
VN: Now, what do you think?
RC: I think it can be good, especially when you said this (Buffalo) was tofu. It's a nice change because I've been eating tomato, avocado, and hummus on bread. It's different. It's actual food, you know? I think I would take my friends here.
VN: What have your friends said about you going vegan?
RC: Not all of them know. I see everyone during the school year. One was supportive and surprised, I guess. Even if this whole veganism thing doesn't work out, I've learned that I don't need animal products for a meal to be good.
VN: Once you started drinking almond milk, I knew something was up.
RC: Almond milk is so good! Then, I had dairy-free ice cream. Oreo peanut butter. It was so good. I would choose that over regular ice cream because my stomach didn't hurt. I saw on Buzzfeed that they loved the Snickerdoodle ice cream. Isn't that cinnamon-y? I don't like cinnamon.
VN: What inspired you to make this change? Do I get any credit in this?
RC: I watched Food, Inc. when it came out, and during Lent—you know what Lent is?—two years ago, I had given up meat, but my mom wouldn't let me.
VN: That's not how Lent works.
RC: I know! Two years ago, I found some YouTubers on my home page. Her name was Sarah. She had this adorable family and this really hot husband, and they were all vegan. Then I found out she had a friend named Ellen. She has two boys and a husband, and they're all vegan, too. They have such a nice lifestyle—not lavish but healthy and happy and all-around good, so I started watching their videos more. Her skin was nice, and they all looked really healthy. I tried it, and I watched the documentaries. It was more of a selfish thing for my health. I think it still is at this point.
VN: Before three weeks ago, on a scale of one to 10, how crazy did you think I was for being vegan?
RC: You were crazy when I was 10, when you would eat peanut butter for dinner. When I was younger, I thought you were insane, actually, because burgers were my favorite food.
VN: And now—how crazy am I?
RC: You're a two.
Ryan Ritchie is VegNews.com's features editor who will kick anyone in the shins if they post a negative comment about his cousin.