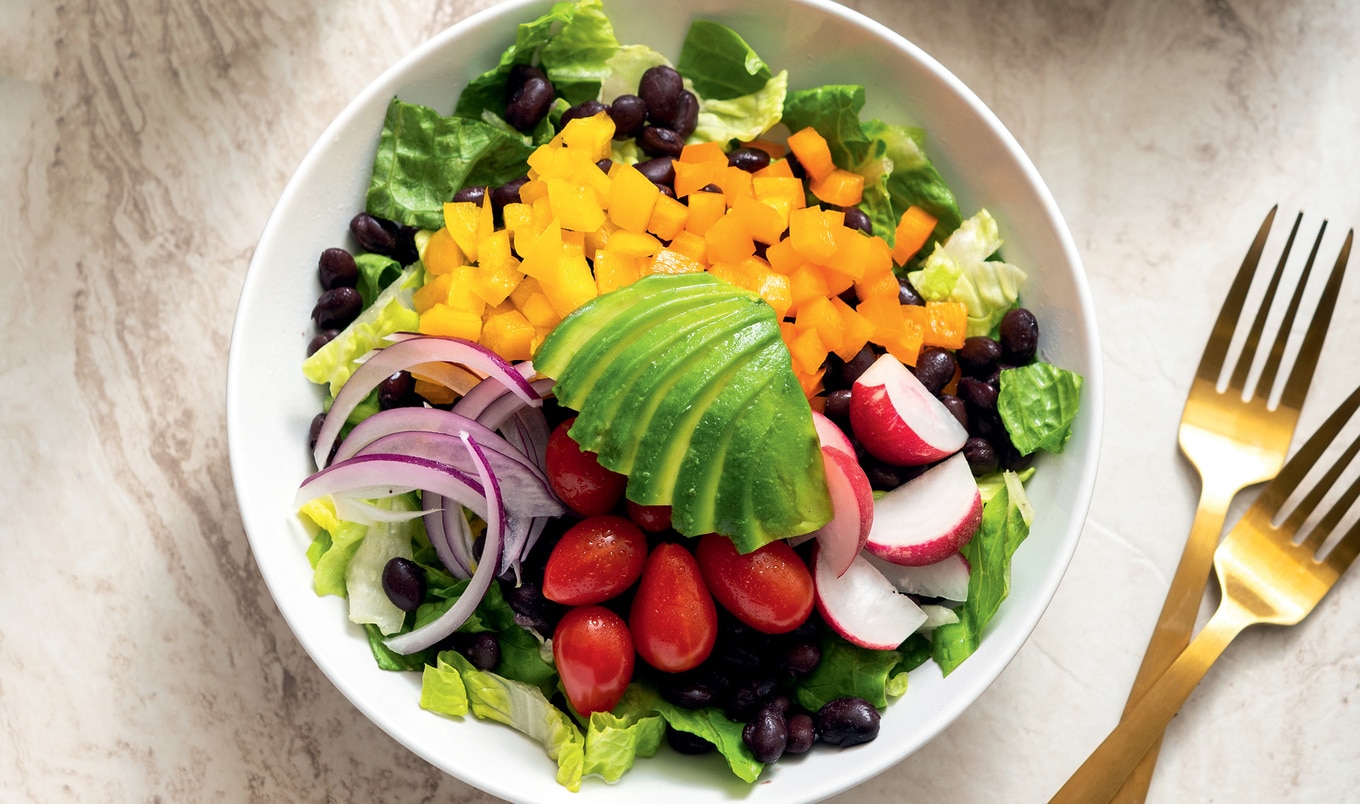 Creamy, oil-free cashew dressing paired with a protein-rich black bean salad makes for an easy, go-to meal.
January 9, 2020
This crunchy, fresh, bright salad from VegNews food columnist Jackie Sobon's new cookbook Vegan Yack Attack's Plant-Based Meal Prep is the ultimate nourishing meal to prep for easy weekday meals, and the cilantro-jalapeño-cashew dressing makes for the perfect creamy-tangy topping.
What you need:
For the dressing:
¾ cup raw cashews
¾ cup water
½ cup firmly packed fresh cilantro
3 tablespoons lime juice plus
1 teaspoon lime zest
1 fresh jalapeño, stemmed and seeded
1 teaspoon onion powder
¾ teaspoon salt
⅛ teaspoon cayenne pepper

For the salad:
1½ pounds romaine lettuce, chopped
2 (15-ounce) cans low-sodium black beans, drained and rinsed
1 yellow bell pepper, stemmed, seeded, and diced
1 orange bell pepper, stemmed, seeded, and diced
1¼ cups grape tomatoes
⅔ cup thinly sliced red onion
⅔ cup sliced radishes
⅔ cup sliced avocado
What you do:
For the dressing, into a blender, add all ingredients and blend until smooth, then let rest for 5 minutes. Blend again to further break up cashews and transfer to a jar with a lid. Store in refrigerator for up to 7 days.
For the salad, set out 5 roughly 30-ounce storage containers. Divide lettuce evenly among containers, then top with black beans, bell peppers, tomatoes, and onion. Top each serving with radishes and sliced avocado.
Divide dressing into five small containers for drizzling. Store in refrigerator for up to 6 days.