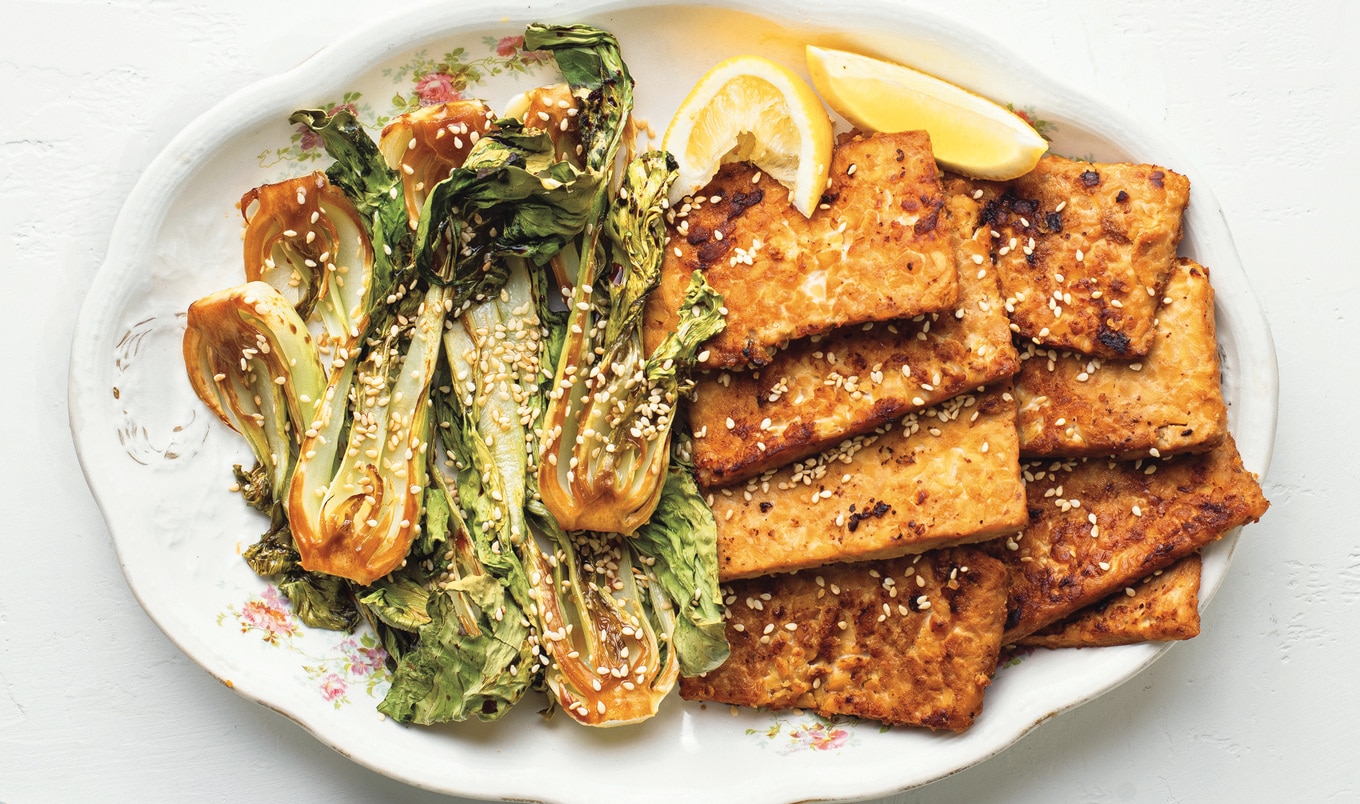 Spicy, grainy mustard and funky-salty miso bring a ton of flavor to pan-seared tempeh in this umami-rich dish.
May 2, 2023
With tender stems and crispy leaves, the roasted bok choy in this recipe from The Vegan ABCs Cookbook is special in its own right. Squeeze zesty, fresh lemon juice over the top right before serving to bring out the best in every flavor.
What you need:
For the roasted baby bok choy:
2 teaspoons sunflower oil
2 teaspoons tamari
4 baby bok choy, cut in half, lengthwise
For the miso-mustard tempeh:
1 (8-ounce) package tempeh, cut into 8 rectangles
1 tablespoon mellow white miso
1 tablespoon water


1 tablespoon grainy mustard


1 tablespoon tamari
1 tablespoon sunflower oil
For serving:
Lemon juice
Toasted sesame seeds
What you do:
Preheat oven to 400 degrees. Line a quarter sheet pan with parchment paper.
For the bok choy, in a small mixing bowl, whisk sunflower oil and tamari. Place bok choy on sheet pan, cut side up. Drizzle oil and tamari mixture over top of bok choy.
Place bok choy in oven and roast for 10 minutes. Remove from oven, flip cut side down and bake for another 5 to 10 minutes, until leaves are charred. Remove from oven.
For the tempeh, into a walled pan, add tempeh and cover with water. Bring to a boil, reduce to a simmer and cook, uncovered, for 10 minutes.
Into a large mixing bowl, add miso, water, mustard, tamari, and sunflower oil. Break up miso with a whisk and combine until completely smooth.
When tempeh has finished simmering, drain and add to marinade, flipping over to coat both sides. Marinate for 10 minutes.


Heat a cast-iron or nonstick skillet over medium heat. Add tempeh and cook until first side starts to brown, about 5 minutes. Flip tempeh over and cook second side for another 5 minutes.
Divide tempeh and bok choy between 4 serving plates, drizzle with lemon juice and sesame seeds, and serve.